The Citation M2 is positioned to take over the Cessna Citation Mustang's light jet role.
According to Textron Aviation, they have just built the final production model of their Cessna Citation Mustang, which will be delivered in the coming weeks. According to company reps, more than 470 Mustangs were delivered to customers worldwide during its twelve-year production run.
Rob Scholl, the Senior VP of Sales and Marketing for Textron Aviation, said that the Mustang was an incredible success for both the company and customers and they were thrilled to celebrate the "the ingenuity and pride that went into creating the world's most popular entry-level light jet." He added that the company remained committed to developing new products and providing solutions to their customer, noting that the Citation M2 "is a great example of this and we believe it will carry on the legacy as the entry-level jet that pilots want and need." Kriya Shortt, Textron Aviation's Senior VP of Customer Service, added that their Mustang customers could continue to expect "the highest level of service through maintenance, parts and support solutions from our Customer Service organization."
More Details on the Cessna Citation M2
The company says they're well positioned for a "seamless transition within the light jet segment," with the Cessna Citation M2, powered by two Williams FJ44 engines, stepping into the Mustang's place. First introduced in 2013, the company says that nearly 150 M2's have been delivered to customers worldwide. They add that the Citation M2, designed for single-pilot operation and with seating for seven, is perfect for corporate, charter, or private use.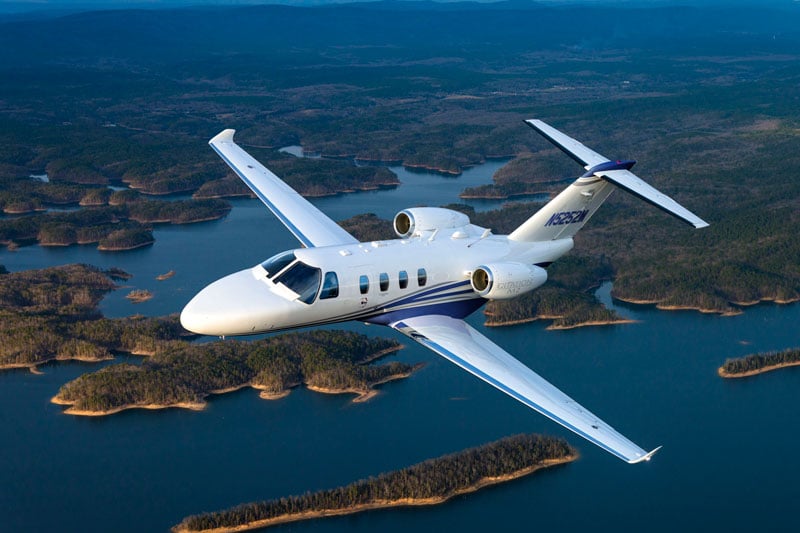 Cessna Citation M2 Specs
Dimensions
| | |
| --- | --- |
| Length | 42 ft 7 in (12.98 m) |
| Height | 13 ft 11 in (4.24 m) |
| Wingspan | 47 ft 3 in (14.40 m) |
Cabin Interior
| | |
| --- | --- |
| Height | 57 in (1.45 m) |
| Width | 58 in (1.47 m) |
| Length | 11 ft (3.35 m) |
| Maximum Passengers | 7 |
| Single Pilot Certified | Yes |
Baggage Capacity
| | |
| --- | --- |
| Weight | 725 lb (328.9 kg) |
| Volume | 46 cu ft (1.29 cu m) |
Weights
| | |
| --- | --- |
| Maximum Ramp Weight | 10,800 lb (4,899 kg) |
| Maximum Takeoff Weight | 10,700 lb (4,853 kg) |
| Maximum Landing Weight | 9,900 lb (4,491 kg) |
| Maximum Zero Fuel Weight | 8,400 lb (3,810 kg) |
| Usable Fuel Weight | 3,296 lb (1,495 kg) |
| Usable Fuel Volume | 492 gal (1,862 l) |
| Basic Operating Weight | 6,990 lb (3,171 kg) |
| Useful Load | 3,810 lb (1,728 kg) |
| Maximum Payload | 1,410 lb (640 kg) |
| Full Fuel Payload | 514 lb (233 kg) |
Performance
| | |
| --- | --- |
| Maximum Cruise Speed | 404 ktas (748 km/h) |
| Maximum Range | 1,550 nm (2,871 km) |
| Takeoff Field Length | 3,210 ft (978 m) |
| Landing Distance | 2,590 ft (789 m) |
| Maximum Operating Altitude | 41,000 ft (12,497 m) |
| Maximum Climb Rate | 3,698 fpm (1,127 mpm) |
| Maximum Limit Speed | 0.71 Mach (0.71 Mach) |
Featured Image: Cessna Citation Mustang, courtesy of Textron Aviation
---
Cessna Citation: From Slowtation to Near the Speed of Sound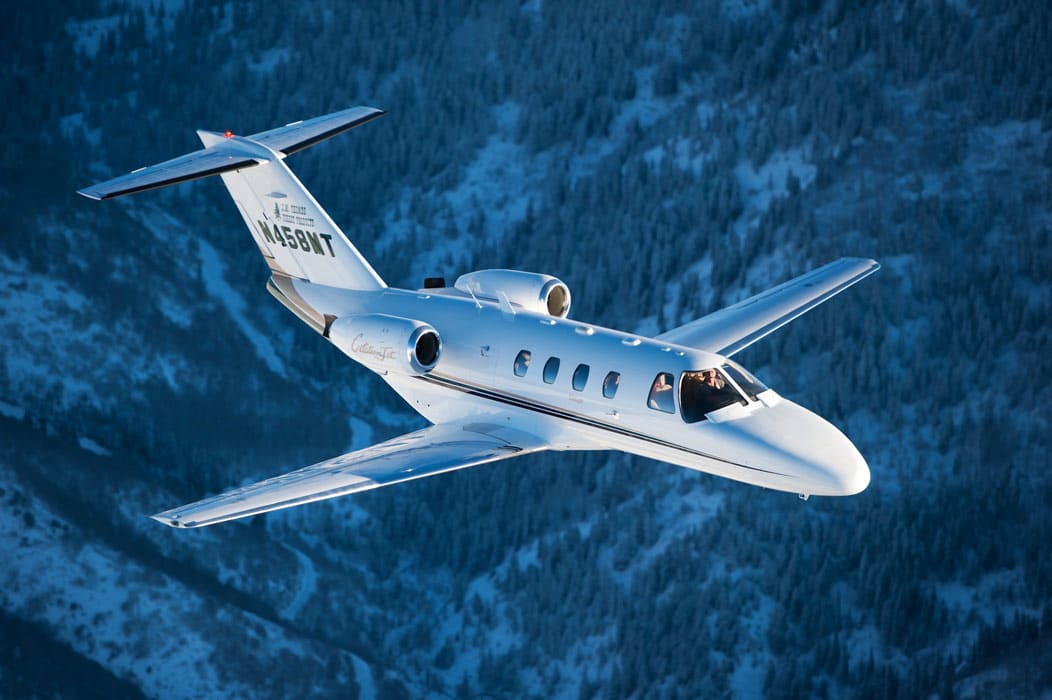 The 7,000th Cessna Citation, originally named after a thoroughbred racehorse, was delivered on June 27, 2016. It's a milestone that began in 1969 and 35 million flight hours later, Citation hours are now in thousands of pilots' logbooks. From the Citation 500 parents spawned seven different distinct families, each with design improvements which has taken Citation from the "Slowtation" to the screamin' Mach .935 Citation X+ which can fly between New York and Los Angeles in four hours. Raising an airplane family isn't easy, but Cessna has [Click to read more…]
---