The Douglas DC-3 Doesn't Know the Meaning of the Word "Quit"
The same year the German airship Hindenburg crossed the Atlantic, the still-flying-today Douglas DC-3 was introduced to the world. The DC-3 is widely viewed as one of the most significant transport aircraft in history, due to its massive and long-lasting impact on the airline industry, and aerospace engineering. I got the chance to interview Ric Hallquist, the retired Chief DC-3 Pilot for Missionary Flights International who flew and worked on the beefy twin engine transport plane for over 30 years.
Douglas DC-3's Impact on Civilian Transport
Just three years after its introduction, the DC-3 (along with its predecessor the DC-2) were carrying over 90% of all airline passengers in the United States.1 It was thought to be the height of both luxury for the passengers and operating efficiency for the airlines; a rare combination. The DC-3 sat and slept 14 passengers in comfort for overnight flights, or 28 passengers for shorter flights. Because the DC-3 was so well-constructed and reliable (with remarkable fuel efficiency for its day), American Airlines C.R. Smith said the DC-3 was the first airplane that made passenger transport profitable.1 Prior to that, airliners had to haul mail and other things to earn government subsidies. Like many civilian aircraft of the 1930's and 40's, production ended when the war began in 1942. Even so, of the 10,655 Douglas DC-3s built, there are an estimated 2,000 DC-3s still in commercial service all over the globe (which includes the C-47 military conversion).2
The DC-3 (named for Douglas Corporation) was designed as a significantly improved version of the DC-2, the popular transport plane predecessor, of which 198 were built.2 The DC-3 was an all-metal twin-piston monoplane with the landing gear in a tailwheel configuration. Though the earlier version could seat 28 passengers on short flights, the airline version sold to United Airlines and American Airlines sat 21 and had no sleeping berths.1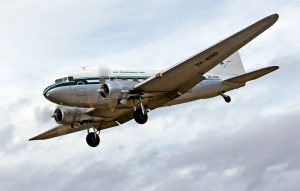 The primary reason it made such a significant impact on the airline industry was that the DC-3's design and fuel capacity gave it a much larger range. Its primary competitor of the day, the Boeing Model 247, had a 745-mile range and only a 273 gallon fuel capacity,4 compared to the DC-3's 1,500-mile range and 804 gallon fuel capacity.3 Obviously, the difference is staggering.
The Boeing had a faster cruise speed and a lower fuel burn, due to it weighing less than half as much as the DC-3, but because of the increased fuel capacity of the DC-3, fewer stops were needed, thus less fuel was wasted on a series of climbs.
General Specifications of the Douglas DC-3 2, 3
The crew of the DC-3 was generally made up of two pilots and one flight attendant. The taildragger configuration of the landing gear (retractable oleo strut gear) made for a steep climb up to one's seat via the single entry door near the empennage. The DC-3 also had a modest bathroom in the rear, complete with a small window.
| | |
| --- | --- |
| Accommodations* | 21-32 seats |
| Length | 64 ft 8 in (19.7 m) |
| Height | 16 ft 11 in (5.16 m) |
| Wingspan | 95 ft 2 in (29.0 m) |
| Empty Weight | 16,865 lb (7,650 kg) |
| Gross Weight | 25,199 lb (11,430 kg) |
| Fuel Capacity | 822 gal (3111 L) |
* Depending on how the DC-3 was outfitted, it could hold 14 sleeper passengers, 21 to 28 day passengers, or between 3,725 and 4,000 pounds of freight. 1
Performance Characteristics of the Douglas DC-3 1, 2, 3
The Douglas DC-3 was originally powered by two massive 1,200-horsepower Wright Cyclone R-1820 radial engines and pulled by two three-blade steel Hamilton Standard (now UTC Aerospace Systems) propellers. The radial engines weighed over a thousand pounds each! Later models, including military versions, used the Pratt & Whitney R-1830 Twin Wasp engine (which also clocked in at an impressive weight of 1,250 pounds). Today, many still-flying DC-3s and C-47s have been retrofitted with PT6s (Pratt and Whitney PT6A turboprop engine) which weigh just about 500 lbs each.11 Still not "light," but for an aircraft with a useful load of 13,750 pounds, I think the DC-3 can handle it.
| | |
| --- | --- |
| Fuel Burn | 100 gph (378 L) |
| Range | 1,500 nm (2,778 km) |
| Cruise Speed | 180 kts (333 km/h) |
| Max Cruise | 200 kts (370 km/h) |
| Stall Speed | 58.2 kts (108 km/h) |
| Climb Rate | 1,130 fpm (5.7 m/s) |
| Service Ceiling | 23,200 ft (7,100 m) |
Military Applications of the DC-3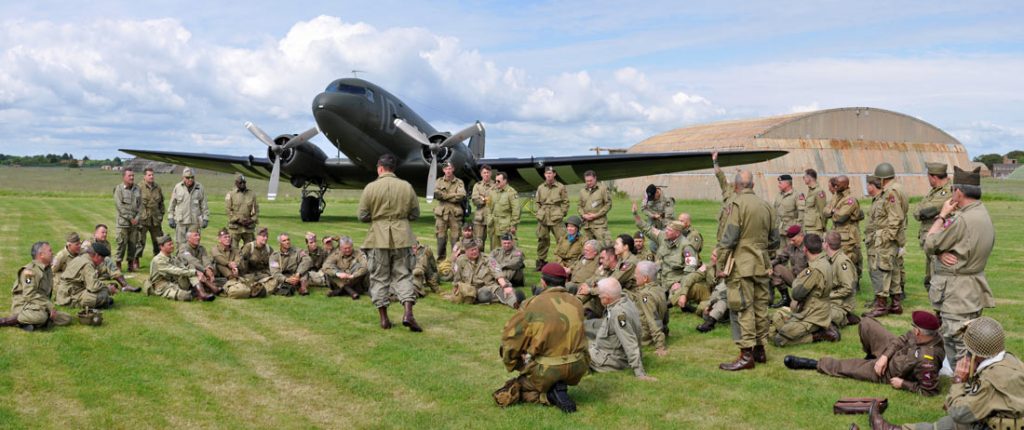 When the United States entered World War II, they brought with them the C-47, a DC-3-turned-military carrier. The C-47 had been upgraded with more powerful engines (giving the plane an additional 200 HP) and was refit and reinforced for large cargo shipments. The "Gooney Bird," as it was nicknamed, officially had accommodations for 32 passengers, 28 combat equipped troops, or 21 stretchers.5 In actuality, the C-47 often carried twice its official capacity in the midst of the war.
In addition to its ability to haul troops, Jeeps, and howitzers, the C-47 also had remarkable short-field takeoff and landing performance, reportedly being able to take-off from rough fields less than half a mile long, and land in even shorter distances. There's a lot of information about flying and landing DC-3s out there, but one thing that most pilots seem to agree on is that while a 3-point landing is possible in a DC-3, it's generally not necessary or advisable as it can put much more stress on the airframe. 6
The US military had over 10,000 C-47s (and their variants) built during the war. Thanks to that, the military surplus that existed after the war contributed to the DC-3 sticking around 'til today.
---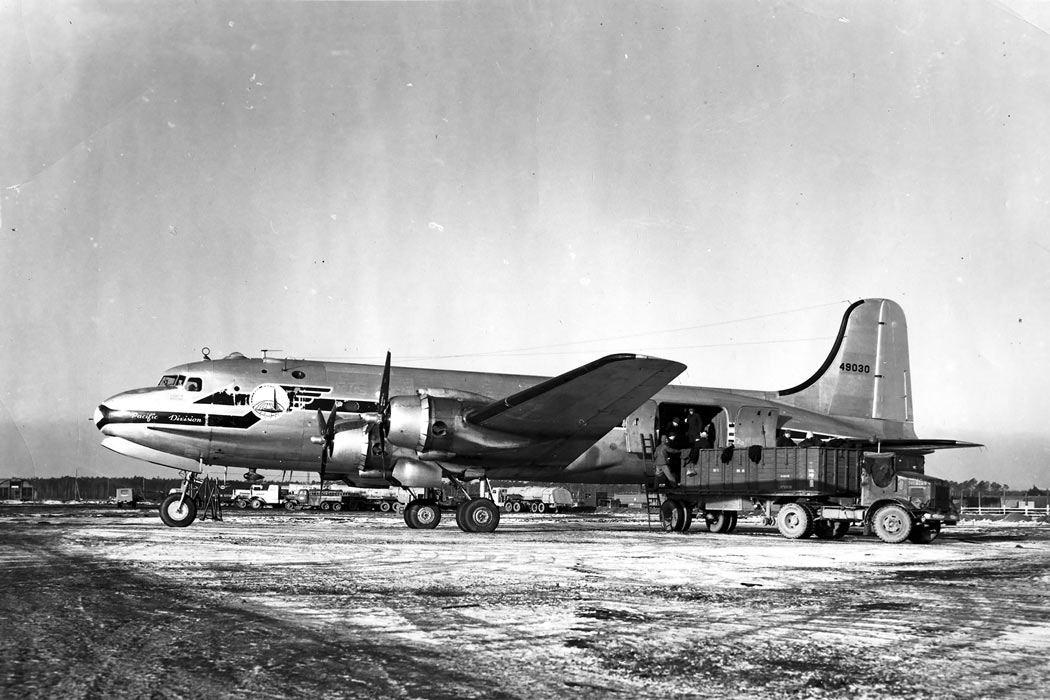 The Aircraft That Moved the Berlin Airlift
…The US air force looked to the RAF for cues on how to perform the civilian airlift but found that they had no exact correlate to the Avro York, which was essentially a repurposed Avro Lancaster heavy bomber airframe. The US did see another opportunity, however: the Douglas Dakota. The RAF's prolific use of the Douglas Dakota would inspire the US to use C-47 Skytrains as their primary aircraft for the airlift. C-47s were the militarized and Americanized version of the civilian Douglas DC-3 [Read More]
---
Handling Characteristics from Real Pilots
Ric Hallquist, the former chief pilot of Missionary Flights International (MFI), served as a DC-3 captain and mechanic for years. Though now retired, he says the DC-3 is an honest, straightforward airplane that will continue to keep you on your toes as long as you fly it. Ric compares the handling of the DC-3 to a giant, over-sized Super Cub, or a pick-up truck without power steering. Just like any other taildragger, it has that inherent instability on take-off and landing, but because it's slow and heavy, Ric says it's very forgiving. The "big oleo struts are pretty forgiving, pretty gentle" even on rough landings, Ric says, though like most taildraggers if you don't "tack it on," it's prone to "dolphining" over the runway. All that taken into consideration, Ric still believes the Cessna 185 is harder to land!
"[The DC-3] is slow to get you into trouble, but even slower to get you out of trouble." Ric Hallquist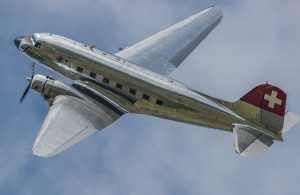 Ric believes the DC-3 has survived (and thrived) for the past 81 years because it was over-designed. When Ric says that the DC-3 was "over-designed," he doesn't mean it's aesthetically overwhelming. He means that back in 1936, the Douglas Corporation had never built an all-metal airplane this large, and so they took extra measures to make it hardy and dependable. The military's version, the C-47, was even sturdier, with a beefed up airframe and stronger landing gear. Ric credits some of the airplanes durability to the construction of its wings.
Instead of using ribs and a carry-through spar, as was traditional at the time, the DC-3's center-wing was made with a honeycomb-like collection of metal boxes connected with "about 360 bolts" and rivets. This lead to a more even load-distribution across the entire wing, allowing the DC-3 to withstand considerable amounts of punishment before the wings even hint at an issue. That being said, Ric did tell me about an AD mandating 2000 hour wing inspections.12 With a plane that old, you can't really blame them! Again, as an old metal plane, a common issue DC-3s should be inspected for is corrosion.
As an uncommonly utilitarian airplane (Ric says MFI can swap between the passenger configuration- which seats 32- to the cargo configuration in one day) it makes sense that the DC-3 would do well in adverse conditions. What doesn't make much sense is just how well it does. The DC-3 takes no notice of rough, unimproved airstrips, and doesn't pay much mind to the length, either. Ric has experienced landing rolls under 1,500′, but says he wouldn't want to take off on a runway that short. Ric has never lost an engine on takeoff but has had an engine fail about 200-300 feet AGL, and the DC-3 handled it like a champ.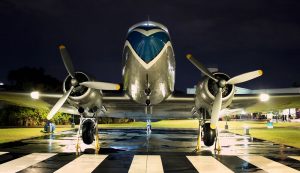 Fun Facts About the Douglas DC-3
A ski-equipped DC-3 named "Que Sera Sera" was the first airplane to land at the South Pole in October of 1956.9
Designed to carry a maximum of no more than 30 passengers, one C-47 in Burma during the war somehow managed to board a total of 74, including the then-Lt Col. Jimmy Doolittle, who was en route home from his famous bombing raid on Tokyo. Even more impressive, a DC-3 once "wallowed into the air" in Brazil, carrying 93 flood victims.8
The DC-3 has over 20 nicknames; military and civilian alike. The most notable of which are: Gooney Bird, The Flying Elephants, The Beast, Biscuit Bomber, Old Methuselah, the Placid Plodder, Puff the Magic Dragon, and many, many more.10
A C-47 ran out of fuel with all its crew bailing out, only to learn later that the aircraft had landed gently all by itself in a meadow several miles from where the crew had deserted her.8
The DC-3 used an impressive amount of material during construction, with each aircraft using 3,900 feet of tubing, 8,000 feet of wire, and roughly 13,300 square feet of sheet metal.8
Owning a DC-3
Owning your own DC-3 is pretty far from practical, but in case you were wondering: a functional, airworthy 1942 DC-3 runs about $4.5 million dollars.
EDIT: Ric Hallquist informed me that the $4.5 million price tag is for a turbine DC-3T.  "A DC-3 with radials can be picked up for only about $140,000." Thanks Ric!
Final Thoughts on the Douglas DC-3
The Douglas DC-3 made flying as a form of transportation possible for the masses, something everyone is thankful for. It's affordable, well-made design gave airplane engineers and manufacturers room to innovate and experiment, helping even to create the airliners we all fly on today. The fact that airlines and businesses still use the DC-3 (many of which were built in the early 40s) is a testament to it's strength, durability, and flexibility as the needs of a nation evolved over time.
And for you pilots who would like another notch in your belt, it's still very possible to get a DC-3 type rating! It just takes patience, physical strength, and a lot of time. However, every pilot who flies the Douglas DC-3 has nothing but good things to say, according to Ric Hallquist. It's a graceful machine that can handle any challenge you throw at it, and that sort of beauty never grows old.
Featured Image: "Douglas DC-3" by Sergey Vladimirov, used under license CC BY 2.0
Resources and References:
1 – "DC-3 Commercial Transport," Boeing, Retrieved 7-11-17
2 – "Douglas DC-3," Wikipedia, Retrieved 7-11-17
3 – "Douglas DC-3 Technical Specifications," American Museum of Aviation, Retrieved 7-11-17
4 – "Boeing 247 Technical Specifications," American Museum of Aviation, Retrieved 7-11-17
5 – "The Douglas DC-3," Richard Harris, Retrieved 7-11-17
6 – "How to Fly the DC-3,"  The DC-3 Hangar, Randy L. Sohn, Retrieved 7-11-17
7 – "DC-3, a Real Man's Airplane," Flying Magazine, Martha Lunken, Retrieved 7-11-17
8 – "Incredible and Amazing Facts About the Douglas DC-3," The DC-3 Hangar, Retrieved 7-11-17
9 – "R4D-5L Skytrain "Que Sera Sera," National Naval Aviation Museum, Retrieved 7-11-17
10 – "Did You Know? Aliases of the C-47," The DC-3/Dakota Historical Society, Retrieved 7-11-17
11 – Phone interview with Ric Hallquist, 7-13-2017
12 – "FAA AD 92-06-15", Retrieved 7-24-17
---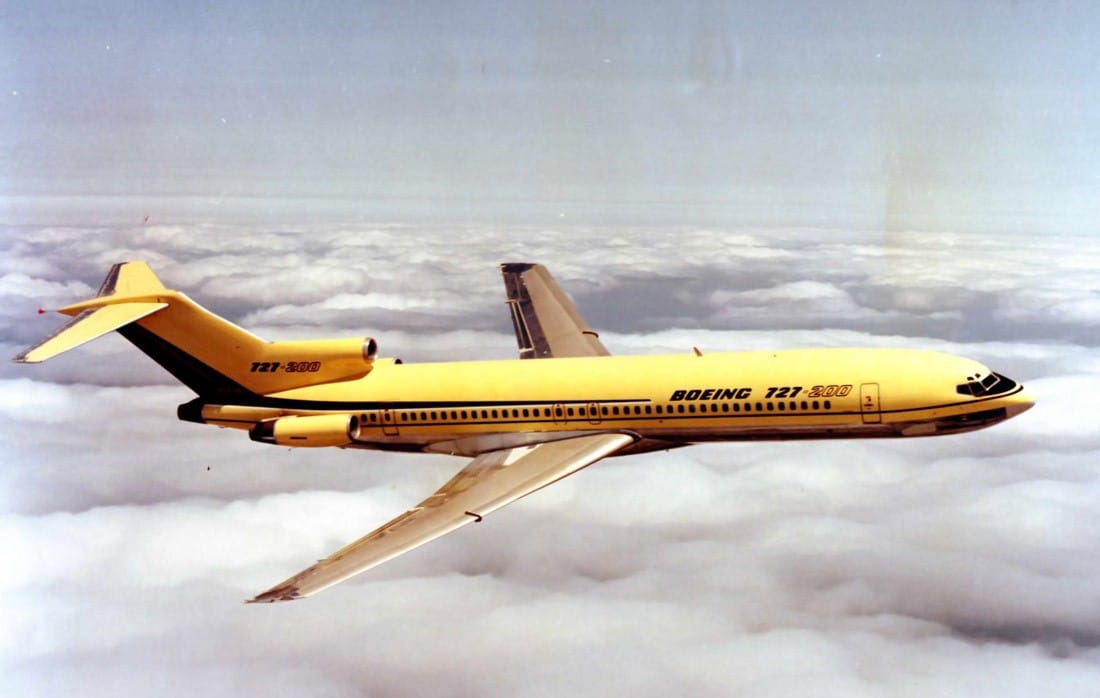 Flying the Amazing Boeing 727
After 48,060 landings, 64,495 hours and 3 million passengers, the first Boeing 727 (-100) to ever fly, recently flew its last trip to Seattle's Museum of Flight. Thousands of pilots mourn its retirement, but the event also revives fond memories for those that flew one. It's those pilots that will always remember protecting essential, dropping the aft air stairs, and the sound of that really loud trim wheel. So, let's wipe away the cobwebs [Read More]
---