As the de Havilland Beaver departs the ground, the smile will be on the face of the pilot. Every time you lift off, it seems like a miracle that such a big, heavy plane can get off the ground so quickly, even with a heavy load.
By Crista Worthy with Steve Burak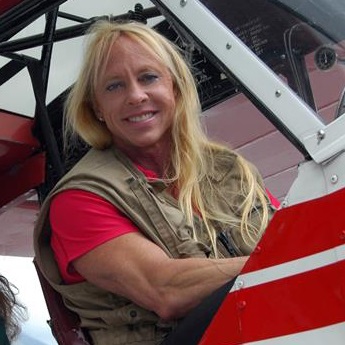 Arguably the best bush plane ever built, the de Havilland Beaver will celebrate 70 years in the sky in August 2017. Here in Idaho where most of our friends tool around the backcountry on a weekly basis, it's always the Beaver that draws the most attention. Seeing one fly by, low and slow up the canyon, as you stand on an airstrip beside the Middle Fork of the Salmon River, is sure to make your day. Harrison Ford owns about a dozen airplanes and has often said that if he could keep only one, it would be the Beaver. With a big, nine-cylinder Pratt & Whitney strapped to the front, this 5,100-pound workhorse boasts a useful load of around 2,000 pounds (exact numbers depend on how it's configured inside, among other things), and it's built to operate out of short and rough airstrips. Strap on skis or floats and you have the ultimate adventure airplane.
Officially known as the de Havilland Canada DHC-2 MkI Beaver, the aircraft was meticulously designed as a purpose-built bush airplane capable of carrying heavy loads into confined, and sometimes rough, areas. Conceived and built in Downsview, Ontario, Canada, much of the Beaver's early flight testing was done on floats.
The Beaver made its initial flight in August 1947, and the first production Beaver was delivered soon thereafter, in early 1948. By the time production ended in 1967, approximately 1,650 Mk.I Beavers has been built, in addition to a single Mk.II prototype with a 500-hp Alvis Leonides engine, and 60 Mk.III turbo Beavers.
History of the de Havilland Beaver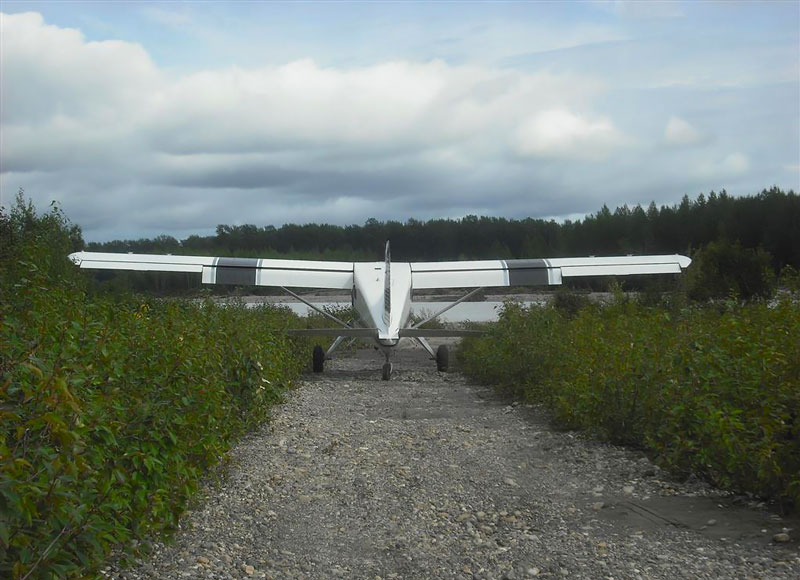 After the close of World War II, de Havilland turned its attention to civilian aviation. They hired famous bush pilot Punch Dickins as their sales director. Dickins solicited suggestions for new aircraft from working pilots and received an overwhelming number of requests for a tough and powerful STOL (short takeoff and landing) aircraft, capable of being flown on wheels, skis, or floats, that could haul large and awkward loads into remote areas. Speed was not a priority, so long at the new airplane would be "faster than a dog sled."
In September of 1946 de Havilland hired five engineers to develop the new aircraft: Phil Garratt, Jaki Jakimiuk, Dick Hiscocks, Fred Buller, and Jim Houston. The team came up with an all-metal design that relied on steel from the engine to the firewall, heavy aluminum truss frames with panels and doors throughout the front seat area, lighter trusses toward the rear, and all monocoque construction aft. Since all de Havilland Canada airplanes were named after animals, the company christened the new model the Beaver, after the hardworking mammal.
The Engine of the de Havilland Beaver
Because de Havilland was then a British-owned company, the airplane was initially designed for a British engine, most likely the inline 330-hp Gipsy. To maintain STOL performance, the wing was huge. But when Pratt & Whitney Canada offered to supply war surplus 450-hp, nine-cylinder radial R-985 Wasp Junior engines at a low price, the DHC-2 got the big wing and a more powerful engine, keys to its exceptional STOL performance for an aircraft that weighs over 5,000 pounds.
In 1949 the U.S. Army began searching for a new utility aircraft and chose the Beaver over the lower-performance Cessna 195. The outbreak of the Korean War led to hundreds of U.S. military orders and was followed by orders from around the globe.
---
The Korea Files 1: Life at K-13 with the 4th Fighter Group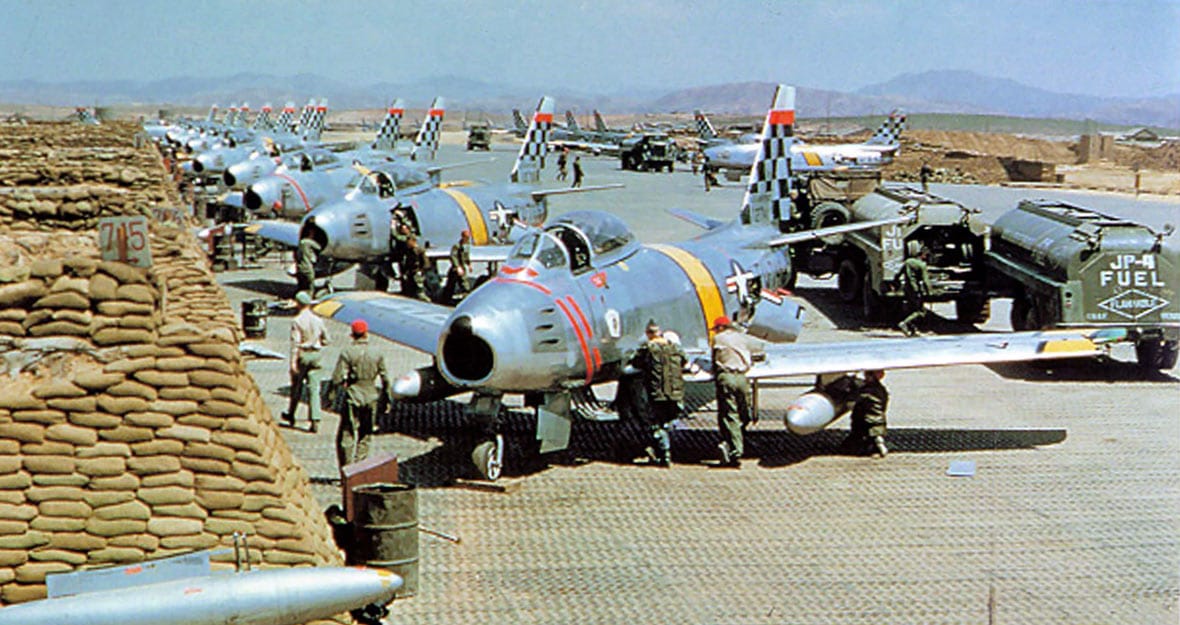 I arrived in South Korea in July 1951, after having spent a month and a half at Johnson Air Force Base outside Tokyo.  My first duty station in Korea was Suwon Air Force Base, or K-13, located several miles southwest of the ancient walled city of Suwon. The air bases were all identified with "K" (for Korea) numbers. The further south you went the lower the numbers. K-13 was the main base of the 4th Fighter Group, which was comprised of three [Click to read more…]
---
De Havilland adapted the Mk.I to turbine power when it created the Mk.III Beaver, strapping a Pratt & Whitney PT6 up front. The turbine necessitated a number of modifications to the fuselage: the additional horsepower was managed by a larger vertical fin and rudder, while the potential change in CG was mitigated by a 28-inch extension to the fuselage behind the pilot's seat.
Recent Developments for the de Havilland Beaver
In 1987 the Canadian Engineering Centennial Board named the DHC-2 one of the top ten Canadian engineering achievements of the 20th century.
Viking Air of Victoria, British Columbia, Canada, purchased the remaining tooling and manufactures replacement parts for many early de Havilland aircraft. In 2006, Bombardier Aerospace sold the type certificates for all the original de Havilland designs to Viking, giving it the exclusive right to manufacture new de Havilland Beavers. Using existing airframes only, Viking now sells a remanufactured and rebuilt DHC-2T Turbo Beaver upgraded with a Pratt & Whitney Canada PT6A-34 680-hp turboprop engine, a gross weight increase to 6,000 pounds, and 2,450-pound useful load. Viking also builds its own DHC-6 Series 400 Twin Otter, manufactured from a completely new airframe.
Steve Burak, de Havilland Beaver Owner, and Pilot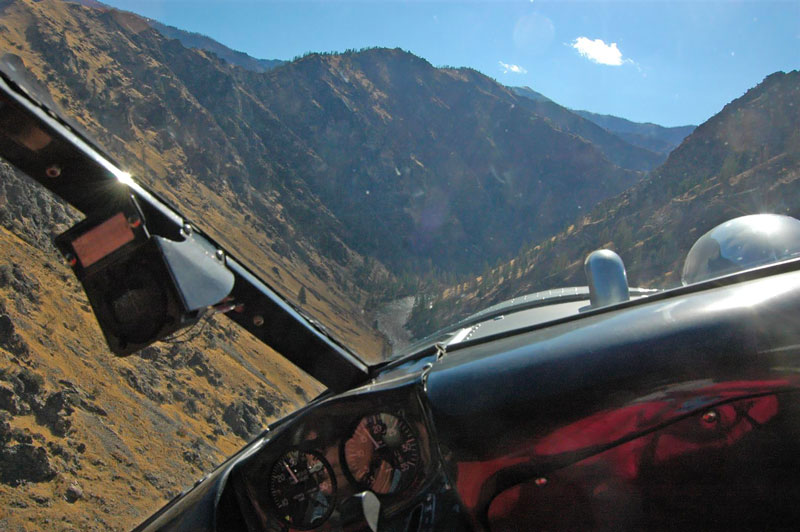 As part of the research for this article, I spoke with Steve Burak, who owns and flies a 1956 DHC-2 that he purchased in Alaska as a complete wreck. (This I discovered when I pulled out a laminated photo of an airplane wreckage from a seat pouch in the Beaver and asked, "Hey Steve, what plane is this?" His reply, "You're flying in it!" caused momentary panic until I realized Burak already had over a hundred hours in the rebuilt plane and it hadn't fallen apart yet.)
Indeed, over a 4-year period, Burak rebuilt the Beaver and transformed it into one of the best examples on the planet, with custom leather seats, LED strobes and landing lights, a 5,600-pound gross weight kit, bubble windows, rooftop skylights, extended baggage, forward battery, and an alternator instead of a generator. Based in Idaho, Burak and his wife Nadine, also a pilot, own a gorgeous guest lodge (which they built by hand) called The Bent Prop, just outside of Alaska's Denali National Park. Each summer they strap floats onto their Beaver and fly it from Idaho to their lodge, which is situated on Shulin Lake, 45 minutes from Mt. McKinley. From their Alaska base, they fly guests out to secret fishing, hunting, and hiking spots around the state. You can find them at www.BentPropLodge.com. The Buraks also own and fly a Cessna 180.
Getting Ready to Fly the de Havilland Beaver
The designers of the de Havilland Beaver could have chosen the inline 330-hp Gipsy engine, but instead went with the huge 450-hp, nine-cylinder Pratt & Whitney R-985 Wasp Junior radial engine. It's mounted vertically to provide loading flexibility, which is why the Beaver has that big round nose. The large interior console that rises between the pilot and co-pilot's feet? That's the 6-gallon engine oil tank. The filler cap sits on the right, beside the co-pilot's left knee, and can theoretically be filled in flight, although Steve says he hasn't personally tried that.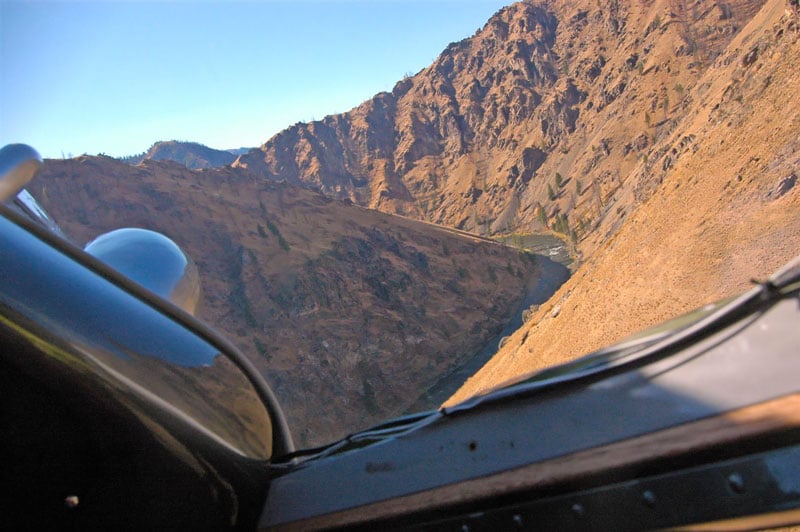 The supercharged engine is thirsty, for both oil and fuel. When I asked Steve what his gph fuel burn usually is, he answered, "If you have to ask, you can't afford it!" (Most burn about 22–28 gph.) Beavers have multiple fuel tanks. Three of them hold 95 gallons in the forward belly (25, 35, and 35 gallons). The nice thing about their location is that you don't need a ladder to fill them. Some Beavers have tip tanks which add up to another 46 gallons.
The Beaver is not an airplane you just jump into in a big hurry and take off. That radial needs a little TLC to keep you happily aloft for years to come. Any radial is subject to something called hydraulic lock, where the oil pools in lower combustion chambers, especially if the aircraft has been sitting for a long time. Starting that engine might be a bit like trying to run when you're knee deep in quicksand.
To prevent catastrophe, after ensuring the magnetos aren't live, you slowly pull the prop through by hand at least 6 blades. Next, you'll prime five cylinders, engage the starter, count as five blades move by and then switch on the mags. After the five primed cylinders fire, the other four come on line with a cloud of smoke and that unmistakable sound of a Beaver getting ready to fly. It's not ready yet, though. The prudent pilot will taxi slowly to an appropriate location, if not already there, and always wait until the engine is thoroughly warmed up and oil temperature reaches 140, which can take 10–15 minutes.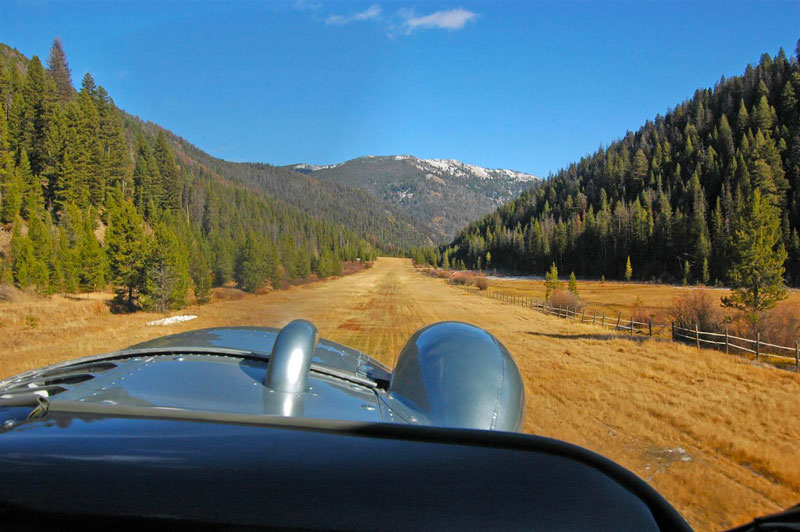 Takeoff in the de Havilland Beaver
You'll need flaps. In the case of the Beaver, that means flaperons, because the ailerons are also dropped when the flaps are deployed. The hydraulically-activated flaps can be deployed to the exact angle you want using the dial indicator on the dash. One rule of thumb when setting takeoff flaps is to crank the yoke to one side and deploy the flaps to match.
At takeoff, you'll see 36.5 inches of manifold pressure at 2,300 rpm. Watch that you don't overboost. As you throttle up, anyone standing in the vicinity will immediately clap their hands over their ears to protect them from the Beaver's roar, but you can bet they'll have a smile on their face!
As the airplane departs the ground, the smile will be on the face of the pilot. Every time you lift off, it seems like a miracle that such a big, heavy plane can get off the ground so quickly, even with a heavy load. Turns require plenty of rudder to combat the adverse yaw that comes with that 48-foot wingspan. It won't turn on a dime, but who cares? Want that—get a Pitts.
---
Pitts Special: The Quintessential Aerobatic Performer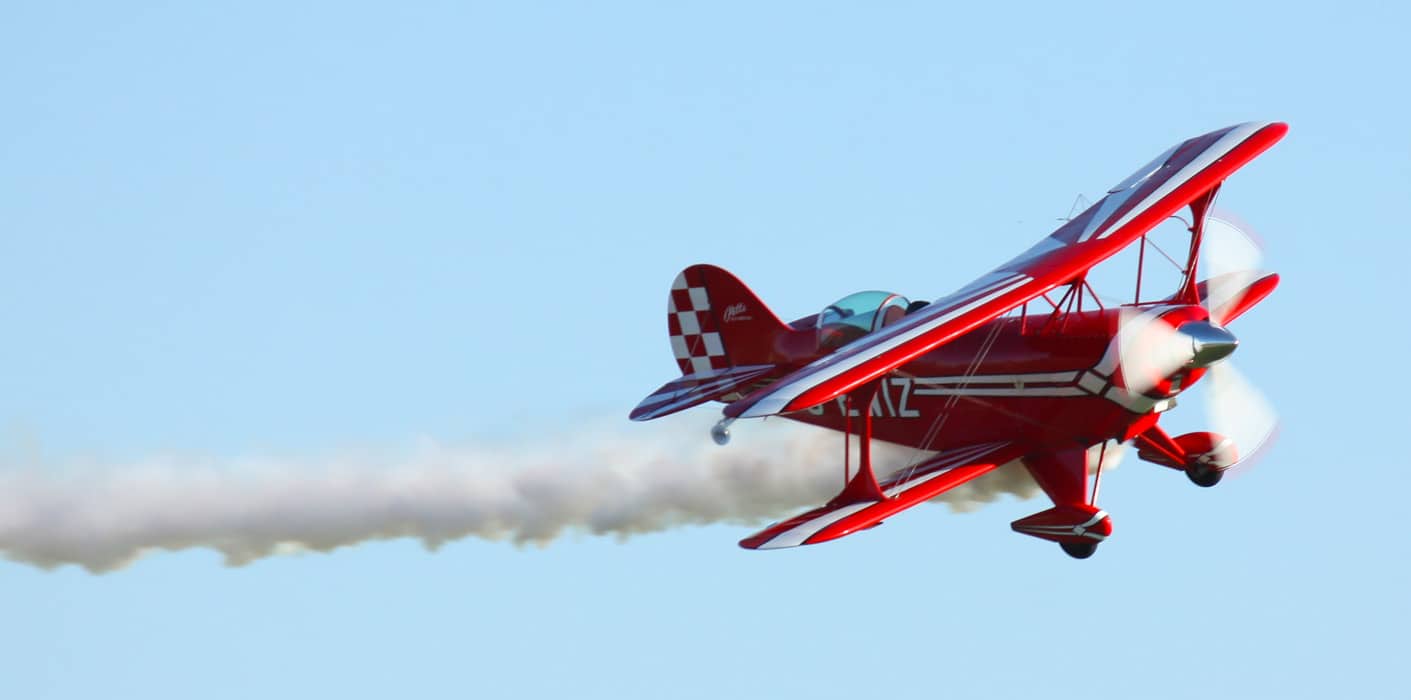 Mention aerobatics and air shows to almost anyone and the first image that comes to mind is usually a small, brightly-painted biplane—the Pitts Special. Sure, you can do akro in an old Stearman or Waco but that means diving for enough airspeed to be able to pull the airplane through a maneuver. But with the small, lightweight, purpose-built Pitts coupled to a powerful engine, you get an aircraft that can simply power [Click to read more…]
---
Climbout & Cruise in the de Havilland Beaver
As you climb, you'll be monitoring the engine and adding a bit more power, but don't expect it to rocket up. Partial flaps work best. On hot days you may have to throttle back or level off a bit to keep the engine from overheating.
Climb-out is usually at 80 mph and cruise is at 110 mph. Once leaned back you can expect between 18-20 gph and about 6 hours duration.
Approach & Landing in the de Havilland Beaver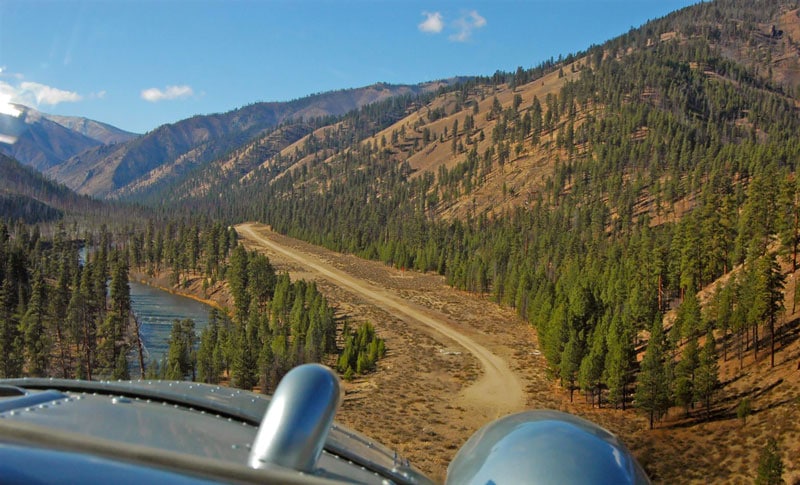 Perhaps the most important thing to keep in mind as you prepare to land is not to allow the plane to get behind the power curve. You need to keep the nose low to maintain airspeed, or you'll end up with too much drag and sink. Even full power may not be enough to arrest such a descent, unless you push the nose down, which runs counter to many pilot's instincts. This behavior is something any Beaver pilot should become very familiar with. Practice slow approaches at a safe altitude until you have thoroughly explored the bottom end of the airplane's performance envelope. Usually, land with take-off flaps. If you need landing flaps to get in you probably won't be able to leave.
Flaps can go all the way to 58 degrees, although, according to the POH, that's for "emergency crash landings" only. The airplane tackles rough water or rough airstrips with grace.
For those who wish to get checked out in the Beaver, Ryan Seaplanes in Florida has a good program, and you can find them online at www.RyanSeaplanes.com.
Maintenance & Operational Costs for the de Havilland Beaver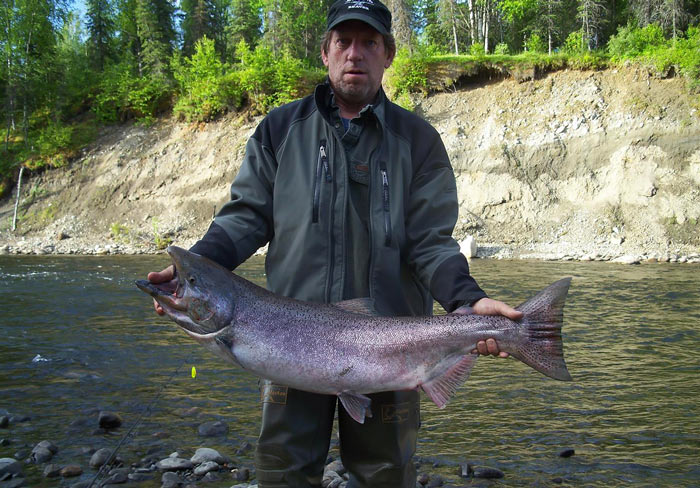 Steve Burak: At the cost of fuel today and the cost of an overhaul you can figure on operational costs of about $250/hour. Like any airplane, there are recurring ADs and the complete list of things that need to be looked at periodically. For example, the tail-plane has a spar AD and you must inspect it for cracks. Also, you must inspect the bird-cage for corrosion, due to the age of most Beavers.
Adventures with the de Havilland Beaver
Steve Burak: We have had the good fortune to fly our Beaver to Alaska and back every year and sometimes twice. We have also competed in the short-field take-off and landing competitions in Valdez. We have placed first and second in the flour-bombing and pumpkin drop events where we dropped pumpkins out the camera hole in the belly. We've also competed in the drag races at the Nevada High Sierra Fly-in. We've flown the Beaver into Denali National Park and picnicked on Backside Lake there. We also spent three seasons chasing trophy Rainbow Trout out of Iliamna, and about seven years chasing Salmon throughout Alaska. In the fall we drop the floats, on go the wheels, and we head for the Idaho back country until spring.
Mods for the de Havilland Beaver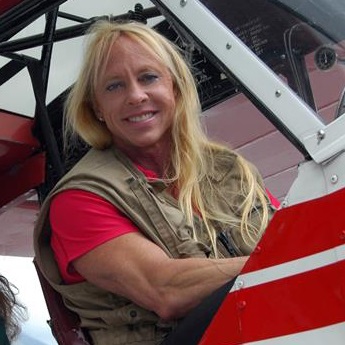 People adapt Beavers for all sorts of missions, depending on their needs. Larger windows, larger cargo doors, and a variety of seating configurations are just some of the approved mods. You can also get an increase in gross weight to 5,600 pounds for the Mk.I and 6,000 pounds for the Mk.III. Water operators like to move the air induction to the top of the cowl to prevent water ingestion. Stronger wing struts are popular with those who operate in the bush. Minnesota's Wipaire, a maker of floats, has developed a turbine conversion. (They can be found at www.Wipaire.com) Viking Air Ltd. (www.VikingAir.com) also has a turbine conversion, although the two are very different from one another.
Kenmore Air Harbor (www.KenmoreAirHarbor.com), which provides maintenance and a seaplane flight school (its sister company Kenmore Air provides commercial seaplane service in the Puget Sound area), has also converted a number of ex-military Beavers to civilian configurations for general aviation use.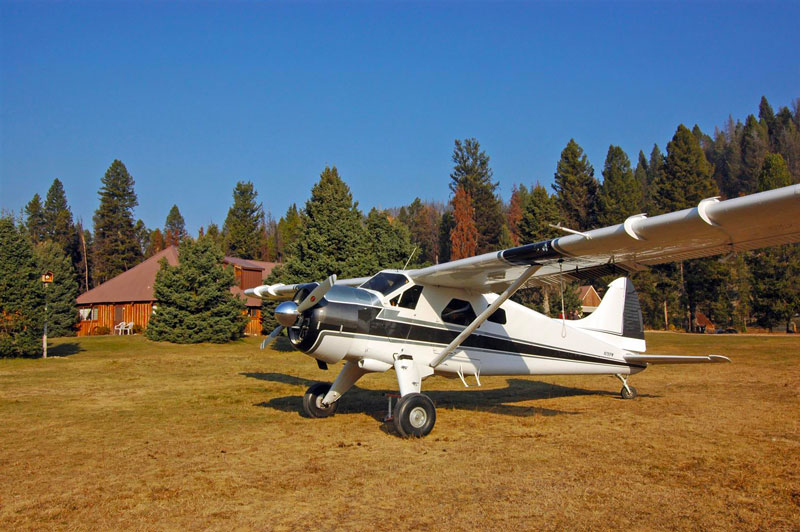 Over the years, pilots' fascination with the DHC-2 has only grown. Any time a de Havilland Beaver approaches a fly-in, all heads swivel to follow the big beast as it lumbers across the sky, and they flock around it after shutdown. Beaver enthusiasts even have a website dedicated to their favorite aircraft, at www.DHC-2.com. With its amazing durability, the de Havilland Beaver will continue to grace skies worldwide for many decades to come.
Featured Image: de Havilland Beaver at a secret fishing spot, courtesy Steve & Nadine Burak.
Basic De Havilland DHC-2 Beaver Specs
General characteristics
Crew: 1
Capacity: 6 passengers, 2,100 lb (953 kg) useful load
Length: 30 ft 3 in (9.22 m)
Wingspan: 48 ft 0 in (14.63 m)
Height: 9 ft 0 in (2.74 m)
Wing area: 250 ft2 (23.2 m2)
Empty weight: 3,000 lb (1,361 kg)
Gross weight: 5,100 lb (2,313 kg)
Powerplant: 1 × Pratt & Whitney R-985 Wasp Jr. radial engine, 450 hp (336 kW) each
Performance
Maximum speed: 158 mph (255 km/h)
Cruise speed: 143 mph (230 km/h)
Range: 455 miles (732 km)
Service ceiling: 18,000 ft (5,486 m)
Rate of climb: 1,020 ft/min (5.2 m/s)
---
Backcountry Flying: Everything You Need To Know to Get Started!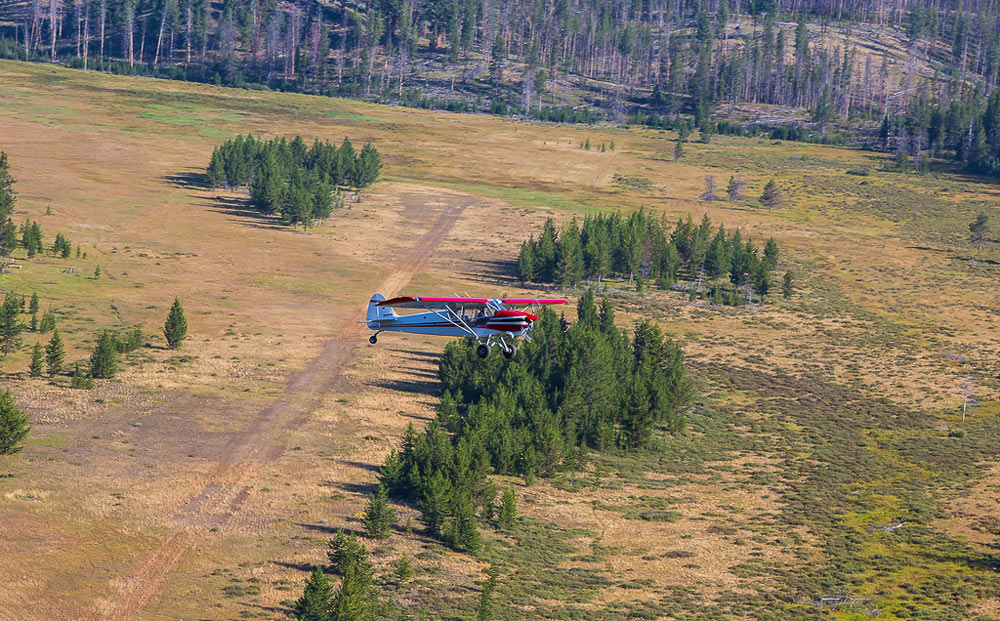 There's simply nothing else like taking off from an urban airport and flying to the mountains, ducking into a deep, twisty canyon, and plunking down onto a grass strip beside the river. You shut down, hop out, and breathe deeply after that exhilarating landing. Instead of car exhaust or smog, you smell pine needles on the brisk, clean air. The only sounds are the singing of birds and the flow of the river. In a flash, you've transported yourself from the stress of city life to a veritable paradise. So how do you do this backcountry-flying thing successfully? [Click to read more…]
---