The new Super Legend XP offers a variety of enhancements and modifications.
American Legend Aircraft Company has revealed the enhanced performance version of their Legend Cub, the Super Legend XP (eXtra Performance). According to the company, the new features offered with the Super Legend XP make it the "most capable newly manufactured Cub available today."
The Super Legend XP, available as an E-LSA (Experimental Light Sport Aircraft) or EAB (Experimental Amateur Built), is powered by a Titan engine, which offers a duel fuel configuration so pilots can fuel up with either avgas or mogas. The engine timing, which is switch-selectable, is "tuned to either fuel grade, while a surplus of power remains available on both." The airplane is equipped with an optimized, fixed pitch Catto propeller, which is said to perform extremely well on take-off, while also offering solid cruise performance without "over-revving the motor."
Other enhancements and modifications the Super Legend XP offers include:
Square wing tips, extended flaps and ailerons, and other wing modifications offering

Improved slow speed characteristics
Higher top speed
Greater control authority

40-gallon useable fuel tanks (for longer backcountry flights, of course)
An improved undercarriage, including "a custom-made cabane vee" offering a "perfect match for bigger engines and tundra tires."
An extended landing gear that address three inches in height and puts the wheels three inches forward, offering an increased angle of attack for "better takeoff performance and improved braking with heavier engines."

The landing gear also comes equipped with Acme Aero Shocks, offering additional comfort and control during taxiing and landing.

A range of Grove tundra tires, from 8.5 to 31 inches (that's quite the range…), paired with Grove brakes, with a choice of either heel or toe brakes.
A T3 Tailwheel Suspension System, which replaces a customary static leaf spring with a dynamic coil spring to provide impact cushioning and limit rebounding. American Legend notes the T3 system works with Scott and ABI baby bushwheels.
An L-21 style extended read window, and a skylight, to offer a less obstructed view to pilots.
An extended baggage area to allow for the transport of lengthy and bulky gear in the tail section.
Photos courtesy of Jim Wilson Photography and American Legend Aircraft Company.
Launch customer Joe Edwards described the XP as the best of all worlds, saying that "It cruises more comfortably and it performs short takeoffs and landings with the best them. My XP stalls at 8 MPH less, at approximately 25 MPH, with its longer flaps." Edwards adds that there's a cosmetic benefit too. "The XP looks bigger, larger, and heavier. More importantly, the performance goals we achieved met all my expectations."
More information can be found on the American Legend website, or if you happen to be in the Oshkosh neighborhood next week, you can see the entire Legend Cub lineup at AirVenture, in booth number 356 in the Main Aircraft Display.
Featured Image: Super Legend XP, courtesy of Jim Wilson Photography and American Legend Aircraft Company.
---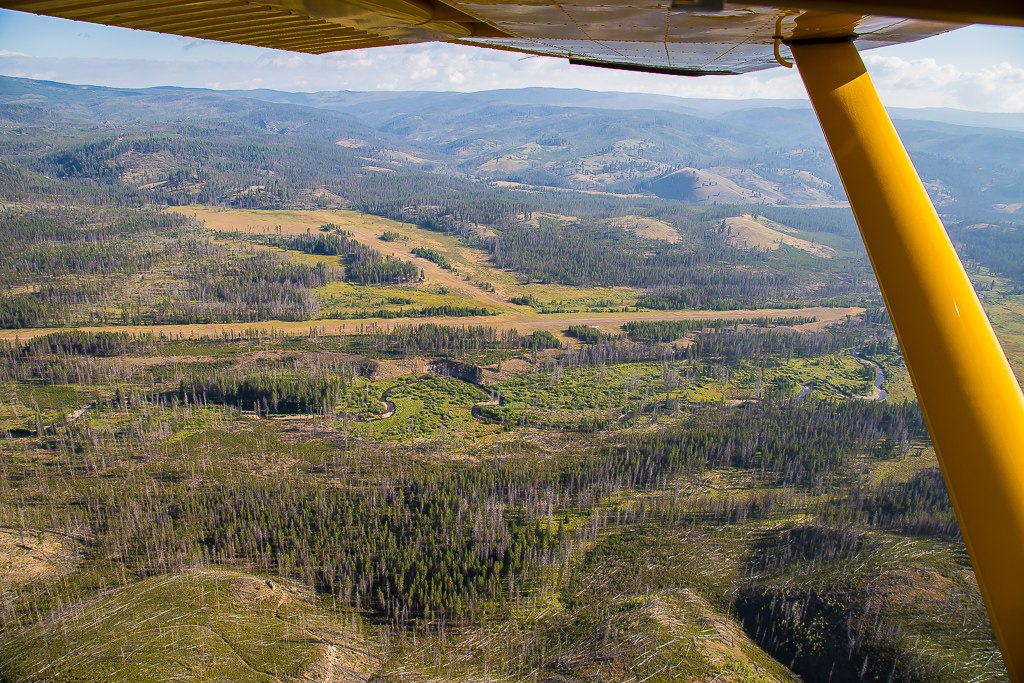 Flying to the Chamberlain Basin Airstrip
I like remote and isolated places. So when Chamberlain Basin in Central Idaho was introduced to me, I started dreaming of flying an airplane to a place I could camp, fish and explore. And where no automobile could bring the masses of people that flock to places like this. The Frank Church River of No Return Wilderness Area in central Idaho is just such a place, and more. The adjoining Gospel Hump and Selway-Bitterroot Wilderness areas combine [Read More]
---