I admit to having gazed at N703 sitting nearby with a vague wonderment but without any thoughts of ownership.
[Featured Image used with permission, and courtesy of John M. Dibbs, www.planepicture.com]
On short final to runway 13 at Dutch Harbor (DUT), my mind flashed briefly to Commander (CC) U.S.N. Louis Haase, Naval representative of the Bureau of Aeronautics on Aug. 31, 1944. Assigned to approving JRF-5 aircraft at the Bethpage N.Y. Grumman Aircraft plant he might have been concentrating on the immediate adequacy of the aircraft for use by the Navy without thoroughly understanding what he was starting both in time and space.
Or that it might later be used for work in the field of wildlife protection for the U.S. Fish and Wildlife, and then, in full circle, return to flight training as it had done initially in 1944 with the Marine Corps and Navy. And so, following an inspection and flight, he approved B-81 Bu. No 37828, one of a block of aircraft contracted from Grumman.
It probably did not puzzle the man to consider why the aircraft would even exist in 73 years, much less be flying, and even much less than that in much the same configuration as when approved in the first place, having escaped the "modifiers" of the world who insist that they know better than the creator of the machine itself.
Looking nearly 73 years on in time, the inspector might have been surprised to learn that B-81 would still be flying and that the area of operation for this apparently suitable-for-the-Navy/Marine-Corps-equipment would include the East and West Coast of the US, the coast of the Gulf of Mexico, the coast of Western Canada, much of mainland Alaska, the Eastern Aleutian area of Alaska and the interior of much of the continental US and Western Canada.
Not bad for a throw-away machine created on Long Island by the Grumman Bridge and Iron Works.
The Dutch Harbor Raid and the Beginning of N703's Journey
The mind snaps back to the approach to runway 13 at DUT. It is late May 2017 by this time, nearing the 75th Anniversary of the June 3-4 attacks by the Japanese on Dutch Harbor, then a sleepy military outpost manned mostly by folks who wanted to be anywhere else. While there might have been a "woman behind every tree" as promised by the top brass, there were absolutely no trees.
Lessons of war are learned at various speeds and to varying effects. Finding no trees, while traumatic, is not the same as learning some other lessons.
Some lessons of flight are immediate and permanent. On June 4, 1942, nineteen year -old Zero pilot Petty Officer First Class Tadayoshi Koga "learned" that the tundra on Akutan Island, 25 miles east of Dutch, that looked flat and hard was neither, and that a "gear up" landing would have been preferred for his aircraft crippled in the second day of the Dutch Harbor raid on June 4, 1942. Expecting to be picked up by an awaiting submarine, he paid dearly for the lack of knowledge, a fate that occasionally befalls pilots. Wingman Tsuguo Shikada had seen the glint of water in the natural deception too late to warn Koga.
The US retrieved Koga's aircraft and learned much, which saved American lives but cost the Japanese considerably. We had reflected on that lesson in flying over the Akutan field while rerouting to DUT just 20 minutes or so earlier. The field remains deceptively landable 75 years later. Based on lessons learned through the experience of Koga we would now land with the wheels up if we were forced to land there as he was. We thank Koga for this lesson and for hard-earned lessons passed on by other aviators. We promise not to forget the lessons learned at such a price.
---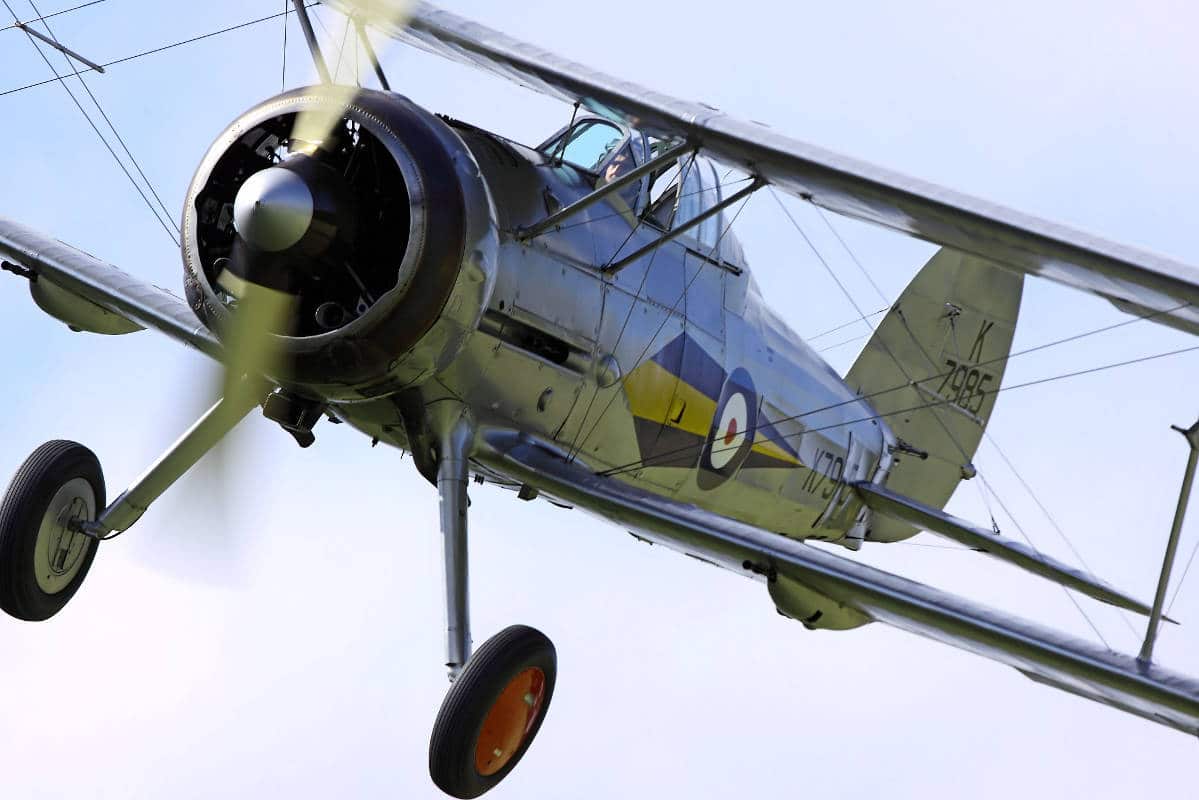 World War 2 Flying Ace Arthur Chin's Amazing True Story
Acquaintances commented in his later years that it was difficult to tell his age; most of his face had been burned away and the scar tissue now covering it was smoother than his natural skin would have been. He had been movie-star handsome, but about all that was left of his original face were his eyes, protected from the inferno by his goggles. How did those eyes keep their twinkle? Especially after all he had been through – frustrations; crashes, defeats; after his first wife had died in his arms [Read More]
---
Never enough timely flight information. Flight always carries some element of the unknown. Not knowing the unknown is troublesome in aviation, and brain surgery too, I suppose, without direct experience in one of those.
The journey for (Bu. No. 37828) Serial No. B-81, now N703, began near the end of WWII and took faltering steps to arrive at Dutch. Other Gooses, many with a similar experience in the military, came to the Eastern Aleutians shortly after WWII and provided then-modern transportation for a number of isolated communities. They, as well as the pilots flying them, were well loved and admired for the contribution to the area. But time had overtaken this affection and several years ago the last commercial Goose left DUT and the area, for good, replaced by the lowly Navajo which does not land in the water more than once very well.
In post-WWII with a shortage of runways for the Aleutian communities this water capability was an important issue and to some extent still is in some areas. But, while the Gosse is still willing to try, the commercial operators are not. Increasing runway access is a poor excuse for finding a Navajo to be a reasonable substitute for a splash in the water. Just sayin'.
The Aleutian folks missed their Goose, and for good reason. And now in 2017, it was returning, however briefly. Goose N703, nee B-81, from the Goose Hangar on Lake Hood at Anchorage, Alaska with a "fighter escort" Harvard from the CAF at Merrill Field had been invited by the Dutch Harbor Community to attend the remembrance ceremonies. The invitation was irresistible.
The Navy had experimented with stealth in the air, or at least with the idea that an airplane in the air is more difficult to be shot at if it is not readily visible. In maritime areas, this means various combinations of gray and blue. Looks like an ocean swell or a bleak cloudy sky or so goes the plan. Having gone through a series of colors in an attempt at camouflage, the Navy had apparently given up by 1944 and painted BN-81 an inglorious dark blue, a color also found on Navy buses and staff cars. Ugh!
By 1944 the Japanese didn't care for the color either and were apparently in no position to shoot down even the slowest of dark blue flying machines. So, why bother with camo paint? But dark blue was in long supply and was just right to cover the zinc chromate paint that was instrumental in preserving airplanes that float. And this is the only plausible explanation for the ugly 1944 color scheme.
From Training to Storage, and Back to Government Service
The Marines and the Navy had used Bu. No 37828 for flight training at the Annapolis Naval Air Station. The aircraft was at Quonset Point Air Station R.I. for maintenance and storage and then Santa Barbara and Pt. Magu on the West Coast for coastal patrol. It sat in storage for several years on the east coast.
Deemed usable in the Navy and other military services, a number of Grummans: Widgeons, Gooses, Albatrosses, were delivered to other federal agencies where new uses were found. In Alaska, this consisted of a number of Gooses and Widgeons. And, not being in the military now, these needed "N" numbers. US Fish and Wildlife was given the 700 series to use. BLM got 800. In walking around Lake Hood, Anchorage Alaska, note the private aircraft with three digit 700 or 800 numbers. There are also Cessnas and others bearing these numbers, some purchased, some surplus, some perhaps confiscated for various wildlife infractions by the owner.
What had been dark Navy blue paint for B-81 became U.S. Fish and Wildlife white and orange. The cradles upon which N703 was painted in the mid-1960's are sitting outside the Goose Hangar at Lake Hood, both over-sprayed white and orange colors on them. Tom Wardleigh, Fish and Wildlife pilot/mechanic, said that he was in a hurry to do the painting because there had been a number of accidents of other Gooses and this one had to be repainted in a hurry and put into service.
The Gooses were put to immediate use surveying various species of flora and fauna, transporting fuel and equipment, hauling building materials and the like. Western Alaska and Kodiak Island were frequented by N703 and others. N703 spent considerable time at King Salmon, Alaska, for example. Patrols against fish poaching and other law enforcement activities were common.
The Goose sound is unique and pleasant, really more like the rushing noise of a large bird than machinery. The sound is nothing like two Beavers nailed together for sure. How does an aircraft with the same two P&W 985-14B engines and the same props as most Beavers possess leave and arrive so quietly? Good upbringing, and a long memory of the now -distant mocks from those who mistake being classical for being obsolete. Bad mistake. A Goose remembers.
Some believe that the exhaust coming out on the top of the wing instead of out the side is the reason for the rather subdued sound. US Fish and Wildlife was rumored to sneak up on poachers and land right on top of them in the water. Sneaky feds!! High winds in King Salmon might have helped some too. A better explanation is simply a good pedigree.
Rumor has it that given the fact that the U.S. Fish has a wide variety of available aircraft in King Salmon, the last to give up in a strong crosswind was the Goose. A rudder the size of a small Kansas county and ailerons only slightly smaller help. Yes, the gear legs are narrower than a Widgeon and I don't care much. Just right.
In the 1970's a traveler going to the Intl Airport in Anchorage would be treated in the winter to seeing a gaggle of orange and white Gooses tailed into the fence near Fish and Wildlife Cove at Lake Hood awaiting maintenance and summer operations in distant Alaskan areas. I did not notice them much, getting into flying only in 1977, when most including N703 were gone. I did not appreciate then what one was or could do. I flew a Cessna 185 and thought that was the perfect answer to flight. I had tried winching through Alaska with a 1970 Toyota Land Cruiser and found that to be slow. Looking up while searching for the winch cable hook in a mud puddle I noticed that others were finding their way by another method. How clever, I thought.
---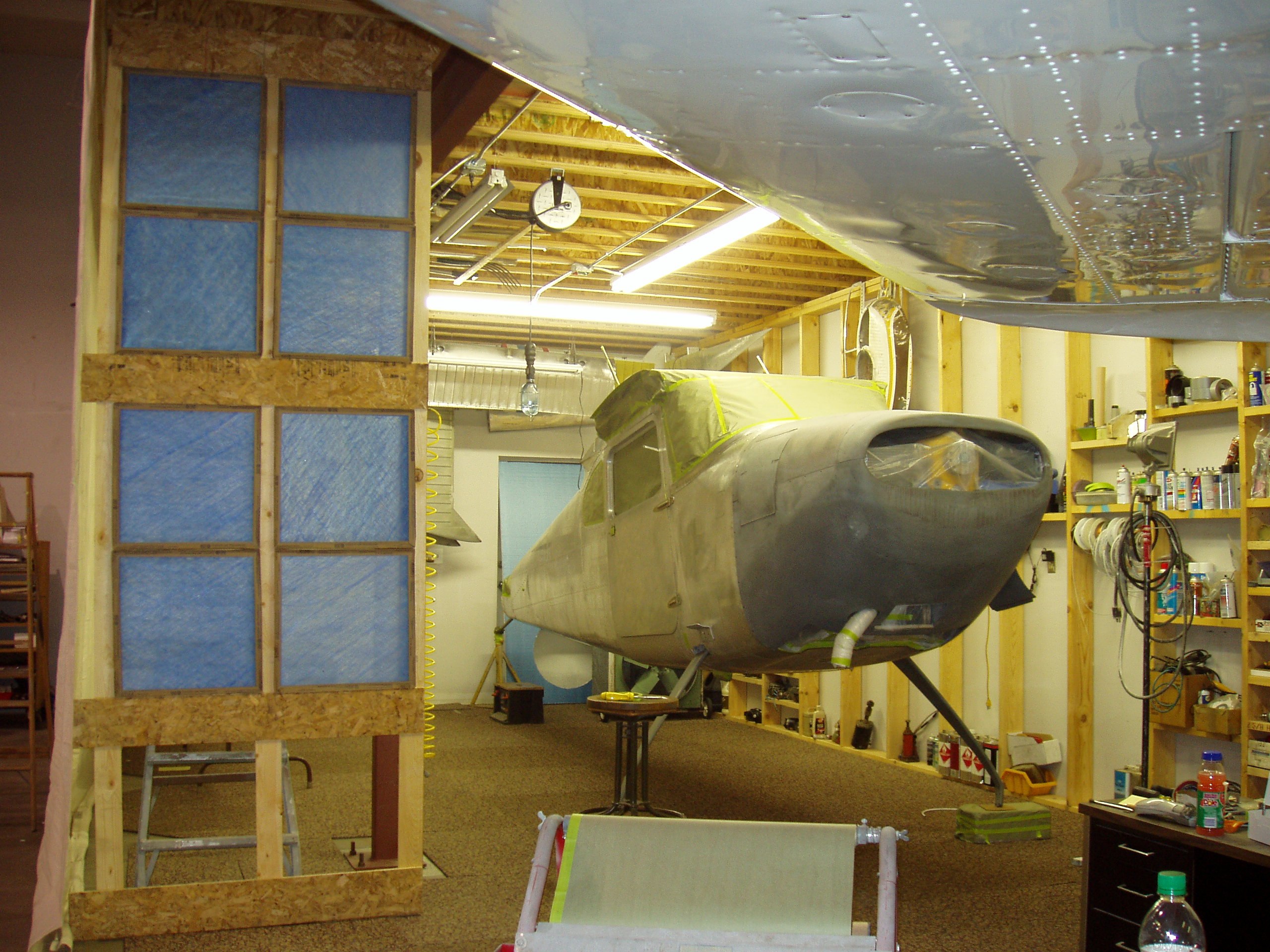 Tailwheel: Learning to Fly and Restoring a Cessna 180 Skywagon
Learning to fly tailwheel airplanes was an achievement I did not know would affect me as much as it did. I can not adequately describe what it is about conventional gear airplanes that draws me to them. But I love flying them and was always interested in the Cessna 180 Skywagon. Perhaps it's the nostalgia, reminding me a time gone by. Maybe it's the challenge of the beautiful and charming, yet stubborn and temperamental machine [Read More]
---
And Back to Storage
After a few short years of managing fish and wildlife, the aircraft was again forsaken by its Government masters and one of the Fish and Wildlife mechanics, Norm Brunquist, purchased it in the early 70's on a surplus sale. It was slid across Lake Spenard on the winter's ice and parked in the weeds on the east side for the next 20 years, only to be played in by a number of young "Spenard hoodlums" who imagined themselves to be Goose pilots. Movement of throttles was accompanied by engine sounds provided by the raucous youths. Competing shouts of "get out of there you kids" was followed by a rapid return by most, none being particularly impressed by the owner's threats. A number of these hoodlums did become pilots, commercial no less, and one of them now owns a Widgeon: almost becoming the imagined Goose pilot but still a "good dude".
The right engine was removed by the owner and a replacement was obtained but only got as far as the new owner's garage. The left engine was mercifully left on the wing, remaining to this day only the second left engine that has been there since approval of Bu. No, 37828 in 1944.
Rediscovering N703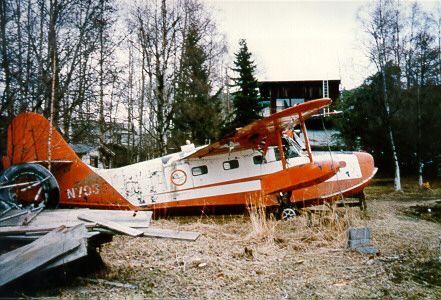 In the 1980's I, like many others, refueled on floats at Norm's place on Lake Spenard. The Goose was parked in the weeds there next to Norm's fuel tank and the refrigerator which contained a notebook for recording your tail number, amount of fuel taken and address. A bill came in the mail. This was old Alaska, long since gone.
I admit to having gazed at N703 sitting nearby with a vague wonderment but without any thoughts of ownership, or of it being there along the fence at an earlier time. Having refueled the Cessna 185 and having written in the notebook, I left, like others, distracted by thoughts of activities more manageable than undertaking a rebuild of this massive aircraft. But the Goose was a sad sight. It was so abandoned that tire manufacturers had ceased making proper 32×8.8 tires decades before it was parked. It sat on common truck tires like an old Dodge with wings. One tire was flat. The fabric, remaining only in small amounts, was in tatters.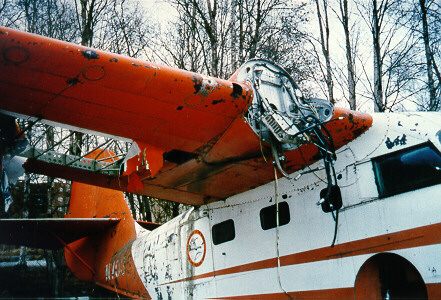 The sun's rays and wind passed through the trailing edge of the wings outboard of the nacelles. It was rumored that Norm had removed the fabric to avoid what was a considerable assessment for aircraft personal property taxes. Later the tax became a flat fee of $250 but the fabric was long gone. The removal did aid in the process of removing the winter snow from the wings – the snow falling harmlessly to earth under the wings.
The Goose sat for over 20 years, perhaps musing that other lesser aircraft had found useful homes and operated regularly right on Lake Hood as if mocking the old Goose.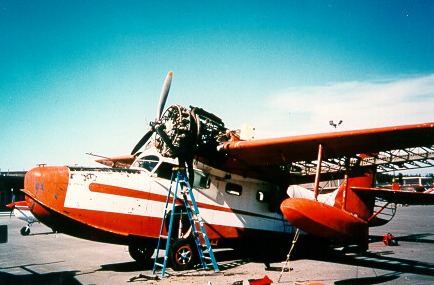 By 1994, following 20 plus years in the weeds, and having been partially disassembled the Goose awaited a better life and now the mocking has now ceased. When the Goose flies off Lake Hood the event is noted by those "in the know" about airplanes.
[This is the first installment in a series of articles about the life of the Grumman Goose N703. Stay tuned for additional stories!]