The FAA's Las Vegas Metroplex workshops are meant to explain airspace issues they've found to the public and discuss possible solutions.
The FAA has announced dates for three public informational workshops to go over their proposed improvements for the airspace in the Las Vegas metro area. The improvements are part of the FAA's Las Vegas Metroplex project which intends to make use of streamlined satellite navigation in order to move air traffic more safely and efficiently through the area. The project will include McCarran International Airport, North Las Vegas Airport, Henderson Executive Airport, and Nellis Air Force Base. Along with similar projects in Southern California and Denver, the Las Vegas project is one of twelve Metroplex projects nationwide.
As part of the project, the FAA would modify existing air routes to new satellite-based routes, which would enable the creation of routes that are more direct, automatically separated from one another, allow for "highly efficient" climbs and descents for arrival and departure routes, and offer potentially significant environmental benefits. The agency notes that they have not yet started to design the modified routes and that the primary purpose of the workshops is to explain the issues they've found with the current airspace and discuss some of the potential solutions to those issues.
More Infomation on the FAA's Las Vegas Metroplex Workshops
FAA representatives will be in attendance at the workshops in order to answer questions. In addition, people will have the chance to submit written comments at the workshop, and online for a period of 30 days after the workshop. The workshops, which will run from 4 PM to 8 PM, will be in an open-house format, and people can attend at any time during the four-hour period to learn about the project.
The workshops will be held at the following locations, and the FAA says that free parking will be available at all three locations:
Henderson Convention Center

Date: Tuesday, April 25th, 2017
Time: 4 PM – 8 PM
Address: 200 S. Water Street, Henderson, NV 89015

North Las Vegas Airport

Date: Wednesday, April 26, 2017
Time: 4 PM – 8 PM
Address: 2730 Airport Drive, North Las Vegas, NV 89032

Clark County Government Center

Date: Thursday, April 27, 2017
Time: 4 PM – 8 PM
500 S. Grand Central Parkway, Las Vegas, NV 89155
During the design process for the new/modified routes, the FAA says they will be holding additional workshops where they will share the proposed routes, and ask for feedback and comments on them. The agency says that the community feedback they receive from these future workshops will help determine any changes or adjustments that may need to be made to the routes.
Featured Image: McCarran International Airport, courtesy of Prayitno, CC BY 2.0
---
March-April 2017 FAA Safety Briefing Covers 'Ins and Outs of ADS-B'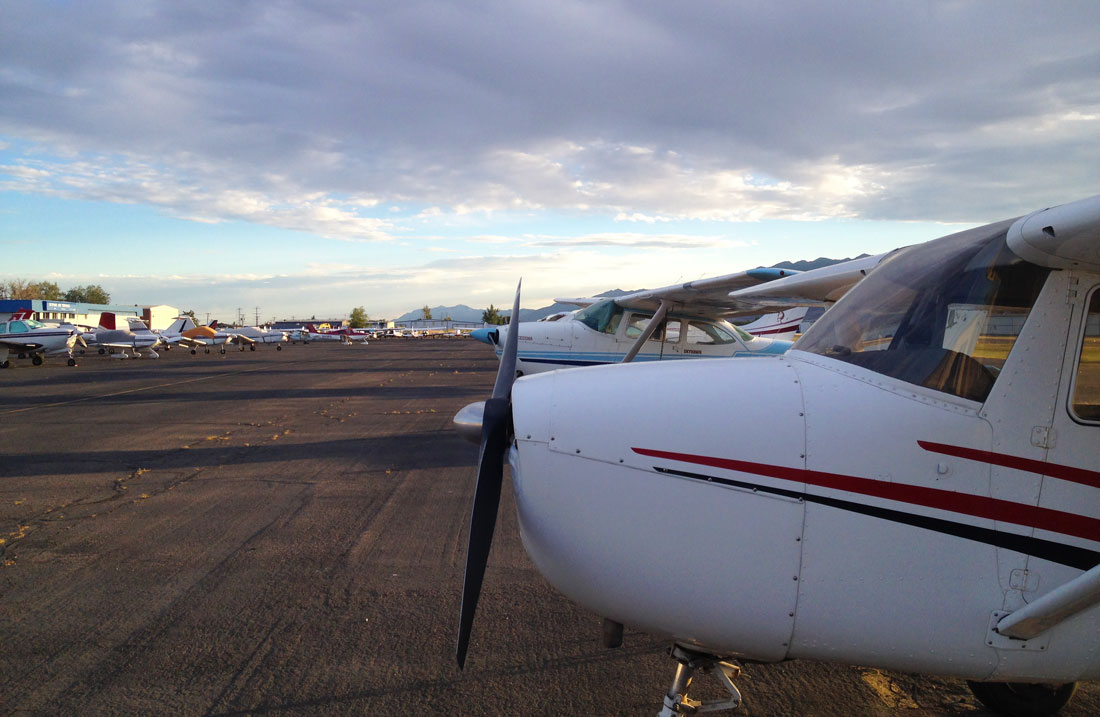 There's a lot to know about Automatic Dependent Surveillance-Broadcast (ADS-B). So in order to continue preparing pilots to be ready for the upcoming January 1, 2020, ADS-B deadline, that's the FAA's focus for the March-April 2017 FAA Safety Briefing: everything from the benefits of ADS-B, to details on the purchase, installation, and operation of ADS-B equipment. So, let's a quick look at the many articles the FAA has prepared, and what else is being discussed in the latest issue of Safety Briefing. [Click to read more…]
---