The Continental engine service bulletin MSB05-8B applies to various IO-470, IO-520, and IO-550 models.
Continental Motors Group (CMG) has released an official statement discussing their recent engine service bulletin after noting that the publication of MSB05-8B has been the cause of "much speculation," and "may have caused some confusion."
Continental says that together with the FAA, they "are working as fast as possible to make sure that, while ensuring the highest levels of safety, owners and operators of aircraft equipped with Continental engines will not be burdened with unnecessary costs."
In detailing the progression of the service bulletin, Continental says that in late 2016/early 2017, reports of camshaft gear fractures were provided to the FAA as part of the ongoing FAA Continued Operational Safety program, and after the FAA's COS team conducted a statistical assessment, they concluded an AD was merited regarding the issue. So the agency asked Continental to "reformat the current bulletin into a format compatible with FAA AC 20-176 to facilitate an AD," which Continental agreed to and accomplished with the recent mandatory bulletin.
Continental notes that they are now "working diligently with the FAA to make significant amendments to MSB05-8B," something which they expect will happen in the next 15 days. They provide three main issues they're attempting to address in order to reduce the potential burden on aircraft owners and operators:
Changing replacement of the camshaft gear from mandatory to a visual inspection procedure allowing "on condition" operation until the engine is overhauled, replaced, or the gear is accessible.
Changing the time limit imposed by MSB05-8B, to values that will still ensure that the appropriate level of safety is attained, but does not dictate a mandatory overhaul time limit.
Publish alternative means of compliance, in order to allow for replacement of the camshaft gear without complete engine disassembly.
The engine manufacturer notes that engines manufactured or rebuilt "at the Continental Motors factory after August 9, 2005, are not affected" as the new camshaft gear has been installed since that date, unless, they add, "the cam gear in the engine has been replaced during a maintenance event with an earlier, superseded gear."
Continental also stresses that they didn't request the FAA issue an AD regarding the camshaft gears in question, but that the FAA decided an AD was warranted and reached out to Continental and requested the engine service bulletin rewrite after they concluded their analysis of the reports.
---
Original Post 4-21-17: FAA, GA Groups Discuss Continental Engine Service Bulletin
In 2005, Continental  Motors issued an engine service bulletin, SB05-8, recommending the replacement of older camshaft gears with a new part and detailing "a required Permold crankcase modification to eliminate interference with the new thicker camshaft gear." The engine manufacturer had a concern on a certain camshaft gear part used in their IO-470, IO-520, and IO-550 engine models, which are found in a variety of different aircraft, from Cessna 182s, 206s, and 210s to Beechcraft Bonanzas. Their concern was that engines using older camshaft gears had the potential to sustain a gear tooth fracture and lead to a possible power failure of the engine. This bulletin was revised and updated in 2009 (SB05-8A).
Then, in December 2016, the FAA issued an airworthiness concern sheet regarding camshaft gears with the P/N 656031 and P/N 655516. (P/N 655516 was the camshaft gear manufactured from 1999-2002, which was replaced by gear P/N 656031 from 2002-2005.) The FAA noted three occurrences of failed gear teeth due to fatigue on engines equipped with P/N 656031, though Continental reportedly said that they had only seen failures up to that point in engines with P/N 655516.
Then recently, on March 29, 2017, Continental issued another updated service bulletin, MSB05-8B, which upgraded the bulletin to mandatory. This has caused a lot of concern from aircraft owners/operators, which we'll get to shortly. The bulletin now requires that engines with camshaft gear parts P/N 631845, 655430, 655516, or 656031 replace that gear with P/N 656818 "within 100-hours of operation, at the next engine overhaul (not to exceed 12 years engine time in service), or whenever camshaft gear is accessible, whichever occurs first." The bulletin affects the following engine models:
IO-470-U and V
IO- 520-A, B, BA, BB, C, CB, D, E, F, J, K, L, M, MB, N, NB, P, R
L/TSIO-520-ALL
LIO-520-P
IO-550-A, B, C, D, E, F, G, L, N, P, R
IOF-550-B, C, D, E, F, L, N, P, R
TSIO-550-A, B, C, E
TSIOL-550-A, B, C
The bulletin was upgraded to mandatory, reportedly at least in part because Continental felt that people weren't taking it seriously enough. At the recent Sun 'n Fun Fly-In, Flying heard from Continental reps that "Most shops are still removing the original gear, testing it and reinstalling it." They also heard from a pilot whose engine was being worked on when he saw the bulletin, and who installed the new part. According to the pilot, "The part is roughly $1,200 and requires a small amount of machining inside the case to get installed."1
Cause for Concern?
The upgraded service bulletin has brought up some concerns among many owners/operators, and GA groups like the Aircraft Owners and Pilots Association, who refer to the required work as "a costly and invasive procedure."2
So, on April 14, 2017, AOPA set up a conference call with FAA and the American Bonanza Society, Cirrus Owners and Pilots Association, Twin Cessna Flyer group, and Savvy Aviation to discuss the "implications of Continental Motors upgrading a prior service bulletin to mandatory status," including the FAA using the bulletin as a basis for a related airworthiness directive.
David Oord, AOPA's Senior Director of Regulatory Affairs, said that the call focused on "identifying, understanding, and quantifying the safety concerns of the airworthiness concern sheet and mandatory service bulletin and explored ways to best mitigate them," and that the call provided a better understanding of the issues to those involved.
He added that the participants in the call will also be engaging Continental Motors in discussions "to better understand the issue from their point of view," and that AOPA will continue to keep members updated on the issues. Oord also encouraged members to contact AOPA with any feedback or input that they'd like provided to the FAA.
To read the updated Continental engine service bulletin MSB05-8B, click here.
Footnotes and Sources: 
1 – Continental Makes Engine Service Bulletin Mandatory, Rob Mark, Flying, Retrieved 4-21-17
2 – AOPA, Owners Groups, FAA Discuss Mandatory Service Bulletin, Dan Namowitz, AOPA, Retrieved 4-21-17
---
Becoming an Aviation Mechanic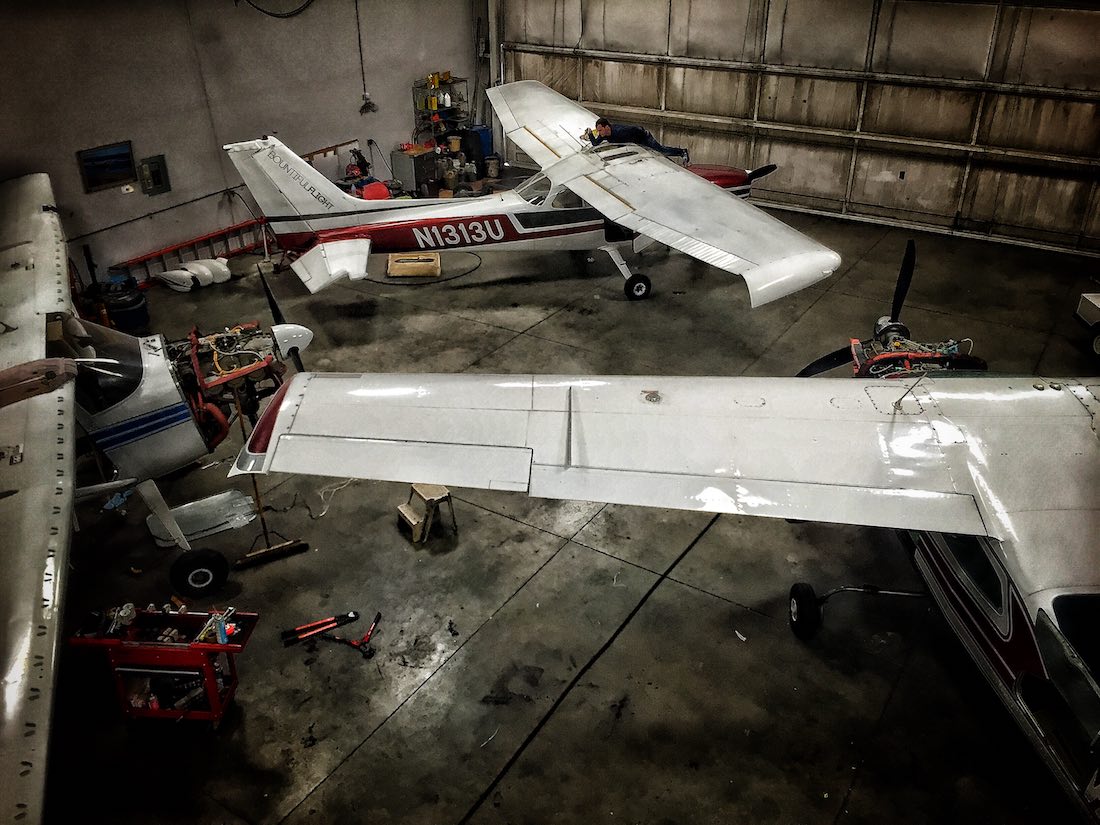 My mechanical background and path to becoming an aviation mechanic started way back when I was in high school. I got a job at a local car shop and was able to get school credit for working half of each day during my senior year. I was so thrilled with the opportunity that I sucked up everything I possibly could. I was excited to even stay after school and earn minimum wage while I learned more about being a mechanic. I swept floors, cleaned parts, and organized tools for hours on end. The few dollars I made were spent buying parts for my cherished Camaro. [Click to read more…]
---