The Beechcraft A36 Bonanza: Reliability, Comfort, and Performance
The Beech Aircraft company was founded in 1932 in Wichita, Kansas, by Walter Beech and his wife Olive. Beech had previously founded Travel Air in 1924, but after they were bought by Curtiss-Wright in 1929 and Beech was moved to a position as VP of Sales, he longed for a return to airplane production. So he quit, founded a new company, and set up shop in an idle Cessna factory.
Fifteen years later in 1947, they shipped the first airplane from the Beechcraft Bonanza line, a Model 35.
As a tragic side note, it was an original 1947 Model 35 Bonanza that was involved in the famous plane crash that claimed the life of musician Buddy Holly.  On the February 3rd, 19591, at about 1 in morning, rock stars Holly, Richie Valens, JP "the Big Bopper" Richardson and pilot Roger Peterson took off from Mason City Airport in Iowa in a light snow.  Shortly after takeoff, they crashed into a cornfield, killing all four men on board.
In a follow-up investigation, the crash was attributed to pilot error.  The generally accepted theory is that the 21-year-old Peterson couldn't accurately read the plane's Sperry F3 attitude indicator, and thought the plane was ascending when it was actually descending.  A couple of other factors contributed to the crash: Peterson did not hold an instrument rating and was not aware of the adverse weather conditions until shortly before taking off.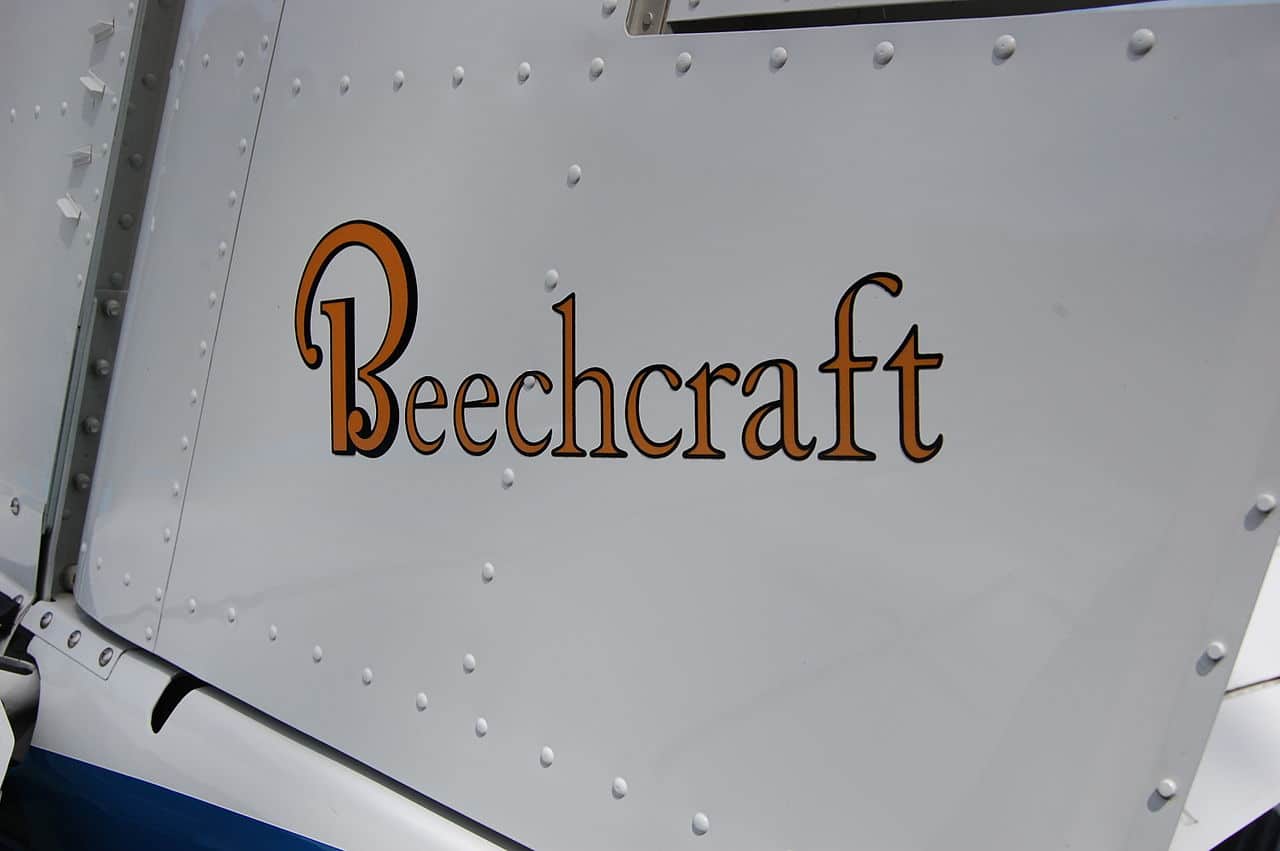 (Photo by: Spartan 7W, CC3)
Since 1947, Bonanzas have been in continual production, and this line of aircraft hold the record for the longest production run of any aircraft in history. During the ongoing 68 year run, they have built more than 17,000 Bonanzas between all the many models and variants. But out of the many models, the Beechcraft A36 Bonanza reigns supreme. First built in 1970, 2,128 A36 models have been delivered and are still in service. And though the A36 model came to an end in 2005, its legacy lives on with the G36.
So what makes the A36 Bonanza such a great airplane, and lands it high on the dream list for many private pilots, next to other comparable aircraft like the Cessna 210? Reliability, comfort, and performance.
A Quick A36 Bonanza History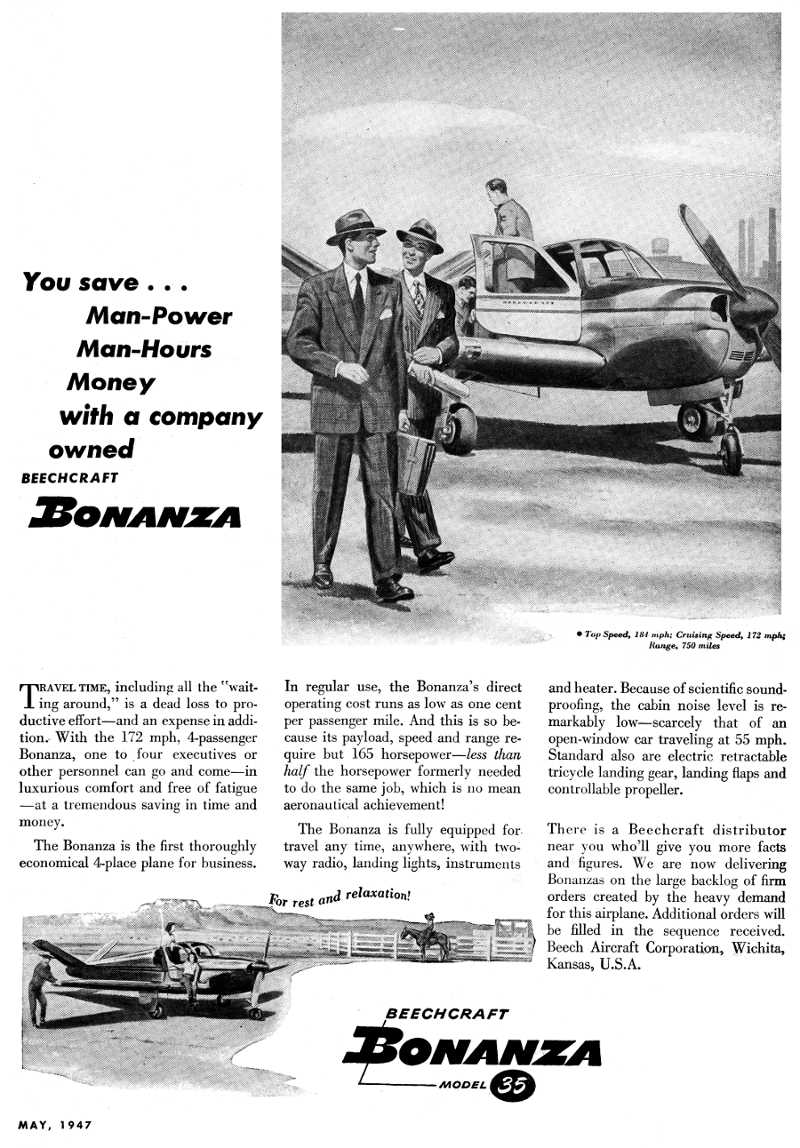 By the time the Model 36 arrived, Beechcraft had been making Bonanzas for over 20 years. This meant that they could draw on years of experience and knowledge, and deliver a reliable, dialed in model with a sleek, aerodynamic design right out of the gate. The first Model 36, delivered in 1968, used a modified Model 33 Bonanza fuselage, which was 10 inches longer, with the length split fairly evenly for and aft of the wing. This extra length allowed them to add a third row of seats, making it a six-seat aircraft, and the largest single Beechcraft made. The Model 36 also featured four cabin windows on each side, starboard rear double doors for the aft cabin, and a 285 hp Continental IO-520-B engine.
Two years later, in 1970, they released the A36 Model. It had an improved deluxe interior, a new fuel system, and higher takeoff weight. And for the next 35 years, that was it. No B, C or D (or all the way to S, like the Cessna 172) models2, though they did produce a turbocharged version in 1979, the A36TC.  This version had a three blade propeller and a 300 hp turbocharged Continental TSIO-520-UB engine.
Twenty-two years after "The Day That Music Died," another accident occurred that may have had a similarly large impact on our culture if it had gone a little differently.  On February 7th, 1981, Apple developer and co-founder Steve Wozniak took off from Sky Park Airport in Scotts Valley, California in his Beechcraft A36TC Bonanza.  As he was starting to climb, the aircraft stalled, and then bounced down the runway, breaking through two fences and crashing into an embankment.  Wozniak suffered severe head and face injuries, including anterograde amnesia, or the inability to form new memories.  He suffered from this amnesia for almost five weeks, and couldn't remember the crash, the hospital where he was taken, or what he did after being released from the hospital.  He eventually recovered and continued his long and ongoing involvement with the world of computers.
The turbocharged version received an upgrade in 1982, the B36TC, which featured a longer wing span, redesigned instrument panel and controls, a higher take off weight and an increase in range. This variant remained in production until 2002.
Occasional updates to the A36 were made through the years, from updating to a 28-volt electrical system in the late 70s3 to changing to a Continental IO-550-BB engine in 1984, but the A36 remained in production until 2005, weathering multiple general aviation slumps, continuing to sell and remaining a widely admired aircraft.  Finally, in 2005, Beechcraft introduced the G36 model, which was a glass cockpit update of the A36, equipping it with a Garmin G1000 system.
The Beechcraft A36 Bonanza Hallmarks
Reliability
Because of the years of experience behind the production of the A36, the airframe was a very conventional construction, which led to it being durable and generally easier to repair. In addition, with production of the A36 model lasting so long, and the G36 featuring the same basic construction as the A36, parts are widely available. This helps simplify the maintenance and repair process and keeps costs down. Having been in production so long, it also means the most of the quirks and issues with this aircraft are more well known, so there are generally fewer surprises.
Comfort
With 50 inches of height in the cabin, the A36 Bonanza offers enough headroom for most pilots, even taller ones. Large windows surround the pilot and wrap up onto the roof of the aircraft, providing excellent visibility and light. And vibration and sound levels in the cabin better than most other single engine piston aircraft. Additionally, though a few very early A36 models have all six seats facing forward, the club configuration very quickly became standard, with the middle 2 seats facing aft. This allows for passengers to stretch out a little more when not flying at max capacity. Coupled with the large rear doors, access and use of the aft cabin is simple. And if you need a little more room for cargo, taking out the rear seats is a simple process, using quick release pins.
Performance
At 176 kn, the A36 was at the front of the pack for cruise speed during much of its time. And though other more powerful singles and turbocharged aircraft have passed it up, it still remains one of the more fuel efficient, generally burning around 15 gallons an hour at cruise speed. So how does it fly? In a write up a few years back, Flying Magazine had this to say about how the A36 Bonanza handles:
"The flying qualities of the A36 are legendary for excellent harmony of forces and smooth response. The short V-tail and Model 33 Bonanzas may have slightly lighter control force, but the A36 more than makes up for that with enhanced pitch stability. The longer fuselage length and big horizontal tail provide very precise pitch control that lends itself to smooth and predictable approaches and landings, not to mention lower workload when hand flying."
And if you're interested in enhancing the performance aspects of the A36, another benefit of having been around a long time is that there are a lot of modification options. AVWeb put together an excellent mod primer a few years ago, and it's well worth checking out if you're considering investing in an A36.
A Solid Investment
The Bonanza G36 starts at roughly $780,000 new, which may put it out of the range of many pilots. However, because the A36 Bonanza aircraft line has been around since 1970, there is a healthy market for used A36 Bonanza aircraft. Prices can range from around $70,000 for an older year A36 that will require work, to the $3-400,000 range for more recent model years in good flying shape.
When shopping for a used aircraft, of course, the usual caution applies. Be sure to have any prospective purchase checked out by a mechanic knowledgeable and versed with working on Beech aircraft. This will help you understand any potential quirks or problems with the aircraft you're purchasing, and how much of an immediate investment you'll be making in maintenance to get your plane in the sky. The Bonanza aircraft also have one of the most active owner's communities in aviation, and the American Bonanza Society can be an invaluable resource for those looking for information, opinions, and views from current A36 pilots.
The Beechcraft A36 Bonanza Just Looks Cool Too
So, spending some time reading up on the A36 Bonanza, one thing I came to really admire is that this is a sleek aircraft, with a very cool design.  For a plane with such a long history, they got the look right, from the beginning.  Like many classic muscle cars, it has a look that is at once classic, familiar, and distinct.  You usually don't mistake an A36 Bonanza for other aircraft.  And in general, it seems like most people don't want to mess with that classic look, with paint jobs tending to be low key, with different stripe patterns on the fuselage.  However, I did come across a few paint jobs that I felt were a little bold and very nice, without conflicting with or overpowering the basic cool nature of the A36 design.  Interestingly, I found myself drawn to designs that used grey and black.
The first paint job I found on Airliners.net, and it has a beautiful mix of blacks on the belly and grays on the upper half of the fuselage that lend a little more class and power to a newer G36 model.  Click Here to view the photo.
The second, also on Airliners, follows a similar idea to the first, using blacks and greys.  However, they invert the order, with a grey belly, and a black upper half, which still works incredibly well.   Click Here to view the photo.
This third paint job comes from a G36 Bonanza that was up on Global Air.  I particularly like the use of black to highlight the cowling and tail on the aircraft.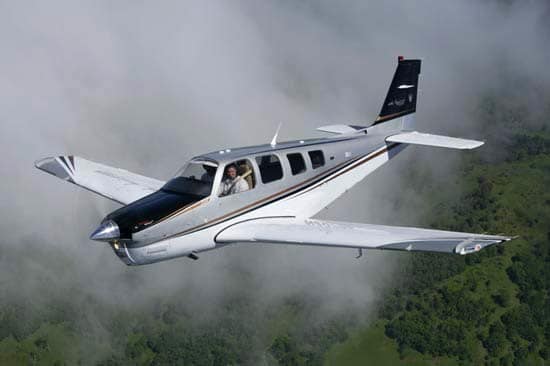 Whether you choose to new or used, the G36 / A36 Bonanza is a great all around aircraft. Sleek, reliable, comfortable and well-established, this aircraft will likely continue to be a favorite of pilots for years to come.
SIDENOTE: During its production, many Bonanza's were built with a distinctive "V-Tail" configuration. In this brief video, Jim Hoddenbach and Bryan Stewart discuss how this configuration led to the nickname "Fork Tailed Doctor Killer."
---
Beechcraft King Air: Over 60 Million Flight Hours and Counting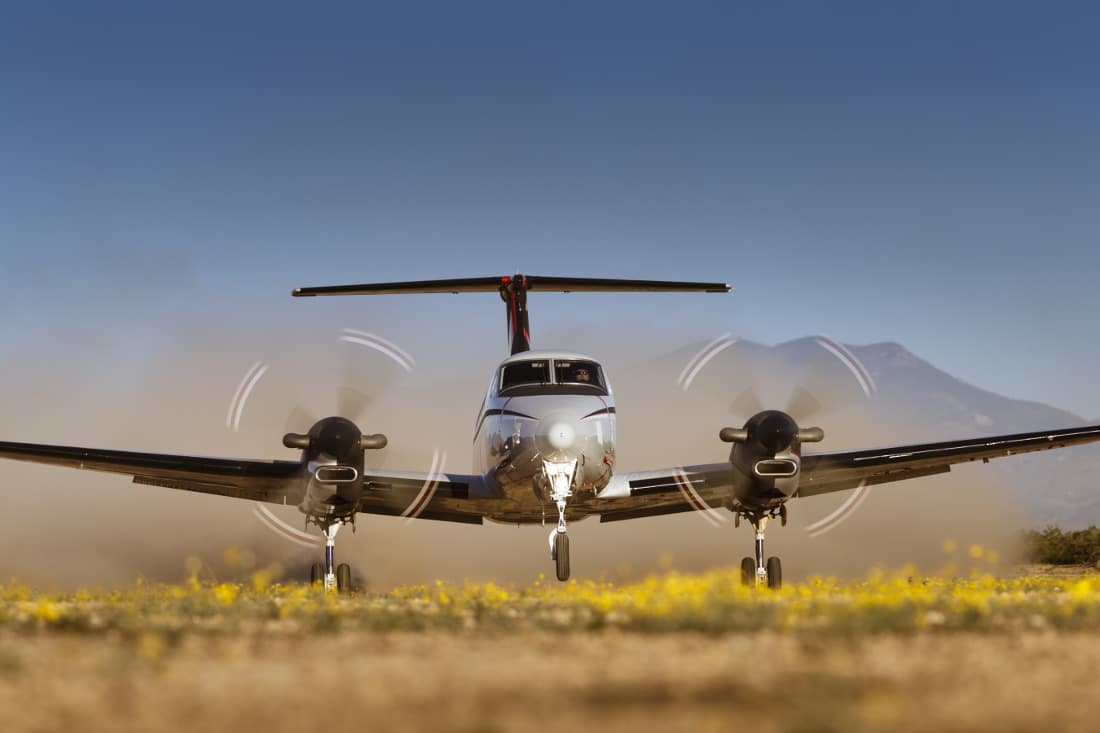 The Beechcraft King Air is iconic in the pressurized twin turboprop world. Most charter departments have one because they are reliable, couch comfortable for the passengers, and have a spectacular safety record. To know King Airs is to know that there are so many variations of each model that it makes salesmen pull their hair out. Pilots know that you can jump into any model variation of the Beechcraft King Air and recognize instantly they are definitely from the same family, but like all children, each model [Click to read more…]
---
Current Beechcraft G36 Bonanza Specs
General Characteristics
Crew: one
Capacity: five passengers
Length: 27 ft 6 in (8.38 m)
Wingspan: 33 ft 6 in (10.21 m)
Height: 8 ft 7 in (2.62 m)
Empty weight: 2,517 lb (1,142 kg)
Gross weight: 3,650 lb (1,656 kg)
Powerplant: 1 × Continental IO-550-B , 300 hp (224 kW)
Propellers: three-bladed Hartzell Propeller, 6 ft 8 in (2.03 m) diameter
Fuel capacity: 74 gallons (280 l)
Cabin Interior
Height: 50 in (1.27 m)
Width: 42 in (1.07 m)
Length: 12 ft 7 in (3.84 m)
Performance
Cruise speed: 177 kn (204 mph; 328 km/h)
Range: 716 nmi (824 mi; 1,326 km) with full passenger load
Ferry range: 920 nmi (1,058 mi; 1,704 km)
Takeoff distance: 1,913 feet (583 m)
Ground Roll: 962 feet (293 m)
Landing distance: 1,450 feet (442 m)
Service ceiling: 18,500 ft (5,600 m)
Rate of climb: 1,230 ft/min (6.2 m/s)
Avionics
Garmin G1000
Footnotes:
1 – This later became known as "The Day That Music Died," so named by a Don McLean song.
2 – The A36 did enjoy a turbo variant. Released in 1979, the A36TC had a 3 blade propeller, and a 300 hp turbocharged Continental TSIO-520 UB engine. This was updated to the B36TC in 1982, which featured a longer wing span, increased range, newly redesigned controls and instrument panel, and a higher takeoff weight.
3 – This updated electrical system allowed for easier engine starts, provided more power for lights and accessories and allowed for higher landing gear and flap extension speeds.