The Beechcraft King Air Still Reigns Supreme After 50 Years
"Sorry, I know it's two-thirty in the morning, but we have an air ambulance flight request from Flying Cloud to Walhalla Airport in North Dakota. The runway there is 3400 feet. It's minus twenty with blowing snow, but it's clear at both airports. I need to know if it's a go or no-go in ten minutes because we have a transplant team heading out to both airports."
"Who is this? Just kidding. Which airplane are we using?"
"The King Air 90."
"Okay, let me check the NOTAMs, but unless you hear from me in five minutes, consider it a go." I know the King Air will get me in and out of anywhere, in any weather, and it will carry almost any payload in a 500nm radius. It's an easy decision, the King Air is a go."
The Beechcraft King Air is iconic in the pressurized twin turboprop world. Most charter departments have one because they are reliable, couch comfortable for the passengers, and have a spectacular safety record. To know King Airs is to know that there are so many variations of each model that it makes salesmen pull their hair out. Pilots know that you can jump into any model variation of the Beechcraft King Air and recognize instantly they are definitely from the same family, but like all children, each model has its own distinct personality and talent. What the entire family shares is the recognition of a trustworthy and reliable airplane that can perform under the most intense conditions. They sit high on the ground and visibility for both pilots and passengers let you feel like you have your own wings.
Meet the Beechcraft King Air Family
Beech has produced six different basic King Air models over the last fifty years. The oldest children, the Model 90 and Model 100 series are known as King Airs, while the newer and faster siblings, Models 200 and 300 series, were originally marketed as Super King Airs. The "Super" was later dropped, but the moniker is still used to differentiate the family members. The charter and air ambulance company I flew for early in my piloting career had four 90s, two 100s, a 250 and they used me for pilot services in a 350, so I got to meet the family (but not all the aunts and uncles). So, let me introduce them to you.
The Beechcraft King Air 90: The Oldest Child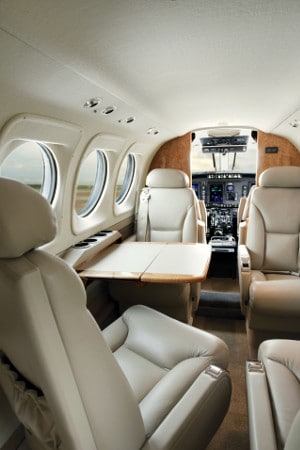 The first Model 90 series was conceived in 1961 and born in 1964. It has been tweaked through twenty-plus variations in fifty years with the most recent version in the C90GTx which is certified up to 30,000 feet. The 90 has evolved to have composite winglets, swept-blade propellers and can carry eight passengers at 272 KTAS. I got to fly several models of the 90, but my favorite was the C90B. It has a four-bladed propeller and propeller synchrophasing which was an attempt by Beechcraft to reduce cabin noise. The synchrophasing was a nice idea, but the airplane and I had a different idea of being in synch. You can move the hum of the engines forward and aft depending on how you manually synch it, but when you used auto-sync, it dropped the noise into the pilot's lap. If the passengers were behaving, I'd move the noise away from them.
Standard configuration can hold five to six, cruises at 226 knots (260 mph), but with a stall speed of 78 knots, this model is about getting you in and out of tight spots with ease, not necessarily setting any speed records. The King Air 90 could be reconfigured into air ambulance mode, so the flight department had options, but not wanting to always have to take two mechanics away from other jobs to constantly reconfigure, our flight department decided to dedicate two King Air 90s to the air ambulance configuration.
Gary Redden, a pilot and business owner, flew the Army version of the King Air 90 and 100 and has about 700 hours in type. He sums up the King Air's famous stability with:
"At cruise, you could make a small power reduction, which would take you to the approach flap speed, which would take you to gear speed, which would take you to the full flap speed, all without touching the nose trim or making a significant power adjustment."
The Beechcraft King Air 100: The Middle Child
Model 100 series' motto was more room, more power, and more payload. For the king air 100, they stretched the cabin and fit five passenger windows on each side instead of the original three. Raisbeck Engineering came along and offered a number of performance-enhancing modifications including dual aft-body strakes, high flotation landing gear door and nacelle wing lockers. There are modifications for the entire King Air series which increases climb and cruise performance while reducing noise and drag and increasing cargo space. With the increased rudder height and area compared to the 90, it allows this bigger and heavier aircraft to maintain a low minimum control speed.
One of the quirks of the king air 100 series is that during production, Pratt & Whitney workers went on strike and halted delivery of the standard PT6A engines, so Beechcraft installed Garrett TPE331 engines on the King Air B100. There was consistent feedback that this was not the preferred engine, so Beechcraft went back to using Pratt for later models.
Editor Update

We got in contact with Dan Adams from Raisbeck Engineering and he added this; 

"Some Raisbeck Performance Systems are OEM-standard on all King Airs currently in production (250, 350 and C90GTx), and that over 58% of King Airs flying today are equipped with at least one Raisbeck System."

You can discover more about Raisbeck Performance Systems and EPIC Packages—and which systems are OEM—on their website.
The Beechcraft King Air 200 Series: The First Super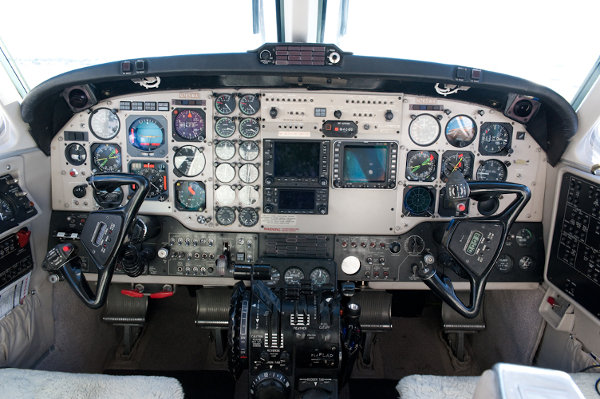 The Model 200 has essentially the same fuselage with three feet more than the 100, but the striking difference is the T-tail design. The T-tail moves the tail away from engine exhaust and helps reduce aerodynamic interference. Built during a time when fuel consumption was becoming more important, being able to carry nine people on a 500-nm flight while burning 156 gallons of JetA equates to 33 passenger miles per gallon. Corporate jets can't compete with that level of fuel economy. To sum up its ability, simply remember it can fly in and out of 3,000 foot runways, climb to 35,000 feet cruise altitude and true out at 300+knots.
Frank Hopkins, an A & P with 17-years of experience working on turboprops, says one of the unique things about the King Air are the engine starts. "The engines on the King Air, with free turbine Pratts (Pratt and Whitney), start in a fraction of the time which requires low battery energy to start. It's an easier draw on the electrical and generator system. I like working on King Airs, but I don't usually have them in my shop unless they're in for routine maintenance, which speaks volumes about their reliability."
The Beechcraft King Air 300 Series and King Air 350: The Biggest, and Youngest
The King Air 200 series proved so popular that Beechcraft took its existing 200 design and just added on to the idea. The King Air 300 has even more powerful engines (PT6A-60A, rated at 1050 shp), has redesigned pitot cowlings and MTOW increased to 14,000 lbs with a 300-knot cruise speed. Since FAA Part 23 category says you need a type rating for aircraft over 12,500 lbs, the 300 and 350 are the only King Airs that require a type rating. The King Air 350 is certified up to FL350 which also makes it a rare turbo-prop flying in jet airspace. All the King Airs have relatively high landing gear and flap speeds, but the 300 model can fit in with the jets at altitude, but slow down and get in line with slower, single engine aircraft in the traffic pattern.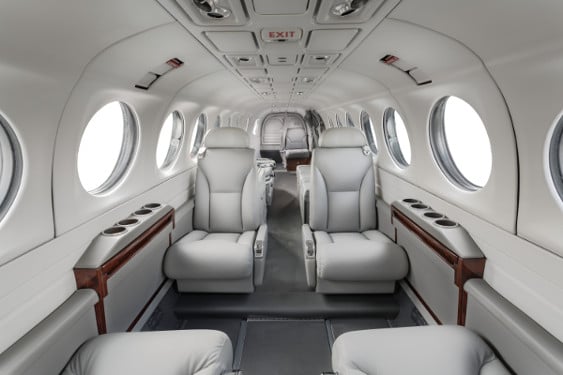 Timothy Griffin, the founder of FlyHome and MyFlight Forecast.com, has 3,000 hours in the King Air 350 and has this to say, "I am fortunate to say that my first 'professional career' airplane that I started in was the King Air 350 equipped with the ProLine 21 Avionics flight deck. It is large enough to make you feel like you're flying a larger plane, but still small enough where you can truly still enjoy the hands-on feeling of hand flying. We would routinely take the plane non-stop from New York to Southern Florida. While certified to fly at altitudes up to FL350, it performed best in the mid 20's. Most of the King Airs that are being produced now are equipped with the ProLine 21 Avionics, and having transitioned from the King Air 350 to the Gulfstream 450/550, this avionics package is just as good as the PlaneView which is found in the Gulfstreams. Flying the King Air prepared me very well for a career in corporate aviation, and it will always be one of my favorite planes that I had the pleasure to fly professionally."
In Conclusion
With over 7,200 Beechcraft King Air produced and still in production today and 60 million flight hours all over the world, pilots know that the King Air still reigns.
Featured image courtesy of: Textron Aviation