Flexibility: a Hallmark of the Cessna 206 Stationair
By Larry Taylor with Crista Worthy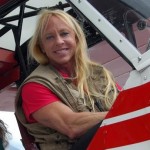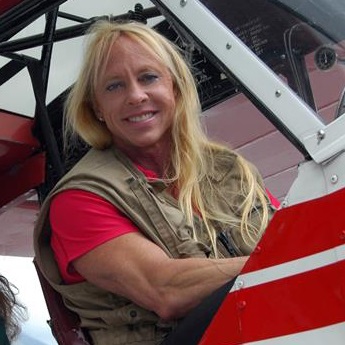 Remember the station wagon? Much prized by growing families, station wagons filled American roads in the 1960s and 70s. As a kid, I slept in the back of ours, along with my parents, on camping trips to all the National Parks of the West. But Americans tend to like things big, and by the 1980s station wagons were largely supplanted by even roomier SUVs.
Cessna envisioned the Stationair as a flying stationwagon or SUV, and that's exactly how pilots use it, filling the dependable Cessna 206 Stationair with kids, baggage, camping gear and fuel for fun weekend jaunts. Commercial operators depend on the Stationair (both C-206 and C-207) to get them in and out of rough airstrips, loaded to the gills with fishermen, river rafters, or hunters and elk meat.
Flexibility is another hallmark of the Cessna 206 Stationair. You can put floats or skis on it, turbocharge it, jump out of it (hopefully with a parachute and someone else flying) or use it to take your business just about anywhere. We love the way California pilot Ramona Cox (aka Skychick) takes her 206 into the backcountry, along with her tent, computer, and satellite hookup, so she can keep tabs on her business between hikes.
Not too many airplanes are rugged yet have six real seats and can carry half a ton after you fill the tanks. The Stationair's popularity and versatility made it one of the only three single-engine piston airplanes Cessna brought back when it re-started production in the late 90s, after a decade-plus hiatus
Flying the Cessna 206 Stationair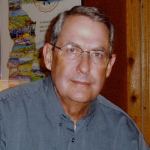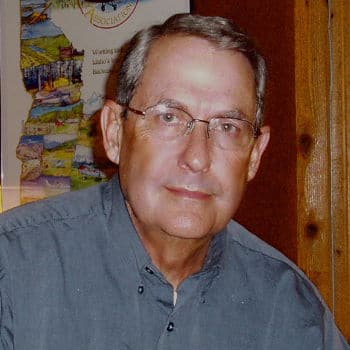 I learned to fly in a Piper Colt in 1961, the year I graduated from Pendleton High School. After about 15 hours, I was off to college, marriage, children, and a career. It wasn't until 1975 when I sold a house that I could scrape together $4,500 to buy a Piper Tri-Pacer in Boise and resume my flying interest. The Tri-Pacer is an honest airplane, despite its looks. It hauled me, my wife, our two sons and camping gear to many parts of the Idaho backcountry for 7 years and 700 hours.
But boys do grow. By 1983, we were testing the limits of the 135-HP Tri-Pacer. I had been looking at a 1970 P-206 with a new engine that was on the market for $32,000, well beyond my means. But when I mentioned it to a generous uncle, he offered to finance it at very reasonable terms. How could I refuse? After ten hours of dual instruction for the insurance company, I was headed for the backcountry with all the power and space I had only dreamed about.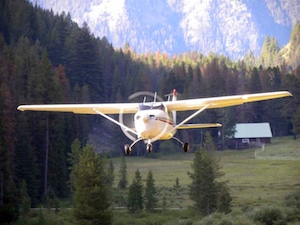 One of my good friends owns a Cessna 185 which he has flown like a jeep into the most rugged airstrips Idaho offers. Having flown with him several times, I considered a tailwheel option before I bought the Cessna 206 Stationair. But at age 40 and with no tailwheel experience, I decided to stick with the nose wheel to save me and my insurance company grief. The 206 has a sturdy gear, and even with the P-model's smaller nose wheel, I've never had an issue with rough airstrips.
Since 1983, I have flown 5706J about 2,100 hours. I only recently replaced the IO-520 engine that ran 400 hours past its 1,700-hour TBO with no repairs. I can only hope the new engine is as trustworthy. Most of my pilot friends have added vortex generators to their planes, but I have resisted the urge. My plane performs just fine for the kind of flying I do.
Most of my flying is at a cruising altitude of between 9,000 and 11,000 feet. At that altitude, I run 18 inches of manifold pressure, 2,300 rpm, burn between 13 and 14 gallons per hour and cruise at about 135 knots. I don't have the instrumentation to run lean of peak, so I stay rich by about 75 degrees. With 80-gallon tanks, endurance is about five hours (roughly four hours longer than my bladder's after a cup of coffee).
At altitudes of about 4,000 feet or less, I feel comfortable landing and taking off from airstrips that are 1,500 feet in length at something less than gross weight and below 70 degrees. At gross, I'd want at least 2,000 feet. I think the plane is capable of shorter strips, but I'm getting older and more conservative.
Before I retired in 2002, I worked as a lobbyist for an Idaho utility. Much of my flying then was for business, visiting legislators throughout the state. I also was a volunteer pilot for the Ada County Sheriff's Department. Most of our flights involved transferring mental patients and small-time criminals around the state. But in 1987, I got the call to fly to Riverside, California, to pick up the notorious prison escapee Claude Dallas, who had been loose for more than a year after killing two fish and game officers in Eastern Oregon and escaping from the Idaho State Prison. Two books had been written and a movie had been made about him. The flight was uneventful, but it was my flight to remember.
Other than that, plus a few trips to the San Juans and San Diego, most of my flying has been in Idaho's backcountry. I was president of the Idaho Aviation Association from 2006 to 2009, and I currently serve on the Idaho Aviation Foundation board of directors, so some of my flying has involved those organizations' activities. The Foundation is in the process of rebuilding the Big Creek Lodge, www.RebuildBigCreek.com. My logbook shows that most of my flying in 2015 was Boise to Big Creek.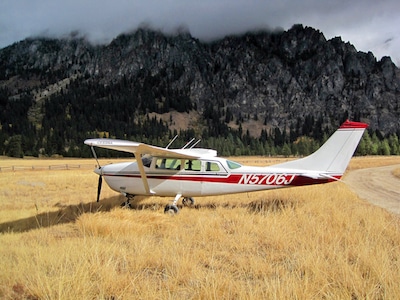 For the kind of flying I have done the past 35 years, I couldn't ask for a better airplane than the Cessna 206 Stationair. It is a stable platform that easily flies hands-off. I calculated the CG loading one time and determined I could put the half-ton of load with full fuel either in the front or the rear and still be in the envelope (or nearly so). The heater blasts hot air into the cabin in the winter, and the vents are adequate for cooling in the summer.
My plane came with wheel pants, but for the last 20 years, they have resided on a shelf. I like to be able to inspect the tires. The horizontal stabilizer has been free from rocks and gravel damage, although my prop has suffered a chip or two. The fuel tanks are bladders, which I replaced soon after I bought the plane because of an AD. The installer never got things quite right, so I always order my fuel to be stopped one inch from the top to avoid leakage.
Until last year, I always did owner-assisted annual inspections. The cost usually was less than $1,000. But I changed mechanics last year, and I don't plan to assist in the future. So I don't know what the cost will be, but certainly it will be more. Insurance has run about $1,400 per year. That's for six seats. I keep the plane hangared after having it repainted in 1992.
The early 206s had a smaller elevator that resulted in an ugly nose drop when flaring. Owners of those planes are known to carry extra weight in the rear to help prevent a nose-wheel-first landing. Cessna corrected that problem in the later 1960s.
Changes to the Cessna 206 Stationair Through the Years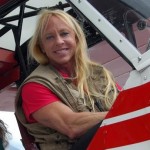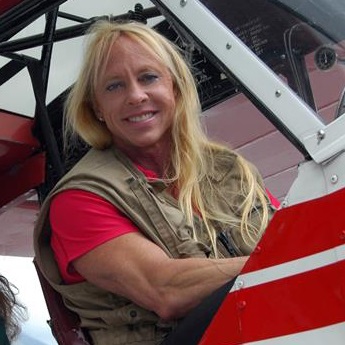 Cessna originally introduced the airplane in 1963 as the 205—basically a fixed-gear version of the Cessna 210. It had two doors in front and a smaller rear door on the left side. Its cowling retained the bump originally needed to house the retracted front wheel on the 210; later Cessna 206 Stationair models eliminated this bump for a more streamlined look. The engine was a 260-HP Continental IO-470. About 576 205s were delivered over its two-year production.
The six-seat model 206 was introduced in 1964. Originally designated the U206 (U for Utility) Super Skywagon, it sported a 285-HP Continental IO-520A, redesigned wing, and bigger flaps. There was one door for the pilot and a big clamshell rear door for the passengers in the last two rows of seats, and to allow loading and unloading of large objects.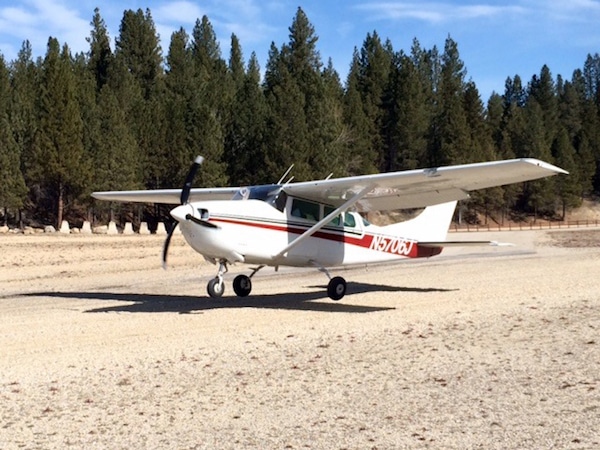 The following year, Cessna came out with the P206 Super Skylane, (P for Passengers). It had the same engine as the U206, but the old door arrangement of the 205. People seemed to like the big door on the U-model, however. Starting in 1966, both P and U models could be purchased with a turbocharged 285-HP Continental TSIO-520C. Another factor in the continuing popularity of the U206 was that in 1967, Cessna bolted a new engine, the 300-HP Continental IO-520-F onto it, which also allowed a takeoff weight increase. The market spoke: few P models sold in comparison with the U models, so after Cessna built around 650 of them, they discontinued the P206 in 1970. The remaining U206 and TU206 were offered with either a utility or passenger interior and renamed Stationair.
In 1969, Cessna introduced the 207 Skywagon, with a stretched fuselage and one additional seat, also powered by the 300-HP IO-520-F. Commercial operators took an immediate liking to the 207. Loading this long plane correctly was critical; a nose baggage compartment not only helped with keeping the CG within limits, it helped keep the passengers from falling all over their stuff. Because the tail was moved back relative to the mains, the pilot had to be careful to avoid a tail strike upon landing. The turbo 207 was powered by a TSIO-520-G, also with 300 HP.
Beginning in 1972, cuffed leading edges on the wings (called "camber-lift" by Cessna) were added to improve low-speed handling without a noticeable decrease in cruise speed. The baggage compartment was also lengthened by seven inches. Better-designed cowl flaps and wheel pants in 1975 allowed a 5–6-knot cruise speed increase. In 1977, the 207's name was changed to Stationair 7. A wet-wing fuel system was introduced in 1979.
In 1980, the seventh seat of the 207 was widened to hold up to eight passengers. This created the Stationair 8, but the designator remained 207. After building around 700 of them, Cessna halted production of the 207 in 1984. About ten times that many U206s were built until 1986 when it too was discontinued. Suffixes for these U206s run from A through G.
In the mid 1990s, after Congress passed landmark legislation to limit the liability of aircraft manufacturers, Cessna restarted its piston engine aircraft production, first with the Cessna 172 and Cessna 182, followed by the Model 206 in 1998. The new Cessna 206 Stationair H was originally available with either a normally-aspirated 300-HP Lycoming IO-540-AC1A or the turbocharged Lycoming TIO-540-AJ1A. Currently however, Cessna only offers the Turbo version, for a base price of about $662,000. The huge clamshell cargo doors remain, and beginning with 2016, several seating arrangements including club seating are available. Max cruise is 164 knots; maximum range is 703 nm. Useful load is 1,281 pounds.
Operations
Use care, and instruct passengers, with regard to the clamshell doors in the back and the use of flaps. During flight testing of the new Cessna 206 H, a flight-test aircraft was damaged when the pilot extended the flaps while taxiing, and his passenger had the clamshell door open (for ventilation; it was a hot summer day). Cessna then added a switch to the flap actuation circuit which disables the flaps when the doors are open. However, if the flaps are already down, opening the rear door safely takes a bit of care. You need to open the front part as far as possible without hitting the flap, about two inches, and only then open the rear door, re-stow the rear door handle, and then you have enough clearance to open the rear part of the door. As all aircraft are delicate and passengers often treat airplanes like cars (slamming doors and yanking on things), it's best to be sure the back doors stay shut when flaps are down.
Stationairs are big, but the rear seat has much less leg room. In order to fit all the baggage for six people in the baggage compartment, you'll need to exercise a bit of restraint in the amount of baggage for each person.
The Cessna 206 Stationair is a large, heavy plane, and it handles like one. If you're used to flying a Pitts, you'll find you need to begin turning sooner. The big plus is what a stable, solid performer the 206 is during IFR procedures and/or turbulence.
Mods for the Cessna 206 Stationair
As mentioned earlier, many 206s are used in the backcountry, where operators appreciate the early models that featured a full 40 degrees of wing flap travel. In later years, Cessna limited the flaps to 30 degrees. For enhanced short-field capability and greater control at slower speeds, you can always install vortex generators and/or a STOL kit. STOL kits are currently available from Horton at www.HortonSTOLCraft.com and Sierra at www.SiJet.com. Vortex generators also help STOL characteristics; try Micro Aerodynamics at www.MicroAero.com.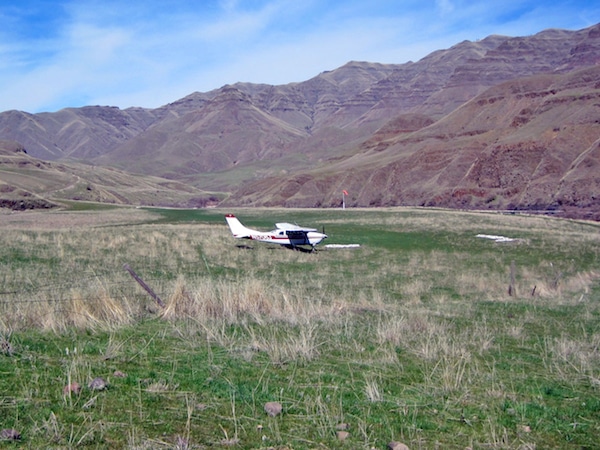 Other mods include skis, floats, long-range tanks, and various speed mods. Want more power? All it takes is money. Soloy offers an STC'd 450-SHP Rolls Royce turboprop engine, www.Soloy.com. Or, just strap on a bigger piston; an IO-550 is available from Texas Skyways, www.TxSkyways.com or Atlantic Aero (recently acquired by Landmark Aviation) www.landmarkaviation.com.
A membership in the Cessna Pilots Association is recommended for all Cessna owners, 805-934-0493
Conclusion
Cessna's big, do-it-all Stationair has proved its worth worldwide for over 50 years. It might handle like a boxcar, but it'll carry an astounding amount of stuff, get you to your destination in a respectable time, and keep you and your passengers comfortable along the way. This family- and business-capable workhorse is destined to soldier on for at least another 50 years.
Featured image by Skychick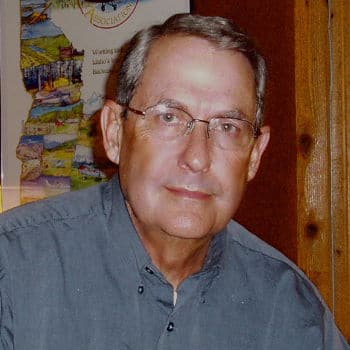 About Co-Author Larry Taylor:
Born in Boise, Idaho, Larry Taylor's work has run the gamut from television news anchor to industry lobbyist to president of the Idaho Aviation Association. He lives in Meridian, Idaho and continues to work on Idaho aviation issues, fly his Cessna 206, and enjoy his grandchildren.