Of the 345 Grumman Goose aircraft made, an estimated 30 remain airworthy.
Few amphibious planes are as well-known as the Grumman G-21 Goose, which was produced by Grumman Aircraft Engineering Corporation from 1937 to August 1945. It's said that the Grumman Goose came about when the company was approached by a group of wealthy businessmen led by Wilton Lloyd-Smith in 1936, who were looking to replace the Loening Air Yacht they used to commute from their Long Island homes to offices in Manhattan. They had previously approached Grover Loening, who declined their offer to build a new aircraft, but Grover pointed them to Grumman. Leroy Grumman accepted the offer, and got to work with William Schwendler (who co-founder the company, and designed alongside Grumman) and hydrodynamics expert Ralston Stalb.
A year later, the Grumman Goose (Model G-21) prototype had its first flight, on May 29, 1937. Test pilots Robert L. Hall and Bud Gillies flew the aircraft from Grumman's factory in Bethpage, New York, and after a successful maiden flight, additional flight trials went smoothly. The hull was lengthened to improve the Goose's performance on the water and was soon ready for production. The Goose represented a number of firsts for the company, including it being Grumman's first monoplane to fly, their first twin-engined aircraft and their first aircraft to enter commercial airline service1.
An Illustrious Multi-Missioned Career
According to the Smithsonian2, Bolivian airline Lloyd Aereo Boliviano (LAB) was the first airline to purchase the Grumman Goose but didn't put it into service right away. The Dutch East Indies subsidiary of the Royal Dutch Airlines bought two and operated them for two years before one was shot down by the invading Japanese soldiers.
In addition to airliners and ferrying wealthy businessmen around, the military recognized the potential for the Goose to become an effective light amphibious transport both for the Coast Guard and overseas at the onset of World War II. The Goose wasn't limited to personnel transport, however, and as the war progressed, it took on an increasing number of combat roles. For those familiar with the Grumman line, the Goose is larger than the Grumman Widgeon but smaller than the Grumman Albatross.3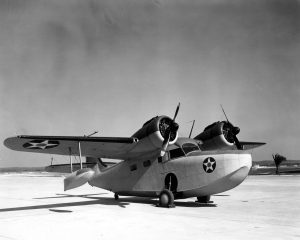 After WWII ended, most of the Grumman Gooses (apparently, it's wrong to refer to the aircraft as Geese) were removed from military service and began making a big splash (pun intended) in the passenger transport category. Naturally, it became very popular with small airlines carrying passengers from coast to island, and vice-versa, such as in the Caribbean, California, and Alaska. They're still in use today, though in much smaller numbers (out of the 345 built, about 30 are still airworthy1) and often performing highly specialized missions that count on the novelty and historic value of the Grumman Goose.2
General Characteristics of the Grumman Goose G-211
The high-wing amphibious monoplane was constructed almost entirely out of metal (the trailing half of the wing and control surfaces – excluding flaps, were fabric covered)1, moving away from the primarily wood and fabric aircraft prevalent at the time. Its retractable conventional landing gear had to be hand-cranked, and its spacious fuselage could be fitted for either luxury passenger transport, with a bar and a toilet,4 or hollowed out for military use.
The mono-hull design of the Grumman Goose is braced and balanced by floats suspended beneath each wing, making it incredibly stable and steady on the water.2 However, I can't even imagine the airspeed and fuel penalty caused by the massive drag those bulky floats accumulate traveling through the air!
(Note: these specs, except for fuel specs, come from the US Navy, and are for the JRF-5 Goose, which was the most produced Goose variant, with 184 being built. The fuel specs come from the Goose Hangar folks.5)
| | |
| --- | --- |
| Crew |  1 to 3 |
| Passengers | 5 to 7 |
| Length | 38 ft 6 in ft (11.74 m) |
| Wing Span | 49 ft (14.94 m) |
| Height | 16 ft 2 in (4.93 m) |
| Wing Area | 375 ft sq (34.9 m sq) |
Weights
| | |
| --- | --- |
| Weight (empty) | 5,425 lb (2466 kg) |
| Max Takeoff Weight | 8,000 lb (3,636 kg) |
| Useful Load | 2,575 lb (1,170 kg) |
Fuel
| | |
| --- | --- |
| Fuel Capacity |  220 gal (832 L) |
| Fuel Burn |  50 gal/hr (189.27 L/hr) |
| Oil Capacity |  8 gal/engine |
Performance Specifications of the Grumman Goose G-211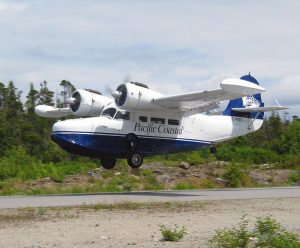 The original G-21 Grumman Goose was fitted with two high-mounted 450 horsepower Pratt & Whitney R-985 Wasp Junior nine-cylinder, air-cooled radial engines on the leading edges of the wings.
According to pilots at The Goose Hangar5, an Alaska-based flight school that teaches pilots to fly their original Grumman Goose, "The Goose is a well-balanced, responsive airplane that has a good feel to it and is one of those airplanes that is just enjoyable to fly." They go on to describe that their Grumman Goose, N703, has an "unusually straight airframe" and was built with good handling "rather than speed and efficiency" in mind.
| | |
| --- | --- |
| Maximum Speed | 175 kts (324 km/h) |
| Cruise Speed | 166 kts (308 km/h) |
| Range | 557 nm (640 mi, 1287 km) |
| Service Ceiling | 21,300 ft (6,492 m) |
| Climb Rate | 1,100 fpm (5.6 m/s) |
---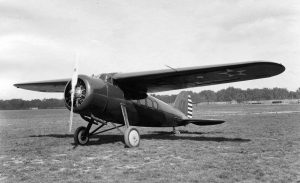 John Knudsen "Jack" Northrop Fought Tooth and Nail for His Company, and the Flying Wing Concept
Jack was a good student, and in 1911 when he saw a pilot fly a "pusher" biplane over Santa Barbara, he decided to dedicate his talents for mechanics and engineering into the new and exciting field of aviation. Just a few years later, in 1916, Jack got a job as a draftsman for the Loughead Aircraft Manufacturing Company. [Read more]
---
Variants of the Grumman Goose G-21 1
G-21A
The Grumman Goose G-21A was the first variant of the G-21, which improved general construction, increasing the gross weight from around 5,500 lbs (2460 kg) to 8,000 lbs (3,636 kg). There were 30 G-21A's produced and most original G-21's were converted to G-21A's.1
Evolution of Turbo-Goose!
G-21C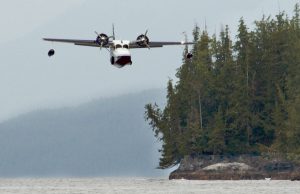 Long after the Goose left production, McKinnon Enterprises got ahold of some Grumman Gooses and re-engined them with four 340 HP (254 kW) supercharged Lycoming GSO-480-B2D6 engines. In addition to the considerable boost in power, the G-21C also got a fiberglass radar nose, retractable wingtip floats, (eliminating that inherent form drag I mentioned earlier), as well as improving the visibility with a wraparound windshield and enlarged cabin windows. After a series of internal structural reinforcements, the gross weight was again bumped up, this time to nearly 12,500 lbs (5,669 kg)!1 That's a big Goose.
G-21D
Though there was only one G-21D converted by McKinnon, it brought about the nickname Turbo-Goose which I think is funny enough to warrant mentioning.
In 1966, McKinnon got a G-21C and extended the bow section, adding two extra windows on each side and accommodations for four additional passengers. Again, they upped the power by re-engining the Goose with two Canadian Pratt and Whitney turboprop engines (PT6A-20) of 550 HP (432 kW) apiece.1 Additionally, the "Turbo-Goose" added electric flaps.
G-21E, G-21F, G-21G
The E was a simplified turbine conversion (of which one was made) of the C, with 550 hp PT6A-20 engines, and more fuel, but without the C's structural reinforcements. The F was reportedly a conversion made by the Fish and Wildlife service in Alaska, based of McKinnon's specs, which once converted, didn't receive FAA approval. The final McKinnon conversion, the G, featured 680 hp PT6A-27 engines, 586 gallons of fuel, and 12,500 pounds of gross weight. Two conversions to this type were completed.
JRF-1 – 6
The military ordered a handful of Gooses for different missions (JRF 1 – 4), before finally settling on a major production version, the JRF-5, which as mentioned, provided the most Gooses of one type, at 184. The JRF-6Bs were navigation trainers and were purchased by the US government to supply to foreign countries under Lend-Lease after the war. 50 JRF6's were built, at a reported cost of $62,180 per unit.
Purchase Cost of the Grumman Goose
I could only find one Grumman Goose for sale, and it's selling on Seaplane Market for $595,000. There are quite a few Mallards and even a few Albatrosses, but the Goose is a very rare find. Considering there are only about 30 airworthy Grumman Gooses in the world today, it's not too surprising that pilots and owners don't want to sell!
A New Grumman Goose?
In November 2007, Antilles Seaplanes, a group based out of Gibonsville, NC, said they would be restarting production of the Goose, basing their revival on the final McKinnon conversion, the G-21G (Antilles bought McKinnon earlier in the 2000s.) It would be called the Antilles G-21G Super Goose, and feature 680 hp PT6A-34 engines turboprop engines, and would feature state of the art avionics and a glass cockpit. However, two years later, the Antilles HQ was foreclosed on and sold at auction.
At one point, the company noted that though they took a hit, they were "looking forward to finding new backers and getting back into business." However, nothing has happened yet, though the future may still hold a new Goose.7
Final Thoughts on the Grumman Goose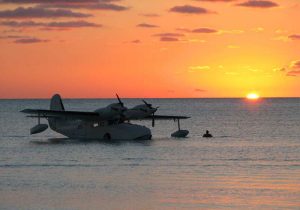 The Grumman Goose is a versatile amphibious powerhouse and one of the few airplanes produced during the American Great Depression that was used as a private transport, an airliner, and used by nearly every branch of the military in a few different countries.6 Nowadays, getting the chance to fly (or ride in) a Goose is worth writing home about. They are most commonly operated in California and Alaska, as well as some islands in the Caribbean, so keep your eyes peeled and take the chance to fly one if it ever comes up!
Featured image taken by Shawn, used under CC 2.0
References and Resources:
1 – Grumman G-21 Goose, Wikipedia, Retrieved 4-12-17
2 – Grumman G-21 Goose, Smithsonian National Air and Space Museum, Retrieved 4-12-17
3 – N48550 – Grumman Goose, Buffett World, Retrieved 4-12-17
4 – Chuck Greenhill's Grumman G-21A Goose, Warbird Depot, Retrieved 4-12-17
5 – The Goose, The Goose Hangar, Retrieved 4-12-17
6 – Grumman Goose (G-21) Multirole Flying Boat Aircraft, Military Factory, Retrieved 4-12-17
7 – The Grumman Goose: Replacing an Alaska aviation legend, Ben Anderson, ADN, Retrieved 4-14-17
---
Have a Blast at Your Next BFR – Add a Seaplane Rating!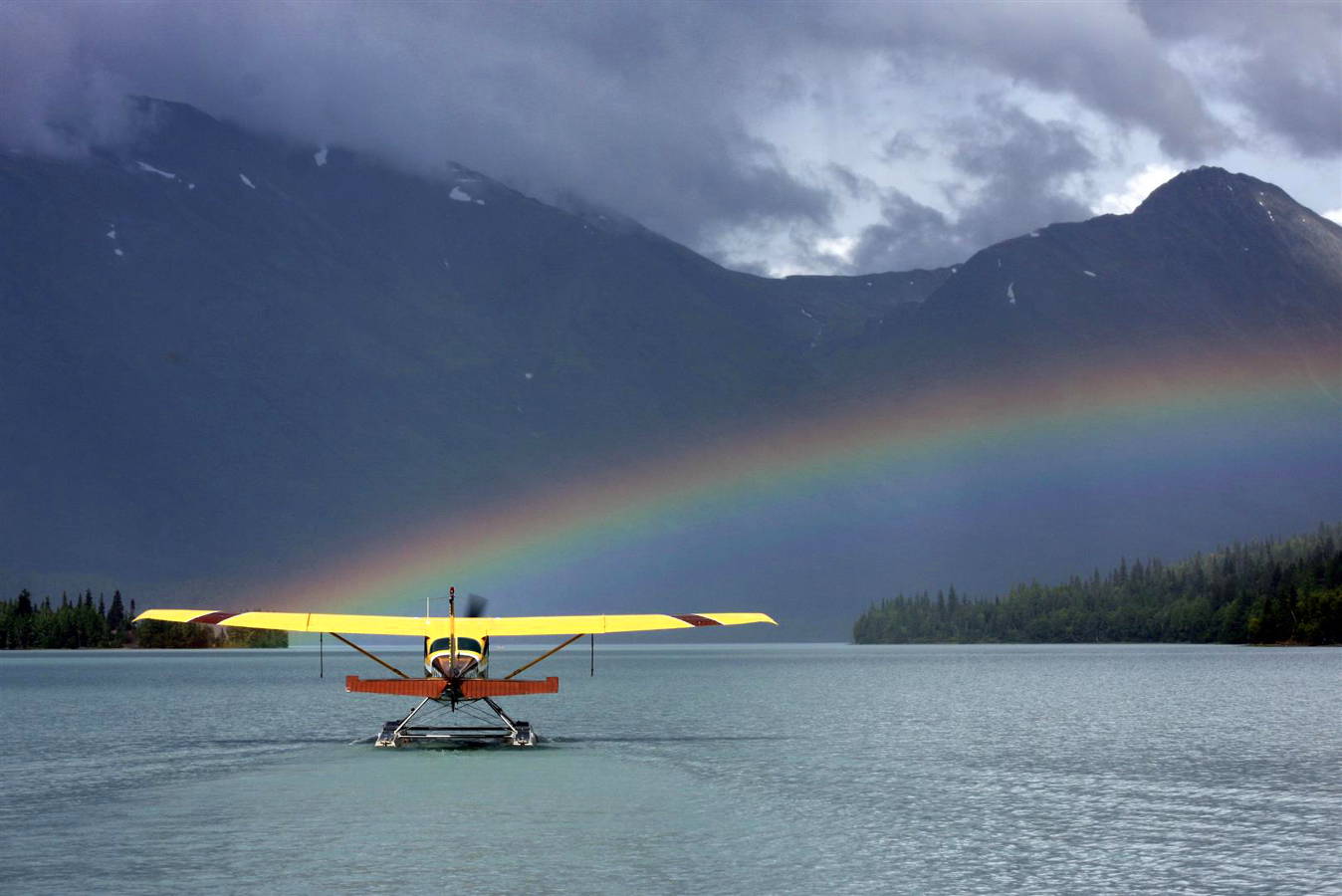 As Managing Editor of Pilot Getaways magazine and Editor of Idaho Aviation Association's The Flyline, I see it over and over again—people just love seaplanes and float planes. Each time I post a gorgeous shot of a floatplane in Alaska, Montana, or Florida on one of the Facebook pages I administer, the "people reached" number goes through the roof. Why? It's a combination of factors you don't get anywhere else in aviation: you get to fly a small airplane onto a body of water, usually in a spectacular setting. [Read more]
---