6-21-17 Flight testing for the Sonaca 200 is expected to take four months.
Sonaca Aircraft is a little bit behind schedule, but according to the company, they've just started the flight testing campaign for their single engine two-seat Sonaca 200, being positioned primarily as a trainer and recreational flyer.
The company is using their second aircraft, FTA2 (Flight Test Aircraft 2), which was built in the Belgium Sonaca factories. Company officials say that the flight test campaign is expected to last four months, and will start in Belgium before moving to Avignon, in the South of France.
Once the flight and ground testing is concluded, the group hopes to achieve EASA certification. Originally, the plan was to have the aircraft ready for production this month, so they're likely to have production models ready fairly soon following certification.
---
Original Post 2-20-17: Certification Testing to Start for Two Seat Sonaca 200
Sonaca Aircraft, an aircraft manufacturing wing of the Belgium-based Sonaca Group, is currently assembling the second of two aircraft intended for flight testing of their single engine, two-seat Sonaca 200 model.
The first aircraft (fittingly called Test Aircraft 1) was assembled on-site at Sonica's Belgium location and has and will continue to be entirely dedicated to ground tests. According to Sonaca Aircraft's Flight Test Engineer Vincent Jaumotte, "We tested the strength of the seats, seat belts (harnesses) and also the engine cradle and front leg by simulating rough or crosswind landings." He added that at the end of February, Test Aircraft 1 will be headed to IABG (an aeronautical testing center in German specializing in stress tests) where they will conduct wing stress testing.
In the meantime, the second model, Test Aircraft 2, will be used in the company's upcoming flight tests which are scheduled for April.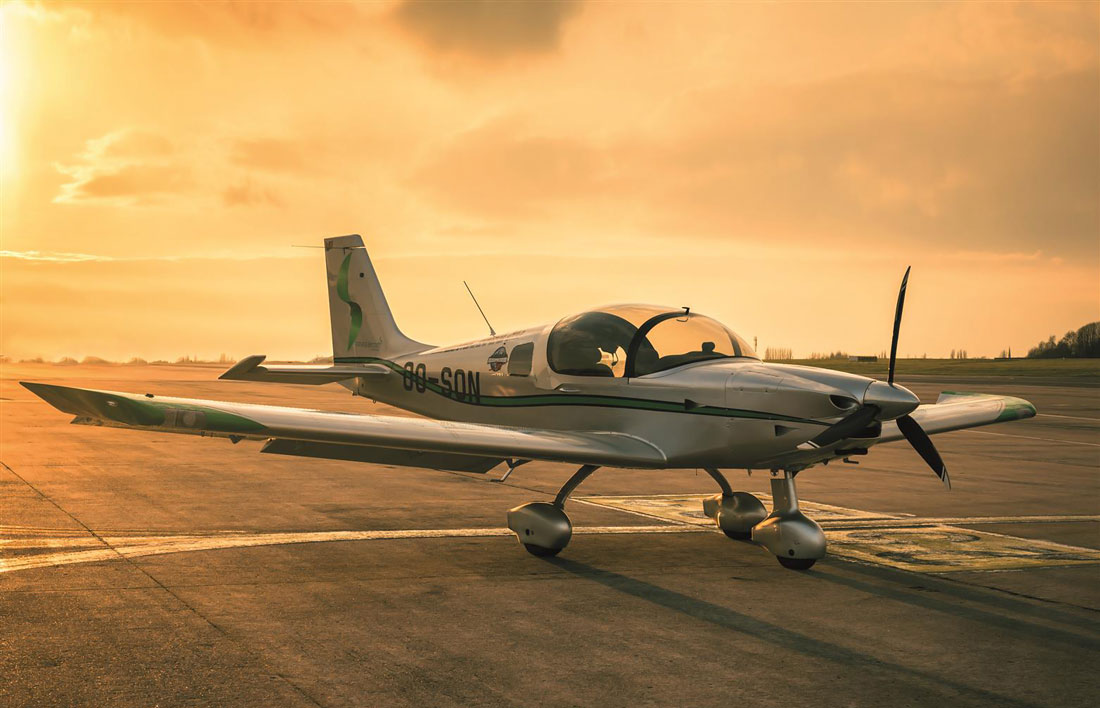 Changes to the Initial Sonaca 200 Prototype
According to the company, though the shape of the aircraft, wing profile and choice of materials have been maintained, an estimated 80% of the aircraft's initial structure has been redesigned so that they could meet both market requirements and EASA certification requirements. Company officials say that they've significantly altered the aircraft's structural resistance so that they could obtain a 750 kg (1653 pound) take-off mass with a 4.4G load factor, which they say is an increase of 25% when compared to the original design.
Sonaca Aircraft's Engineering & Certification Manager Carl Mengdehl said that in addition, "The main spars of the wing, the connection to the fuselage and the central spar have been redesigned and some aluminum alloys have been modified in order to take account of the aerodynamic loads, material fatigue as well as corrosion-related aspects. The changes also focus on strengthening the canopy arches, the landing gear, the vertical and horizontal empennage, including its connection to the fuselage, the propeller, the braking system as well as the instrumentation and fuel system."
Sonaca Aircraft's Pilot and Chief Commercial Officer Pierre Van Wetter added that with these changes in place, the company hopes to offer pilots, flight schools, and flying clubs a modern and certificated aircraft that can meet the demands of both instructive use and intensive use.
If testing goes well, and the process stays on track, production of the Sonaca 200 is expected to begin in June 2017. The company currently plans on offering the aircraft for a base price of 175,000 Euros (roughly $185,800) For those interested in more information, you can visit the company's website.
Most Recent Sonaca 200 Specs
ENGINE:  BRP Rotax 914 F – 115 hp
SEATS: 2
DIMENSIONS:

Wing span: 9.15 m (30 feet)
Length: 7 m (23 feet)

WEIGHT AND LOAD:

Empty Mass: 430 kg (948 pounds)
Maximum take-off weight: 750 kg (1653)
Fuel capacity: 140 L (2 x 70 l) (37 gallons, 2 x 18.5 gallon tanks)

PERFORMANCE DATA:

Max cruise speed: 115 knots
Rate of Climb: 750 feet per minute

STRUCTURE:

Fuselage and wings: Aluminum Alloy
Landing gear: Fiberglass + Epoxy Resin

FUEL CONSUMPTION: • 18 l/hour (4.75 gallons/hour)
Featured Image: courtesy of Sonaca Aircaft
---
Two Seat Belite Pipper Aircraft Kits Announced
Belite Aircraft has revealed the details on their new Belite Pipper aircraft kit, the company's first two-seat experimental aircraft design.
James Wiebe, the CEO of Belite, said that the Pipper came about because he wanted to both take his wife flying in a Belite aircraft and put to use his years of learning and experience in building quick, strong and affordable light planes. [Click to read more…]
---