Robinson Helicopter produced and delivered their first helicopter on 1979.
Robinson Helicopter has revealed that they have now produced 12,000 helicopters. The milestone was reached late last year, on December 23, 2016, as the R66 bearing the serial number 0763 rolled off the line. Robinson's President, Kurt Robinson, said that it was a nice way to end the year.
The company says that S/N 0763 will be delivered to Hover Dynamics, one of three long-time, established Robinson dealers in South Africa. Robinson reports that the R66 was purchased by a new charter and tour operator, Fly Karoo Air Services, who will operate out of the area surrounding Graaff-Reinet, a town located in the Eastern Cape Province of South Africa. According to Dean Feldman of Hover Dynamics, the Fly Karoo selected the R66 for a number of reasons, including the powerful turbine engine, quieter cabin, extra baggage space, and overall low operating costs.
Fly Karoo expects to begin operations in late February 2017, with pilot Franscois Fitzgerald behind the controls. Fitzgerald reportedly has over 2,500 hours of flying experience, with over 2,000 of those hours being earned in Robinson helicopters.
According to the company, Robinson produced and delivered their first two-seat R22 in 1979, their first four-place R44 in 1993, and their first five-place R66 in 2010.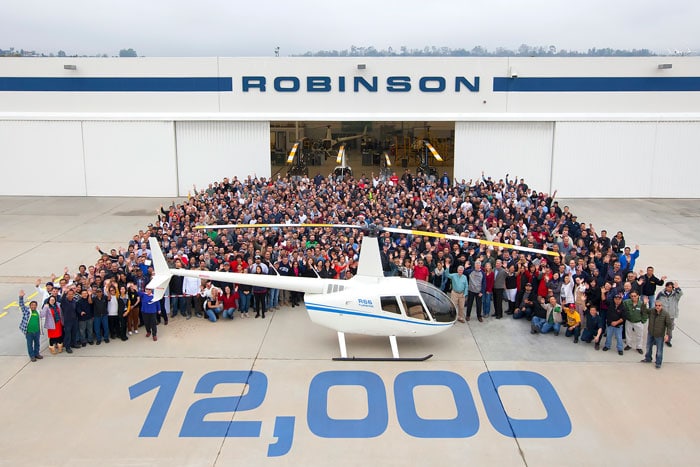 Robinson R66 Specs
| | |
| --- | --- |
| Helicopter | R66 Turbine |
| Engine | Rolls Royce RR300 Turbine |
| Horsepower | 300 shp turboshaft; derated to 270 shp for takeoff and 224 shp continuous |
| Maximum Gross Weight | 2700 lb (1225 kg) |
| Approximate Empty Weight (including oil & standard avionics) | 1280 lb (581 kg) |
| Fuel Capacity (73.6 gal) | 493 lb (224 kg) |
| Pilot, Passengers, and Baggage (with maximum fuel) | 927 lb (420 kg) |
| Cruise Speed at Maximum Gross Weight | up to 110 kts (204 km/h) |
| Maximum Range (no reserve) | approximately 350 nm (650 km) |
| Hover Ceiling IGE at Maximum Gross Weight | over 10,000 ft |
| Hover Ceiling OGE at Maximum Gross Weight | over 10,000 ft |
| Rate of Climb | over 1000 fpm |
| Maximum Operating Altitude | 14,000 ft |
| Electrical System | 28 volt |
Featured Image: Courtesy of Robinson Helicopter
---
The Robinson R66 Helicopter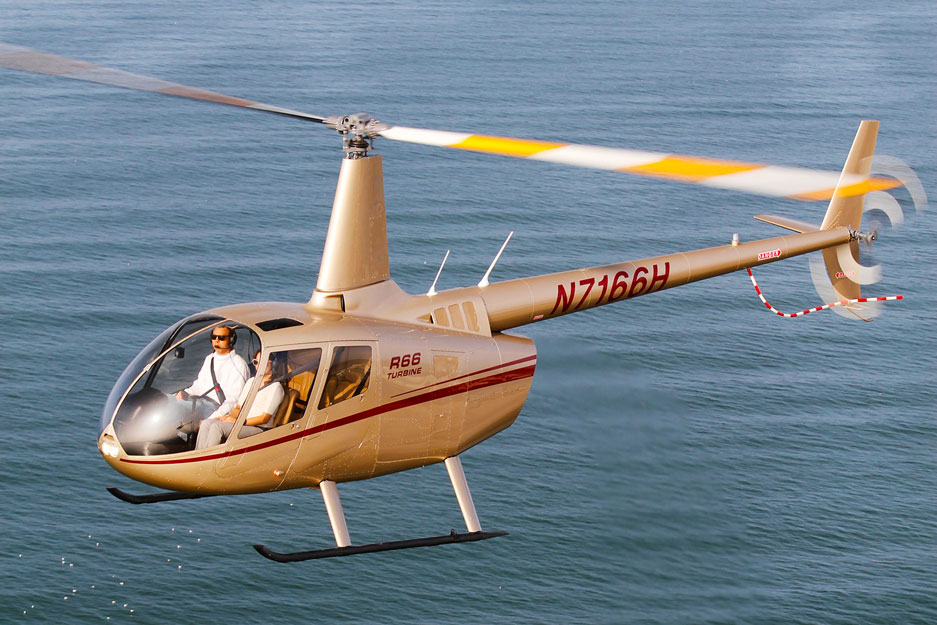 If there's one major performance characteristic that the Robinson R44 could improve on, it's operating at high altitude on hot days. Even the Raven II, the fuel-injected R44, can be inadequate on certain days with just a light load. But don't get me wrong, there's still a reason it's one of the world's best-selling and most admired helicopters, and I love flying it.
Well, meet the Robinson R66 helicopter. Just imagine an R44 with wider blades and a more powerful engine – a turbine engine, not a piston. Robinson finally did it and put a turbine in their small, lightweight, affordable helicopters. [Click here to read more…]
---