According to Tecnam, between the aircraft the Pascale Brothers designed and built with Partenavia and Tecnam, more than 7,000 aircraft have been delivered worldwide.
Tecnam Aircraft announced that on March 14, 2017, after a brief illness, Founder, President, and Chief Preliminary Design Officer Luigi Pascale, who was 93 years old, died unexpectedly.
In a statement, nephew and Tecnam CEO Paolo Pascale said "It is with great sadness that we announce today the passing of my uncle prof. Luigi Pascale. He was incredibly proud of TECNAM and all of its employees, and we will all miss him greatly. His drive to excellence, determination, can-do spirit and commitment to our Company will inspire and stay with us always."
Remembering Luigi Pascale's Life
The Early Years
Luigi "Gino" Pascale was born in Naples Italy in 1923. Both he and his older brother Giovanni "Nino" Pascale (Paolo's father, who passed away a number of years previous, was a little over a year older1) shared a passion for aviation that first showed itself in the form of paper airplanes. In an interview, Luigi provides some more details, remembering he and his brother as "two kids animated by a great passion for the flying machines: the paper planes were the first expression of interest that would inevitably bring us to model aircraft construction."
He goes on to say that one day, during their high school classes, the aviation magazine L'Aquilone made the rounds among the students, where the brothers found the address of Movo, a model aircraft kit and equipment supplier based in Milano. "We immediately wrote to Movo and in a few days, we received a catalog, from where we chose the elastic and tube M5 model. We spent our time preparing a little lab in a small room that we personally cleared and cleaned. We obviously did not have the proper tools, but we managed to find them a few days later. As a matter of fact, I decided to go with my father to his business trip in Benevento to convince him to take me to a hardware shop, where we bought all the needed tools. Finally, we had our first small saw, our first lath, and our first drill."2
Designing the P48 Astore and Racing Airplanes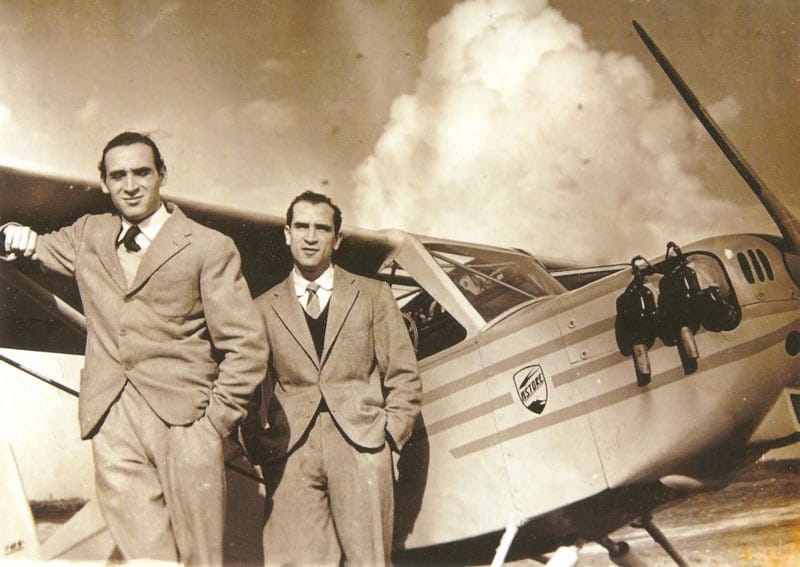 In early 1949, while at college, the brothers began work designing their first full full-sized aircraft, with 4 other students assisting them. The aircraft's engine was built using parts from four out of service Continental engines and was "constructed from bits and pieces and made on the cheap, but the incredible thing is, it worked."2 Mario De Bernardi, a famed World War 1 Italian fighter pilot and test pilot, flew the aircraft for the first time on April 2, 1951, and was reportedly so impressed, he helped take care of the aircraft's certification. That aircraft was the P48 Astore.
The P48 came in second in the 1952 Tour of Sicily, gaining the pair notice, and providing them a dramatic success at the start of their careers.
1951 also saw Luigi Pascale graduate from the University of Naples with a Master Degree as a Mechanical Engineer (he would eventually work with the university to create the Department of Aeronautical Engineering), and earn his Pilot's License.
The brothers designed and built a number of competition-winning racing airplanes, including the P55 Tornado. The P55 was a mid-wing cantilever monoplane with a retractable tricycle gear configuration and was powered by a Lycoming O-320. And though it won the Tour of Sicily in 1956, it was thought to be too specialized to enter production, and only one was ever built. (Sadly, that aircraft was destroyed in a crash on June 13, 1958.)
Founding Partenavia
Luigi Pascale became interested in building airplanes meant for everyone, and so in 1957, he founded Partenavia to build general aviation airplanes.
Things got off to a good start with the P57 Fachiro, a four-seat, high-wing monoplane originally powered by a 180 hp Lycoming engine.  The P57 was successful with aero clubs and general aviation pilots, and several P57 models are reportedly still flying today. A prototype of the P59 Jolly was designed next, to meet a requirement for Italy's national flying clubs, and though it was a successful design, only one was ever built.
The P64 Oscar (a much improved, all metal version of the Fachiro) and the P66 became bestsellers as training aircraft, and 1972 saw the debut of the P68's innovative light twin design. Partenavia produced other designs, and eventually became part of the Aeritalia group in 1981. From there, the company was sold to Aercosmos, and in March of 1998, was declared bankrupt. Vulcanair then bought all the assets, design rights, and trademarks.
Founding Tecnam
This, however, was far from the end for the Pascale brothers. In 1986, the brothers founded Tecnam, and kept designing, starting with the P92 Eaglet, a 2-seat light sport aircraft. According to Tecnam, the P92 model has now amassed 200,000 flight hours, with over 2,500 aircraft in service worldwide. A variety of other models followed, including the P2002 Sierra, P2004 Bravo, the four-seat light-twin P2006T, the P2008, P2010, and the Astore, a two-seat light sport aircraft named in honor of the Pascale Brother's first design.
Luigi Pascale's final design, the 11 seat Tecnam P2012 Traveller, is currently being flight tested, and Tecnam hopes to have it EASA and FAA certified by 2018. Company officials say that the P2012 will first see use as a regional passenger aircraft, though it was designed to be flexible and versatile, and will fill a variety of roles including cargo shipping, medevac services, and more.
I am always designing and creating aircraft in my mind but even more so with my heart. – Luigi Pascale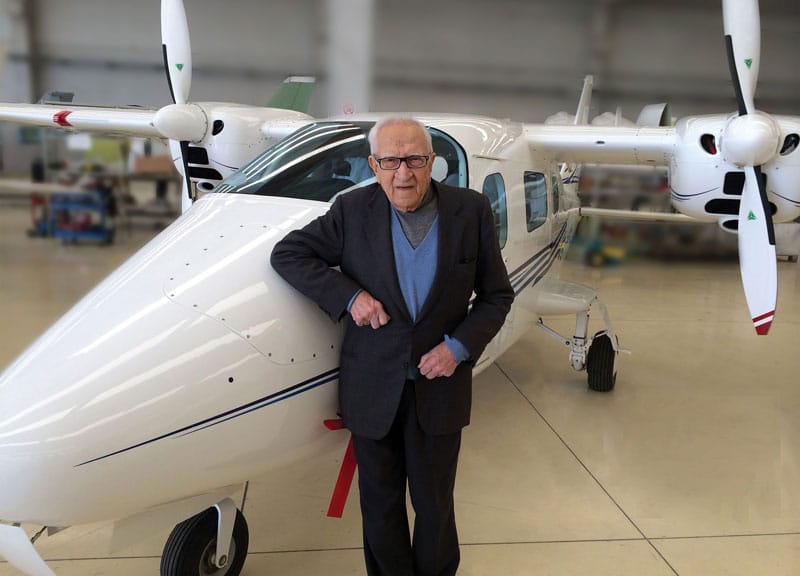 Tecnam says that between the aircraft designed and built by Partenavia and Tecnam, more than 7,000 aircraft have been delivered worldwide.
Professor Luigi Pascale's Awards as a Designer
Paul Tissandier diploma from Federation Aeronautique Internationale
Aeroplano d'Argento (Silver Plane) from UGAI (Italian Aerospace Journalist Association)
AirPress diploma
Diploma di Merito Accademia Pontaniana
Flieger Magazin Award 2013
Honorary Degree Aerospace Engineering 2016
LAMA Light Aircraft Manufacturers Association Award
Featured Image: Luigi Pascale and the P2012 Traveler, courtesy of Tecnam
Sources and references:
1 – Tecnam Indonesia 'Our Story' – Retrieved 3-17-17
2 – Tecnam: Behind the Scenes, Aviator – Retrieved 3-17-17
---
Clyde Cessna and the Founding of the Cessna Aircraft Company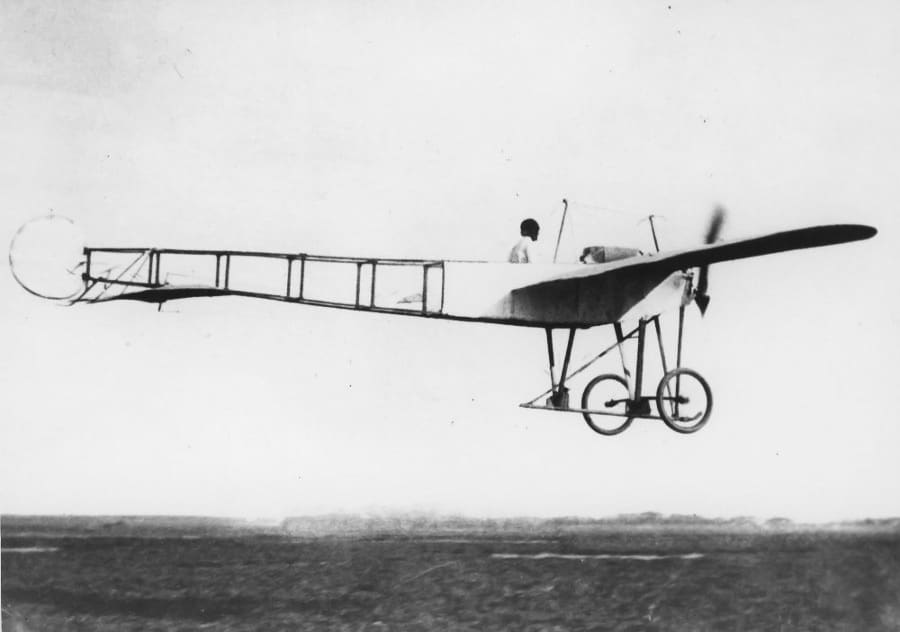 Clyde Cessna's name, at least his surname, is instantly recognized by pilots and aviation enthusiasts the world over. Over the years, the Cessna Aircraft Company has provided pilots with a variety of aircraft models that cover many different missions, from the ever popular, all-purpose Cessna 172 (the most produced GA aircraft ever) to the two-seat Cessna 152 trainer, the classic Cessna 182 Skylane, the strong and fast Cessna 206 Stationair, the iconic Cessna 180 and 185 Skywagons beloved by backcountry pilots, the reliable Cessna 210 Centurion, the popular twin-engine Cessna 340, [Click to read more…]
---