ForeFlight has revealed the next version of their flight planning and navigation app, ForeFlight 8. The new release will deliver ForeFlight's new global data-driven aeronautical maps with Continuous Zoom technology and decluttering thanks to an all new map engine that was built from the ground up. ForeFlight 8 will also feature the Logbook Connect Platform, Flight Sharing and Remote Signing, all designed to give pilots additional freedom in choosing how to access and manage their pilot logbook data.
According to company officials, ForeFlight on the web will also be receiving same data-driven maps. In addition, it will feature faster flight plan creation, flight plan filing and briefing for North America, the Bahamas, and the Caribbean, and will integrate with ForeFlight's cloud-based Flight Planning engine.
"ForeFlight's purpose is to build apps that make planning, flying, and logging a joy for both pilots and flight operations teams. ForeFlight 8 and the significant advancements on mobile and on the web do more in service to this cause than any previous release since the introduction of the iPad, and it starts with advanced next­generation maps," said ForeFlight co­founder and CEO Tyson Weihs. "Our new map engine, a clean­sheet design built by a team of remarkably talented pilots, is purpose­built to power ForeFlight's data­driven aeronautical maps and deliver an unparalleled experience across mobile and the web. This is the future of aeronautical maps, and there is nothing else like it on the market today."
ForeFlight's New Global Data­-Driven Maps
ForeFlight's Aeronautical Maps are now data-­driven, customizable, and powered by an entirely new map engine, built from the ground up by ForeFlight engineers
Map elements like airways, airspace, navaids, obstacles, airports, Flight Information Regions and communication data are now all independent elements that are drawn from data.  And when panning and zooming, the Continuous Zoom technology renders and scales the map elements without the need for loading or refreshing. Useful information will be displayed at all zoom levels. For example, when the entire US is in view, major airports and ARTCC boundaries are shown, and as the user zooms in, elements such as Bravo airspace, VORs, waypoints, airways and smaller airports are revealed on the map. In addition, the different elements and accompanying text fade in and out without loss in quality as the user adjusts the level of zoom.
ForeFlight airport diagrams are now directly integrated into the map as well, allowing pilots to zoom in and see information like runway and taxiway labels and the FBO locations without the need to switch views or open the published airport chart. Users will also be able to switch between different styles of map display, adjust the types of information displayed on the maps, and even adjust the size of labels. These new data-driven maps will be available to Basic Plus and Pro Plus subscribers for both mobile and web versions.
Enhancement to ForeFlight On The Web
The web version of ForeFlight now features an improved flight planning experience backed by the new map engine, including improved route planning and airport information, additional briefing features and flight plan filing to additional regions. The web version will also feature real-time sync with mobile devices, allowing pilots to plan and file where and when it's most convenient for them.
The already familiar Route Editor and Navlog views make it simple to build and edit routes, and ForeFlights auto-complete search engine can return results as quickly as you type, based on waypoints, navaids, airport names, routes and city names. As with the mobile version, the Route Advisor allows you to simply enter departure and destination identifiers and select from suggested routes, including airway, recently cleared ATC routes, preferred routes, or TEC routes.
All of the filing and briefing functionality of the ForeFlight mobile version are now part of the web version as well. You can amend and cancel IFR plans or activate and close VFR plans from the web, and then instantly sync that action with your mobile device. In addition, according to company officials, the new Graphical Briefing feature takes the standard text briefing information and delivers it in a new, more readable form.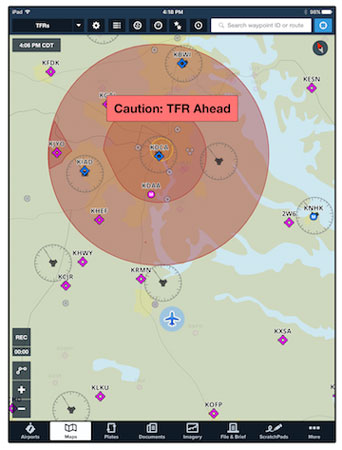 Finally, both ForeFlight 8 Mobile and ForeFlight on the web now support US VFR and IFR plans, intra­Canada VFR as well as IFR for all of North America, the Bahamas, and the Caribbean.
TFR Alerts
ForeFlight now supplements the graphical display of TFRs with a new audible warning and visual messaging overlaid on the map which will warn you both when you are approaching a TFR and when you have entered the airspace of a TFR. The alerts are present whether you have the TFR map layer turned on or off.
Availability of ForeFLight 8
ForeFlight 8 will be available for download in the App Store starting in August, along with the enhanced version of ForeFlight on the web. You can head to the ForeFlight website for more information.
Featured Image: US Map View in ForeFlight 8, images courtesy of ForeFlight