The Airbus E-Fan has been on display at AirVenture this week, providing crowds with an idea of what Airbus envisions for the future of electric aircraft. The Airbus E-Fan 1.2, sporting a red, white, and blue paint job to celebrate its US debut, is an experimental electric aircraft equipped with an updated hybrid electric / gas engine.
According to Anthony Anderson, the COO of the Corporate Technology office at Airbus, "Hybrid electric flight represents one of the biggest industrial challenges of our time, and our goal is to create aircraft designs that generate zero emissions. With the E-Fan 1.2, we're continuing to explore innovative approaches to more environmentally friendly technologies as possible alternatives to fossil fuels. Using insights gained from the E-Fan program, we hope to reduce – and possibly eliminate – the use of fossil fuels in aviation design within the next 30 to 40 years."
Details on the Hybrid Engine for the Airbus E-Fan
Initially sporting an all-electric engine, the E-Fan has evolved to a hybrid engine configuration which uses AvGas, and this has increased flight range and endurance. The new engine configuration, referred to as a "range extender" system, also allows the E-Fan to operate in three modes.
Electric Power Only – The aircraft's lithium-ion batteries power the two electric propulsion motors.
Electric Power and Thermal Engine – With the addition of the thermal engine and, sufficient electricity is generated to  enable sustained, level flight at maximum cruise speed, while also charging the aircraft's lithium-ion batteries.
Thermal Engine Only – The aircraft operates on power provided by the thermal engine only, in the form of electricity to the aircraft's two electric propulsion motors.
According to company officials, the new range extender system should allow the aircraft to achieve flight times of 2 hours and 15 minutes, as compared to one hour when the all-electric E-Fan made it's crossing of the English Channel in 2015.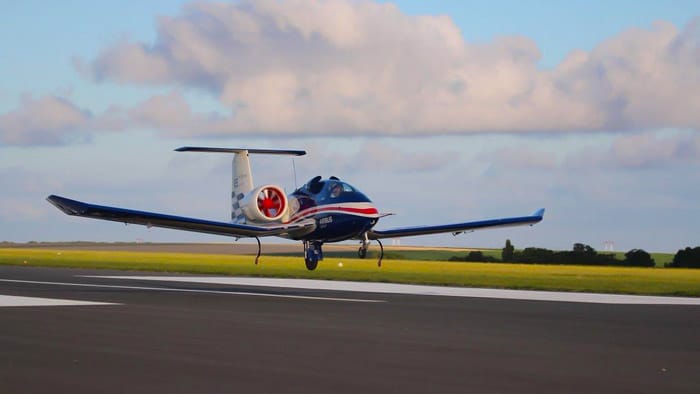 If you're at AirVenture and you want to take a look at the Airbus E-Fan, it's on static display at the Airbus Group tent in spaces 63 and 64 of Aviation Gateway Park. You can also visit the Airbus website for more details on the E-Fan.
Featured Image: Airbus