Dynon Avionics, specializing in light sport and experimental aircraft avionics, has announced the SkyView HDX, the latest glass panel in their SkyView line. The SkyView HDX features improved displays, a new design, better control ergonomics, and an updated touch interface. According to the company, the HDX displays are compatible with all existing SkyView components and share identical mounting profiles and electrical connections.
Dynon President Robert Hamilton had this to say about the HDX, "After spending thousands of hours sweating the details, homebuilders are rightfully proud of their aircraft. They deserve the premier glass panel: SkyView HDX."
Upgraded Features on the SkyView HDX
Brighter, higher resolution HD touchscreen displays with wider viewing angles and improved anti-reflective properties
Refined combination of full physical controls with a touchscreen. New angled control panel offers natural hand positioning and reduces fatigue, while the wide display ledge allows for better control in turbulence. New knobs are more responsive, and all controls are fully backlit for night flying.
An improved touch interface, featuring icon-driven touch controls and simplified screen navigation. A new engine monitor instrument band along the bottom of the display allows for easier instrument scan, and the display features edge to edge touch responsiveness with no bezel in the way.
Because it utilizes the same connections and components with existing SkyView systems, the HDX allows for simple drop-in upgrades for pilots already flying with a SkyView system. HDX displays will also work side-by-side with SkyView Touch and SkyVoew Classic displays.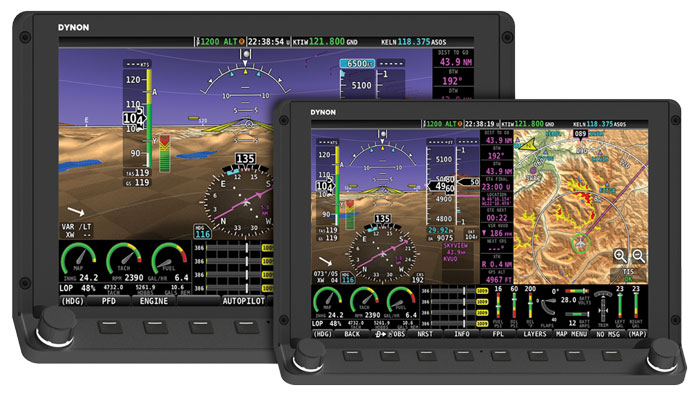 The SkyView HDX will be available in 7-inch and 10-inch sizes. The 7-inch SV-HDX800 display will be priced at $3,190, while the 10-inch SV-HDX1100 display will be $4,490. The SkyView HDX is expected to be available in Fall 2016. For additional details, you can visit the Dynon website.
In addition to revealing the HDX, Dynon revealed a few other pieces of information to AirVenture crowds.
$500 Price Decrease for SkyView Touch, Classic, AF-5000 Series Systems
As of Monday, July 25, 2016, all SkyView Touch, Classic and AF-5000 series displays include navigation mapping capabilities. Previously, the mapping software was a separate $500 purchase. According to Michael Schofield, the Dynon Marketing Manager, with the introduction of the entry-level SkyView SE and the new SkyView HDX, they saw an opportunity to streamline the purchase of the other systems to better serve customers.
Preview of SkyView Software Version 15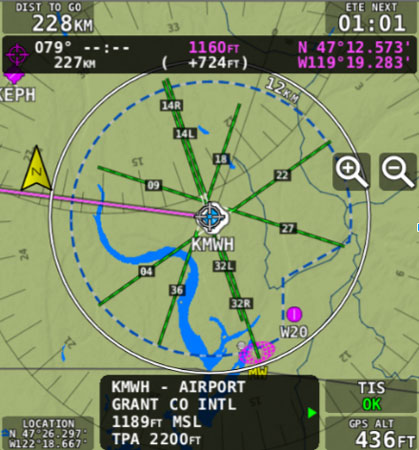 Dynon also released details on the latest version of their Skyview software, with a variety of new features, including:
Extended Runways on Map
Highway in the Sky (HITS)
Airport Signposts in Synthetic Vision
Maintenance Logging
Weight and Balance Calculator
VNAV from SkyView's flight plan to your destination airport, arriving either above the airport or right at the runway itself
Airspace proximity notification, including the airspace you are in, upcoming airspace along your flight path, and aircraft above and below you.
The updated software is expected to be ready in Summer-Fall 2016, and will be a free upgrade for SkyView Classic and Touch users. It will ship pre-installed with the SkyView HDX.
Graphics Updates for the AF-5000 Series
Finally, Dynon revealed that the upcoming Advanced Flight Systems AF-5000 software release will improve display graphics, including "updated colors for contrast and legibility, redesigned VSI and roll indicators, crisper fonts, and reduced clutter."
Featured Image: Dynon Avionics AF-5000 Series