Aspen Avionics revealed at AirVenture that certification is just around the corner for their latest software upgrade to their Evolution Flight Displays. The upgrade will include several additional ADS-B display features for the Evolution 500/1000 units. The upgrade also includes textual METARS information for the display, which provides subscription-free weather data in an easily read format.
The additional ADS-B capability will include the following information on the display:
Temporary Flight Restrictions (TFRS)
Airman's meteorological information (AIRMETS)
Significant meteorological information (SIGMETS)
Convective SIGMETS
Winds Aloft
Temps Aloft
Terminal aerodrome forecast (TAF)
According to company officials, all Aspen, and Aspen-compatible ADS-B products are able to display the additional flight information. Aspen has been working with L-3 Avionics Products, FreeFlight Systems, and Garmin in order to provide customers with Aspen-equipped cockpits a choice in deciding how to meet new the ADS-B standards without needing to upgrade their entire panel.
Evolution Flight Displays To Work With Genesys System 55X Autopilot
In addition, Aspen announced that they're also close to certification on being able to integrate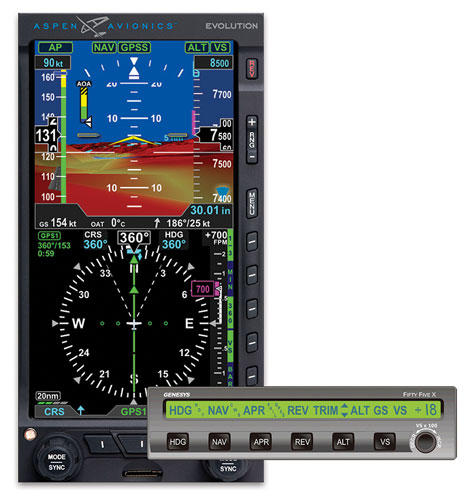 their Evolution 1000 PFD with the 55X autopilot from Genesys Aerosystems. The STC, which they expect to obtain in Q3 this year, will cover hundreds of models of light single and twin piston aircraft.
Perry Coyne, the Director of Marketing Operations for Aspen, said "Aspen's Pro PFD with the Genesys System 55X autopilot enhances the basic 55X autopilot function and streamlines the controls, reducing workload. When combined with all the features and benefits of Aspen's glass panel technology, flying becomes easier and safer, especially for single-pilot IFR missions."
Aspen Announces ADS-B Discount For Evolution Flight Displays
Finally, Aspen announced that they will be knocking $1000 off the list price of its Evolution primary flight displays or multi-display systems with the purchase of an Aspen or Aspen compatible ADS-B solution, regardless of the manufacturer. Among the compatible solutions are:
Aspen ATX100 Universal Access Transceiver (UAT)
Aspen ATX100G UAT with GPS
L-3 Lynx NGT-9000 MultiLink Surveillance System
L-3 Lynx NGT-2500 MultiLink Surveillance System
Garmin GDL 88 UAT transceiver
Garmin GTX 345 transponder (anticipated in Q4 2016)
FreeFlight RANGR FDL-978-XVR transceiver
If you are currently in attendance at AirVenture, you can drop by the Aspen booth (Hangar B, booth 2145) for more information, or jump on their website.
Featured Images: Aspen Avionics