The approvals come after the Cirrus Vision SF50 Jet achieved FAA type certification in October 2016, and its production certificate earlier this month.
Cirrus Aircraft is reporting they've now received type certification approval for the Cirrus Vision SF50 Jet from both the European Aviation Safety Agency (EASA) and Austrailia's Civil Aviation Safety Authority (CASA). In addition, they've also delivered their first SF50 to the European market. Pat Waddick, Cirrus Aircraft's President of Innovation and Operations, said that it was an exciting step for Cirrus, adding that "The EASA approval of the Vision Jet Type Certificate paves the way for a ramp up of aircraft deliveries in Europe and continues to propel Cirrus Aircraft into new markets across the world. There is no better way to celebrate this achievement than to have the first Vision Jet delivered to Europe on display at EBACE this week."
The EASA and CASA approvals come after the SF50 achieved FAA type certification in October 2016, and its production certificate earlier this month. Deliveries for the SF50 started last December, and the company notes that more than 600 production positions have been reserved. The EASA approval is also notable, as it follows shortly after EASA's long-awaited approval of single-engine commercial IFR operations in Europe this past March.
Cirrus was among the chorus of general aviation industry voices praising the passage of the new rules, noting that it would open up exciting growth opportunities for the European market. Waddick, speaking about the EASA certification, said that it was a testament to the cooperation between the EASA, FAA and Cirrus teams, and served as a fine example of how the bilateral validation agreement between the US and EU can be successful. Waddick added, "The only thing more satisfying than receiving EASA Type Certificate approval will be seeing our customers enjoy the benefits of this category-defining aircraft as they travel throughout Europe."
---
UPDATE 11-1-16: The FAA Has Certified the Cirrus Vision SF50 Jet

Cirrus Aircraft has announced that they've received FAA certification for their single-engine Cirrus Vision SF50 jet. Cirrus co-founder and CEO Dale Klapmeier called it an impactful milestone for both the company and the aviation industry in general. He added that "Just as the SR series of high-performance piston aircraft has forever changed aviation, the impact of the Vision Jet on personal and regional transportation is going to be even more profound. Never before has a turbine aircraft solution come along that rewrites the rules in so many ways – iconic design, ease of operation, smart economics, simplified ownership and more."
According to Cirrus, they expect to deliver the first Vision Jets in 2016 and begin ramping up production of the aircraft through 2017. For those in attendance at the 2016 NBAA Convention, Cirrus has a Vision Jet on display.
What Features Will Come Standard on the Cirrus Vision SF50 Jet?
According to Cirrus, the following features will come standard on the Vision Jet:
The Cirrus Airframe Parachute System (CAPS)
The Cirrus Perspective Touch Cockpit, by Garmin
Flight Into Known Ice System
3-Point crew airbag seatbelts
Modular seating  for up to 5 adults and 2 children
Air conditioning with climate control
Leather Interior
4+ USB power ports
---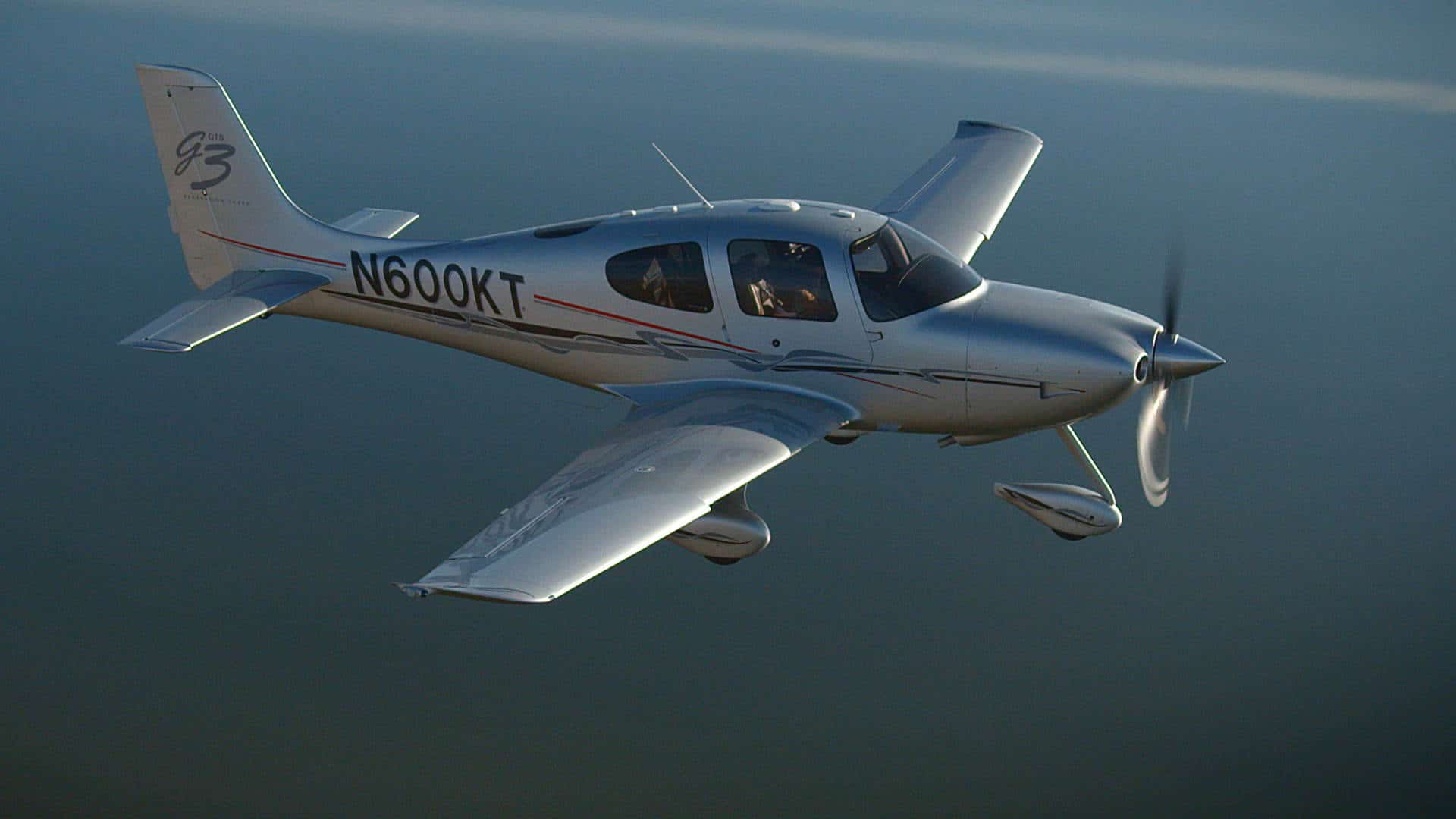 Cirrus Aircraft Corporation, originally Cirrus Design, was founded in 1984 by brothers Alan and Dale Klapmeier to produce the VK-30 kit aircraft. Over the years, Cirrus has transitioned from being a kit building company to a full-fledged aircraft manufacturer, all the while navigating some serious business turbulence. During the tough times, however, Cirrus never stopped refining their designs and pushing forward in their quest to produce the safest airplanes possible. In 2001, they released the aircraft [Click here to read more…]
---
What Are the Performance Specs on the Cirrus Vision SF50 Jet?
WEIGHT
Max Ramp Weight: 6040 lbs (2740 kg)
Max Takeoff Weight: 6000 lbs (2727 kg)
Basic Empty Weight: 3572 lbs (1620 kg)
Max Zero Fuel Weight: 4900 lbs (2223 kg)
Max Usable Fuel: 2000 lbs (907 kg)
ENGINE
DIMENSIONS
Wingspan: 38.7 ft. (11.79 m)
Length: 30.7 ft. (9.42 m)
Height: 10.9 ft. (3.32 m)
Cabin Width: 5.1 ft. (1.56 m)
Cabin Height: 4.1 ft. (1.24 m)
PERFORMANCE
Takeoff: 2036 ft. (620 m)
Takeoff Over 50 ft Obstacle: 3192 ft. (973 m)
Max operating Altitude: FL280
Stall Speed with Flaps: 67 knots
Max Cruise Speed: 300 KTAS
Landing Groundroll: 1628 ft. (496 m)
According to Todd Simmons, the President of Customer Experience, in addition to creating a top of the line experience for pilots, they've also worked to provide the best experiences for friends, family, and colleagues flying on the Vision Jet. "Simply, we have taken the pilot and passenger in-flight experience to a new level with a wide range of innovative design elements and features." For more information, you can visit the Cirrus website.
---
Original post 6-7-16: The Cirrus Vision SF50 Jet Moves One Step Closer to FAA Certification
Just last month, Cirrus had the first successful flight with a production version of their Cirrus Vision SF50 Jet. The aircraft, called P1, took off from Duluth International Airport, under the control of test pilot Terry LeSage. "Pilot feedback on P1 is simple," LeSage said. "The aircraft handled just great. It was not noticeably different from C2 [the third conforming test article], with handling qualities matching those of its predecessors and all systems working as intended."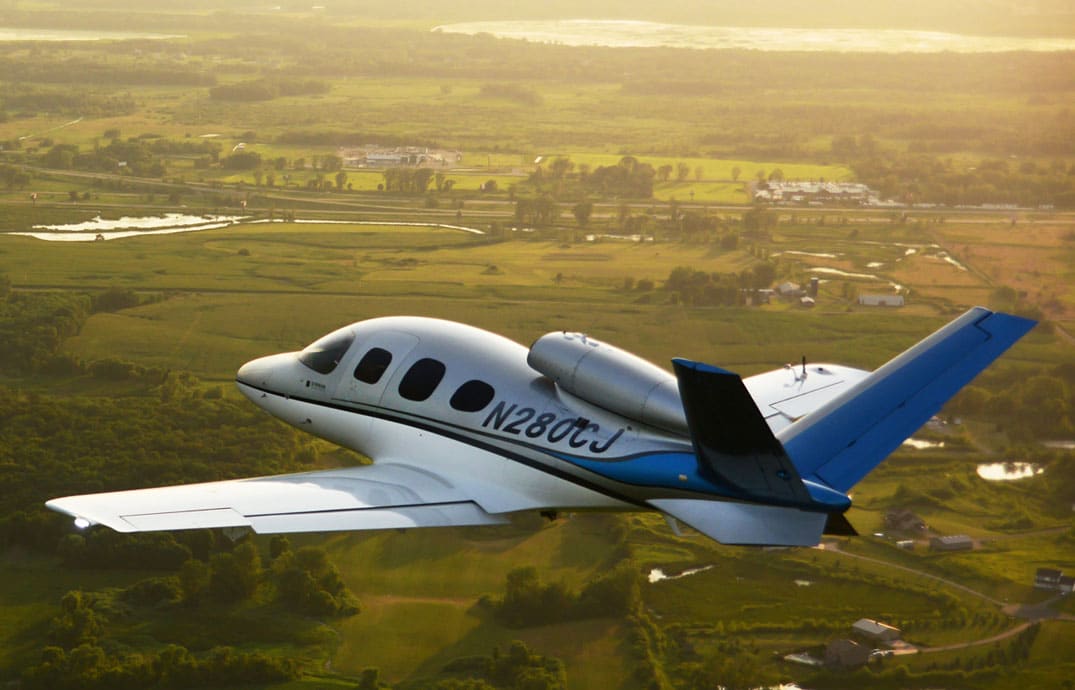 And now, Cirrus has drawn one step closer to obtaining an FAA certification for the jet this summer. Engine manufacturer Williams International just announced that the engine used in the Cirrus Vision SF50 Jet, the FJ33-5A, has just received FAA type certificate approval.
According to a spokesman from Cirrus, the company is hard at work finishing the necessary reports and development work for the SF50, including function and reliability testing and plans to have all the necessary type certificate documentation to the FAA by the end of the month. In addition, Cirrus has also provided the FAA with their SF50 training course for approval.
During this period, Cirrus is ramping up the production of airframe components at their Grand Forks ND plant to keep up with demand, while moving ahead with production a number of customer's SF50's in Duluth.  According to Cirrus, they have deposit-backed ordered for more than 600 of the aircraft.
The SF50, like the SR-20 and SR-22, comes outfitted with the manufacturer's innovative CAPS (Cirrus Airframe Parachute System), which Cirrus says has saved over 100 lives. The interior will also feature the new Perspective Touch by Garmin in the cockpit, modular seating for five passengers and a leather interior. So, how much will the slick Cirrus Vision SF50 Jet set you back?  Only a mere $1.96 million.
Featured Image: courtesy of Cirrus Aircraft