Both the Cessna Citation Sovereign+ and Latitude models will now come standard with steep approach capability
Textron Aviation has revealed that it has achieved steep approach certification from both the Federal Aviation Administration (FAA) and the European Aviation Safety Agency (EASA) for the Cessna Citation Sovereign+ and Cessna Citation Latitude.
Steep approach certification will allow the aircraft to track approach angles of up to 6.65 degrees, something the company says will allow the two Citation models to more easily fly into popular European destinations such as London City Airport (LCY) and Lugano Airport (LUG) in Switzerland. As an example, the company says that LCY, with a downtown location next to London's financial district, requires a 5.5-degree approach due to environmental regulations, compared to a more typical approach of 3.0 degrees.  In addition, Textron Aviation is also saying that unlike other business jet models, both of these aircraft will now come standard with steep approach capability.
Rob Scholl, Textron Aviation's Senior Vice President of Sales and Marketing, says "This steep approach certification for the Sovereign+ and Latitude further enhances the advanced capability of these industry-leading aircraft, particularly for customers flying in Europe where terrain or environmental regulations often require this increased capability." He adds that the certification illustrates the company's continued commitment to ensuring their customers have the performance and flexibility necessary to get the most from their ownership experience.
Featured Image: Cessna Citation Sovereign+, courtesy of Textron Aviation
Cessna Citation Sovereign+ and Latitude Specs
DIMENSIONS
| | | |
| --- | --- | --- |
| |  Sovereign+ |  Latitude |
| Length | 63 ft 6 in (19.35 m) |  62 ft 3 in (18.97 m) |
| Height | 20 ft 4 in (6.20 m) |  20 ft 11 in (6.38 m) |
| Wingspan | 72 ft 4 in (22.04 m) |  72 ft 4 in (22.05 m) |
| Wing Area | 543 sq ft (50.4 sq m) |  543 sq ft (50.4 sq m) |
| Wing Sweep | 16.3 degrees |  16.3 degrees |
| Wheelbase | 27 ft 10 in (8.49 m) |  27 ft (8.23 m) |
| Tread | 10 ft (3.05 m) |  10 ft (3.05 m) |
 CABIN INTERIOR
| | | |
| --- | --- | --- |
| |  Sovereign+ |  Latitude |
| Height | 68 in (1.73 m) | 72 in (1.83 m) |
| Width | 66 in (1.68 m) |  77 inches (1.96 m) |
| Length | 25 ft 3 in (7.70 m) |  21 ft 9 in (6.63 m) |
| Maximum Passengers | 12 |  9 |
BAGGAGE CAPACITY
| | | |
| --- | --- | --- |
| | Sovereign+ |  Latitude |
| Weight | 1,435 lb (650.9 kg) | 1,245 lb (564.7 kg) |
| Volume | 135 cu ft (3.82 cu m) |  127 cu ft (3.6 cu m) |
WEIGHTS
| | | |
| --- | --- | --- |
| |  Sovereign+ |  Latitude |
| Maximum Ramp Weight | 31,025 lb (14,073 kg) | 31,050 lb (14,084 kg) |
| Maximum Takeoff Weight | 30,775 lb (13,959 kg) |  30,800 lb (13,971 kg) |
| Maximum Landing Weight | 27,575 lb (12,508 kg) |  27,575 lb (12,508 kg) |
| Maximum Zero Fuel Weight | 21,000 lb (9,525 kg) |  21,200 lb (9,616 kg) |
| Usable Fuel Weight | 11,390 lb (5,166 kg) |  11,394 lb (5,168 kg) |
| Usable Fuel Volume | 1,700 gal (6,435 l) |  1,700 gal (6,435 l) |
| Basic Operating Weight | 18,235 lb (8,271 kg) |  18,656 lb (8,462 kg) |
| Useful Load | 12,790 lb (5,801 kg) |  12,394 lb (5,622 kg) |
| Maximum Payload | 2,765 lb (1,254 kg) |  2,544 lb (1,154 kg) |
| Full Fuel Payload | 1,400 lb (635 kg) |  1,000 lb (454 kg) |
PERFORMANCE
| | | |
| --- | --- | --- |
| |  Sovereign+ |  Latitude |
| Maximum Cruise Speed | 460 ktas (852 km/h) |  446 ktas (826 km/h) |
| Maximum Range | 3,200 nm (5,926 km) |  2,700 nm (5,000 km) |
| Takeoff Field Length | 3,530 ft (1,076 m) |  3,580 ft (1,091 m) |
| Landing Distance | 2,600 ft (792 m) |  2,480 ft (756 m) |
| Maximum Operating Altitude | 47,000 ft (14,326 m) |  45,000 ft (13,716 m) |
| Maximum Climb Rate | 4,083 fpm (1,244 mpm) |  N/A |
| Maximum Limit Speed | 0.80 Mach (0.80 Mach) |  0.80 Mach (0.80 Mach) |
POWERPLANT
| | | |
| --- | --- | --- |
| | Sovereign+ |  Latitude |
| Manufacturer | Pratt & Whitney |  Pratt & Whitney |
| Model | PW306D |  PW306D1 |
| Thrust | 5,907 lb (26.28 kN) |  5,907 lb (26.28 kN) |
---
Cessna Citation: From Slowtation to Near the Speed of Sound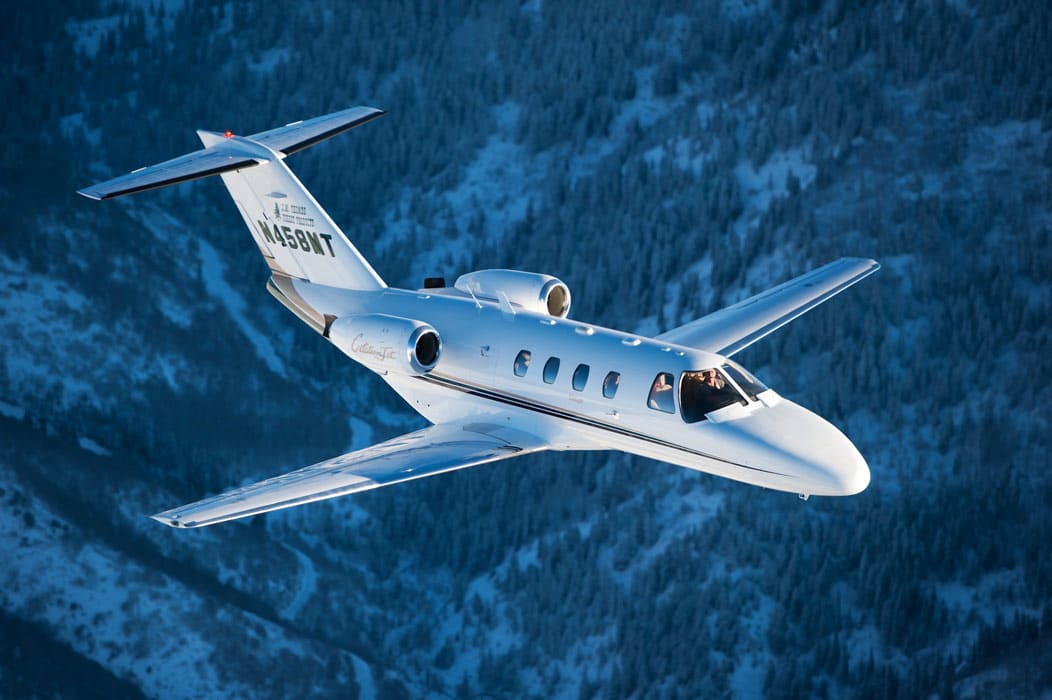 The 7,000th Cessna Citation, originally named after a thoroughbred racehorse, was delivered on June 27, 2016. It's a milestone that began in 1969 and 35 million flight hours later, Citation hours are now in thousands of pilots' logbooks. From the Citation 500 parents spawned seven different distinct families, each with design improvements which has taken Citation from the "Slowtation" to the screamin' Mach .935 Citation X+ which can fly between New York and Los Angeles in four hours. [Click to read more…]
---