4-18-17 – Doc's Friends remain committed to bringing the restored B-29 Superfortress Doc to its first out of state airshow in early May.
Doc's Friends are postponing the previously scheduled open house event this weekend, on Saturday, April 22, at Yingling Aviation in Wichita. Josh Wells, a spokesman for Doc's Friends, said that they've still been unable to log a maintenance check flight due to weather, crew scheduling, and maintenance operations, adding "With weather conditions still not favorable this week in Wichita for our team to perform the required flight prior to the planned open house event, we have decided to reschedule the event for a later date."
The flight operations and planning teams are now eyeing a weekend in early June as a potential date to reschedule the public event and open house. However, Doc's Friends noted that they are still "focused on and committed to attending its first out-of-state air show May 6-7 at Barksdale Air Force Base in Louisiana."
---
UPDATE 4-6-17: Maintenance Check Flight Pushed Back for B-29 Superfortress Doc
Due to unfavorable flight conditions in Wichita, the maintenance flight check for recently restored B-29 Doc will not go forward as planned this weekend. Josh Wells, a spokesman for Doc's Friends, said that all through the restoration project, including the planning of all flight operation to date, "We've always made the safety of our crew and the well-being of our historic warbird the top priority."
Doc's Friends did note that earlier this week, the restoration and maintenance crew was able to successfully run Doc's four engines and wrap up the planned winter maintenance for the historic warbird and even provided a video of the tests.
---
UPDATE 3-22-17: First 2017 Tour Stops Confirmed for B-29 Superfortress Doc
Well, that was quick! Shortly after revealing that B-29 Superfortress Doc had finished 'phase one' flight testing, and been cleared by the FAA (via a new airworthiness certificate) for touring, Doc's Friends have revealed the first four national tour stops that will be kicking off the venerated warbird's 2017 touring season.
Doc will be thrilling crowds and inspiring young and old aviation enthusiasts alike at these four stops:
B-29 Doc Open House, April 22nd: Yingling Aviation, Wichita, Kansas

Defenders of Liberty, May 6th – 7th: Barksdale Air Force Base, Bossier City, Louisiana

Wings Over Whiteman, June 10th – 11th: Whiteman Air Force Base, Knob Noster, Missouri

EAA AirVenture 2017, July 24th – 30th: Oshkosh, Wisconsin (As a side note, B-29 Superfortress Fifi will also be in attendance at AirVenture 2017, and hopefully, the two amazing warbirds will meet!)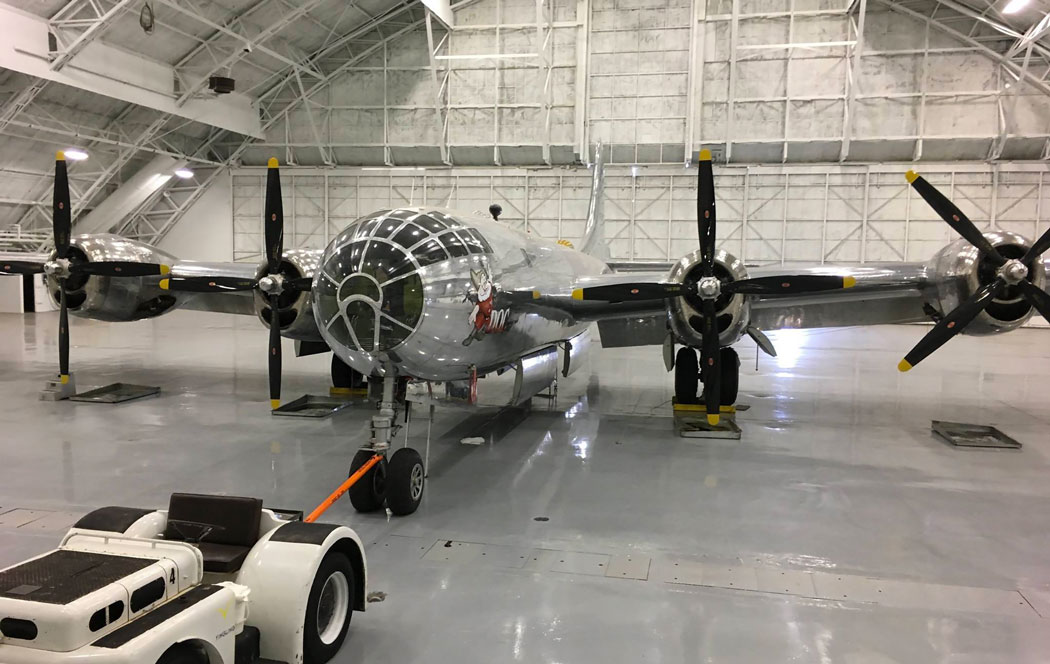 Jim Murphy, the Restoration Program Manager for Doc's Friends, said that the group's vision throughout restoring the warbird was to share Doc as a flying museum that honored the brave men and women who built, maintained and flew B-29s to preserve freedom both at home and abroad. He added that "Taking Doc on tour in 2017 is just the first step in our overall mission. We want to educate current and future generations on the contributions made by the Greatest Generation during wartime."
In addition to the first four stops, the group says that they are currently in negotiations with four additional air shows that would Doc also visiting Oklahoma, Colorado, and Texas later in the year. They say that they'll reveal more information on those dates in the coming weeks.
In the meantime, Doc's hardworking maintenance crew has reportedly almost completed their planned winter maintenance program, and will "begin running engines and preparing for a return to flight in early April."
Murphy says that this will continue to be a historic year for Doc, and notes that thi all would not have been possible without their dedicated team of volunteers. "Not only have they put in thousands of hours to restore our warbird, they continue to work hard to ensure the airplane is able to embark on its 2017 tour schedule."
---
UPDATE 3-20-17: B-29 Superfortress Doc Completes Phase One Flight Testing
Doc's Friends, the group responsible for restoring the B-29 Superfortress Doc, is saying that the aircraft is now done with "phase one" of its flight test operations. In recognition of this, the FAA has approved a new airworthiness certificate for the warbird, which will allow Doc's Friends to begin touring with Doc. While the new special airworthiness certificate still has some "reduced flight limitations," it removes the flight limitation restrictions on distance and flight pattern.
Jim Murphy, The Restoration Program Manager for Doc's Friends, said that they've been working with both the Wichita FAA office and the Washington DC FAA team for the past several months, and are pleased to have satisfied the phase one conditions. "This milestone is one we've worked step-by-step alongside the FAA inspectors and our maintenance crew to achieve. The special airworthiness certificate will allow us to operate Doc without travel restrictions that were previously in place during our first several hours of flight."
The Communications and Event Planning team for Doc's Friends say they're currently in final negotiations with multiple regional airshows in at least six states, including EAA's upcoming AirVenture 2017.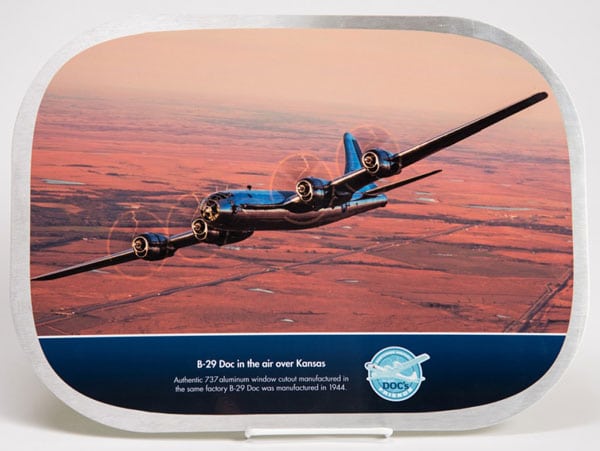 Murphy says they're not quite ready to reveal the details for Doc's 2017 tour dates just yet, but he's confident they'll be able to make an announcement regarding Doc's travel plans soon. Murphy adds that "We have a few more minor winter maintenance items to complete and we'll begin running engines before the end of March. If everything goes as planned, I expect us to be back in the air in early April."
In the meantime, the group is still working to build Doc a permanent home in Wichita, on the grounds at Eisenhower National Airport, and they say they hope to reveal details on the exact location soon. For anyone interested in donating towards this effort, Doc's Friends are offering authentic aluminum Boeing 737 window cutouts (which were manufactured in the same factory that built B-29 'Doc' in 1944), which feature one of four commemorative designs on it, for $150 each. All the proceeds of these cutouts will go towards building Doc's permanent home.
Featured Image: courtesy of Doc's Friends
---
UPDATE 11-17-16: Restored B-29 Superfortress Doc Logs Additional Flight Tests
During two days of recent test flying, the restored B-29 Superfortress Doc logged multiple hours, takeoffs and landings. The flights took place at McConnel Airforce Base and Eisenhower National Airport, both in Wichita, KS, and during the two days, the flight crew focused on testing the warbird's flight control systems, including the landing gears, and the engine run times and aircraft's operation capability at more than 250 mph.
Doc spent time over the Flint Hills, east of Witchita, and went through a series of takeoffs and landings, many of which were at Eisenhower National Airport (KICT).
According to Jim Murphy, the Project Restoration Manager for Doc's Friends, the venerable aircraft performed perfectly. "We were able to make significant progress on meeting FAA requirements for flight testing. We could not be happier with the overall performance of the airplane, as well as the hospitality from the ground crews at Yingling Aviation and Wichita's Eisenhower National Airport."
Josh Wells, a spokesperson for Doc's Friends, said that the success of the flights reinforces their need to find a permanent home for Doc in Wichita. "We're in the process of working with a 'Hangar Task Force Team' to finalize hangar designs and location, as well as develop a cost estimate. A capital fundraising plan will be announced soon but at this time, we don't have a definitive timeline for fundraising or construction." He added that as that process was ongoing, the flight crew would continue to log additional flight hours in order to meet FAA requirements. In addition, once those requirements are met, Wells said that they'd move through the next steps of additional training for the flight crew and eventually work out a schedule of public appearances for Doc.
For those interested in seeing some of the action, Lyle Jansma captured some great video during the recent flights, providing a 360-degree view of the cockpit.
If, like me, you take a first look at the video and go "that's not 360 degrees," note that you can click on the video and drag the view around to any angle, providing a 360-degree field of view.
---
UPDATE 10-4-16: Restored B-29 Superfortress Doc Logs Almost an Hour During Second Flight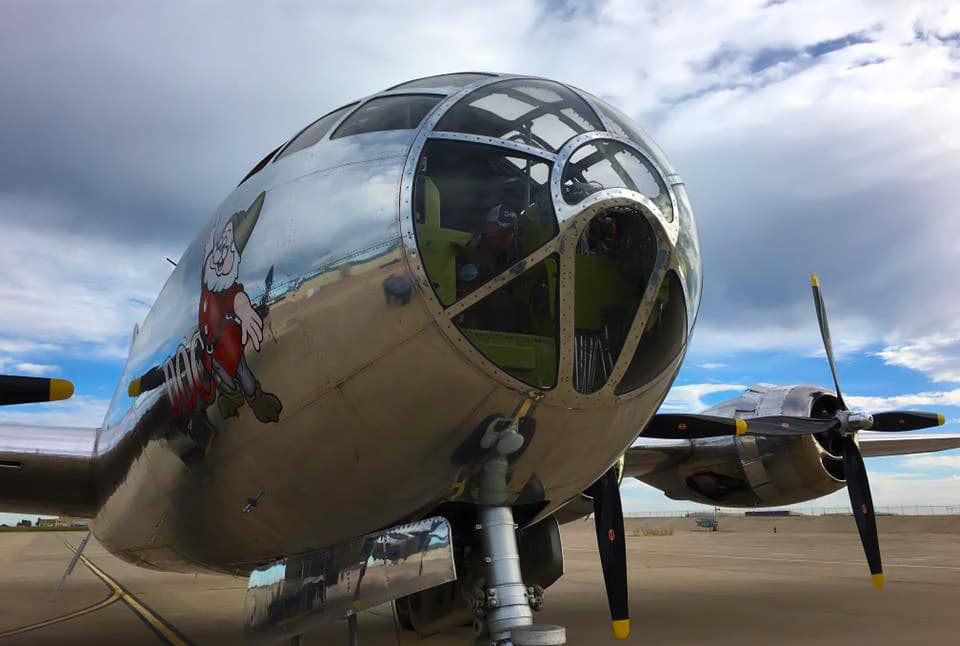 This past weekend, the recently restored B-29 Superfortress Doc successfully completed its second  flight after a long and intensive process of restoring the aircraft to airworthy status. According to Doc's Friends, the flight, which departed from McConnel Air Force Base in Wichita, KS, lasted for approximately 52 minutes at altitudes of four to five thousand feet, on a flight pattern east of Wichita.
"This flight was successful and it gave us another opportunity to put some time on the airplane [Click here to read more…]
---
UPDATE 8-12-16: B-29 Doc Prepares for More Test Flights
The restored B-29 Doc took to the skies for the first time a little over three weeks ago, after an intensive 16 year restoration project. And now, after reviewing the data from the flight, Doc's restoration crew is planning the next test flight.
""Over the past few weeks, we've been combing through all of the airplane's systems and control surfaces checking to see how things behaved during first flight," said the restoration project manager for Doc's Friends, Jim Murphy.We've also been reviewing gauge readings that were captured by video during flight [Click here to read more…]
---
Update 7-19-16: Restored B-29 Superfortress Doc Has Successful First Flight
Folks living around Witchita, Kansas were treated to a rare sight this past weekend: a vintage World War 2 bomber rumbling across the sky. The B-29 Superfortress Doc, which went through a lengthy restoration process, just had it's first successful test flight. The flight, which took place this past Sunday morning, lasted about seven minutes. The crew reported that the flight was an overall success. The restored warbird took off from and landed at McConnell Air Force Base, which they had previously been granted permission by the Pentagon to use for flight testing purposes.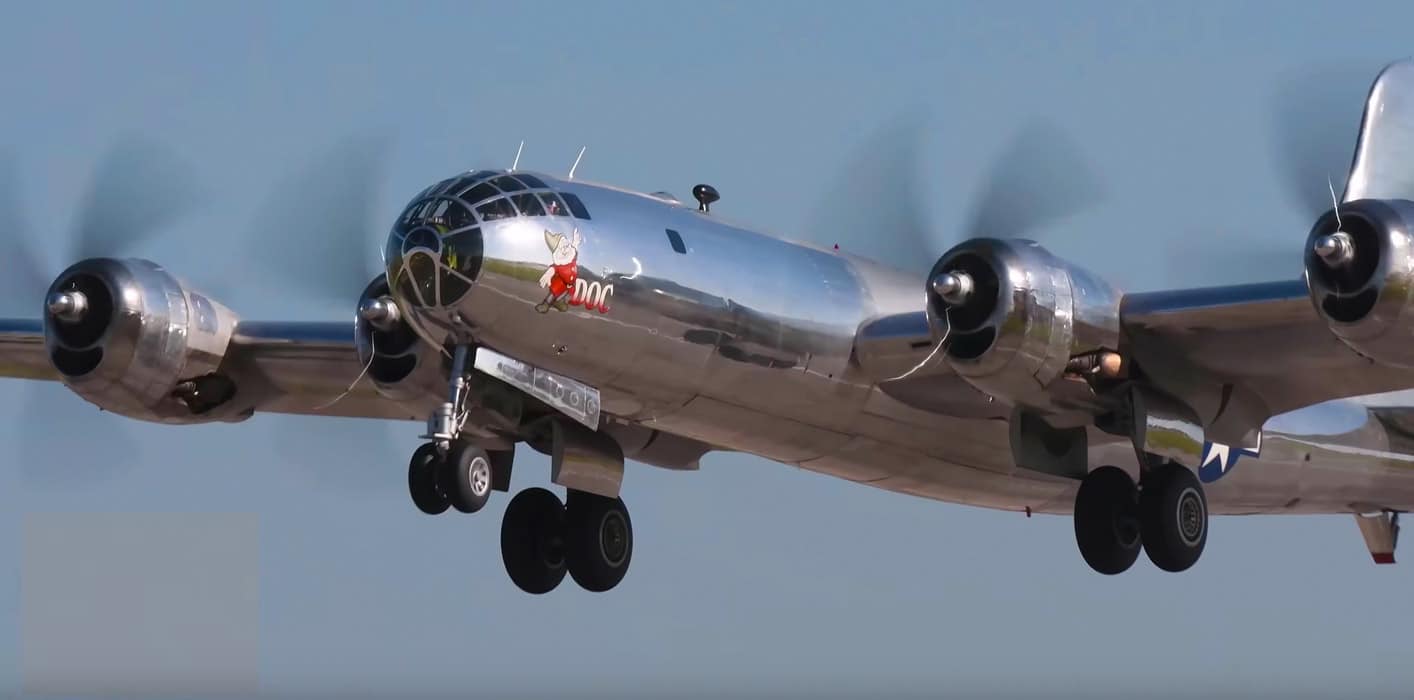 In the days leading up to Doc's first flight, the restoration and flight crews paid close attention to every detail, making sure everything was in order for the flight. "Getting the plane safely in the air and then back on the ground again is our top priority," said Jim Murphy, the Restoration Program Manager for Doc's Friends. "While we do not see now, or expect any issues with the plane in the coming days, we will remain vigilant in checking systems and conditions up to the minute we plan to takeoff. If everything goes as planned, Sunday will be a spectacular day for the volunteers who have worked hundreds of thousands of hours to restore this plane."
Video of B-29 Superfortress Doc's First Flight
And a spectacular day it was. Doc's Friends put together this highlight video of the flight, featuring both footage shot from the ground and from in the cockpit showing restored B-29 Superfortress Doc taking to the skies.
Over the coming days, the ground and restoration crews will review all the collected flight data and gauge readings, as well as perform a complete inspection of Doc's systems and control surfaces. With this successful first flight, Doc now joins Fifi as only the second B-29 Superfortress that has been restored to flying condition.
Featured Image: courtesy of Doc's Friends
---
Original Post 5-27-16: B-29 Bomber Doc Receives FAA Airworthiness Certificate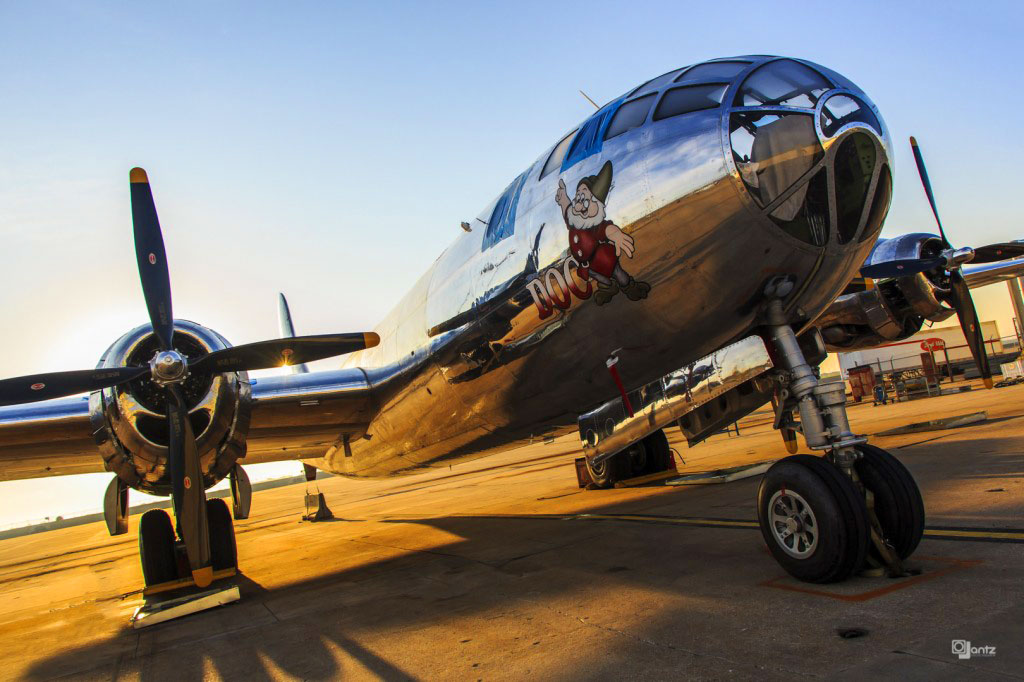 Following a 16-year long restoration process, Docs Friend's recently announced that the FAA has finally awarded an airworthiness certificate to the historic B-29 Bomber Doc.
"It's been nearly 60 years since Doc has flown and 16 years since this majestic warbird arrived in Wichita to be restored, and now we are another major milestone closer to a return to flight," stated Jim Murphy, the Restoration Program Manager for Doc's Friends. He added, "Today, we celebrate this major milestone and honor the hundreds of thousands of hours [Click to read more…]
---