The world's most iconic airplane isn't a warbird, it's the Piper J-3 Cub.
There are 'Top 10' style, or 'Best of' lists for just about everything. And if you look around at the lists in a given category, such as 'Best Movies Ever', 'World's Craziest Foods' or 'Most Dangerous Cities in the US', you'll see a lot of the same candidates popping up on all those lists:  Haggis, Detroit and Citizen Kane, I'm looking at you. And it's no different in the world of general aviation. Ask 100 aviators what they think the best model of aircraft is, and you may get some different answers, but one choice you'll hear a lot is the 'Piper J-3 Cub'. Flying Magazine picked the Piper J-3 Cub as the most influential aircraft of all time, Legend Aircraft agreed, calling it the world's most iconic airplane, and AOPA Editor in Chief Thomas B Haines called it the most iconic airplane in general aviation.
That's a lot of very high praise for one plane. Does it deserve that praise? Well, after reading about the history surrounding the Piper J3 Cub, I'm inclined to say yes. At the very least, I think you'd be hard pressed to argue that it's not a rock-solid contender for titles such as the 'greatest', 'most iconic', or 'most influential' aircraft. Plus, it just looks COOL!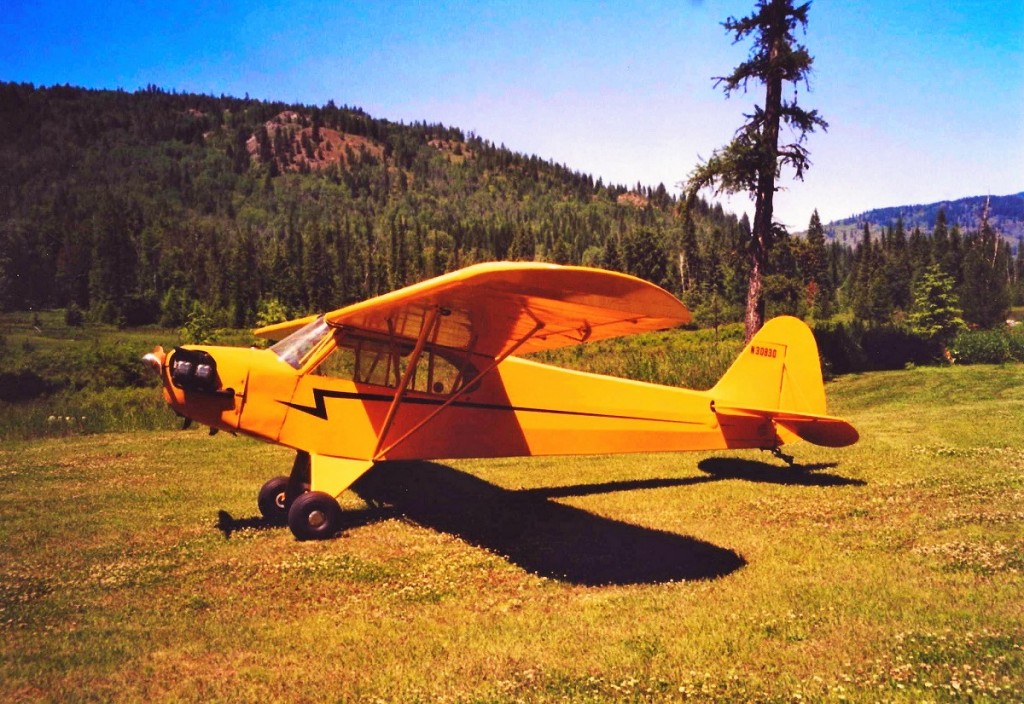 (Image: Larry Johnson, CC2)
Pretty cool, right? Well how about another dose of cool: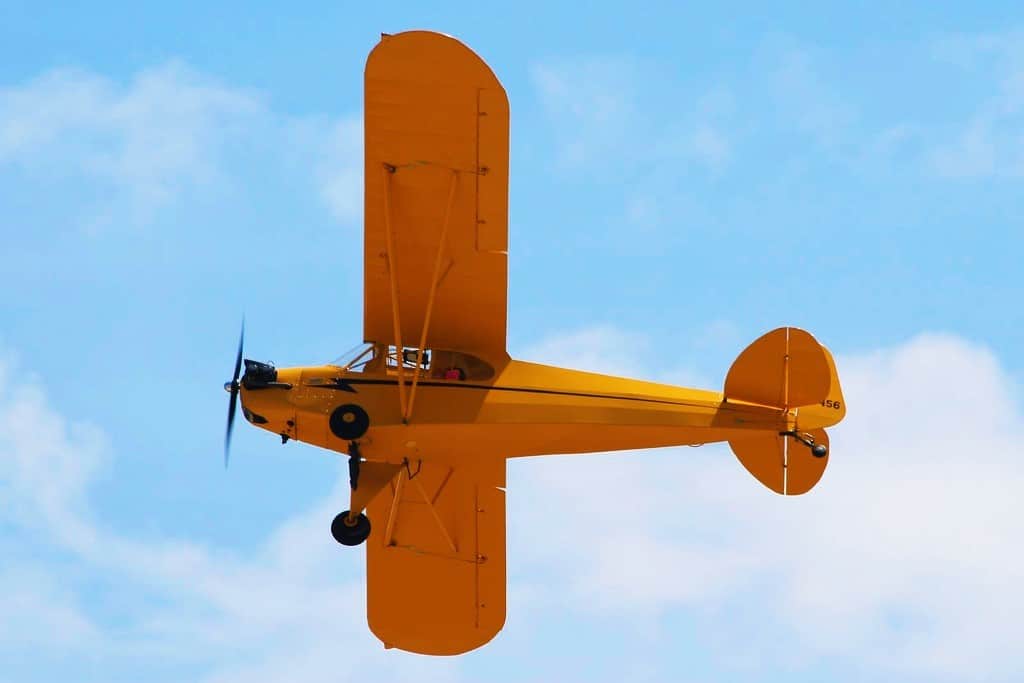 No, no. Take your time. Let the cool soak in. I'll be over here when you're ready to move on.
OK, ready? Let's start back at the beginning. Well, a little before the beginning, in Bradford Pennsylvania. The year is 1927.
The Birth of the Piper J-3 Cub
The original cub was not a Piper, but a Taylor. C. Gilbert (CG) Taylor, a self-taught aeronautical engineer from England, had a desire to make his own aircraft. And so in September 1927, he and his brother Gordon A. Taylor founded the Taylor Brothers Aircraft Manufacturing Company. They produced a high winged monoplane called the 'Chummy', but with a decidedly un-chummy price tag of $4,000, it failed to sell. The company was renamed Taylor Brothers Aircraft Corporation in April 1928, shortly before tragedy struck and Gordon Taylor was killed in an aircraft accident. In need of more funding, CG Taylor was drawn to Bradford, Pennsylvania by the promise of a larger factory and money from local investors. This included an initial investment of $400 from businessman William T. Piper.
By September 1929, Taylor was situated in a larger facility located by the airfield. Worried about their investments, local business leaders pushed for Piper to take an active role in the company. Piper came on board as the secretary-treasurer and immediately clashed with Taylor. Taylor was interested in making more expensive, larger aircraft, but Piper insisted they keep it simple and affordable. Eventually conceding, Taylor started work on the E-2.
The first Taylor E-2 Cub was built in 1930. It had wooden wings mounted high on the fabric-covered tubular steel fuselage, and was powered by a 20 horsepower Brownback 'Tiger Kitten' engine1. However, during test flights in September of 1930, it was found that the 'Tiger Kitten' engine was only powerful enough to lift the plane five feet off the ground. Maybe they should have expected this from an engine with 'kitten' as part of the name. By October, Taylor had swapped the underpowered engine with the French Salmson AD-9 radial engine. This engine performed much better but turned out to be very expensive to maintain. This only added to mounting financial problems which caused the Taylor Brothers Aircraft Corporation to declare bankruptcy by the end of 1930.
Piper stepped in and bought the company's assets for $761. Piper then reorganized the business as Taylor Aircraft Company, keeping CG Taylor on as the president, and assuming more control over operations himself. Piper still believed that even during the Great Depression, a low-cost aircraft that was simple to operate would flourish, and so Piper and Taylor pushed ahead with the E-2. By February of the following year, Taylor had designed a more powerful airframe for the Cub and powered it with the brand new Continental Motors 37 horsepower A-40 engine. On June 15, 1931, the finished Taylor E-2 Cub2 was licensed for manufacture by the US Department of Commerce. Twenty-two cubs were sold in 1931, at a price of $1,325 each. By the end of production in 1936, 353 E-2 Cubs had been built.
In early 1932, still struggling with money problems, Piper started looking for another engineer. He was approached by a 19-year-old claiming to be an aeronautical engineering graduate from Rutgers University. Though this later proved untrue, as Rutgers didn't have an aeronautical engineering course, this young man eventually won the position and was hired by agreeing to work for no money. His name was Walter Jamouneau, and he would soon become a key figure in the Piper J-3 Cub legacy.
The Piper J-3 Cub Takes the Stage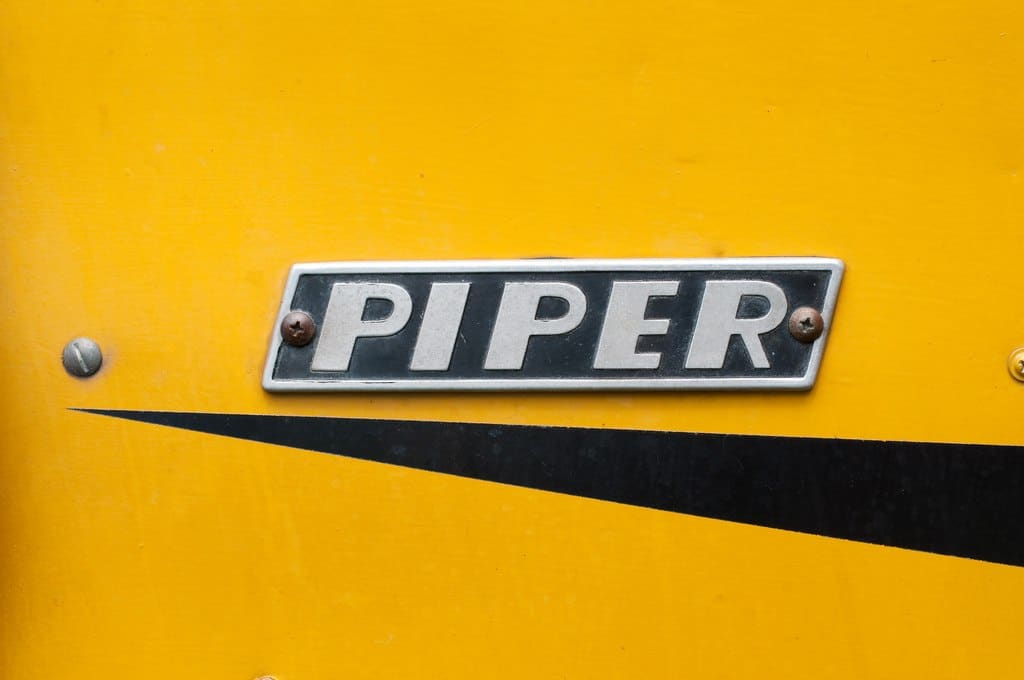 (Image: Rob MacEwan, CC2)
During late 1935, Piper and Taylor clashed repeatedly over the direction the new model of the Cub should take. So, in December 1935, when Taylor fell ill and took some sick leave, Piper took advantage of the opportunity. He encouraged Taylor's junior engineer, Walter Jamouneau (I told you it was soon…), to modify the current Cub design to be more attractive and marketable. This newly altered model was dubbed the 'J-2'. When Taylor returned from his sick leave and saw the new design, he was furious and immediately fired Jamouneau. However, Piper quickly hired Jamouneau back and decided that it was time to part ways with Taylor. He bought back Taylor's share of the company, at a cost of $250 a month for three years. Taylor swore he would make another aircraft superior to the cub3, and formed a competing company, the Taylorcraft Aircraft Company.
Piper began production on the J-2, and despite initially slow sales, roughly 1,200 were built. This model came to an ignoble end, however, on March 16, 1937. A spark from an electric drill ignited chemical soaked debris, starting a fire that burned the Bradford factory to the ground. Piper relocated the company to an abandoned silk mill4 in Lock Haven, Pennsylvania, and officially changed the company name to 'Piper Aircraft Corporation'. As soon as the company was operational again, Jamouneau began work on a new model, the J-3. He made multiple structural, functional and aesthetic changes, and by early 1938, the Piper J-3 Cub5 was ready for production. Sporting a standard chrome yellow paint job (which became known as both 'Cub Yellow' and 'Lock Haven' Yellow), and a unique open cowl design that exposed the cylinder heads on the plane's Continental 40 hp engine, the first Piper J-3 Cubs cost just over $1,000.
As a number of different air-cooled engines became available, multiple variants of the J-3 sprung up for each engine type. The J3C model used Continental A series engines; the J3F models had Franklin 4AC series engines; the J3L model came equipped with Lycoming O-145 series engines; and in a few rare cases, the J3P model were built with Lenape 'Papoose' 3 cylinder radial engines. Sales were brisk, but no one could have predicted just how popular the Piper J-3 Cub was about to become.
The Rise of the Piper J-3 Cub
Amid increasing hostilities in Europe, Germany and Italy created 'civilian' training programs for pilots that fed directly into their military. Reports showed that Germany now had 65,000 pilots in training, and Italy boasted an estimated 120,000. With only 23,236 currently licensed pilots (including commercial pilots) the US Government decided it was time to follow suit and begin their own training program. So in October 1938, US Air Force General Henry H. Arnold approached the top three aviation school representatives in the nation and requested that they help in the formation of the Civilian Pilot Training Program (CPTP). President Franklin D. Roosevelt announced the program on December 27, 1938, and by June 1939, the necessary laws were passed by Congress and the program was started.
In need of reliable, simple option, the CPTP adopted the Piper J-3 Cub as its primary trainer aircraft. Of the 435,165 graduates of the CPTP program, it is estimated that 75% were trained in Piper Cubs. And by the end of the Second World War, it was estimated that 80% of all US military pilots had received their initial flight training in Piper Cubs. This influx of new pilots, and need for trainer aircraft led to a huge Cub demand. By 1940, a year before the US entered the war, 3,016 Piper J-3 Cubs had been sold. In 1941, they built and sold another 2,881. As the war progressed, demand for new planes increased so much that a new Cub was being built every twenty minutes. This video, filmed at the Piper factory in 1943, provides a fascinating look at the building and testing process for the Piper J-3 Cub:
The Piper J-3 Cub Goes to War
The Piper Cub soon became a common site for the public. First Lady Eleanor Roosevelt was taken for a flight in a J-3 Cub and posed for a series of photographs to help promote the CPTP.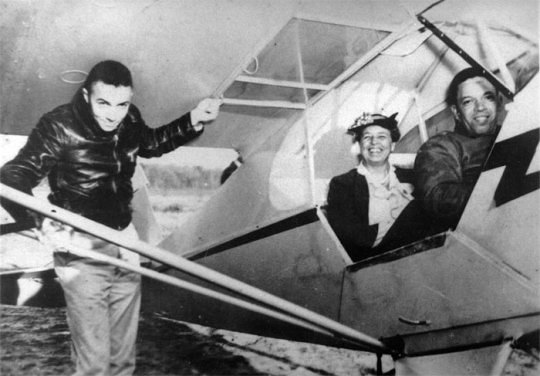 (Image: Public Domain)
Newsreels and newspapers during the war often featured footage and photos of wartime leaders like Generals Eisenhower, Patton and Marshall as they flew around European battlefields in Piper Cubs. And many civilian Cub owners joined the Civil Air Patrol (CAP), helping patrol the Eastern Seaboard and Gulf Coast.
In 1941, Piper "developed" a military variant of the Cub6. These planes were mechanically identical to the J-3 Cubs (which at this point sported a more powerful 65 hp Continental engine7), and according to William Piper Jr. 'All we had to do was paint the Cub olive drab to produce a military airplane.' The L-4 military variant from Piper and similar tandem cockpit aircraft supplied to the war effort by Taylorcraft and Aeronca were all lovingly dubbed 'Grasshoppers' (though many still referred to the L-4 as the Cub).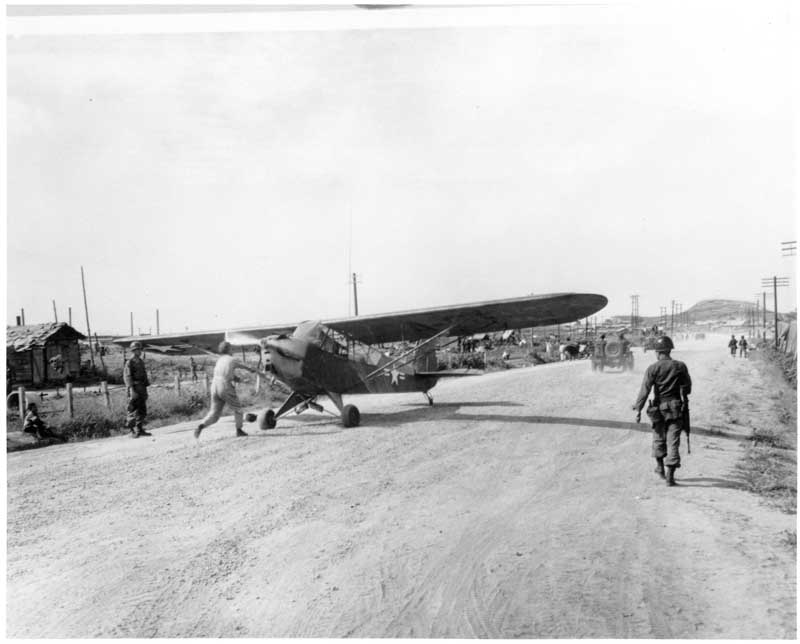 (Image: Public Domain)
These aircraft served in a variety of valuable capacities during the war.  Primarily reconnaissance planes, they also made supply drops, keeping ground forces stocked with food, water, and ammunition. During the Battle of the Bulge, they even supplied the surrounded Allied forces with blood plasma. Many L-4s were modified with a high back canopy that increased the headroom in the plane, which allowed them to carry a stretcher. This meant they could begin ferrying wounded soldiers between the battlefield and the hospital.
After the Allies began gaining ground in France, the L-4 saw another fascinating use. By equipping the plane with improvised racks, usually in pairs or quartets, infantry bazookas could be mounted on the plane. This allowed the L-4 to take part in ground attacks against German armored units. The most famous of these modified L-4s was 'Rosie the Rocketer' piloted by Major Charles 'Bazooka Charlie' Carpenter.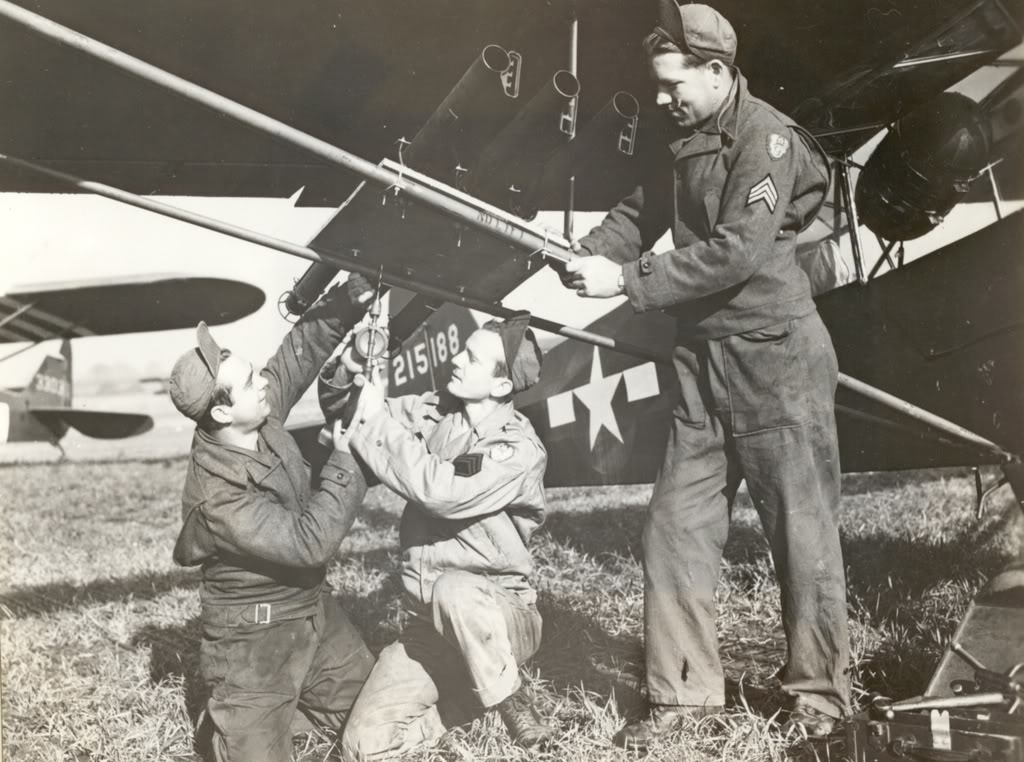 (Image: Public Domain)
Rosie sported 6 (!) bazooka rocket launchers that were wired to buttons in the cockpit that allowed them to be fired independently or all at once, basically making Rosie a prototype for the Apache. Rosie and Bazooka Charlie were credited with knocking out 14 tanks (and destroying 6 of those tanks, including 2 Tigers) and destroying dozens of armored cars during their wartime service. The duo's most famous moment came during the Battle of Arracourt. An advancing division of German Panther tanks was closing in on an Allied position, cutting off and trapping several support units. Charlie and Rosie flew three separate sorties against the advancing German tanks (reloading between each flight), spraying them with bazooka shells which immobilized two tanks and destroyed several armored cars. The remaining Panthers were forced to retreat, allowing the trapped Allied units to escape to safety.
By the end of the war, Piper Aircraft had delivered an estimated 6,028 Piper J-3 cubs to the military. The military kept a considerable amount of these aircraft in service, deploying them again with similar reconnaissance and supply roles during the Korean War. However, many of the L-4s were redesignated as J-3 Cubs and then sold as surplus, often without losing their wartime paint.
The Post-War Piper J-3 Cub and Continuing Legacy
Expecting the general aviation boom to continue, Piper opened up a new factory in Ponca City, Oklahoma to keep up with demand. The company transferred production of the Cub to this new factory, and in 1946, built almost 7,800 Cubs. This accounted for almost a quarter of the civil aircraft built in the US that year. However, the following year, the boom ended, and production dropped to only 3,500 Cubs in 1947, less than half the amount of the previous year. Piper Aircraft suffered an estimated $560,000 in losses, prompting the board of directors to show William Piper the door and replace him with William Shriver8, a former Chrysler executive. The company also officially ended production of the Piper J-3 Cub in 1947. However, things did not turn around quickly enough, and the Ponca City factory was closed in 1948.
During the nine years the J-3 was in production, 20,038 of the aircraft were built, making it the ninth most produced aircraft of all time, and the most produced fabric-covered aircraft of all time. And though the J-3 model came to an end in 1947, its legacy lived on in a new version of the Cub, the Piper PA-11. With an airframe that was basically the same as a J-3, the PA-11 sported some interesting changes. These included angling the engine mount lower and fully covering the engine with the cowling, sloping the windshield more, moving the seats slightly back, and relocating the fuel tank from the fuselage to the left wing9. Roughly 1,500 PA-11s were made between 1947-1949 when it was replaced by the Piper PA-18 Super Cub. The Super Cub added flaps, dual wing fuel tanks, an electric system, and a vastly more powerful 150 hp Lycoming engine. It was in production for almost 40 years, and during that time Piper built an estimated 9,000 Super Cubs.
Though Piper Aircraft no longer actively produces a Cub (and in a bizarre turn of events, is now owned and directly operated by the Sultan of Brunei), a large number of original Piper J-3 Cubs, as well as its descendants the PA-11 and PA-18, remain in use in the general aviation community. And, due to nostalgia for the Cub plus a growing popularity with bush pilots due to its Short Takeoff and Landing (STOL) capabilities, several companies (chief among them Cub Crafters, American Legend Aircraft, and Backcountry Super Cubs) offer modernized homebuilt Cub kits featuring more powerful engines.
In Conclusion
As Disciples of Flight's own Jim Hoddenbach mentioned in his write up on his Smith Cub, a kit built replica of the Piper PA-18 Super Cub, all aviators know the name 'Piper Cub' and hold it in high regard. And after reading about its history, it's not hard to see why. With such a unique look, lasting design characteristics and incredible history, I expect the Piper J-3 Cub and its descendants will continue being a favorite of aviators worldwide for as long as we continue to take to the sky.
For those interested, Amazon carries a pretty cool model of the Piper J-3 Cub.
Footnotes:
1 – Because the E-2 initially used the 'Tiger Kitten' engine, Taylor's accountant Gilbert Hadrel was said to have remarked one day 'Why not call the plane the Cub?' The name stuck, and the aircraft became the Taylor E-2 Cub.
2 – For those interested, here are the specs for the Taylor E-2 Cub:
| | |
| --- | --- |
| General Characteristics | Performance |
| Capacity: 1 Pilot, 1 Passenger | Maximum speed: 61 kt (70 mph, 113 km/h) |
| Powerplant: Continental A-40-2, 37 hp @ 2550 RPM (28 kW) | Cruise speed: 54 kt (62 mph, 100 km/h) |
| Length: 22 ft 3 in (6.78 m) | Range: 156 nm (180 mi, 290 km) |
| Wingspan: 35 ft 3 in (10.74 m) | Service ceiling: 12,000 ft (3,700 m) |
| Height: 6 ft 6 in (1.9812 m) | Rate of climb: 400 ft/min (2.0 m/s) |
| Wing area: 184 ft² (17.1 m²) | Wing loading: 5.03 lb/ft² (24.6 kg/m²) |
| Empty weight: 556 lb (252 kg) | Power/mass: 25 lb/hp (16 kg/kW) |
| Maximum takeoff weight: 970 lb (440 kg) | |
3 – Though they're not generally considered superior to the Cub, Taylorcraft did produce a number of well-received planes, and go on to enjoy some measure of success.
4 – The fire, as it turns out, had an unintended benefit. The silk mill they relocated to was much larger. This became important during the war when the size of the factory meant Piper was able to keep up with the demand for new planes.
5 – One curious detail about this new Cub was that when it was flown solo, the pilot would sit in the rear seat to properly balance the plane, as the fuel tank was located in the fuselage.
6 – This model was designated first as O-59 (1941), and then either L-4 (after April 1942) or NE for the US Navy.
7 – For those interested, here are the specs for the Piper J3C-65, which also served, under a new paint job, as the L-4 military variant:
| | |
| --- | --- |
| General Characteristics | Performance |
| Capacity: 1 Pilot, 1 Passenger | Maximum speed: 76 kt (87 mph, 140 km/h) |
| Powerplant: Continental A-65-8 air-cooled horizontally opposed four cylinder, 65 hp (48 kW) at 2,350 rpm | Cruise speed: 65 kt (75 mph, 121 km/h) |
| Length: 22 ft 5 in (6.83 m) | Range: 191 nm (220 mi, 354 km) |
| Wingspan: 35 ft 3 in (10.74 m) | Service ceiling: 11,500 ft (3,500 m) |
| Height: 6 ft 8 in (2.03 m) | Rate of climb: 450 ft/min (2.3 m/s) |
| Wing area: 178.5 ft² (16.58 m²) | Wing loading: 6.84 lb/ft² (33.4 kg/m²) |
| Empty weight: 765 lb (345 kg) | Power/mass: 18.75 lb/hp (11.35 kg/kW) |
| Maximum takeoff weight: 1220 lb (550 kg) | |
8 – Shriver turned out not to be the answer, and in 1948, he left the company. In 1950, with the onset of the Korean War, and new contracts from the government, William Piper was able to regain control of the company.
9 – This last modification enabled the PA-11 to be flown solo from the front seat, unlike the J-3.