Wings of Freedom Tour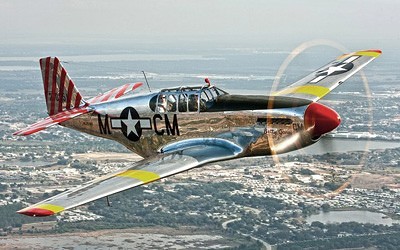 Great news for aviation enthusiasts in Florida!  This January, Sebring will get to enjoy The Collings Foundation Wings of Freedom Tour when it stops at the Sport Aviation Expo.
And there are some amazing guests lined up to make an appearance: the Boeing B-17 Flying Fortress "Nine O Nine," the Consolidated B-24 Liberator known as "Witchcraft," and the P-51 Mustang pictured above. They'll all be arriving at the Sebring Regional Airport around 1:30 p.m. Jan. 18
The B-17 is one of only 10 of these aircraft that is still in flying condition in the United States.  And the B-24J Liberator and Full Dual Control P-51C Mustang are the only remaining, flyable examples of their type in the world, according to officials at the Collings Foundation.
"Visitors are invited to explore the aircraft inside and out —$12 for adults and $6 for children under 12 is requested for access to up-close viewing and tours through the inside of the aircraft," officials said. "Visitors may also experience the once-in-a-lifetime opportunity to actually take a 30-minute flight aboard these rare aircraft. Flights on either the B-17 or B-24 are $425 per person. Get some "stick time" in the world's greatest fighter! P-51 flights are $2,200 for a half hour and $3,200 for a full hour."
To gain admissions to the grounds, you must first purchase an Expo ticket.
For those interested in tours and viewing the displays, you should arrive at 2 PM through 5 PM on Friday, Jan. 18th;  9 AM through 5 PM on Saturday, January 19th; and 9 AM through 5 PM on Sunday, January 20th. If you want to enjoy the 30-minute flight experiences, they are normally scheduled before and after the ground tour times.
For anyone interested in reservations and information on the flight experiences, please call 800-568-8924.
This story was brought to our attention by Janice Wood and GA News.  If you don't regularly visit GA News, you should.  They're a great source for general aviation news.