Wasatch Front Airports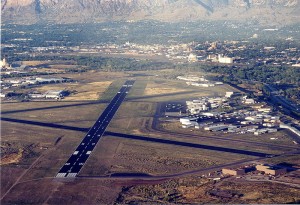 As of 2006, nearly 2.05 million of Utah's 2.6 million citizens (that's 80%) live along the Wasatch Front.  From the 1950s until 2006, the area has seen a 308% population growth (492,374 to 2,051,330) and it doesn't seem to be slowing down.  In addition, to continual freeway construction (I-15 exists in a state of perma-construction) and new light rail and fast transit commuting options, some of the airports attached to the larger Wasatch Front cities are starting to gear up for new commercial flights.
Starting last year in June of 2011, Frontier airlines started offering daily flights to and from Denver to Provo Municipal Airport (located centrally in the midst of Utah County).  This will end in January 2013, as Frontier Airlines is drawing back to save costs.  But, according to Frontier Airlines spokeswoman Lindsey Carpenter, it's purely a business decision.  They had a great working relationship with the airport, and they hope to be back soon.  Anticipating an increase in interest for commercial passenger service, Provo built a new passenger terminal area in early 2011.  This included an area for the Transportation Security Administration security equipment necessary for passenger screening. By the end of August 2012, full body scanning processes and equipment was in place.
Interested in following suit, the Ogden-Hinckley airport, serving the rapidly growing Weber county area, is trying to work out where and how to provide a space for TSA.  They're also working through the necessary security measures for receiving commercial flights from the major carriers.  They already have been accepting flights from plane with 30+ passengers for the past few decades, but they're ready to take it up a level or two.
So fellow Disciples of Flight, with these other airports trying to attract increased commercial traffic, what effects will be felt by the smaller airports?  Is this a good thing?  A step in the right direction?  What potential problems would this present?  Like Captain Reynolds says, are your skies getting too crowded?