National Championship Air Races!

September 10th marks the start of the National Championship Air Races in Reno. Here are the necessary details you need to know to attend the show:
Date: Wednesday September 10th – Sunday September 14th
Where: Reno Stead Airport, 4895 Texas Ave, Reno, NV 89506
Event Site MAP
Parking and Shuttle INFO
Tickets can be purchased online HERE, or at the gates, though they will cost an additional $2 at the gates.
General Admission Ticket Pricing:
Date

Junior price
Ages 6-12

Adult prices
Ages 13 and up

Senior (55+) and
Military prices

Wednesday, Sept. 10

$6.00

$14.00

$10.00

Thursday, Sept. 11

$6.00

$17.00

$13.00

Friday, Sept. 12

$6.00

$24.00

$18.00

Saturday, Sept. 13

$19.00

$35.00

$29.00

Sunday, Sept. 14

$19.00

$35.00

$29.00

Entire Event

$50.00

$110.00

$89.00

Note: Prices shown are for online and pre-purchase only. Tickets prices are $2 more at the event.
Children age 5 years or younger receive free General Admission when accompanied by an adult. Children 6 to 12 years of age qualify for "junior" pricing. Adults ages 55 and up qualify for "senior" pricing. Discounted General Admission prices for seniors and military with valid ID personnel are available for Wednesday through Sunday tickets.
Tickets are also available for reserved grandstand seating, parking passes, pit passes, box seats and more. Additional ticket pricing can be found HERE.
I'll wait while you mark that date on your calendar, and start making plans to attend.
….
….
….
OK. We're back. I sincerely hope you marked the date, and are right now figuring out the details on attending, because this is one show you don't want to miss. USA Today recently named it as one of the 10 best air shows in the WORLD, and here are some reasons why:
Racing takes place all week long, in 6 different plane classes:

BIPLANE: The Biplane Class, represented by small, aerobatic aircraft like the Pitts Special, the Mong and the Smith Miniplane, gives pilots a chance to apply their skills to racing on a 3.18-mile course at speeds exceeding 200 mph.
FORMULA ONE: Formula One aircraft are all powered by a Continental O-200 engine (the same 100 hp engine used in a Cessna 150). The fastest Formula One aircraft reach almost 250 mph on the 3.12-mile race course in Reno. Many Formula One aircraft are built by the pilots that race them and are a relatively inexpensive way to enjoy the excitement and satisfaction of air racing.
SPORT: The Sport Class highlights the new and innovative work being done in the development of high-performance kit-built aircraft. Competition in the Sport Class is fierce, with the rapid introduction of race-driven engine and airframe technology. Sport Class aircraft race on a 6.37-mile course at speeds reaching nearly 350 mph.
T-6: The T-6 Class features match racing between stock aircraft, including the original T-6 "Texan," the Canadian-built "Harvard," and the US Navy "SNJ" version aircraft. The fastest T-6 aircraft generally post race speeds into the 220-230 mph range on the 5.06-mile course at Reno. Because the aircraft are all of the same type, the T-6 Class provides some of the most exciting racing at Reno, with an emphasis on strategy and pilot skill rather than raw horsepower.
JET: The Jet Class was inaugurated in 2002 as an invitation-only class, featuring match racing with Czech-built Aerovodochody L-39 "Albatros" jets. Today the class has opened the field by adding other aircraft such as Provost, Iskra, L-29 and DeHavilland Vampires. This class truly stands for the "Fastest Motor Sport" with speeds exceeding 500 miles per hour.
UNLIMITED: With the exception of very few "scratch-built" aircraft, the Unlimited Class has generally been populated by stock or modified WWII fighters with the P-51 Mustangs, F-8F Bearcats and Hawker Sea Fury being flown most often. The Unlimited Class flies in speeds exceeding 500 mph.
In between races, the crowds will be thrilled and entertained by the aerial acrobatics of the "Patriots Jet Team", Barnstormer David Martin flying his grandfathers 1941 Fleet Biplane, and an appearance by an F-22 Raptor!
A unique an fascinating display of current and past military aircraft.
The 14th annual National Aviation Heritage Invitational, in which entrants show off their lovingly preserved and restored historical aircraft, competing for the 'Heritage Trophy', recognizing their dedication and excellence.
With the weekend skies full of amazing flying; the grounds covered with vendors, booths, and more; and aviators and aviation enthusiasts of every stripe out in force, the National Championship Air Races in Reno are one event you don't want to miss.
Still not convinced? Well, take a look at this: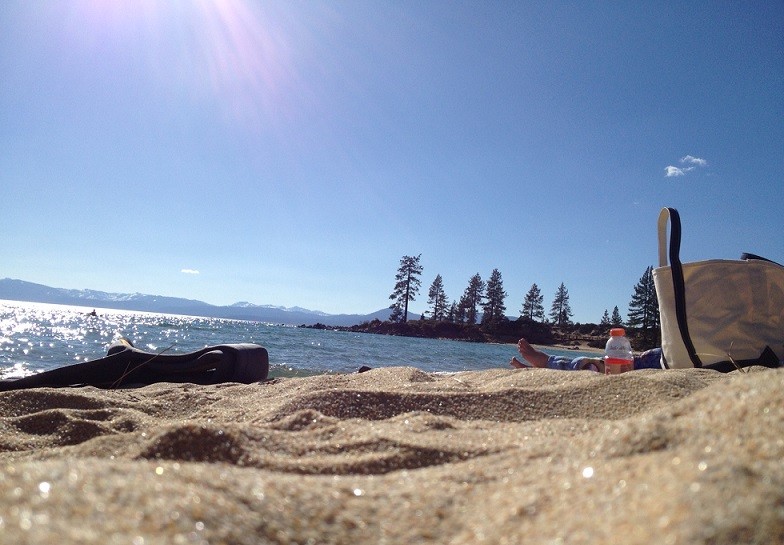 That's only an hour away, in beautiful Lake Tahoe. Come for the show, and then stay for one of the most beautiful places in the world. Sounds like a great idea to me! Start planning now, and we'll see you at the show in a few weeks!
And, for those of you flying in for the event, here's some more detailed information about the Reno-Stead Aiport:
Official Reno-Stead Airport Website
Communications Summary

| | |
| --- | --- |
| CTAF | 122.70 |
| UNICOM | 122.70 |
| ATIS | N/A |
| WX AWOS-A | |
| CLEARANCE DELIVERY | N/A |

Terminal Procedures Summary

Approaches

Special Minimums

Closest Alternate Airports with Instrument Procedures

KRNO – Reno/Tahoe International – 13 nm SE from RTS77NV – Flying Eagle – 13.8 nm NE from RTSMO02 – Nervino – 27.4 nm NW from RTSKTRK – Truckee-Tahoe – 27.9 nm SW from RTSKMEV – Minden-Tahoe – 46.6 nm SE from RTS

KTVL – Lake Tahoe – 53.9 nm SW from RTS

KFLX – Fallon Municipal – 61.2 nm SE from RTS

KSVE – Susanville Municipal – 61.3 nm NW from RTS

KGOO – Nevada County Air Park – 67.6 nm SW from RTS

KLOL – Derby Field – 74.9 nm NE from RTS
More detailed information, including up to date weather details, can be found here:
Global Air – Detailed Reno-Stead Airport Information
Subject: General Aviation Events