Astronaut John Glenn Dies at 95: less than two months after the death of famed pilot Bob Hoover, the aviation and aerospace community suffers another tragic loss.
Born in July 18, 1921, John Herschel Glenn, Jr. recently passed away in the James Cancer Hospital in Columbus. His wife of 73 years, Annie, and their children and grandchildren joined him at the hospital where he was reported to have been in "grave condition."
Glenn had the experiences of a thousand lifetimes in his 95 years on this earth, most notably his time spent as an astronaut. The distinguished Marine Corps fighter pilot served his country with pride in both World War II and the Korean War before transferring his formidable pilot skills to another type of flight: the exploration of space.
The 5th Astronaut in Space
In 1959, Glenn was recruited into the Mercury Seven project, one of five distinguished military test pilots hand-selected to become the first American astronauts. On February 20, 1962, Glenn flew the Friendship 7 mission into space, and became the first American to orbit the earth, cementing his famous sendoff, "Godspeed," in the minds and hearts of astronauts and aviators forever.
Within five hours, the Friendship 7 circled the globe three times. Soon after his record-breaking but short stint with NASA, Glenn again shifted his attention, this time to real estate. In 1963, Glenn bought many hotels surrounding the area that would soon become Disney World; the profits from which allowed him to pursue yet another passion.
A Decorated Marine Retires and a Senator is Born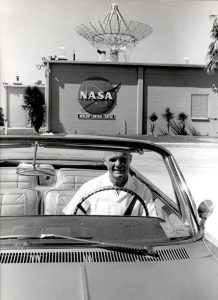 In 1965, Glenn would officially retire from his illustrious military career in the Marine Corps, in which he earned over fifteen medals and awards, including the NASA Distinguished Service Medal and the Congressional Space Medal of Honor, but he would never lose his interest in national security and defense. In 1990, Glenn would be inducted into the US National Hall of Fame.
After years of preparing and campaigning, Glenn was elected to the Senate in 1974 where he would remain until 1999. In both 1976 and 1984, Glenn would campaign for the Democratic Presidential Candidate, but wouldn't make it past the Democratic National Convention. During his term as a senator, Glenn set yet another record for being the oldest person to go into space when in 1998, he joined Discovery's STS-95 mission as a Payload Specialist.
In 2012, Glenn would receive the Presidential Medal of Freedom, marking the last of many honors he had earned over his incredible lifetime.
John Herschel Glenn, Jr. Will Live On in Memory
CBS News, among many others, mourn the loss of John Glenn, calling him a "true American hero." The aviation community, along with his family and friends, will miss him dearly, and hope to continue his legacy and never stop reaching for the stars.
We are saddened by the loss of Sen. John Glenn, the first American to orbit Earth. A true American hero. Godspeed, John Glenn. Ad astra. pic.twitter.com/89idi9r1NB

— NASA (@NASA) December 8, 2016
The Corps lost a legend today.

Col. John Glenn— an astronaut, a senator, a Marine— died at the age of 95.

Semper Fi, Sir. pic.twitter.com/xUShqC9JaZ

— U.S. Marines (@USMC) December 8, 2016
A true American legend and a hero for the ages. John Glenn inspired millions and will be missed. //t.co/3rslYXyL1b pic.twitter.com/2S5KVBoLMN

— AOPA (@AOPA) December 8, 2016
A hero because of his life in aviation and space, and an inspiration to many of us who fly. Godspeed, and enjoy the view. #RIP //t.co/5p1052R6Wv

— EAA (@EAA) December 8, 2016
NBAA marks passing of astronaut, aviation champion John Glenn //t.co/ImNAvuz6SN pic.twitter.com/ozfXzIcR8v

— NBAA (@NBAA) December 9, 2016
Featured Image: courtesy of NASA