3-28-17: The fully outfitted production Gulfstream G500 test aircraft now has over 180 flight hours.
The Gulfstream G500 flight test program has continued making significant progress, and according to the company, they are still on track for a 2017 FAA certification. The program features five G500 test aircraft, including a fully outfitted production aircraft, and combined, the aircraft have over 2,600 flight hours and more than 600 flights.
Mark Burns, the President of Gulfstream, says that "Development testing is complete; company testing is well under way, and FAA certification has started, putting us right on track for certification and customer deliveries later this year." He adds that the maturity, discipline, and rigor of the program provide great confidence as the company looks ahead to their first delivery.
More Details on the Gulfstream G500 Test Aircraft
Gulfstream says that the fully outfitted test aircraft has now flown more than 180 hours since its first flight last year, on August 5, 2016, while the other four test aircraft have racked up more than 2,450 hours between them.
The company notes that the first test aircraft, which has been focused on flight performance and flight controls, has over 1,000 flight hours. In addition, the aircraft has achieved a maximum speed of Mach 0.995, and a maximum altitude of 53,000 feet (16,154 m).
The G500's interior was designed after "extensive customer feedback," and they say that the customer/company collaboration is continuing. Members of Gulfstream's Advanced Technology Customer Advisory Team (ATCAT) recently spent an hour flying in the fully outfitted test aircraft, which serves as the cabin's test bed. Burns said that the feedback during and after the flights was extremely positive, with their customers saying that "the added flexibility of the cabin, the comfort of our newly designed seats and the enhanced satellite communications will ensure that the G500 customer experience is second to none."
One ATCAT member, Peter Zeeb, called the flight a "career moment," and said that he believes the Gulfstream G500 will be "a game-changer for business aviation."
Current Gulfstream G500 Specs1
Performance
Maximum Range:* 5,000 nm (9,260 km) [Mach 0.85, 8 passengers, 3 crew and NBAA IFR reserves]
High-Speed: Mach 0.90 (516 ktas, 956 km/h)
Long-Range: Mach 0.85 (488 ktas, 904 km/h)
Maximum Operating Mach Number (Mmo): Mach 0.925
Takeoff Distance (SL, ISA, MTOW): 5,200 ft (1,585 m)
Initial Cruise Altitude: 41,000 ft (12,497 m)
Maximum Cruise Altitude: 51,000 ft (15,545 m)
Weights
Maximum Takeoff: 76,850 lb (34,859 kg)
Maximum Landing: 64,350 lb (29,189 kg)
Maximum Zero Fuel: 52,100 lb (23,632 kg)
Basic Operating (including 3 crew):** 46,600 lb (21,137 kg)
Maximum Payload:** 5,500 lb (2,495 kg)
Maximum Payload / Full Fuel:** 1,800 lb (816 kg)
Maximum Fuel: 28,850 lb (13,086 kg)
External Dimensions
Length: 91 ft 2 in (27.78 m)
Overall Span: 87 ft 1 in (26.54 m)
Height: 25 ft 6 in (7.77 m)
Interior
Total Interior Length: 47 ft 7 in (14.50 m)
Cabin Length (excluding baggage): 41 ft 6 in (12.65 m)
Cabin Height: 6 ft 4 in (1.93 m)
Cabin Width: 7 ft 11 in (2.41 m)
Cabin Volume: 1,715 cu ft (48.56 cu m)
Baggage Compartment Usable Volume: 175 cu ft (4.96 cu m)
Design Standards
Avionics: Gulfstream Symmetry Flight Deck
Engines: Two Pratt & Whitney Canada PW814GA
Rated Takeoff Thrust (each): 15,144 lb (67.36 kN)
Passengers: Up to 19
Sleeps: Up to 8
* This is an NBAA IFR theoretical range. The company notes that the actual range will be affected by ATC routing, operating speed, weather, outfitting options and other factors. In addition, they note that all performance is based on preliminary data and is subject to change.
** The company notes that stated weights are based on theoretical standard outfitting configurations and that actual weights will be affected by outfitting options and other factors.
1 – The All-New Gulfstream G500, Retrieved 3-28-17
---
UPDATE: Second Gulfstream G600 Completes First Test Flight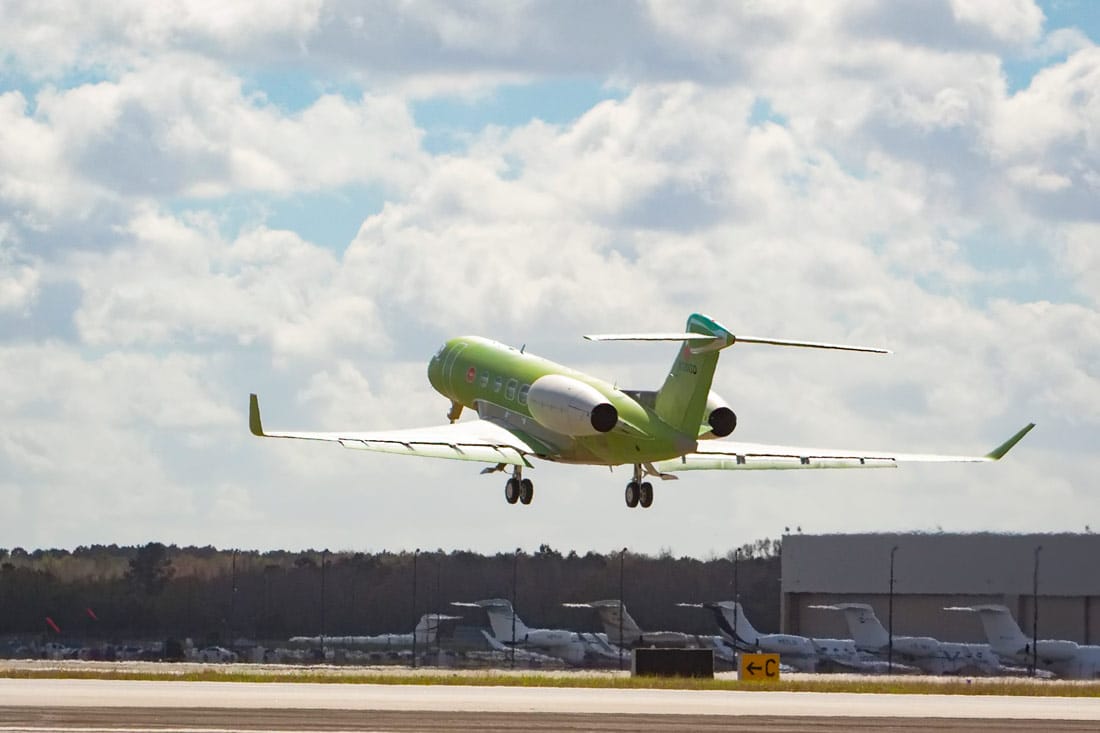 In keeping with a timeline they'd set out earlier, Gulfstream has announced that the second Gulfstream G600 test aircraft has officially joined their test flight campaign, and successfully completed its first flight. According to the company, the flight lasted for 4 hours and 26 minutes.
Mark Burns, the President of Gulfstream, commented that the addition of the second flight-test aircraft just 10 weeks after the first aircraft demonstrates [Click to read more…]
---
Original Post 8-8-16: Gulfstream G500 Makes First Flight With Full Interior
Gulfstream announced that it has added a fifth new Gulfstream G500 test aircraft, which has recently completed its first flight. The aircraft is the first to be outfitted with a full interior and will serve as a testing platform for the G500's cabin environment.
The G500 left from Savannah-Hilton Head International Airport, piloted by test pilots Brian Dickerson and Andy Martin, and flight test engineer Dustin Johnson. During the flight, which lasted just over four hours, the aircraft reached a maximum altitude of 48,000 feet (14,630 m) and reached a speed of Mach 0.84.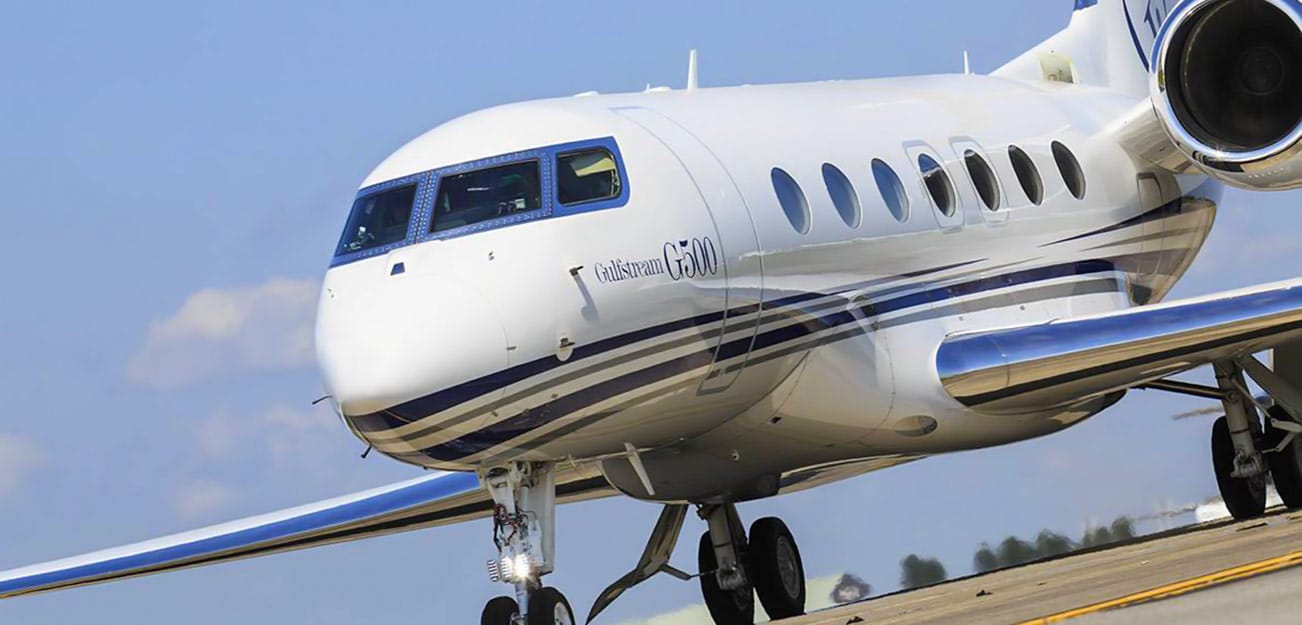 Mark Burns, the President of Gulfstream, had this to say "This first flight of our G500 production test aircraft marks another significant event for the G500 program and Gulfstream's history of delivering on our promises. This fully completed aircraft focuses on the passenger experience and ensures that we deliver the most reliable, comfortable and functional cabin environment on both the G500 and G600."
Details of the Gulfstream G500 Cabin Tests
The latest G500 test aircraft will be evaluating the passenger's complete experience. This will cover not only elements such as form, fit, function, noise, and comfort but also how the passenger interfaces with the various cabin elements. (If Gulfstream is in need of test passengers, I would be willing to take part…) Gulfstream is committed to dialing in the passenger experience and will be running these tests in a variety of missions, including overnight trips, hot and cold weather experiences and turbulence.
According to Burns, "The many hours of interior testing this aircraft will undergo, from galley and lavatory use to comfort and cabin health during long flights, help us hone every aspect of flying on the G500."
The G500 interior will seat up to 19 passengers, in three areas, and comes equipped with lavatories in the front and rear. In addition, the aircraft will feature large oval windows, the same as on the G650 and G650ER, for abundant natural light and a great view
The Gulfstream G500 Test Fleet
Just recently, this past July, the fourth G500 test aircraft made its first trans-Atlantic flight to take part in London's 2016 Farnborough International Airshow. With the addition of the fifth aircraft, the test fleet has clocked more than 320 flights and 1,300 flight hours. During the tests, the aircraft have reached a maximum speed of Mach .995 and an altitude of 53,000 feet (16,154 m). The longest flight to date was nearly 8 and a half hours.
Company officials expect to receive type certification for the new Gulfstream G500 in 2017 and start deliveries in 2018. More information on the aircraft can be found on Gulfstream's website.
Featured Image: courtesy of Gulfstream