The UK's youngest commercial airline captain and youngest commercial pilot fly for UK-based carrier easyJet and are a combined 45 years old.
EasyJet has shared that pilot Kate McWilliams has passed their required command course and attained the rank of commercial airline captain with the carrier. And at 26 years of age, based on research they've carried out, easyJet believes this makes her the world's youngest commercial airline captain. 1, 3 Even more startling, after earning the rank of captain, she captained a flight from London to Malta last week with 19-year-old Luke Elsworth, the UK's youngest commercial pilot, as her co-pilot. 2, 3 Though many have expressed discomfort with such young pilots, McWilliams told the Press Association that "Personally I don't think my age matters. I've been through the same training and passed the same command course as every other captain so I've proven myself capable regardless of my age." 3
McWilliams added that she now gets asked on an almost daily basis how old she is, something she says didn't happen as a first officer. "Usually that question comes from the cabin crew but sometimes passengers ask too. When I tell them I'm 26, most people are pleasantly surprised and impressed with my achievement at such a young age."
According to easyJet, only about 5% of commercial pilots in the industry are female, something they hope to change with an initiative they announced last year, encouraging "the development of female pilots at all ranks and positions at easyJet." They added that they hope that Kate's achievement will inspire other women to pursue a career as a pilot. Earlier this year in April, the airline opened up recruitment opportunities for 450 new pilot positions, in addition to 170 career development opportunities for existing pilots.
More Details on McWilliams and Her Path to The Captain's Seat
McWilliams says her love for aviation began at the age of four when her godfather took her to her first airshow. She joined the air cadets at 13 and never imagined a career as an airline pilot, and instead planned on joining the RAF. However, there were no recruitment opportunities when she left school in 2008, so instead, she started a training program with CTC Aviation on her 19th birthday, starting her career in commercial aviation. She joined easyJet in 2011 as a first officer, and after starting the command course on April 25th, 2016, she just recently passed, earning the rank of captain, possibly the youngest commercial airline captain in the world.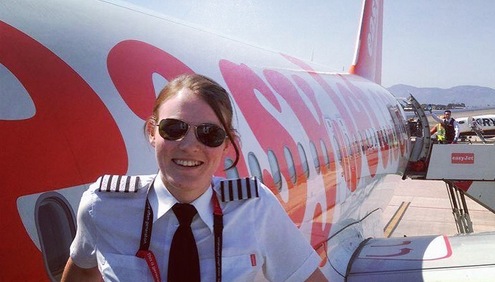 McWilliams said, "I would strongly urge females interested in aviation to think about pursuing a career as a pilot, and any existing pilots to push themselves to become a captain." Julie Westhorp, the Chairwoman of the British Women Pilot's Association congratulated McWilliams on the achievement of becoming the UK's youngest commercial airline captain, and said that they "hope that her achievement inspires more women to consider pursuing a career in aviation."
Based at London Gatwick airport, McWilliams flies Airbus A319 and A320 aircraft to around 100 different destinations, including Reykjavik, Tel Aviv, and Marrakesh.
"With Gatwick having such an extensive route network my roster is very varied so I rarely fly to the same place twice in the same month," McWilliams said. "That keeps things interesting." 3
Featured Image: easyJet Airbus A319, Dean Morley, CC2
Footnotes and Sources:
1 – Kate McWilliams holds title for youngest captain, EasyJet
2 – British woman, 26, becomes one of world's youngest airline captains, The Guardian
3 – Kate, 26, flying high as she becomes youngest commercial airline captain, Press Association