Arnold Palmer considers the three smartest things he did to be marrying his wife Winnie, deciding on a career in golf, and learning to fly.
Golf legend Arnold Palmer died yesterday from complications with heart problems, at the age of 87. Palmer had 95 wins over an incredible professional career, including seven major championships and 62 wins on the PGA Tour, placing him fifth on the all-time PGA wins list. In 2000, Golf Digest ranked him as the sixth greatest golfer of all-time. And though Palmer's love for aviation was well known, as he was a strong advocate for general aviation, people are often surprised by how involved Palmer was with aviation and flying. And so to pay tribute to Arnold Palmer and his love for aviation, here are some of the details about his time as a pilot.
Details on Arnold Palmer's Time as a Pilot
What Aircraft Did Arnold Palmer Have His First Flight In?
Arnold Palmer's first flight was in a Piper Cub. As a young boy, he spent a lot of time at the small airport about a mile from his home, listening to pilots trade stories. And then, one day, according to Palmer, "A friend of a friend of the family who was an Army pilot took me for a ride in a Piper Cub. He did some things he probably shouldn't have done and really gave me a scare. Even though it shook me, it also gave me the resolve to take lessons and become a flier." 1
What Aircraft Did Arnold Palmer Learn to Fly In?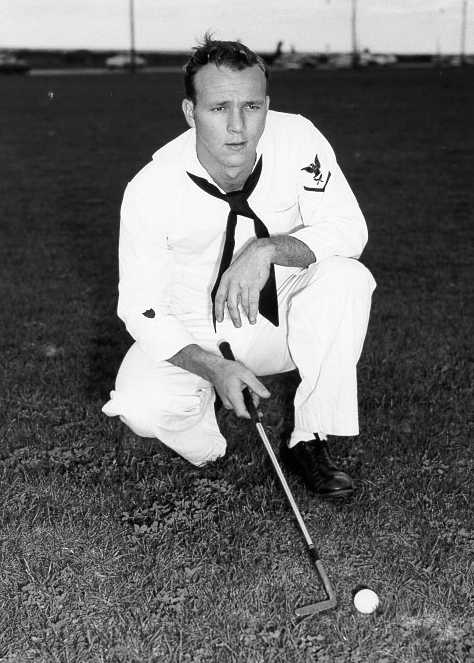 Like countless pilots before and since, Palmer began his flying lessons in a Cessna 172, starting in 1955. He soloed in 1956 and earned his private pilot certificate that year, learning to fly with pilot Babe Krinock at the Latrobe Airport (which was renamed in his honor in 1999. More details on that below.) He continued flying in leased 172s, 175s and 180s. 1, 6
What Pilot Ratings Did Arnold Palmer Hold?
In addition to holding a private pilot certificate, Palmer earned both an instrument rating and a multi-engine rating. He was also type rated for the Lear Jet and several models of the Cessna Citation family of jet aircraft.1, 6
What Was the First Aircraft Arnold Palmer Bought?
Palmer purchased his first aircraft, an Aero Commander 500, in 1961. 1, 6
What Other Aircraft Did Arnold Palmer Own?
A little more than two years after purchasing the Aero Commander, Palmer purchased his second airplane, an Aero Commander 560F. According to Palmer, "It was brand new, more powerful, and roomier than the 500. It had a cruising range that would enable us to make it to Palm Springs from Latrobe with just one stop, cruising at 240 nautical miles per hour."
Palmer's next plane was the Rockwell Jet Commander in 1966, which cruised at 500 mph and extended Palmer's range to 2000 nm. After that, Palmer owned a variety of different jet aircraft, including a Lear Jet, and many of the different Cessna Citation models. He started flying the Citation I, before moving to a Citation II, III, VII and eventually the Citation X. According to Charlie Johnson, one of Palmer's chief pilots,  he acquired the first Citation III production aircraft.
In Palmer's own words, the first time he saw the Citation X, "I was standing on the sixth fairway waiting to hit an approach shot in our annual gala that benefits the Latrobe County Hospital. I heard a familiar jet roar and looked up to see just about the most beautiful thing I'd ever seen—the new Citation X gliding right over us as it approached the Latrobe Airport." 1, 6
What Other Aircraft Has Arnold Palmer Flown?
During his time in aviation, Palmer was given some unique flying opportunities. He flew his Aero Commander alongside the Blue Angels (he became an honorary member or both the Blue Angels and Thunderbirds), and flew many military aircraft, from DC-9s to F-15s and F-16s. He was also invited by Boeing to test fly a 747, and by McDonnell Douglas to test fly their (at the time) new DC-10.1, 6
Did Arnold Palmer Fly Around the World, Setting a Speed Record?
Yes. In 1976, Arnold Palmer and co-pilots James Burr and L.L. Perky set an around-the-world speed record.  Taking off from Denver in a Learjet 36, they flew east, circumnavigating the globe in 57 hours, 25 minutes, and 42 seconds. Along the way, they stopped in Boston, Paris, Tehran, Sri Lanka, Jakarta, Manila, Wake Island and Honolulu. Why did they do it? Well, according to Palmer, the flight was "the result of a deal I made with Harry Combs, who was the president of the Lear Jet company, and he said if I would fly a Lear 36 around the world, that he would make a deal with me on a new Lear 35." He added that after completing the flight and setting a world record as they did it, that "Harry Combs backed out of my deal, and that was the end of that." 2, 3
How Many Flight Hours Did Arnold Palmer Have?
Over the course of nearly 55 years as a pilot, Palmer amassed between 19 and 20,000 flight hours. 1, 4, 5
Why is The Airport in Latrobe, PA Named After Him?
The airport in Latrobe started as the Longview Flying Field in 1924, before being renamed the J.D. Hill Airport in 1928, Latrobe Airport in 1935, Westmoreland County Airport in 1978, and finally Arnold Palmer Regional Airport in 1999. The airport's name was changed not only to honor the Latrobe native who grew up less than a mile from the airport but also because of the part he played in helping the airport at Latrobe achieve major expansions and modernization, including a modern control tower and 7,000-foot runway. 1, 5
"To put it quite simply, I could never have accomplished even half as much as I have in my golf and business careers over the last four decades without having my own airplanes." – Arnold Palmer
Featured Image: Citation X, Jerome, CC2
Footnotes and Sources:
1 – Arnold and His Love of Aviation
2 – Captain Arnie's Final Flight, Flying Magazine
3 – Arnie: Palmer's Record Breaking Flight, Golf Channel
4 – NBAA Mourns Arnold Palmer's Passing
5 – Arnold Palmer's entry on Wikipedia
6 – Arnold Palmer And His Chief Pilots— A Close-Knit "Fraternity", Airport Journals