On July 26th, 2016, at EAA's AirVenture 2016, five finalists for the Founder's Innovation Prize were selected from a group of 140 applicants all proposing ideas to reduce loss of control (LOC) incidents in aircraft. The prize, created by the EAA Safety Committee, awards $25,000 for first place, $10,000 for second place, and $5,000 for third place. The contest was focused on reducing the rate of accidents from LOC in the general aviation community by 25% over 5 years, and 50% over 10 years. The prize was presented by the Airbus Group and the panel of judges evaluating the presentations included aviation experts Charlie Precourt, Michael Goulian, Rod Machado, Dick VanGrunsven, and Dave Morss.
The criteria for judging were low cost, ease of installation, effectiveness, and how widely applicable it was to the GA fleet. The five solutions selected were technology based, training based, or a combination of both.
Airbus COO Andy Anderson said, "I find it extremely interesting that out of 140 applicants, all five finalists in some way are digital solutions. I like the simplicity of their solutions. When you move into the digital world, you can make complex solutions easy with software."
Charlie Precourt, the chief judge on the panel, is excited for what comes next. "I think a lot of the folks who are watching are going to start to see what we're thinking of as potential solutions. They are going to grow them and expand on them. Now that this is percolating, people will get into testing and demonstration."
Ihab Awad, the first place winner, was humbled by winning the contest. "I think the new experimentation is going to be in homebuilt digital systems that solve avionics problems in new ways. To that end, I am really happy that the EAA is sponsoring this and we are actually doing it. It's not just riveted aluminum and fabric anymore. It's actually the cutting edge of what geeks are building everywhere and we are applying it to aviation. I think that's very exciting."
2016 Founder's Innovation Prize 1st Place – Airball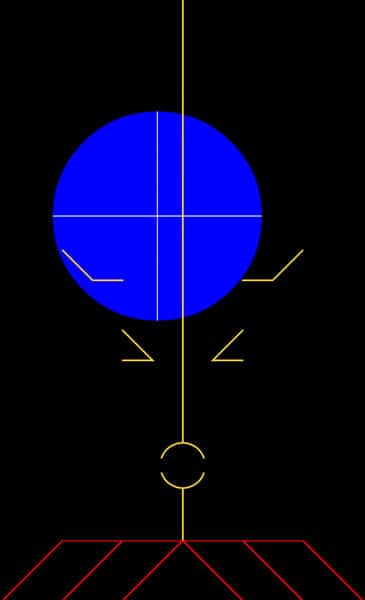 Awad focused on the role relative wind plays in LOC accidents, saying that "…our measurement of the wind is spotty, and we scatter the information around in a bunch of different instruments." So Awad proposed the Airball app, which represents relative wind with a blue ball that changes size and position based on the direction of the relative wind. Airball measures each of the three components of relative wind (IAS, AOA, and yaw), presenting the information in single, clear visualization. Iwad kept the display numberless so that pilots could get an idea of the data quickly, and be able to establish visually what good situations look like in various flight modes. According to Iwad, "This data display encourages pilots to make a habit of consulting the display to both improve their everyday flying, as well as to eke out the maximum performance from their planes in a tight spot."
Iwad is currently building a prototype to be installed and put through testing on both experimental and part 23 aircraft. He's using the prize money to speed up his project's timeline and purchase professional level resources. He is currently offering his project to hobbyists and commercial vendors alike, encouraging them to experiment and share the results.
According to EAA, one estimate places the total cost for the system at $1,550. For more information, and to follow Iwad's progress, you can visit the Airball website.
2016 Founder's Innovation Prize 2nd Place – Precise Pilot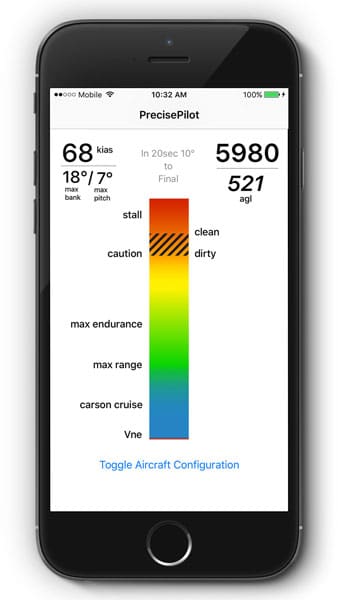 Grant Sprunger believes that LOC isn't just a problem of aerodynamics, but also a problem of how well pilots understand their airplanes. So he proposed PrecisePilot, a Bluetooth enabled pitot-static tube that clips onto an airplane's current pitot tube, and is paired with a iOs / Android display. PrecisePilot then analyzes data from multiple sources in order to track flight performance history and provide suggestions to the pilot on how to fly more safely. According to Sprunger, "Loss of control tools are only effective if the pilot uses them every time.  I want PrecisePilot to be a tool you'll fall in love with and use not only for loss of control, but for tracking and improving your flight performance, keeping precise patterns, and displaying real-time calculations a pilot would otherwise need to do on the fly."
After discussing his project with the judges, Sprunger was even inspired on how to improve it. "I plan to add spin detection and cross control stall detection to PrecisePilot without any extra expense to the hardware. Flight performance grading will also take into account coordination and offer suggestions to keep coordinated, especially in the pattern.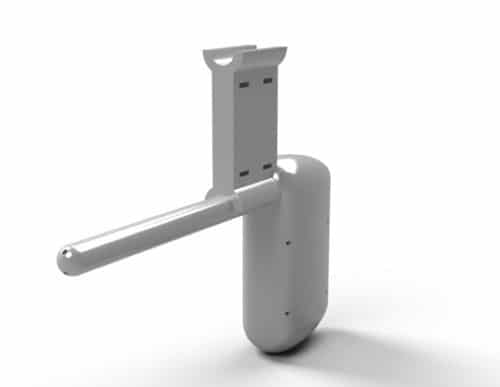 Also, the user interface will include a representation of coordination in conjunction with AOA."
Sprunger is planning to use his prize money to assemble a product team. His next step is then to raise at least $100,000 in capital, which he plans to use to put the PrecisePilot hardware and software through testing and both FCC and FAA certification. Once they are available, units are expected to cost $299. Sprunger encourages pilots to send him suggestions on how to improve PresicePilot through his website and to sign up for consideration for his beta testing program.
2016 Founder's Innovation Prize 3rd Place – Energy State Awareness Display
In emergency situations, many GA pilots become distracted, panicked, and / or confused, and forget their training. So co-inventor Andrew Skow proposed the Energy State Awareness (ESA) Display. "We knew that if we are going add new information to a cockpit, the information would need to be formatted so that the pilot would be able to receive, understand, and use it in a timely way," said Skow. "To achieve this, we established a new set of human factors design criteria that we believe are innovative."
The ESA Display, a multi-sensory alerting system, measures airspeed, load factor and angle of attack, and is designed with the Useful Field of View (UFOV) concept (the visual area in which a pilot can view information without eye or head movement) in mind. The display, which is placed in the pilot's UFOV, provides a clean, high contrast indicator that changes from Green to Yellow to Red. In addition to this clear visual cue, the ESA also provides aural alerts for the pilot as they approach a stall.
Previous flight testing resulted in positive evaluation from pilots. The ESA Display kit is applicable to commercial, business/corporate, and general aviation aircraft and the target pricing for the kit for GA aircraft is $1,895. Skow's friend and EAS co-inventor Pete Reynolds passed away from cancer two years ago after they started the project and Andy plans on adding the prize money to a scholarship established in Reynolds honor at Witchita State University.
2016 Founder's Innovation Prize 4th Place – Homebuilt Digital Copilot
Henry Burrow combined a tablet with a pair of low-cost single board computers and additional auxiliary boards to create the Homebuilt Digital Copilot (HDCP). According to EAA, the HDCP offers 16 primary functions, "including as a laser-based "poor man's" radar altimeter, a flight parameter recording ability ("black box"), a cabin-mounted carbon monoxide sensor and alarm, a lightning strike distance reporting system, a high definition belly-mounted camera capable of automatic photo and video time elapse flight photo-journaling, an ADS-B In receiver with traffic and weather displays, a complete EFIS engine monitoring system, GPS-derived virtual instrumentation, and AOA indicator."
In addition to manually accessing functions, the pilot may also use voice control commands to access all of the HDCP function. Burrow expects that the total cost for the device, using all new components, will come to less than $800. He's filed a provisional patent, but isn't sure what next steps to take, and invites suggestions and input at HomebuiltDCP@gmail.com.
2016 Founder's Innovation Prize 5th Place – Virtual Reality In-Aircraft Platform
Chris Moody's proposal aims at addressing LOC accidents near the ground. Because training for low to the ground LOC scenarios in unsafe, his proposed idea is an in-aircraft Virtual Reality platform that allows pilots to train for ground LOC scenarios while in an aircraft, but at a safe altitude.
Moody feels that it's important to preserve the feel of flying in an aircraft vs a simulator for this type of training, and ever more importantly, to allow pilots to train for these scenarios in the aircraft they'll actually be flying. He envisions a small, self-contained unit that could be temporarily installed in aircraft. It would require a lot of work, but Moody believes a unit selling in the $5,000 – $10,000 range is feasible, noting that the cost could be spread between many pilots and aircraft.
According to EAA, Moody describes himself as an idea guy, and isn't planning on pursuing further work on the concept. "If there were any interest from a developer, I would be glad to see someone run with it. I'm happy to help anyone carry it forward," Moody said. He may be reached at cmoody8631@gmail.com.
For more information on the 2016 Founder's Innovation Prize, you can visit EAA's website. And for more information on the finalists, click here.
Featured Images: EAA