Continental Motors has now delivered more than 5,000 motors from their CD-100 diesel engine family.
Continental Motors announced that they've received both the FAA and EASA Supplemental Type Certificate (STC) for Cessna 172 retrofits with their jet-fueled CD-155 diesel engine (114 kW, 155 hp). In addition, the certification now includes the integration of the Garmin G1000 flight deck. The company also revealed that they've now delivered over 5,000 CD-100 series engines since they started production in 2002, with those engines racking up over 5.25 million flight hours.
More Details on the CD-155 C-172 Diesel Engine Retrofit
Continental says that the European STC allows for a direct retrofit of avgas equipped C-172s. They note that to display engine data in the avionic system for the 172R and S models, the integration of the Garmin G1000 NAV III avionic with Wide Area Augmentation System (WAAS) is required, while previous installations and aircraft models continue to make use of the CED and AED engine displays. The engine retrofit kit also includes a larger propeller which outperforms conventional equipment in climb and cruise and offers an airplane engine with a lifetime of 2,100 hours and long maintenance intervals.
According to company officials, a C-172 equipped with a CD-155 diesel engine and MTV-6-A/190 prop cruises at a max speed of 135 KTAS at 8000 feet. They add that best economy cruise at the same altitude is 109 KTAS, which burns only 4.9 gallons/hour (18.5 l/h) of JetA fuel, versus 8.1 gallons/hour (30.7 l/h) in traditional AvGas powered engines. Finally, they say that the airplane would enjoy a max rate of climb is 833 feet a minute, which would only drop to 638 ft/minute at 12,000 feet.
"With this STC now approved by both EASA and the FAA, flight schools, fleet operators, and recreational users can reduce their fuel and maintenance costs, regardless of the avionics installed in their Cessna airframe," said Continental's Senior VP of Engineering, Jurgen Schwarz. With this STC in place, all Cessna 172 models from F to S have now been validated by the FAA for installation of CD-135 and CD-155 diesel engines.
More Details on the CD-100 Diesel Engine Family Milestone
Continental says that 1.25 million of the 5.25 million flight hours totaled by the CD-100 family have come over the last 2.5 years, and according to the company, this is more than all other diesel aviation engine manufacturers combined.
Schwarz says that the Continental Diesel engines have become a success story in a challenging market, adding that "We expect to exceed the 5,500-engine milestone in 2017. In the last nine months, the cumulative flight time logged by end-users has risen by half a million hours to 5.25 million hours, a figure that shows just how intensively these engines are being operated by Continental's loyal diesel customers." He also notes that "As a result of continuous product development and improvement, we have also increased product dependability significantly with only 1.1 unscheduled maintenance events per 1,000 hrs."
Featured Image: courtesy of SounderBruce, CC BY-SA 2.0
---
All About the Cessna 172 Skyhawk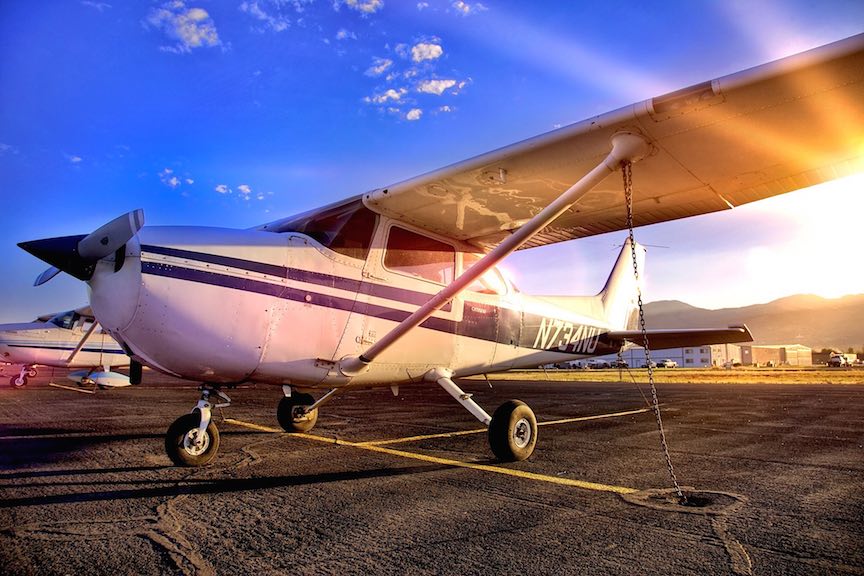 Cessna Aircraft Company has delivered more than 43,000 Cessna 172 airplanes to date.  This makes it the best-selling, most widely flown airplane ever built. It also has a reputation for being the safest general aviation aircraft available.
Over the years, it's been called many things. Affordable, both for the cost of the plane and cost of flying. Utilitarian, for decent short haul and payload capabilities. Versatile, for its ability to fulfill a variety of roles.  The perfect training and instructional plane [Click to read more…]
---