The Beechcraft 58 Baron has been at the top of its class since 1984.
The Beechcraft 58 Baron evolved from a long line of aircraft that have become pilot favorites over the decades. Beginning with the Beechcraft Bonanza introduced in 1947, a six-seat, single engine utility aircraft, which is still in production today (it's been in continuous production longer than any other airplane in history), Beechcraft soon realized a need for a twin to fill the gap between the Model 35 Bonanza and the much larger Model 50 Bonanza. Thus, the Beechcraft Travel Air was born. The Travel Air was only in production for 10 years but made the Beechcraft Baron possible.
Evolution from Bonanza to Baron
The Beechcraft Baron was introduced in 1961 as the Beechcraft 55 Baron, which combined the fuselage of the Bonanza, the empennage of the Debonair, and the tail control surfaces of the T-34 Mentor. This first model was powered by two six-cylinder IO-470-L engines, with 260 HP each.
The following incarnation of the Baron was the 56TC, introduced in 1967, fitted with two 380 HP Lycoming TIO-540-E1B4 turbocharged piston engines. The fastest Beechcraft aircraft in production at that time, it was created to give the engineers at Beech practice working with the 380 HP Lycoming engines before the introduction of the Model 60 Duke, which would be introduced the following year.
And finally, the Beechcraft 58 Baron was introduced in the Summer of Love, 1969, and was essentially a 55 Baron with a longer fuselage (meaning more baggage space), with roomy club seating, and two IO-550 300 HP engines. It was designed for comfort, and comfort it provides. To this day, the Baron is known and loved for its workhorse capabilities wrapped in a luxurious show-horse package. Incredibly popular among charter pilots for its comfortable seating (the modern versions have genuine leather seats with lumbar support, as well as more cup rests and headphone jacks, etc. than you could ever need), it's also a dream to get in and out of with its extra wide double doors, meaning paying passengers can step right into the spacious cabin without climbing over a wing or through a tiny baggage door.
Variants of the Beechcraft 58 Baron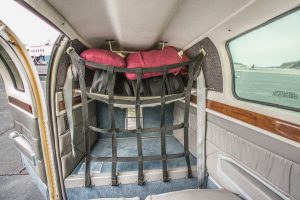 Though the Baron family is filled with dozens and dozens of variants and sub-variants, the Baron 58 (the "long body") is the type that has stood the test of time. The most popular Baron 58 variants include the Baron 58P (pressurized), the Baron 58TC (turbocharged), and the modern Baron G58 (glass cockpit with Garmin 1000 NXi).
The Baron 58P and 58TC
In 1976, the only Baron variant with a pressurized cabin was introduced. Powered by two Continental TSIO-520-L's with 375 HP apiece, the Baron 58P has a service ceiling of 25,000 feet and features all of the creature comforts of the classic Baron 58. The Baron 58TC is simply a non-pressurized variant of the 58P, with 310 HP engines.
The Baron G58
Introduced in 2005, the G58 is the only Baron still in production today. This top-of-the-line luxury light twin is quite expensive (new ones start at around $1.1 million), and is fitted with the modern Garmin 1000 NXi, a flight computer with a dual-core processor and a large amount of memory (16GB). One of the latest updates to the Garmin 1000 NXi is the ability to select IFR approaches in-flight from the procedure menu.
Beechcraft G58 Baron Specifications and Performance Details1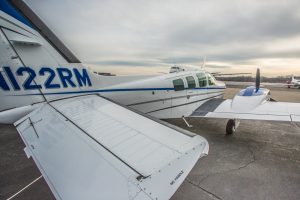 Exterior
| | |
| --- | --- |
| Length | 29 feet 10 inches (9.1 m) |
| Height | 9 feet 9 inches (2.97 m) |
| Wingspan | 37 feet 10 inches (11.53 m) |
| Wing Area | 199 square feet |
Cabin Interior
In addition to the pilot and copilot, the Beechcraft G58 Baron can fit four passengers in its spacious cabin. The two smaller seats in the rear can be removed to fit luggage or add legroom, which is probably the best, most comfortable way to go. According to AOPA, those rear seats are unfit for most adults, and you should consider the Beechcraft G58 Baron "a luxurious four-seater that can do six if needed."2 The seating is arranged "club style," which just means the seats face each other.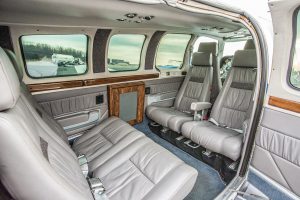 As a pilot, you'll enter the cockpit by climbing onto the wing, but passengers can step right into the cabin through the double doors.
| | |
| --- | --- |
| Height | 50 inches (1.27 m) |
| Width | 42 inches (1.06 m) |
| Length | 12 feet 7 inches (3.84 m) |
| Maximum Occupants | 6 |
| Baggage Capacity Weight | 420 lbs (190.5 kg) |
| Baggage Capacity Volume | 28 cubic feet |
Performance
The Beechcraft G58 Baron is powered by two IO-550-C Continental Motors with 300 HP apiece, and it comes stock with 3 blade constant speed propellers, and can reach a 202-knot cruise speed at 75% power. According to Bill Cox at Plane & Pilot Magazine, the range is around 1,000 nm but can be stretched to 1,300 nm by adjusting the power settings.3
According to real pilots, the G58 Baron burns around to 27.1 – 32 gallons per hour and has an average cruise speed of about 185 – 200kts.
| | |
| --- | --- |
| Maximum Cruise Speed | 202 ktas  (374 km/h) |
| Maximum Range | 1,480 nm (2,741 km) |
| Takeoff Distance | 2,345 feet (715 m) |
|  – Ground Roll | 1,373 feet (418 m) |
| Landing Distance | 2,490 feet (759 m) |
|  – Ground Roll | 1,440 feet (439 m) |
| Service Ceiling | 20,688 feet (6,306 m) |
| Maximum Climb Rate | 1,700 fpm (518 m/pm) |
| Maximum Limit Speed | 223 kias (413 k/mh) |
| Stall Speed | 73 kcas (135 k/mh) |
Weight
According to Bill Cox3 "With the Baron's standard 194-gallon tanks topped off, a fully equipped aircraft offers only about 300 paying pounds. That's equal to one pilot plus baggage or two lightweight folks. In order to haul six full-size people plus reasonable luggage, you'd need to limit fuel to about 58 gallons, roughly an hour and a quarter plus reserve. You obviously always have the option of leaving the airplane partially fueled if you must substitute people pounds for fuel pounds."
| | |
| --- | --- |
| Maximum Takeoff Weight | 5,500 lbs (2,495 kg) |
| Usable Fuel Volume | 194 gallons (734 liters) |
| Basic Empty Weight | 4,030 lbs (1,828 kg) |
| Useful Load | 1,494 lbs (678 kg) |
Operating Costs of the Beechcraft 58 Baron
In a wonderfully in-depth survey conducted by Zack Sicher regarding the Beechcraft Baron (including the B58P, B58, and B55)4, real owners were given the chance to report true operating costs, including things such as gph fuel burn, insurance, annual inspections, and maintenance. I've collected the most interesting and relevant averages in the chart below.
| | |
| --- | --- |
| Operational Cost/Year | Reported By Real Owners |
| Fuel Cost (100hrs/year) | $12,612 |
| Avg. Annual Cost | $6,264 |
| Addtl. Maintenance | $3,490 |
| Insurance Premium | $10,180 |
| Total Yearly Cost | $38,079 |
Purchase Costs and Resale Value
The 58 has been around since 1969 and has since gone through five distinct variants. The most popular by far is the standard 58 Baron, many of which are available on the used marketplace. The average engine time for a used 58 Baron varies from 801-1600 hours, and the airframe time is about 4,143 across the board.
| | | | |
| --- | --- | --- | --- |
| Averages | B58 (pre 1984) | B58 (1984-2004) | G58 (introduced in 2005) |
| Purchase Price | $154,296 | $385,267 | $1,011,250 |
| Aircraft Improvements | $54,318 | $71,050 | $0 |
| Current Approximated Value | $173,360 | $390,385 | $875,000 |
| Net Profit From Resale | -$35,254 | -$65,932 | -$136,250 |
Even pilot estimated resale values indicate a loss in profit, and if you've ever tried to buy a used plane before, you know how many pilots tend to price their aircraft emotionally (read: higher than its true value). When combined with the total yearly cost of $38,079 (which includes the unlisted averages for hangars, etc.), it becomes apparent that the 58 Baron is a lifelong investment, and not for those looking to resell and make a quick buck. But why would you want to? Even pilots who've had to sell their Barons out of necessity say it's one of the best handling light twins out there, which generally outperforms the other models in its class, including the Piper Seneca V.
---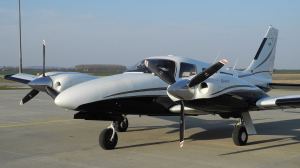 Piper PA-34 Seneca: One of the Last of It's Kind
The Piper PA-34 Seneca has a fairly interesting development history, starting out as a tri-motor and now serving as a popular light twin-engine commuter aircraft. The current Seneca V model is a low-wing, six-seat aircraft equipped with retractable gear and two Continental TSIO-360-RB turbocharged engines. It is one of the few remaining piston multis in aviation today. [Read More]
---
Feedback From Real Pilots and Owners
Tom Lincoln, Pilot/Owner: 1984 Beechcraft 58 Baron
Tom Lincoln is a young professional living on the East Coast who's dedicated many hours flying his 1984 Beechcraft 58 Baron on Angel Flights all around the globe, including bringing the first anesthetic (as well as doctors and other surgical equipment) to Haiti after the catastrophic 2010 earthquake. He's taken his Baron (which he's co-owned for 8 years with a partner) on flights from Connecticut to South Carolina, Florida, and island hopping in the Bahamas, and has flown many other types of aircraft, including the Baron's only real competitor, the light twin Piper Seneca.
He's recently changed his mission as a pilot, and since he'll be traveling on fewer cross-country flights, he's looking to sell his Baron. Despite his decision to sell, he had nothing but wonderful things about the Baron when I talked with him.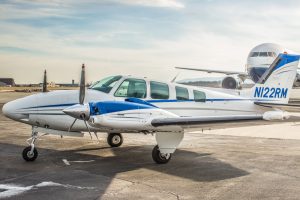 "From the first flight, [the Baron] felt perfect. There was no learning curve," like with many other airplanes. "It always felt built for me." Comparing it to the Piper Seneca, Lincoln says, "The Baron drives like a BMW or a Porsche, and the Seneca flies like a minivan. The Baron has a heavy feel on the yoke, but it's a really tight feeling; it's a very precise airplane." His Baron has the long range tanks, which turn the 166 useful gallons into 194. Lincoln reports that he burns about 32gph total, and can easily make 1,000nm trips in one leg.
He agrees that calling the Baron a 6-seater is similar to calling the Cessna 172 a great 4-seater: just because you can fill all the seats doesn't mean you should expect a lot of elbow room. If you have five kids and a dog, Lincoln says, you should get a Piper Navajo,  but if you usually only fly two passengers and want performance over carrying capacity, the Baron is the way to go.
"If you're going to stay in the piston world, instead of going turboprop, I don't think there's a better plane out there."
Plane & Pilot Magazine3
Bill Cox, pilot: 2008 Beechcraft G58 Baron
As Bill Cox puts it, "I've had the good fortune to ferry a half-dozen Baron 58s around the world, and they've been consistently good rides. They offer few objections to being loaded as much as 1,000 pounds over gross. In one instance, I brought an older 58 back from Nadi, Fiji, to San Francisco, Calif. The airplane had an additional 300 gallons temporarily plumbed to the engines from the aft fuselage and nose baggage; handling remained acceptable and range was never a consideration."
Jim Hill, pilot/owner: 2006 Beechcraft G58 Baron
"Almost without exception, everyone loves the new airplane. Climb is excellent, about 1,600 fpm initially and an easy 1,300 fpm in a 140-knot climb. We can usually reach cruise altitude in no more than five to seven minutes. If I'm in a hurry, I can score 195 knots on about 34 gph, but the more intelligent way to run the airplane is at 185 knots on 2 gph less fuel burn."
"You don't really notice the weight that much, the controls are so tight and well-harmonized that the 58 makes a great IFR platform. Of course, once you get adjusted to the G1000, it just makes everything easier in instrument conditions. The glass-panel displays are so large and the positional awareness so obvious that you'd have to work to become disoriented."
However, like AOPA mentioned, the cabin isn't as large as most pilots would like it to be: "The airplane is beautifully furnished and lavishly appointed, but the cabin is essentially identical to the A36 Bonanza's, only 42 inches wide and not that tall.When we have big guys to carry, anyone over six-foot-two, we place them in the aft-facing center seats that seem to have the most headroom. Tall people don't do so well in the front or aft two seats."
Drawing Conclusions on the Beechcraft 58 Baron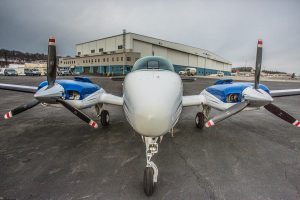 Post-1984, when Beechcraft reorganized the instrument panel to align more with the industry standard, they achieved a level of perfection rarely seen in general aviation. The Beechcraft 58 Baron hasn't changed much since, except the addition of the G1000 system added in the mid-2000's. It's an expensive airplane with an even higher operating cost, but if that's not really a concern for you, you can't do much better in the piston world. According to Lincoln, it is the pinnacle of "efficiency, performance, safety, availability, availability of parts, and liquidity of the market," especially in the small market of light twins.
You can get in contact with Tom Lincoln about buying his 1984 Beechcraft 58 Baron by visiting this page.
Featured Image: Beechcraft 58TC, by Disciples of Flight founder Jim Hoddenbach
Footnotes and sources:
1 – Baron G58, Beechcraft, Retrieved 3-26-17
2 – Beechcraft Baron, AOPA, Retrieved 3-26-17
3 – The Mystique Of The Baron, Bill Cox, Retrieved 3-26-17
4 – Beechcraft Baron 58, Official / Unofficial Owner's Survey, Zach Sicher, Retrieved 3-26-17
---
The Light Twin Cessna T303 Crusader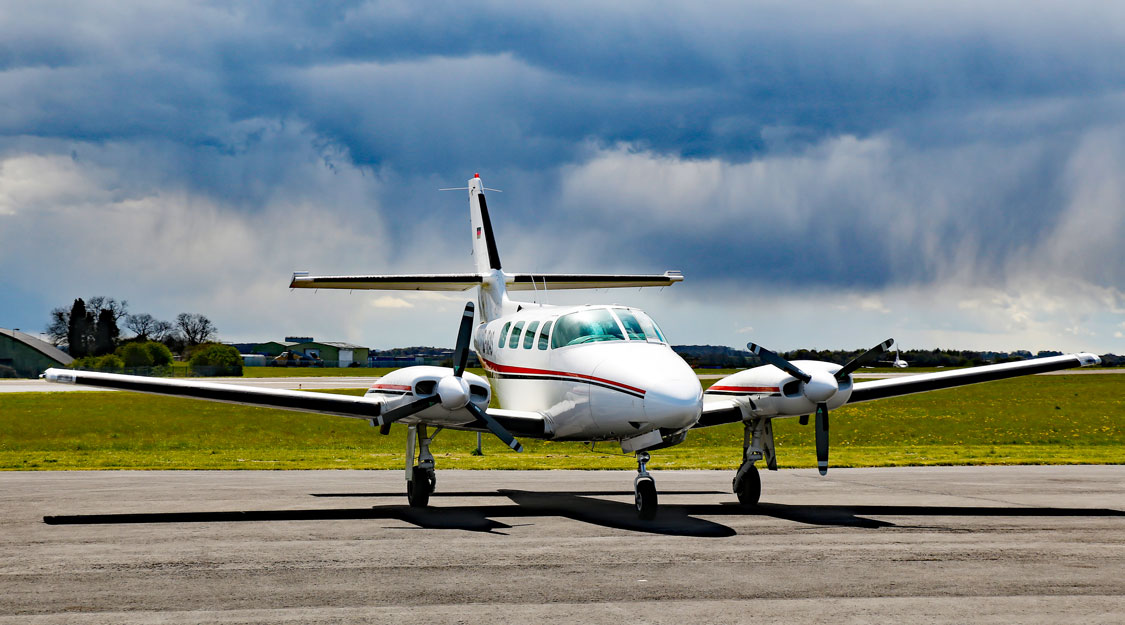 Cessna saw great success with their 1953 Cessna 310 light twin. For decades it rolled off the production line as a trainer, personal aircraft, and business commuter. It had been through so many variations that pilots joked they were running out of letters of the alphabet. The only other "new" twins to come out of Cessna during that time were heavier pressurized commuter aircraft. The need arose to replace their 310 with something more modern and keep a hold on the twin trainer market that Beech and Piper were dominating. Enter the Cessna T303 Crusader. [Click to read more…]
---