Pilots are urged to comment on the revised Helena-Lewis and Clark National Forest Plan before the March 31, 2017, deadline.
The US Forest Service is still accepting public comments on a revised forest plan for the Helena-Lewis and Clark National Forest. The forest covers an area roughly 150 miles north to south and 200 miles east to west and contains 9,000 foot-tall mountain peaks, prairie grasslands, alpine lakes, glaciers, a large variety of wildlife, and a portion of the Continental Divide as it passes through Montana.
The plan defines access for multiple use activities, which would include recreational aviation, while also minimizing any negative impact to wildlife habitats, reducing conflicts between motorized and non-motorized recreation, and preventing damage to cultural resources. The RAF (Recreational Aviation Foundation), and AOPA (Aircraft Owners and Pilots Association) are saying the plan could directly affect aviator's access to the forest, so they are urging pilots to write in and comment to ensure that aviation access is part of the long-term plan for the forest.
AOPA President Mark Baker says that every pilot's voice matters, and that "I hope you join me in supporting the Recreational Aviation Foundation's work by submitting comments about why it is worth protecting backcountry aviation access on public lands at places like Helena-Lewis and Clark National Forest."
RAF Director Emeritus Jerry Cain, in writing to Montana's RAF members to urge them to comment, said that "Decisions are based partly on public input and typically remain in effect for decades." He added that "We ask that no matter where you live, please take the time to send comments before the March 31, 2017, deadline."
Commenting on the Revised Helena-Lewis and Clark National Forest Plan
You can view the full land management plan here, and comments can be submitted online, via this web page.
Cain says that "Your comments must include specific reference to Helena – Lewis and Clark National Forest Plan Revision #44589."
Cain, who read through the entire plan and appendices, notes that pilots need to specifically address the definitions of "aircraft," "airstrip," and "motorized equipment."
Cain believes that aircraft should not be categorized as motorized equipment, saying that "While aircraft do have motors, those motors are not used for transportation upon the ground in any NFS area other that upon designated airstrips for landing, taxiing, and takeoff." He adds that those airstrips should be considered as internal trailheads and that such airstrips currently exist in designated wilderness or primitive areas elsewhere in Montana, as well as Idaho and other states.
As such, he recommends that the following definitions be added to the plan:
"Aircraft" should be included in the Glossary and specifically identified as not included in the definition of motorized equipment since they are not utilized as motorized equipment upon USFS lands other than at designated airstrips utilized as internal trailheads.
"Airstrip" should be added and defined as a designated area intended for use by aircraft as an internal trailhead in any ROS (recreation opportunity spectrum) category area.
"Internal Trailhead" should be added to define airstrips within the NFS as designated airstrips for use by aircraft for landing, taxiing, parking, and takeoff in any ROS category. 
"Trailhead" should be added to define what a trailhead is and to specifically identify airstrips as "internal trailheads permitted in all ROS categories."
Featured Image: Kate Brady, CC BY 2.0
---
Taken Away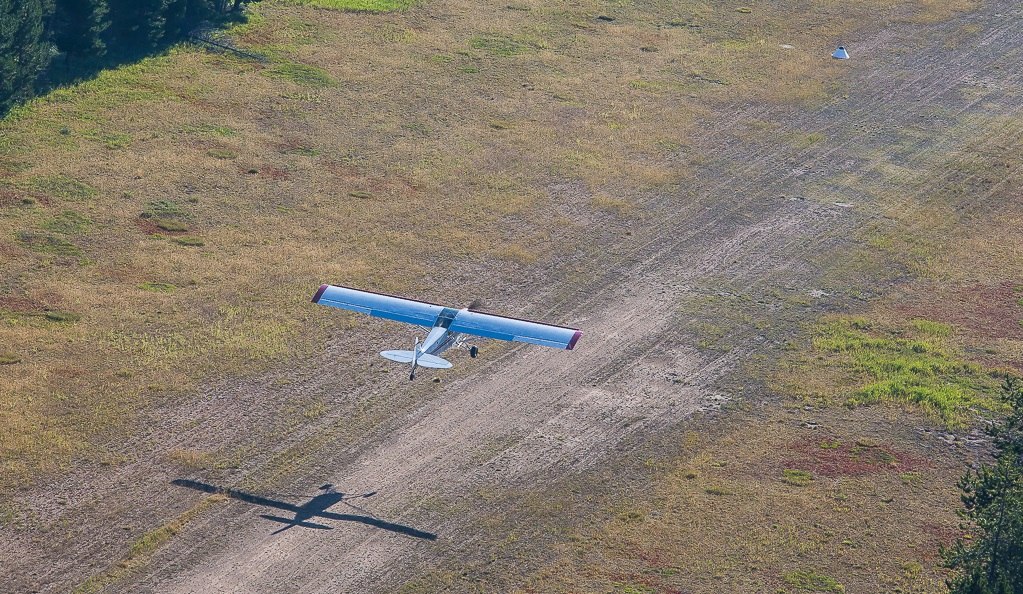 From the early days of aviation, we've built up a system of airports across the country, and there are now airports just about everywhere for your flying needs. I mean, have you taken a look at a sectional of the US recently, especially the Eastern states? It's so covered in those little magenta circles, it looks like it has chicken pox. But what if you want somewhere a little more remote? Somewhere that doesn't have a steady flow of aerial traffic and isn't located so close to, well, everything else. Many of you already know the answer, but for those unfamiliar with some of the more adventurous aspects of aviation, the answer is the unpaved, remote dirt airstrips of the backcountry. [Click to read more…]
---