Truckee Tahoe Airshow: HISTORY
From 1973 to 1996 the Truckee Sky came alive with hair twisting plane performances at the annual Truckee AirShow held at the Truckee Tahoe Airport. Once a one- to two-day event, the AirShow ran for twenty-three consecutive years with an admission and parking fee and was put on solely by volunteers. The twenty-three year stint tired volunteers; a 16-year hiatus proved to be a long enough reprise.
It took a passion for aviation, children and the Truckee Tahoe Airport District to bring a relatively small group of volunteers and sponsors together on July 7, 2012 to produce, after a 16 year hiatus, the FREE Truckee Tahoe AirFair & Family Festival at the Truckee Tahoe Airport. The Truckee Tahoe Airport sponsored the 2012 and 2013 AF&FF fundraising event, paying for all its operational costs while three non-profit groups focused on throwing an event while raising money for Truckee North Tahoe youth.
All proceeds raised from 2012 and 2013 event sponsorships, non-marketing grants, vendor and exhibit booth sales and food sales went directly back to our Truckee North Tahoe youth through the efforts of the three non-profit organizations, Experimental Aircraft Association (EAA) Chapter 1073, KidZone Museum and the Truckee Optimist Club. All non-profit organizations receive free vendor space at the event to promote their organizations. The last 2 years combined raised $97,000 for local youth.
Truckee Tahoe Airshow: INFORMATION
Planes will be swirling and soaring through the air at the FREE Truckee Tahoe AirShow & Family Festival (TTAS&FF), "Women in Aviation" themed event, on Saturday, July 12 from 9 a.m. to 5 p.m. The event and parking is FREE.
Schedule
Gates open at 9 a.m. with a no host breakfast.
Opening Ceremony starts at 11:15 a.m. at the main stage.

Parking
Free parking is available at the Airport.

Aviation Highlights
Featured 2014 Aerobatic Pilots include six-time member of the US Aerobatic Team, Patty Wagstaff; dare devil hang-glider Aerobatic Pilot, Dan Buchanan; "hair raising" style performer, John Melby; courageous pilot best known for his comedy act and Jelly Bean sponsored Kent Pietsch.
The AirShow will also welcome the U.S. Air Force Parachute Team "Wings of Blue" with several female pilots and jumpers. The team's awe-inspiring and precise performance features jumpers who fly streamers, smoke canisters and carry game balls. A true crowd pleaser is their flying of a massive 800 square foot American Flag to open high profile events like air shows throughout the world and professional sporting events such as the Rose Bowl and NFL and MLB games.
Returning to the TTAS&FF for the 3rd year is the Red Star Formation Team, a Precision Warbird Mass Formation Display Team, and new for 2014 is an OV-10 Bronco flying performance.
Other aviation highlights include numerous static displays, a helicopter and radio-controlled giant scale planes flying throughout the festivities.

Activities
Featured festival activities include a kid's fun area with games, music, puppet show, face painting, arts and crafts;  a Vendor Village, Food and Beer Garden, Speaker Forums and FREE flights for Kids ages 8-17 on Sunday, July 13.

Funding
The Truckee Tahoe Airport District funds all the operational costs for this event.  ALL proceeds go to Truckee North Tahoe youth.
LOCATION: Truckee Tahoe Airport
Click here to visit the official website:  CLICK HERE.
Click on Image to download a high RES LARGE ARIAL VIEW: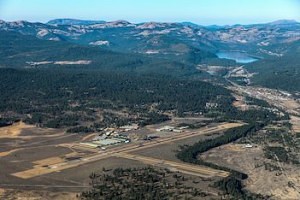 Below is a summary of information from the airport.
Runway 11/29
| | |
| --- | --- |
| Dimensions: | 7000 x 100 ft. / 2134 x 30 m |
| Surface: | asphalt/grooved, in good condition |
| Elevation: |  5900 feet |
Runway 2/20
| | |
| --- | --- |
| Dimensions: | 4650 x 75 ft. / 1417 x 23 m |
| Surface: | asphalt, in good condition |
| Elevation: | 5886 feet |
Communications Summary
| | |
| --- | --- |
| CTAF | 122.80 |
| UNICOM | 122.80 |
| ATIS | N/A |
| WX AWOS-3 | |
| CLEARANCE DELIVERY | N/A |
Terminal Procedures Summary
Airport Diagram
Approaches
Departures
Special Minimums
Closest Alternate Airports with Instrument Procedures
KRNO – Reno/Tahoe International – 23.4 nm NE from TRKKRTS – Reno/Stead – 27.9 nm NE from TRKKMEV – Minden-Tahoe – 30.3 nm SE from TRKKTVL – Lake Tahoe – 30.5 nm SE from TRKMO02 – Nervino – 36.3 nm NW from TRK77NV – Flying Eagle – 37.9 nm NE from TRKKGOO – Nevada County Air Park – 46.7 nm SW from TRK

KPVF – Placerville – 52.8 nm SW from TRK

KAUN – Auburn Municipal – 56.5 nm SW from TRK

KLHM – Lincoln Regional/Karl Harder Field – 70.9 nm SW from TRK
More detailed information, including up to date weather details, can be found here:
[optin-monster-shortcode id="wwcyfbdjs9-post"]