I've been fascinated with flight since my first ever flight in a bright yellow Piper Cub.
All of my life I have been fascinated with flight, the pilots and the aircraft they flew as well as the history of aviation. I would imagine my earliest memories are of being a young boy in the fifties and, as we lived on the edge of Sparks NV, I would sit on a fence at the edge of a field and watch the last active P51s flown by the Air National Guard as they practiced. In those days there was not much competition for air space so they didn't go far from the airport.
I remember one of my first air shows out at the Naval Air Station in Fallon where we watched high-performance jets perform all their tricks and even drop live ordinance in the desert in front of us (it was the 50s after all). Very, very exciting for a young boy of 7 years!
My first ever flight in any kind of plane was when I was in cub scouts. Our den mother's husband was part owner of Buttler's Field just east of Reno and took us all up in his bright yellow Piper Cub. I remember what a thrill it was to fly over our homes and school as well as to cruise through a few of the canyons east of Sparks.
As enthralled with the idea of flight as I was by then, it was the advent of the first Reno Air Races in 1964 that made me a "Disciple of Flight". Before the big day, they would practice their acrobatics just east of Sparks just as the Guard did in those early days giving us lots of exposure before the big day. The first races were held at a dirt strip northeast of Sparks in Spanish Springs which was also somewhat visible from our house eventually moving to the decommissioned Stead AFB in 1966.
When the 7th day of the races came, my father took the whole family out and as there were not very many stands set up, most people watched from their parked cars. I loved walking around and looking in and around the various aircraft. Some you could even tour and sit in the left seat – these were mostly aircraft flown in for this purpose as the stunt and race craft were in another area preparing to be flown. At the end of the day, they would open that area up and allow people to see up close all these marvelous planes they had watched fly and speak with the pilots and ground crews.
When attending the races, and we went nearly every year until 1990, there were a couple of events that were my favorites. They would have the Blue Angels, who I first saw at FNAS flying the F9F-2 panther and later the F4J Phantom II, eventually transitioning into the exotic F/A18 Hornet their present platform. Once in a while the Thunderbirds would perform. My first exposure to this premiere demonstration team was in the F100 Super Sabre which is the aircraft I loved seeing them in most. In later years they would transition through the F4 Phantom, the T38 talon (not so exciting) and then the F16, their present platform.
My first true love though was and is the P51D Mustang. Everything about this plane, it's sleek dangerous look, the sound of its supercharged Merlin Rolls engine, it's incredible history as well as the men who flew her, holds a special magic for me. One in particular, I will write about later. I lived for the unlimited class race at the very end of the week where the big dogs, modified P51s, F8F bearcats P47 Thunderbolts and many more (a P38 lighting competed one year, though not so successfully) flew in a low-level tight course at incredible speeds of up to 400 mph for the top prize. The sight and sound of these fast and historic planes racing in front of the stands, many times, very close together, was a great thrill.
My other great memory was of Robert (Bob) Hoover. Every year he flew demonstrations in in his P51D named "Old Yeller" as well as performing incredible feats in an Aero Commander Shrike, a twin turbo prop business plane in which he would perform aerobatics that most would not conceive of doing in such an aircraft. He would perform a one engine 7 point role, loops, barrel rolls and then do dead stick touch and goes with both engines off. He is an aviation hall of fame recipient and rightfully so. The documentary of his life "Flying the Feathered Edge" was released on Blu-ray and DVD November 17th, 2014. To see the trailer and many of the videos of this great aviator go to thebobhoverproject.com (shameless plug).
Unfortunately, I never took up flying or got my license, though I did get my Aviation merit badge when it was first offered while a scout. Life somehow has a way of side-tracking one. Meeting my lovely wife and raising our 6 children certainly took up most of my time and energy but I have never lost my passion for aircraft. My particular interest lies with …… wait for it …… WWII aircraft and early jets! As jets go one of my favorites is the venerable F86. Once, at the races, Bob Hoover flew a F86, not only demonstrating the smooth flying abilities of this veteran air frame, but did a climbing stall that he fell out of inverted to a level attitude and executed a series of rolls while still at stall speed. INCREDIBLE!!!!
The last time I would attend the Reno National Air Races before moving to Utah almost one year later would be in September of 1990 with my wife, now pregnant with our sixth child, and our five other children. This would be the last time I would see Bob Hoover, named in the Centennial of Flight edition of the Air & Space Smithsonian as the third greatest aviator in history, fly his famous P51D "Ole Yeller" – both in acrobatics and as the Pace plane for the Unlimited races. One item of note is that the Blue Angels performed that year and it had been announced that at Sunday's performance someone's ticket would be called and get to ride the second seat in one of the aircraft. I, of course, had my hopes up at just the thought but should have known the fix was in. Roy Clark from the TV variety show "HEE HAW" was playing at the Nugget and when the drawing was held, well you guessed it, he got the ride. Yes! I was somewhat disappointed as I realized I never stood a chance but what the hell, it was still a thrilling show and day.
September 20th, 2015, twenty-five years later I found myself again at the Reno Air Races and was I ever excited. Unlike the other times I attended there were all kinds of pavilions and exhibits as well as a large display of aircraft such as the Curtis SB2C Navy Helldiver, Grumman F6F Hellcat, Fairchild Republic A10 Warthog, and many, many more unique planes. We even had Pit passes but would never use them as there was just too much to do and see.
One of the big events of the day was the Commemorative Air Force's reenactment of the attack on Pearl Harbor Dec 7th, 1941 called "Tora Tora Tora" and certainly one of the most spectacular I had seen since the Airshow I attended as a young boy at the Fallon Naval Air Station.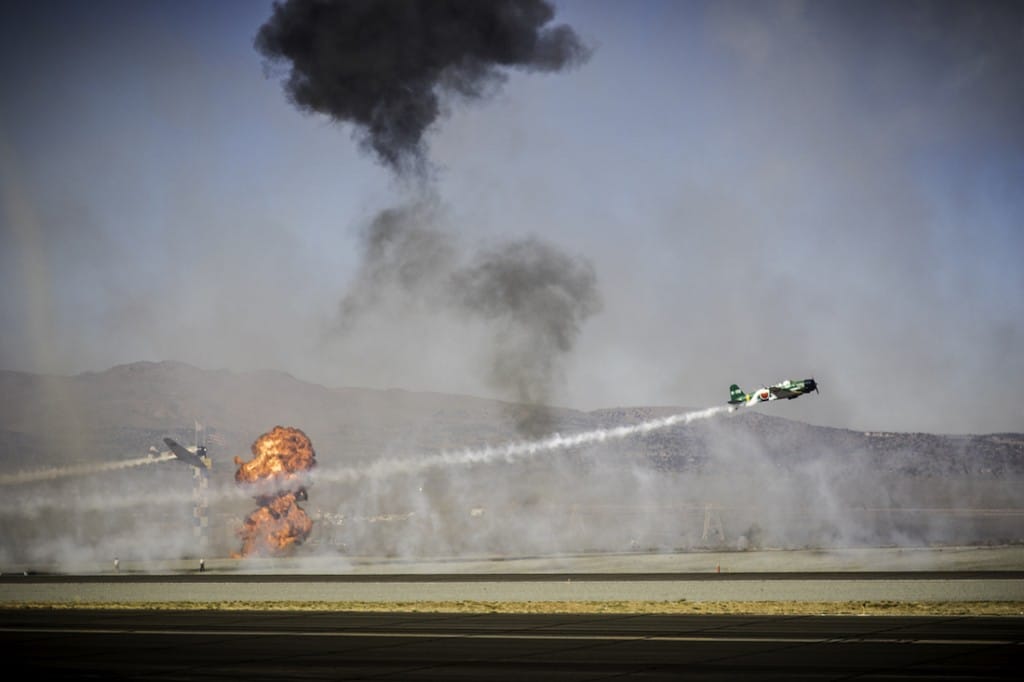 They had an announcer narrating the whole thing from approach thru the attack, complete with big fiery explosions and simulated strafing fire that you could feel the heat of in the stands. It was quite thrilling to watch these planes crisscross very low to the ground, making their attack runs simulating very well the sight and sounds of that infamous day.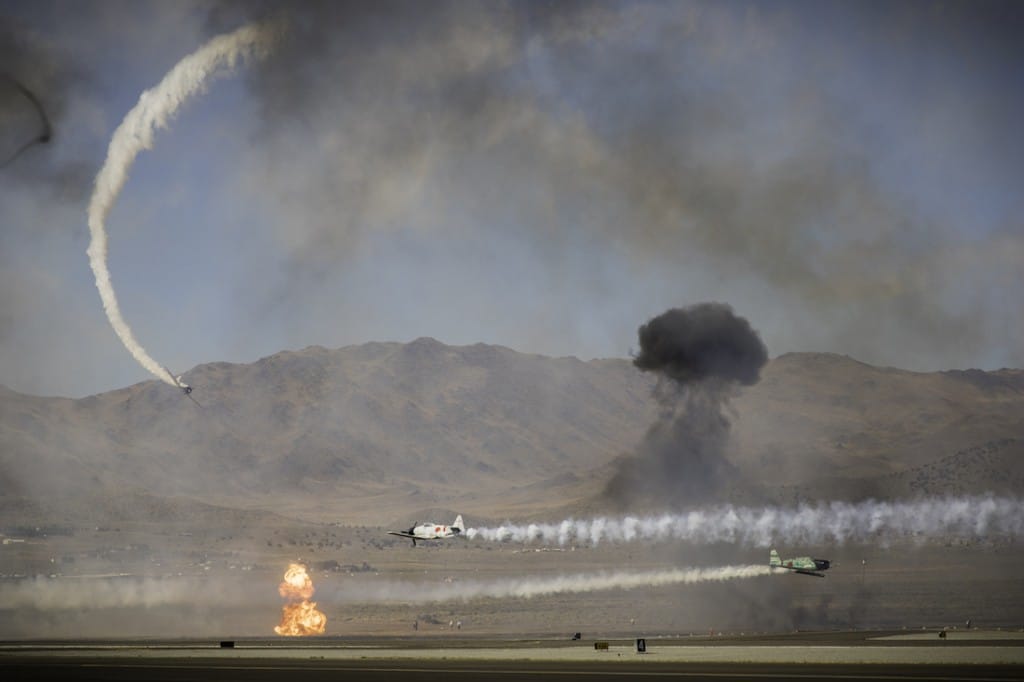 There were aerobatics by other planes as well as Breitings L39 Jet team which performed formation precision flying. There were also the Finals races such as the unlimited jet class. Most flew the L39 but there was one odd plane.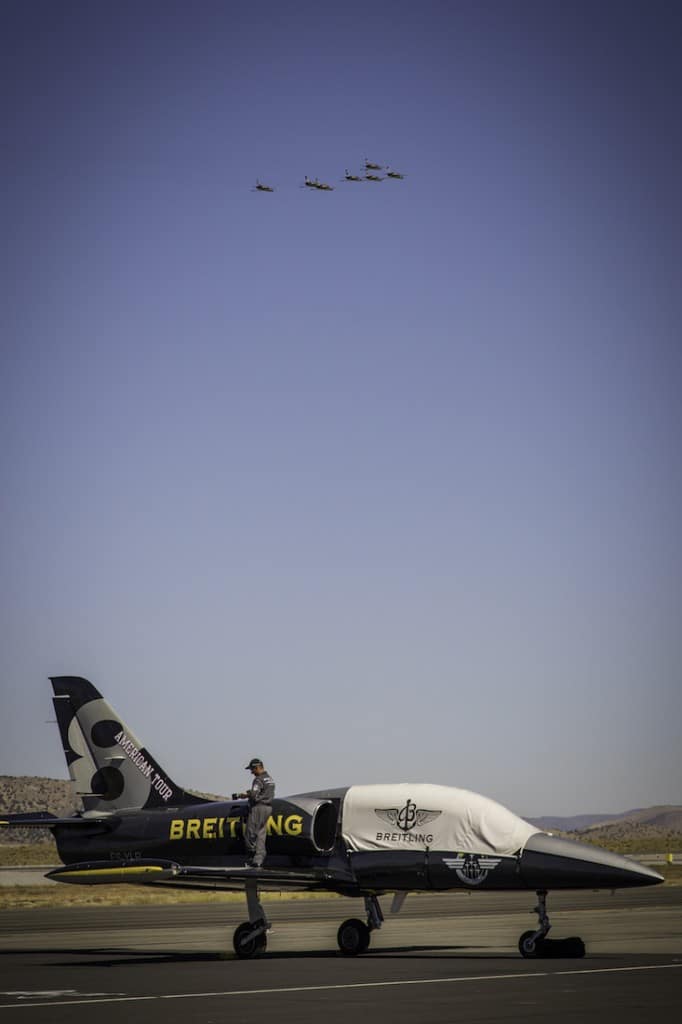 Imagine what the crowd thought as six Czechoslovakian L39 jets fired up for the jet class gold cup race and as they taxied out they were followed by a lone British Vampire T11 who's service date in the RAF started in 1945. I most certainly thought it would start the race as the chase plane, BUT NO!!!! It not only raced but won the cup with a commanding lead making one wonder what was wrong with the other aircraft!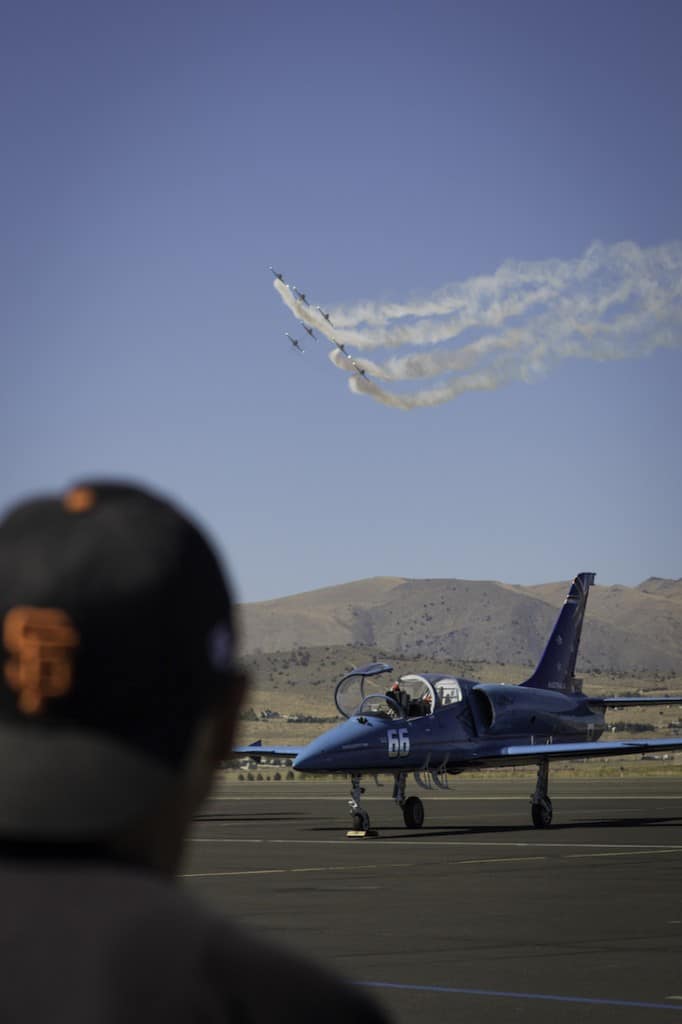 We also watched the unlimited prop driven silver cup featuring the F8F Bear Cat and P51D Mustang topping out at 403 mph.
Finally, at the end of the day, the prop driven Unlimited Gold Cup! This was the race from my childhood. This is why I always attended on Sunday, the last day! This was the Big Boy Event! Imagine the best of prop driven aviation of World War II flying at incredible speed in an oval course around the small valley in front of you clearly visible at all points without aid. Flying at times so low that in a turn your wing tip may be as close as 50 feet from the ground. Imagine these incredible planes competing, as they jockey for position in each other's prop wash and wing vortices making any chance of surviving a mistake a slim hope with a high speed for the race of 506 mph! A far cry from what was a top speed of 386 mph in 1990. WOW!!!! You would have had to have been there and even then still not truly appreciated it if you had not been witness to this race's beginnings.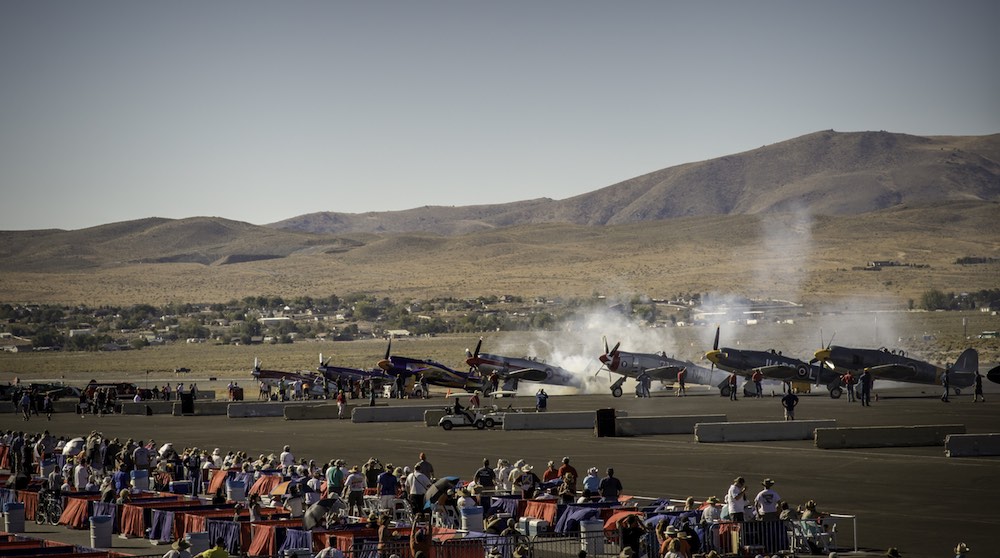 Yes, it was quite a day and a great return to something I have been passionate about all my life. This is what makes these races premier among air racing and draws thousands to it every year. This is what has kept it going despite the tragic crash of a P51 into the stands in 2011, PASSION!! Back in 1990 when I was so excited at even the slim chance of riding in a high-performance aircraft my wife asked me why I would do it? Wasn't I afraid? I told her that to die doing something like driving a car would be a waist but, doing something like this? Yes it would be worth the risk and far less likely in the hands of one of these aviators!
~Edwin A. Stewart
One month after we went to the Reno Air Races Ed passed away.  I am so VERY glad I chose to go with him (my Dad) to his favored event and share in his enthusiasm for aviation.  I'll miss you, Dad . . .