Solar Impulse Will Use Solar Energy to Fly Across the US and More
You'd need lots of fuel to fly across the United States, right? Not necessarily. In fact, an aircraft called Solar Impulse took off in early May for a cross-country odyssey, and it will not expend a single drop of fuel.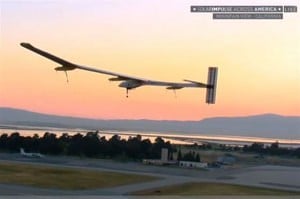 It won't be a quick journey for the Swiss-made, solar-powered plane, which has the wingspan of a jumbo jet but the weight of a typical passenger car. The first leg, from San Francisco to Phoenix, was expected to take 19 hours. Of course, you could hop in your car and drive there faster, but speed isn't the point.
"A flying laboratory for clean technologies, this prototype is the result of seven years of intense work in the fields of materials science, energy management and man-machine interface," said Andre Borschberg, Solar Impulse's co-founder and CEO in an NBC News story.
Solar Impulse's power is derived from its solar cells, "which soak up sunlight and store the electrical energy in batteries for when the sun isn't shining," NBC News reported.
Solar Impulse is scheduled to fly from Phoenix to Dallas, then on to St. Louis, Washington, D.C., and finally will end its journey in New York City around the Fourth of July.
Flying across America isn't Solar Impulse's ultimate goal. Next up: Circumnavigate the globe. For more about Solar Impulse, see the full article.
Editors Note

On 3 July 2015, the Solar Impulse completed the longest leg of its journey. It flew from Japan to Hawaii. During that leg, the aircraft's batteries experienced thermal damage. After months of repair, The Solar Impulse is scheduled to resume in April 2016.