The SkyRunner features estimated operating costs of $50 an hour.
The off-road, recreation ready ATV based SkyRunner is now available, offering an interesting new opportunity for flight. The vehicle uses a dual engine powertrain, which features a Polaris ProStar 1000 engine for use on the roads, and a Rotax 914 UL light-sport aircraft engine which enables the SkyRunner to take also take to the skies. And, according to company officials, paved or asphalt runways aren't necessary for takeoff and the SkyRunner can take flight with "just 450 feet of terra firma."
The vehicle has been approved for use by the FAA as a Special Light-Sport Aircraft and can be operated in flight mode by pilots who hold a Sport Pilot certificate. SkyRunner CEO Stewart Hamel says the company set out to build the ultimate adventure vehicle but realized that it also fills different gaps as a tool, offering a low-cost, high-utility option to ranchers and various law enforcement agencies. "With operating costs of approximately $50 an hour, SkyRunner will take you places no pickup truck or UTV can go and at a fraction of the cost of a helicopter."
According to the company, the vehicle was developed using the latest ram-air parafoil wing technology, which is "renowned for its safety due to inherent stability, control,  and resistance to stalls." The SkyRunner can reach airspeeds of 40 mph nd has a 120 nm range. And, when not in use, the wing folds into a bag that rides behind the rear passenger.
The SkyRunner is now available at a base cost of $139,000. For more information, or to order one, you can visit their website here.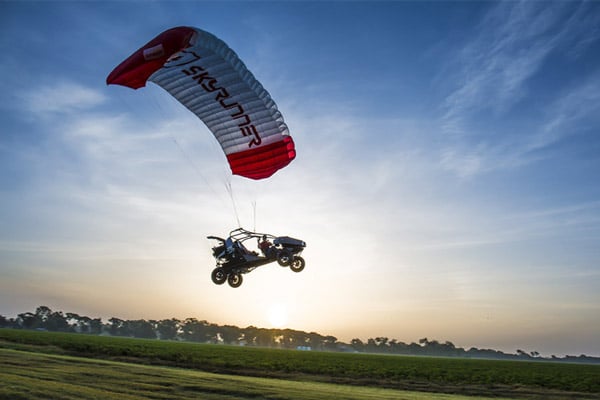 SkyRunner Specs
DIMENSIONS
| | |
| --- | --- |
| Length | 13 feet (3.96 m) |
| Height | 6′ 3″ inches (1.9 m) |
| Wingspan | 38 feet (11.6 m) |
| Wing Area | 550 sq ft |
| Wheelbase | 6′ 2″ |
| | |
| --- | --- |
| Manufacturer | Rotax |
| Model | 914 UL |
| Power Rating | 115 hp |
| Propeller | Powerfin |
| Description | 4 blade, 75 inch diameter |
| | |
| --- | --- |
| Ramp Weight | 1,200 lb |
| *Max Takeoff Weight – Government | 1,740 lb |
| Max Takeoff Weight – Recreation | 1,430 lb |
| Usable Fuel Weight | 87 lb |
| Usable Fuel Volume | 14.5 gal |
| Basic Empty Weight | 1,113 lb (pending options) |
| Full Fuel Payload | 96 lb |
| | |
| --- | --- |
| Maximum Cruise Speed | 40 mph (35.7 knots) |
| Maximum Range | 120 nm |
| Takeoff Distance | 450 ft |
| Clear 50′ Obstacle (1430 lbs at MSL) | 240 ft |
| Landing Distance | 400 ft |
| Restricted Operating Altitude | 10,000 ft |
| Maximum Climb Rate (1430 lbs at MSL) | 465 fpm |
| Stall Speed | 31 mph (27 knots) |
| Glide Rate | 3:1 |
Featured Images: courtesy of SkyRunner