The 730lb, 100 HP Rans S-7S Courier is a Testament to the Freedom of Light-Sport Aircraft
In November 1982, the one-seat Rans S-4 Coyote became the first ultralight aircraft designed by Randy Schlitter, the founder of Rans, Inc. Rans began as a "sail trike" company, producing sail trikes and land yachts used by many prolific aviators and land sailors, including Bob Hope. After Schlitter tried hang-gliding, he developed an interest in ultra-light aircraft that evolved into the Rans Aircraft company, responsible for producing some of the most popular kit planes available on the market today.
The two-seat high wing S-7 Courier first flew in 1985 and was originally conceived as a trainer for the single-seat S-4 Coyote. Available in a 51% kit (both Quick Build and Standard) as well as pre-built, the Rans S-7 and its variants have become one of the best-selling and best-known aircraft Rans offers.
The Rans S-7S Courier: The Basics
The Courier is a single-engine, conventional landing gear high-wing with two tandem seats, each with stick-and-rudder and throttle controls. Post-build, the Courier can be equipped with floats or skis for backcountry enthusiasts.
The cockpit is built from a welded 4130 steel tube, which is very light and strong but reportedly isn't easily welded. Luckily, neither the Standard nor Quick Build kits require welding.
The rear fuselage is a bolted aluminum tube, and the wings and empennage are all covered in dope and fabric. The top-hinged doors are 60 inches wide and can remain open in flight.
The Courier is meant to be flown with your right hand, so the throttle lever is on the left sidewall, as well as the other engine controls, including the flap handle, which is on the floor. It has rudder pedals with small, U-shaped toe brakes on top.
Variants of the Rans S-7
Including the original S-7, there are four total variants1: the S-7C, the S-7S, and the S-7LS.
The Rans S-7: Certified
The S-7C (S-7 "Certified") is a much-refined version of the S-7, certified in the primary category. According to the FAA: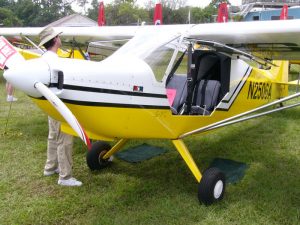 A Primary Category, special airworthiness certificate is issued to operate aircraft that have been type certificated in the primary category.  Aircraft in this category are of a simple design and intended exclusively for pleasure and personal use. Aircraft certificated in this category must be manufactured under a production certificate.  This includes aircraft assembled from a kit under the production certificate holder's supervision and quality control system.  Kit-built aircraft built without the production certificate holder's supervision are only eligible for certification in the experimental category.
For certification reasons, the S-7C had to have an electric fuel pump, which was carried over to the kit version, the S-7S, and the S-7LS.
The Rans S-7S: Sport Kit
In 2003, the S-7S was introduced as the kit version of the S-7C, which is one of their best sellers to this day. Among many other changes, the S-7S was created with a larger spinner, carb heat, fiberglass wingtips, and larger flaps. According to Peter C., a pilot who's flown each variant, any differences in handling are nearly indistinguishable, and none of them are particularly stable: "If you want to spend more than a few seconds staring at a map or the GPS, you'll need to get your passenger to take [the controls] because when you look out you could be pointed anywhere. The long tail models are only a little better in this regard and more so in yaw."
The Rans S-7LS: Special Light-Sport
Regardless, the S-7LS (built as a factory-assembled Special Light-Sport Aircraft [SLSA]) did increase the stability around the vertical access by increasing the size of the stabilizer, elevator, fins, and trim tabs, in addition to the extra 18 inches in length added around 2001.
Rans S-7S Courier Specifications
The Rans S-7S Courier is an FAA approved 51% kit that you can buy in Standard or Quick Build form, which according to RANS, takes about 500-700 hours or 250-350 hours of labor respectively. The Rans S-7S Courier kit comes with a four cylinder 100hp Rotax ULS, the non-certified variant (according to FAR 33).  The engine TBO is 2,000 hours and is just as light as its 80hp predecessor.
Rans S-7S Courier General Specs
| | |
| --- | --- |
| Wing Span | 29 feet 3 inches (8.92 m) |
| Area | 147.1 sq ft (13.67 m2) |
| Mean Chord | 5 feet |
| Aspect Ratio | 5.85 to 1 |
| Length | 23 feet 3 inches (7.09 m) |
| Height | 6 feet 3 inches (1.9 m) |
| Cockpit Width | 30 inches (0.76 m) |
| Headroom Front | 42 inches (1.06m) |
| Headroom Rear | 36 inches (0.91 m) |
| Legroom Front | 41.5 inches (1.05 m) |
| Legroom Rear | 40 inches (1.01 m) |
| Number of Seats | 2 |
| Doors | 2 |
| Landing Gear | Fixed Taildragger |
| Baggage Volume | 11 cubic feet |
| Baggage Capacity | 50 lbs |
| Fuel Capacity | 26 gallons (98.4 L) |
Rans S-7S Courier Performance Specs
| | |
| --- | --- |
| Take Off Roll | 300 feet (91.4 m) |
| Rate of Climb | 900 fpm |
| Service Ceiling | 14,500 feet (4,419 m) |
| Cruise | 110 mph (177 km/h) |
| Vne | 130 mph (209 km/h) |
| Stall (clean) | 39 mph (62.7 km/h) |
| Stall (with flaps extended) | 33 mph (53.1 km/h) |
| Roll Rate | 80°/second |
| Glide Ratio | 8 to 1 |
| Landing Roll | 340 feet (103.6 m) |
| Endurance | 5.2 hours |
| Range | 572 miles (920.5 km) |
Rans S-7S Courier Weight and Loading Info
| | |
| --- | --- |
| Gross Weight | 1,320 lbs (598.7 kg) |
| Empty Weight | 732 lbs (332 kg) |
| Useful Load | 588 lbs (266.7 kg) |
| Wing Loading | 8.9 lbs |
| Power Loading | 13.20 |
| Limit Load Factors | +4-2 |
The Rans S-7S Courier Handling and Performance: Real Pilots Talk
Marc Cook, an avid pilot and motorcyclist who's worked for both AOPA, Motorcyclist Magazine, and is currently the Editor in Chief of Kitplanes Magazine, got the chance to fly a 2012 Rans S-7LS Courier for review.2 In addition to Cook, we recently interviewed a 2005 Rans S-7S Courier owner, the retired Chief Scientist for Human Factors at NASA Ames Research Center, Dr. R. Key Dismukes, who happily gave us some insight into the handling and upkeep of an older model.
We're also hoping to get ahold of a couple of mechanics to give us a clear look at the Rans S-7S Courier, under the hood, and we'll update with any new information as soon as we get it!
Dr. R. Key Dismukes: 2005 Rans S-7S Kit
Key Dismukes is a soft-field and sailplane enthusiast who does most of his flying at low levels, admiring the scenery and finding hidden gems for day trips in the California valley. He's added big tires and vortex generators to his S-7S, which he said lowers the stall speed by "maybe 3-5 knots." His 2005 model has 18-gallon fuel tanks, which he said is really the only drawback of the Courier, which he calls his "baby bush plane." The short range of the older models can be remedied by retrofitting them with larger tanks, "But," Key says, "it's more effort and cost than I want to undertake."
His baby bush plane cruises at 100 mph and burns about 4.5 gallons/hr. "It's not designed to be fast," Key says, but he doesn't have a need for speed. When asked about any negative aspects of owning a Rans S-7S, he responded the only problems he's run into lies with the Rotax engine. "An issue with all Rotax engines (which are on many light sport aircraft) is that the engine is really designed for Mogas, not 100LL Avgas. In California, all car gas comes with 10% ethanol, which the engine will handle, but can be a problem for other components. With 100LL, Rotax calls for changing the oil twice as often, as well as more frequent gearbox inspections and maintenance."
Marc Cook: 2012 Rans S-7LS Demonstrator
The slick, modern 2012 LS demonstrator was equipped with all the bells and whistles, including carbon fiber wing-tips and boot cowling, electric trim tab control, LED strobes, and semi-glass panel cockpit (electronic engine monitor and nav system). It was also fitted with a three-blade, 72" Warp Drive prop.
Cook reported that "as soon as the throttle is full forward, you can lift the tail. At about the time you're wondering if the pitch attitude is right, the S-7S is flying." He did experience a tendency to over-pitch for the climb, because of the low cowling and high seating position, but says you get used to it easily enough. "Centerline tracking was very good," he continues, saying only moderate rudder effort was required.
The fuel capacity has been increased from 18 to 26 gallons with the addition of super light roto-molded plastic tanks, and new flush fuel caps. Regarding how this would affect useful load, Cook says, "Even with the new tanks full, you still have 436lbs for the cabin, based on the typical empty weight of 732lbs."
When making large or rapid turns, "the airplane wants a fair bit of lead rudder to keep the ball in the center. It's not an annoying trait as much as it is something you must learn to live with," Cook says. For any pilot who learned in a half-century old trainer with the left turning tendency of a wound top, the necessity of aggressive rudder pressure isn't a deal-breaker.
Schlitter, the founder and designer of Rans Aircraft told Cook in an interview that "he had installed fairly stiff rudder-return springs to help with yaw stability. The breakout force for the rudder is higher than in some airplanes, but not out of the ordinary for taildraggers."
On landing, Cook found the small U-shaped toe brakes difficult to manage, saying, "It's easy to drag a brake… until you get the hang of it."
Tim Dawson: Mechanic
Tim Dawson is a A&P as well as the CEO of Tech Medical Equipment Inc. based in Georgia. He worked on cars "forever," and started as an aviation mechanic when he bought a Cessna 210. He's worked on Key Dismukes' Rans S-7S Courier, as well as others. His first tip is for new Rans owners to bite the bullet and get the bronze bushings to replace the stainless steel pins in the hinges, because he says, "Basically, you can't wear the airplane out." It'll save you a lot of money in the long run, he says, and it's safer.
---
Building the Turbine Powered Super Seawind Aircraft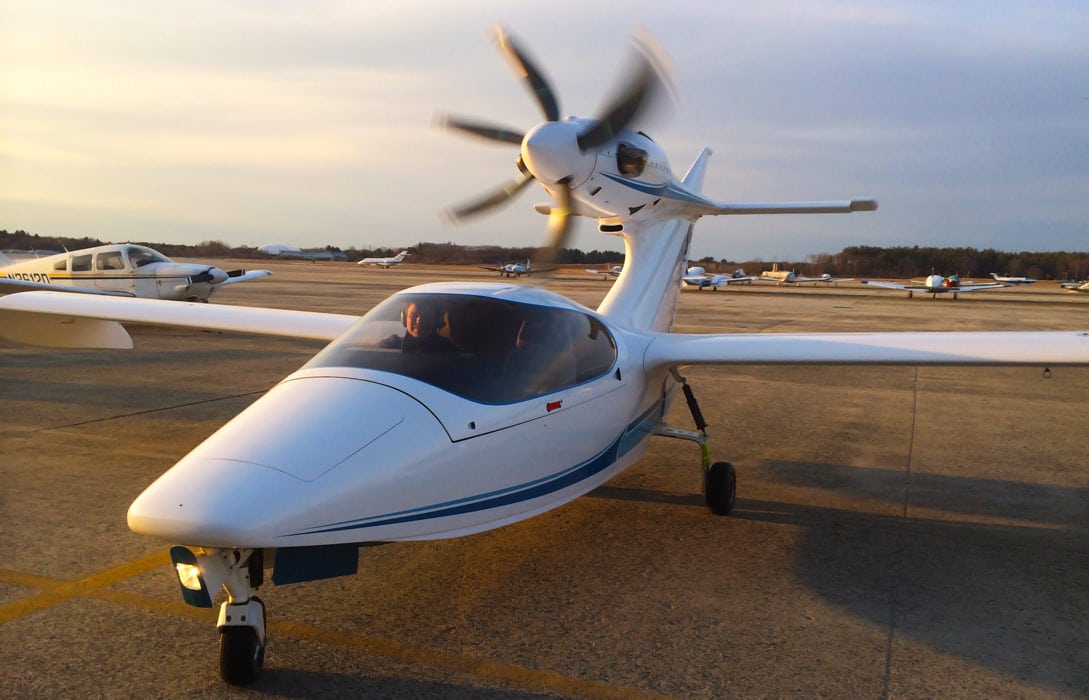 Massachusetts pilot/aircraft builder Steve Wightman's personal aircraft is unique—literally. Wightman flies the only turbine-powered Seawind in the world, and it's a beauty. If you'd like to get a close look at it, Wightman will be flying his Super Seawind aircraft to Oshkosh this July, before he takes it to Alaska. The Super Seawind is a bit of a tortoise-and-hare story: a long, slow process to build what is surely the fastest, highest-flying single-engine amphibious airplane anywhere. [Click to read more…]
---
He's worked on similar planes from all over the world (he was the most certified in the US to work on the German Remos, as well as aircraft from Italy and engines from Australia, among others), and he likes the Rans S-7S Courier the best. "It's the biggest bang for your buck, it's the best performing aircraft, as far as light sport goes- you'll get the most use out of it, and it'll last generations." He's also a fan of the Rotax engine but warns that it's different for those owners who like to do self-maintenance. If you make a mistake, in regards to the oil for example, "it's a big mistake." Like a motorcycle engine, it's very high RPM and "extremely precision, every item is torqued," so there's a learning curve. If you're willing to take a few courses and put the time into learning the engine, you can maintain it yourself. But "you always want someone looking over your shoulder, someone with experience."
Most importantly, Tim requires his Rans owners to join Rotax-Owner.com and watch their videos before he'll do maintenance on their plane. The videos are simple and easy to understand; Tim said that I, having never worked on a carburetor before in my life, could rebuild the Rotax carburetor just by watching those videos. Another free resource for pilots interested in caring for their Rotax engines is the official website, flyrotax.com. Between those two, Tim says, you'll find the Rans S-7S to be extremely reliable and last forever.
Tim found the Rans S-7S Courier to be a joy to fly. It's fun to fly, "extremely economical," and above all, docile. "The plane lands so slow you can't wear it out- it's like a helicopter coming in. It's a bush plane: it'll take rough landings, you can land just about anywhere."
The only thing Tim found he didn't like about the Rans S-7S Courier is that he doesn't own one! After a lot of thought, he added, "There's nowhere to put my German Shepherd."
Common Mods and Retrofittings for the Rans S-7S Courier
In addition to the vortex generators and Tundra Tires, Key has installed on his S-7S, kit builders rejoice in the opportunity to create their dream plane by modifying and adding all sorts of interesting enhancements. The most popular of which add storage space and carrying capacity, and larger fuel tanks.
Updated Aileron Control System
If you're a Rans S-7S Courier owner and you bought your plane or kit prior to 2012, you can retrofit your ailerons to the "transformative" new aileron control system for about $1,200. According to Cook, "Ball bearings support the ailerons, and the surfaces themselves now have a prominent bull nose that helps reduce stick forces. As the trailing edge rises, the extended leading edge drops below the wing's lower surface and gains the benefit of an aerodynamic counterbalance. This force, ahead of the hinge line, helps drive the trailing edge further up—or at least reduces the effort required to hold it there. In flight, these new ailerons are transformative—the S-7S has never handled better."
More Fuel, More Fun
Another modern update many Rans owners are looking forward to is retrofitting their Couriers with the larger, lighter fuel tanks, which is possible for all Rans S7's produced after 2000. Labor not included, you can get the new 26gal tanks installed for $800-900 dollars. If you're not interested in performing surgery on your plane, you can get auxiliary fuel tanks (plastic for $240, aluminum Sidewinders for $745) which will offer an additional 10-15 gallons.
If you feel the need for more horsepower, conversion kits are available that can boost your power without replacing your engine. The 1484 Zipper High Power, for example, can boost your engine from 100 to 114 HP for about $5,000, installation and all.
Convenience is Key
The flap handle on the Rans S-7S is on the right side of the cockpit floor, essentially under the seat, say some pilots. A commenter on Rans Clan, a web forum for Rans builders and owners, said he has to unbuckle his shoulder harness just to adjust the flaps, which is unsafe as well as inconvenient. An easy and somewhat affordable mod to fix this is one you've probably heard of, EZ Flap, which is just a flap handle extension. It'll run you about $500.
Cost Information for the Rans S-7S
Depending on how much time and money you want to sink into your Rans, you can buy a kit at all stages of unfinished on any aircraft selling/trading site, such as Barnstormers, or buy a new kit straight up from Rans. The price is variable depending on your preferences, but just the basic airframe will run you $27,000. A finished 2006 Rans S7-S online is available for $57,000, a factory built for $56,000, a kit with one wing "mostly completed" for $27,500, or just the kit for $20,000. Considering you can run it on Mogas, the Rans S-7S is a pretty affordable airplane.
The cost of insurance for a homebuilt taildragger is not going to make your day, but it's definitely not as bad as other quotes I've heard. Pilots on backcountrypilot.org were reporting annual costs of $1,300-$3,000, depending on hull coverage.
Final Thoughts on the Rans S-7S Courier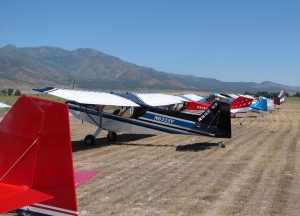 This pretty affordable backcountry-capable airplane seems like a good starter plane for pilots with a love of the outdoors, or a fulfilling, but time-consuming project plane for kit-builders. In all my research on the Courier, I haven't heard any pilots give it a negative review, other than the time-to-build estimation on Rans' site being fairly optimistic. A perfectionist friend of our very own mechanic and aviator extraordinaire Jim Hoddenbach spent over two years working on his Rans.
Compared to aircraft with similar missions, like the Piper PA-18 Super Cub and the Denney Kitfox, the Rans S-7S Courier is much cheaper but has a drastically lower useful load. It's slower and less powerful, but with the proper kit, you can get the landing roll down to 325 feet (or lower!), and the huge tires, (22-inch Tundra Tires come standard) make it easy to set this baby bush plane down wherever you want. This airplane, all things considered, seems to be exactly for what Key uses it for: a fun, enjoy the scenery, smell the roses flight that's an experience all of its own.
Featured image: courtesy of Antony, CC BY-NC-ND 2.0
Footnotes and References:
1 – RANS Models and Enhancements, Retrieved 3-22-17
2 – Flight Report, RANS S-7S Courier, Marc Cook, Retrieved 3-22-17