The Big Bar Airstrip sits on the Snake River, in a narrow canyon.
Last month, the IAA and RAF and Oregon Pilot's Association asked for volunteers to help perform maintenance work on the Big Bar airstrip. Now, the RAF is reporting that all the necessary work was carried out.
Eight volunteers in five aircraft showed up to help out, flying in from Clarkston WA, Enterprise, OR, and Lewiston, Boise and Meridian ID. With some hard work, the group of volunteers was able to clear the brush from around the runway markers, install a new windsock, and put up the seasonal outhouse. The weather was reportedly great, and RAF member Judy Ables was thankfully on hand to provide food and beverages to the workers.
---
Original Post 10-24-16: RAF Looking for Volunteers To Work on Big Bar Airstrip This Weekend
The Recreational Aviation Foundation (RAF) and Idaho Aviation Association (IAA) are looking for help. This Saturday, October 29th, starting at 8:30 AM PST (weather permitting), the two groups are collaborating on a work party for the Big Bar Airstrip.
The airstrip is located on the Snake River, within the Hells Canyon National Recreation Area on the Idaho Side. As part of an agreement with the National Recreation area admin, volunteers provide the necessary work to maintain the airstrip. Every fall, they assemble an outhouse by the strip and provide the necessary work on the strip itself, and every spring, the outhouse in disassembled and removed so recreators coming through during the boating season won't see it.
The RAF and IAA are asking for volunteers to bring garden rakes, shovels, weed eaters and battery powered drills and screwdrivers. They also suggest wearing a good pair of work shoes and bringing gloves, a hat, and some water and snacks for energy during the work. However, the IAA does say "there will be soup, rolls, and drinks for the ravenous workers."
For more information, you can contact
Richard Mayes, the RAF's Oregon State Liason, by email at rmayes@theraf.org or by phone at 916-220-2041.
Bill Ables, with the IAA, by email at bjables@eoni.com or phone at 541-263-1327.
Details on the Big Bar Airstrip
The Big Bar Airstrip is situated in a narrow river canyon and can experience turbulent conditions year-round. The RAF has provided this information from Galen Hanselman's Fly Idaho for reference.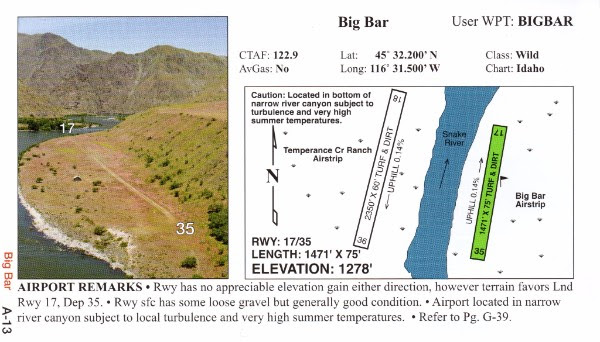 In addition,  the IAA has an airstrip diagram on their information page for Big Bar Airstrip. Both groups ask that pilots be sure they can safely operate to and from the airstrip and that they monitor and broadcast their intentions on 122.90. In particular, they ask that pilots be aware of other aircraft circling, landing or taking off from the airstrip, and of other volunteers on the ground at the airstrip.
Featured Image: Idaho Aviation Association / Big Bar Airstrip
---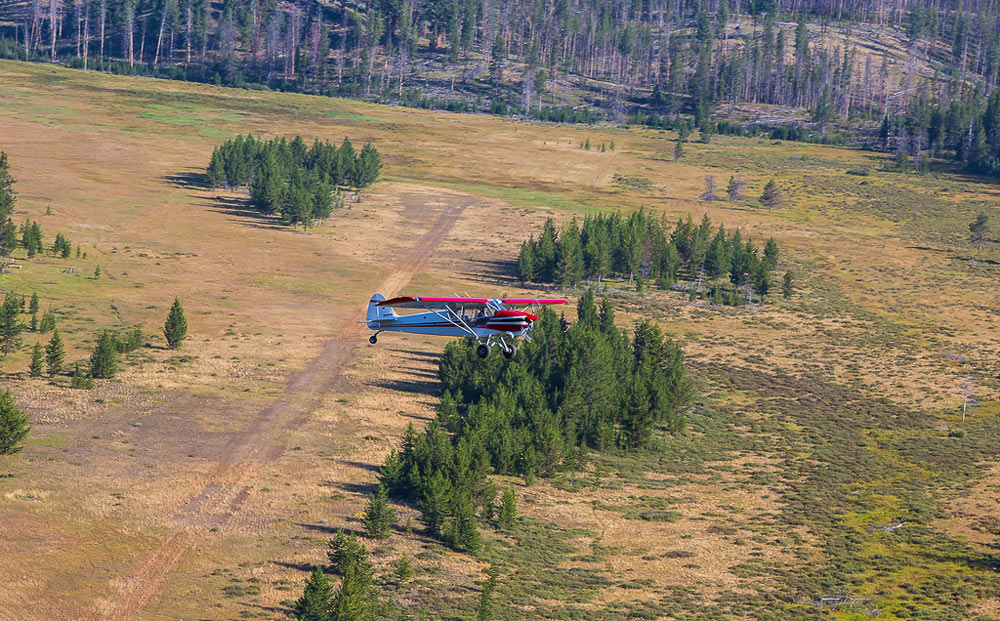 Have you noticed? Backcountry aviation is becoming more popular every year. Past AOPA President Craig Fuller got bitten by the bug, bought a Husky, and began showcasing Montana's mountains in AOPA Pilot. Current AOPA President Mark Baker swears by backcountry flying in his Super Cub. Even veteran aviation editors Thomas Haines and Robert Goyer, better known for flying, respectively, a Beechcraft Bonanza and a Cirrus SR22 (that is, when they're not test-flying the latest bizjets) have lately gone bonkers for backcountry aviation [Click here to read more…]
---