Mooney Expects to Build 50 of the Ultras During 2017
Mooney International has received FAA certification for the Ultra versions of their Acclaim and Ovation models, the M20V Acclaim Ultra and M20U Ovation Ultra. Both of the aircraft models feature a variety of improvements and new features and the company plans to start deliveries of the new Ultras right away. If you're interested in scoring an Acclaim or Ovation Ultra, however, Mooney is saying that they're only planning to build 50 units in 2017 and that the order book is starting to fill up.
Sun 'n Fun, which starts tomorrow and runs through the 9th, will see the public unveiling of the first fully certified Acclaim Ultra.
New Features for the Acclaim and Ovation Ultras
Here are some of the improvements the new Acclaim and Ovation Ultras will be showing off:
Pilot Side Door: For the first time in Mooney's history, they're introducing two doors. And just to make things that much more convenient for

pilots

and

passengers

, they've also widened the doors on both sides by more than four inches.
Composite Canopy: Mooney has wrapped the tubular cabin roll cage in an integrated, composite skin which not only "reinforces the Ultra's sleek aerodynamic lines," it also provides for a quieter interior during flight.
Newly Designed Interior: The interior has undergone some nice improvements as well, including more ergonomic design and hand-stitched Italian leather. They've also added some nice integrated technology features, including conveniently placed USB outlets and a center console with keypad, cabin environment slide controls, and lighting.
All New Avionics: Mooney's also outfitted both Ultras with Garmin G1000 NXi avionics, which describes as "a user-friendly, contemporary interface that enhances the flight experience and helps reduce pilot workload."
According to Dr. Vivek Saxena, President and CEO of Mooney International, the new Ultra models have been designed specifically to raise the bar for general aviation aircraft. "The significant product enhancements inherent in these new airplanes, combined with latest avionics technologies, demonstrate Mooney's goal of bringing to market the very latest generation high-performance piston- singles – which is in keeping with our promise of differentiating ourselves on technology and customer experience rather than simply 'me too' products."
And if speed is your game, they're right on target. AOPA is saying1 that with a 242 knot top speed, the Acclaim Ultra is the current fastest single-engine production piston aircraft, just edging out the Cessna TTx, which has a published max cruise speed of 235 knots.
---
Mooney M20: More Speed, Less Fuel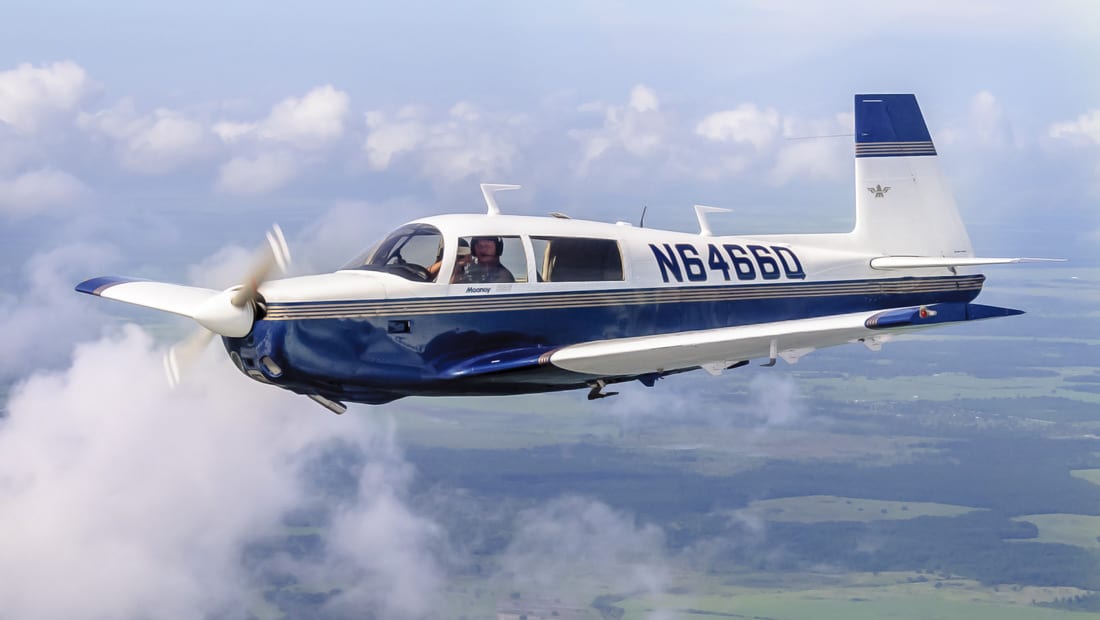 Mooney aficionados tend to come from that portion of the pilot population that values speed over nearly all else. A friend of mine (who also drove a Dodge Viper for a while) bought an Ovation so he could get to the Sun Valley ski slopes as quickly as possible from his base in Los Angeles. But these newer Mooneys cost a bundle so let's focus on some classic Mooneys that still deliver good speed without stripping your wallet. [Click to read more…]
---
M20V Acclaim Ultra and M20U Ovation Ultra Specs2
Dimensions
| | | |
| --- | --- | --- |
| Model | M20V Acclaim | M20U Ovation |
| Length | 26 feet 8 inches (8.13 m) |  26 feet 8 inches (8.13 m) |
| Width | 36 feet 12 inches (11.12 m) |  36 feet 12 inches (11.12 m) |
| Height | 8 feet 4 inches (2.54 m) |  8 feet 4 inches (2.54 m) |
General Specs
| | | |
| --- | --- | --- |
| Model | M20V Acclaim | M20U Ovation |
| Seats | 4 |  4 |
| Landing Gear | Retractable |  Retractable |
| Avionics | G1000 NXi / GFC 700 |  G1000 NXi / GFC 700 |
|  Fuel Type |  100 LL (ASTM D 910) |   100 LL (ASTM D 910) |
|  Standard Fuel |  89 usg (336.9 L) |  89 usg (336.9 L) |
|  Long Range Fuel |  100 usg (378.54 L) |  100 usg (378.54 L) |
Perfomance Specs
| | | |
| --- | --- | --- |
|  Model |  M20V Acclaim | M20U Ovation |
| Take-off distance (isa, sl, mtow, 50 ft obstacle) | 2,100 feet (640.1 m) |  1,600 ft (487.68 m) |
| Landing distance (isa, sl, mlw, 50 ft obstacle) | 2,650 feet (807.72 m) |  2,500 ft (762 m) |
| Maximum Rate of Climb | 1,375 fpm |  1,300 fpm |
| Service Ceiling | 25,000 feet (7620 m) |  20,000 ft (6096 m) |
| Maximum Cruising Speed | 242 ktas |  197 ktas |
|  – Range, Standard Fuel (89 gal) | 700 nmA1 (805.5 mi, 1296.4 km) |  900 nmO1 (1035.7 mi, 1666.8 km) |
|  – Range, Long Range Fuel (100 gal) | 830 nmA1 (955.14 m, 1537.16 km) |  1,080 nmO1 (1242.84 mi , 2000 km) |
| Long Range Cruising Speed | 175 ktas |  170 ktas |
|  – Range – Standard Fuel (89 gal) | 1,100 nmA2 (1265.85 mi, 2037.2 km) |  1,240 nmO2 (1427 mi , 2296.5 km) |
|  – Range – Long Range Fuel (100 gal) | 1,275 nmA2 (1467.24 mi, 2361.3 km) |  1,450 nmO2 (1668.63 mi, 2685.4 km) |
A1 – 45 min reserve, isa, no wind, 25,000 ft
A2 – 45 min reserve, isa, no wind, 16,000 ft
O1 – 45 min reserve, isa, no wind, 8,000 ft
O2 – 45 min reserve, isa, no wind, at gross weight unless noted
Propulsion
| | | |
| --- | --- | --- |
| Model | M20V Acclaim | M20U Ovation |
| Engine | Continental TSIO-550-G |  Continental IO-550-G |
| Horsepower | 280 hp – Intercooled Twin-Turbo |  310 HP |
| Engine TBO | 2,200 hours |  2,200 hours |
| Propeller | Hartzell Scimitar Three-Blade |  Hartzell Scimitar Three-Blade |
Weight
| | | |
| --- | --- | --- |
| Model | M20V Acclaim | M20U Ovation |
| Typical Useful Load | 1,000 lbs (453.59 kg) |  1,130 lbs (512.56 kg) |
| Maximum Ramp Weight | 3,380 lbs (1533.14 kg) |  3,380 lbs (1533.14 kg) |
| Maximum Take-Off Weight | 3,368 lbs (1527.7 kg) |  3,368 lbs (1527.7 kg) |
Featured Image: courtesy of Mooney International
Footnotes and Sources:
1 – New Mooney Ultras Certified, AOPA, Jim Moore, Retrieved 4-3-17
2 – Mooney Models, Mooney International, Retrieved 4-3-17