Sun Valley offers great recreation opportunities year round.
Back when I lived in Los Angeles, a friend and I were talking about the upcoming ski season. This friend, a pilot, also happens to be a billionaire, but prefers to fly his own Mooney Ovation rather than sit in a jet. An avid skier, he can afford to ski anywhere in the world but told me, "The only place I go now is Sun Valley. Baldy is absolutely the most perfect ski mountain I've ever skied. I don't need to go anywhere else."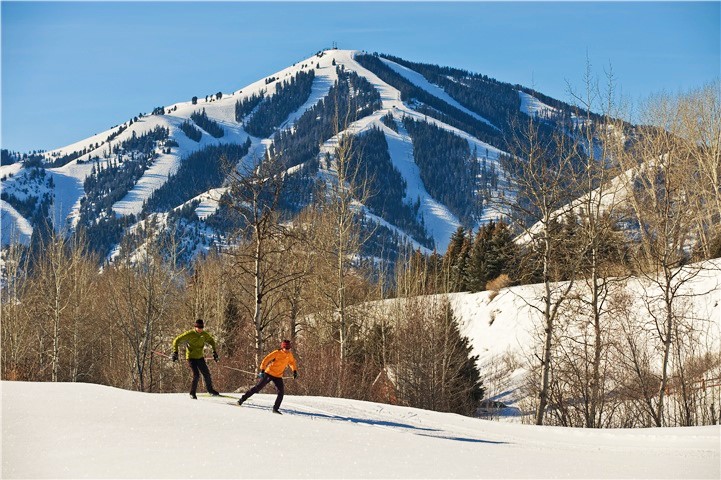 When I visited the area for the first time, it was summer. I hiked up and all around Baldy, stood on a number of its ski runs, and looked down. My friend was right: it is the perfect mountain. Baldy is almost like a giant pyramid that maintains the same angle from peak to base—no flat spots. But there are multiple reasons why Sun Valley is such a great recreational destination: the airport is large, well-run, and convenient. Lodging options are many, and also convenient. Dining options run the gamut from casual sandwich shops to the finest in high cuisine. And I'm always surprised what a great value the Sun Valley Resort is, with a friendly, knowledgeable staff.
Orientation and Flying There
Sun Valley is the name of the resort, not the entire area, which is more properly referred to as the Wood River Valley. The entire central portion of Idaho is a giant granite hunk, or batholith: rugged high mountains punctuated by some of the deeper valleys in the U.S., and the Wood River Valley sits just south of these central-Idaho mountains. The Sawtooths rise to the northwest; the White Clouds to the northeast. The Wood River originates to the north, near Galena Pass, and flows south. There are three towns in the Wood River Valley: Ketchum to the north, Hailey 11 miles south of Ketchum, and Bellevue a few miles south of Hailey. The main highway runs north/south as well.
Sun Valley has two ski mountains: Baldy, the main mountain, rises just west of Ketchum. Dollar Mountain, which is more for kids and beginners, lies just east of Ketchum and adjacent to the Sun Valley Resort, with its Lodge, Inn, spa, shops and restaurants, golf courses, and gun club. The Nordic ski trails are also near Dollar Mountain. All of these amenities are 10 minutes or less away from each other, so it's quite compact.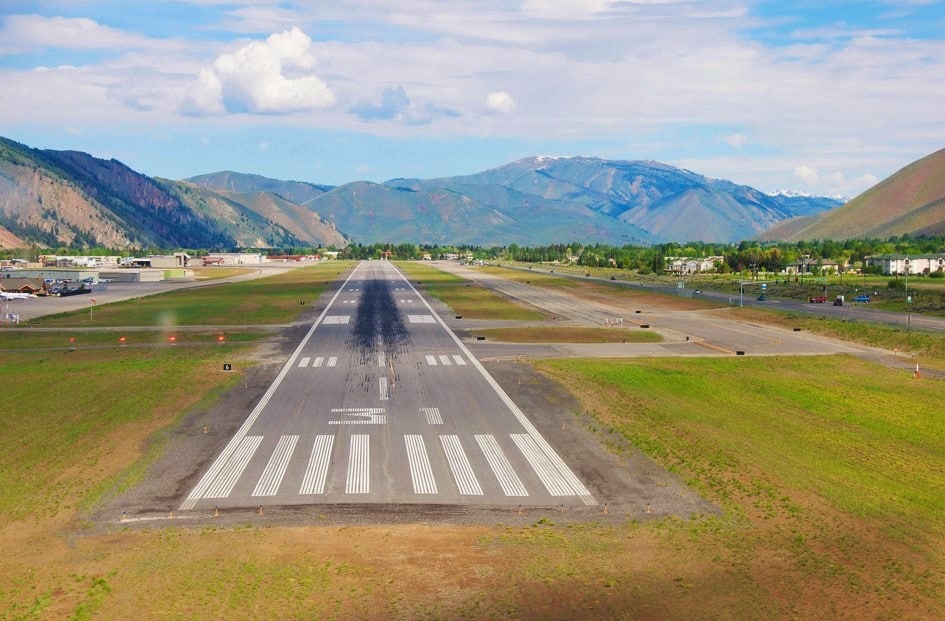 Friedman Memorial Airport (SUN) lies just south of Hailey, so it's a 12-mile drive from the airport to Ketchum. Rental cars and all the amenities are available through the FBO, Atlantic Aviation, which boasts one of the most gorgeous FBOs I've ever seen. It's like a giant log cabin inside. Their main number is 208-788-9511, and you can click to visit the Atlantic Aviation website.
The runway elevation is 5,319 feet, and Runway 13/31 is 7,550 x 100 feet. Because the airport lies in this narrow valley, and because the terrain rises relentlessly toward the north, most landings are made uphill on Runway 31 and most takeoffs downhill on Runway 13. Contact the tower for advisories at least 10 miles out at 125.6. Numerous side canyons funnel air into the Wood River Valley. Any time you are flying in this valley, be aware that if winds are coming from the east or west, you may get significant bumps each time you come abeam one of these side canyons. Generally speaking, winds are lighter earlier in the day.
Like other mountain airports, the missed approaches here can get complicated; study them carefully if you're coming in IFR. The RNAV (RNP) Y Rwy 31 missed approach procedure takes you over eight waypoints that thread between the mountains before you reach your hold (note, however, this RNP approach has "Authorization Required" splashed across it and is mostly for airlines, bizjets, and others with required crew training and avionics as per FAA Doc AC90-101A). The RNAV GPS W Rwy 31 missed approach also has you climbing and turning between the mountains on the way to your hold, just without all the waypoints. Because of its reliance on less precise equipment, the NDB/DME-A approach requires that you fly the last 5.2 nm visually, or go missed before you descend between the mountains.
On departure, if departing Runway 31, overfly the cemetery, whose residents won't complain about your engine noise, then offset east of the towns.
In 1935, W. Averell Harriman, chairman of the Union Pacific Railway, engaged Austrian Count Felix Schaffgotsch in a search throughout the western U.S. They were looking for a site at which to build America's first destination ski resort. Harriman noted how Canada's luxury resorts, built by the Canadian Pacific Railway, had increased ridership, while the success of the 1932 Lake Placid Olympics had made skiing suddenly fashionable. The Count had almost given up when he found Ketchum. It was sunny, un-windy, moderate-elevation, and had perfectly-pitched peaks perched above a lovely valley. Harriman purchased 4,300 acres and built his new resort in an astoundingly short seven months. It opened in December of 1936.
The world's first chairlift was built on Dollar Mountain, the current beginner's slope. Meanwhile, the Austrian ski instructors were hiking up Baldy and skiing down. Lifts were built to its very top in 1939, something not even the Europeans had done. To promote his new resort, Harriman shrewdly offered free rooms and meals to Hollywood celebrities. They immediately flocked in, and they were professionally photographed. These photos were splashed across the pages of LIFE and other popular magazines. Readers realized that Sun Valley was a place where one could see the likes of Clark Gable, Bing Crosby, Ernest Hemingway, Gary Cooper, or Claudette Colbert in the lodge after a day on the slopes. This cachet continued through the decades with Marilyn Monroe, the Kennedys, Arnold Schwarzenegger, Bruce Willis and more.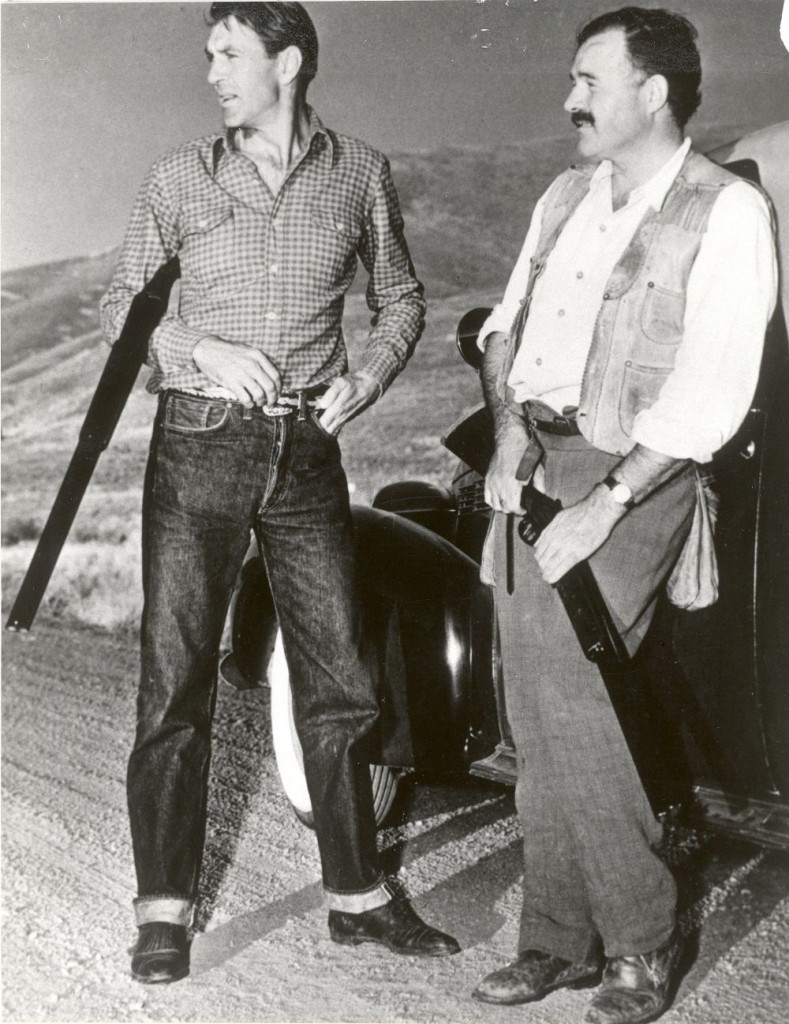 Utah businessman R. Earl Holding bought the resort in 1977 and made numerous improvements. Today Sun Valley encompasses some 2,600 acres, with an additional 2,054 acres of BLM land permitted for skiing. I last visited the resort in mid-October 2014. At the moment, the historic lodge has been completely gutted and is undergoing a mammoth renovation, to be completed in summer of 2015. However, the Inn, itself renovated a few years ago, is still open. So are all the other hotels and condos around town. As Sun Valley Resort Director of Marketing and PR, Jack Sibbach said, "If we can't take care of lodging needs, we are referring customers to other local hotels." The 109-room Swiss-style Sun Valley Inn offers rooms, suites, and apartments with full kitchens. It also houses the fine-dining Ram Restaurant as well as the family-friendly Bald Mountain Pizza & Pasta. You'll also find plenty of shops, both upscale and casual, as well as a fabulous Konditorei with bakery items, espresso, and sandwiches. I love that all the paths are heated in winter, so falling snow melts instantly and prevents ice from forming—no slips or falls!
A variety of condominiums and lodge apartments surround the Village, from studios to 4-bedroom units. Beautifully furnished and immaculate, they all have kitchens; and most have fireplaces. Seven cottages are available, from a cute 2-bedroom to a spectacular 7-bedroom multi-level home of wood, glass, and river rock with three fireplaces, hot tub and balcony with lake view. Several cottages have washer/dryers, making an extended stay like a home-away-from-home.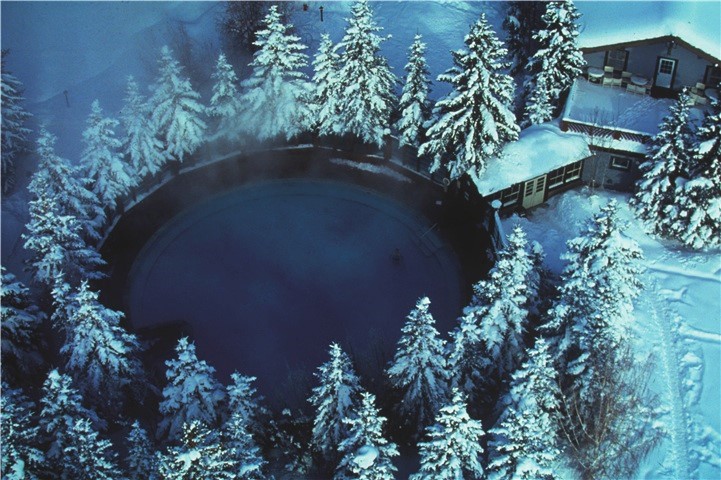 Winter Sports
Sun Valley earned the #3 spot in Ski Magazine's 2014 ranking of the nation's top ski resorts. Lifts were ranked #1! Lines? Fuggetaboutit: the lift capacity way exceeds the number of people on the slopes on any given day. 80% of Sun Valley's ski days are sunny, so the resort has installed 535 efficient New York Tower snowmaking guns to top off the average 225" of annual snowfall. As I mentioned earlier, Baldy is known for its perfect-pitch slopes, all the way from the peak at 9,150 feet to the base at 5,750 feet. You'll find three day lodges and five restaurants; 13 lifts and 65 runs; only 12%–14% of those playing on Baldy are snowboarding. Baldy is accessed via Warm Springs on the north side, with mostly intermediate and some advanced runs, or River Run to the south, with slopes for all ability levels. Need to rent equipment? Pete Lane's has four resort locations and multi-day packages. Demo equipment is for intermediate/advanced skiers or snowboarders, allowing unlimited swapping of the latest brand equipment. Try before you buy!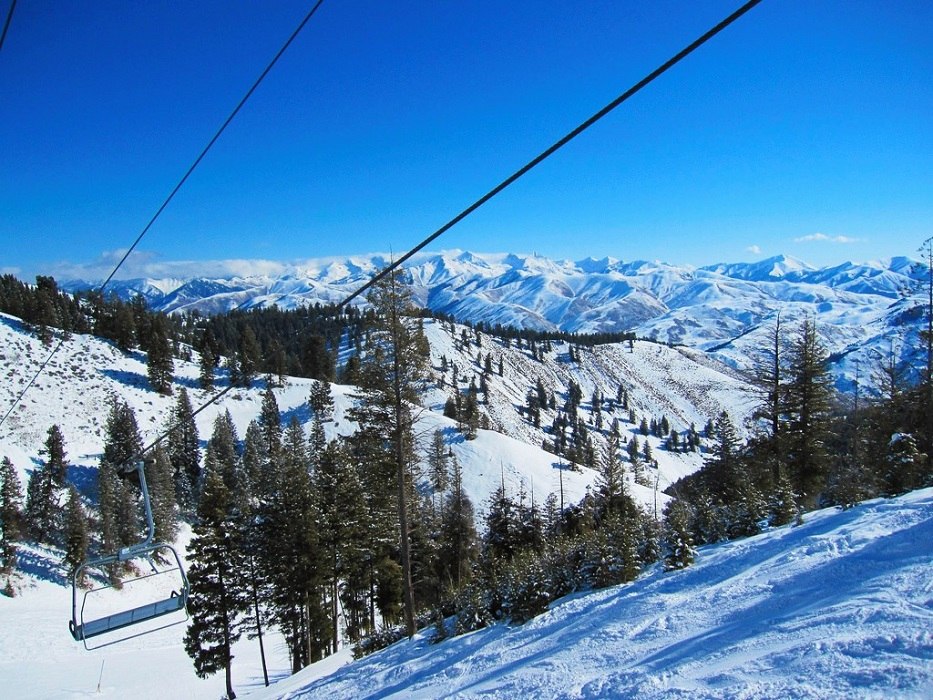 (Image: Alistair Howard, CC2)
Dollar Mountain, located just past the resort, caters to beginners and boarders. It has two new high-speed quads, a tubing hill, a full-featured terrain park with 76 rails and North America's largest super pipe, and the Wundercarpet, an effortless uphill transporter. You'll find experienced instructors at the SnowSports School, with group, private, specialty, and even adaptive lessons for those with disabilities.
In winter, the Sun Valley Golf Club becomes the Sun Valley Nordic & Snowshoe Center. Inside, you'll find equipment rental, repair, and storage facilities, along with a lounge, bar, dining room, and indoor virtual golf. Outside are over 40 km of cross-country ski trails perfectly groomed for skate and classic skiing and 8 km of snowshoe trails at 6,000 feet elevation.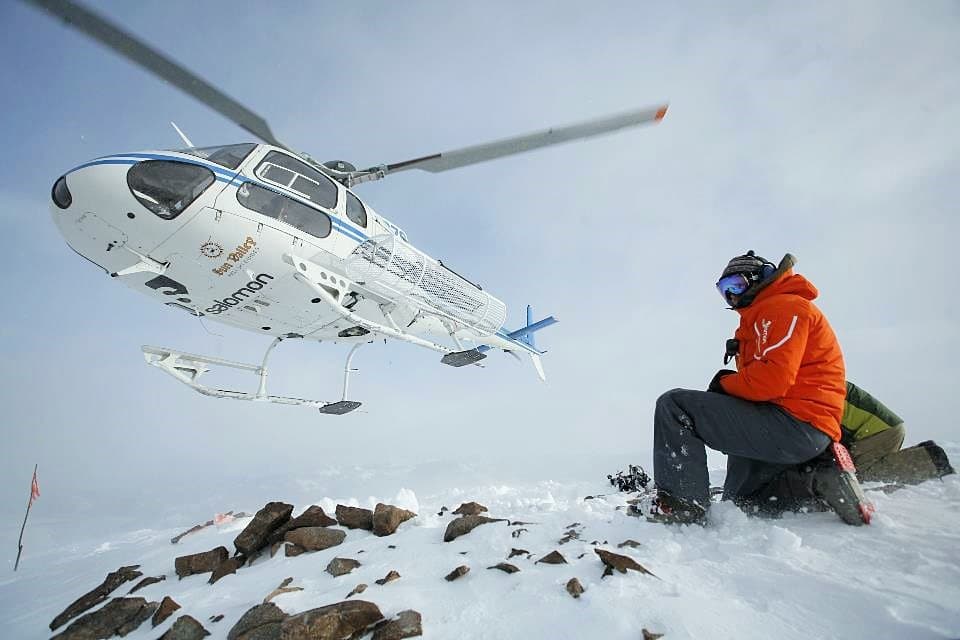 The ultimate ski adventure is heli-skiing, with Sun Valley among the first and best choice for nearly 50 years. You'll meet at 7:30 AM for a safety briefing and depart about 9 AM with a small group to the pristine Sawtooth, Smoky, Boulder, or Pioneer Mountains. All these destinations feature hidden couloirs, wide-open bowls, and world-class tree skiing. You'll return around 2–4 PM. Having made some tree-top flights through the Sawtooths myself, I can vouch for the breathtaking landscapes and remoteness.
Sun Valley Stables provides round-trip scenic winter sleigh rides and dinner rides to Trail Creek Cabin (love this place!)
Other Sports and Summer Activities
Ice skating is a year-round sport at Sun Valley, with both indoor and outdoor rinks. The indoor rink is used by the skating school and hockey team, with open adult hockey several days a week.
You don't want to miss the Ice Show on summer Saturday nights. This is outstanding entertainment provided by the world's finest skaters, most Olympic or World Champion medalists. Each week features a different star; we saw Victor Petrenko, whose flamboyant routines brought the house down. Released from the confines of competition, the skaters are more creative than you see in the Olympics. Often, they devise comedic or death-defying routines. The Ice Show begins at dusk on the outside rink and is preceded by a sumptuous dinner buffet.
In summer, Baldy offers hiking and mountain biking galore, with over 28 miles of trails. The gondola is running and if you hike up you can ride down free. But make sure to first enjoy lunch with a spectacular view at the Roundhouse. Pick up a summer trail guide or download from the website. Rent a bike at Peter Lane's shop on River Run Plaza and receive a free summer lift day pass.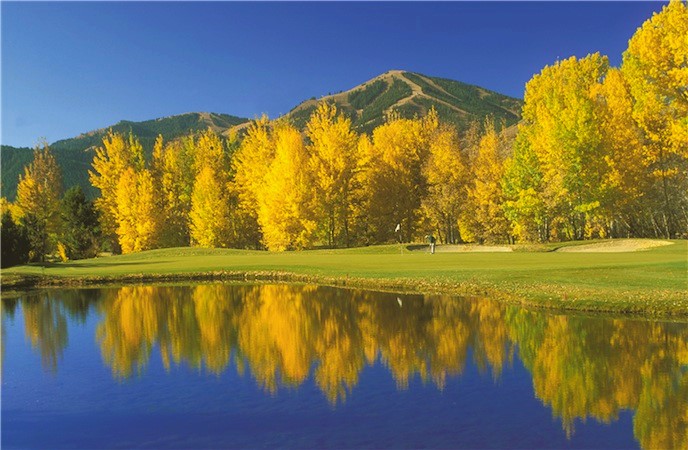 Many summer travelers seek out Sun Valley for the golf alone, with two fine courses and a putting course. Trail Creek is the signature 18-hole championship course, in the valley behind the resort. Designed in 1980, the 6,968-ft course crosses Trail Creek seven times just on the front nine. White Clouds is the newer 9-hole course atop a plateau overlooking the resort. It has a 360-degree views of the surrounding mountains, and greens fees include a cart.
Since the resort opened in 1936, the gun club has been the place for skeet, trap, sporting clays, and 5-stand shooting, with instructors that specialize in teaching beginners. Ernest Hemingway loved to hunt all over the Wood River Valley.
Open mid-May–mid Oct., Silver Creek Outfitters, located in Sun Valley Village for 45 years, has a wonderful shop loaded with fishing gear and books. They can arrange multiple types of guided fishing trips to a variety of spectacular streams and rivers, from fly fishing in summer or winter to spring and fall steelhead.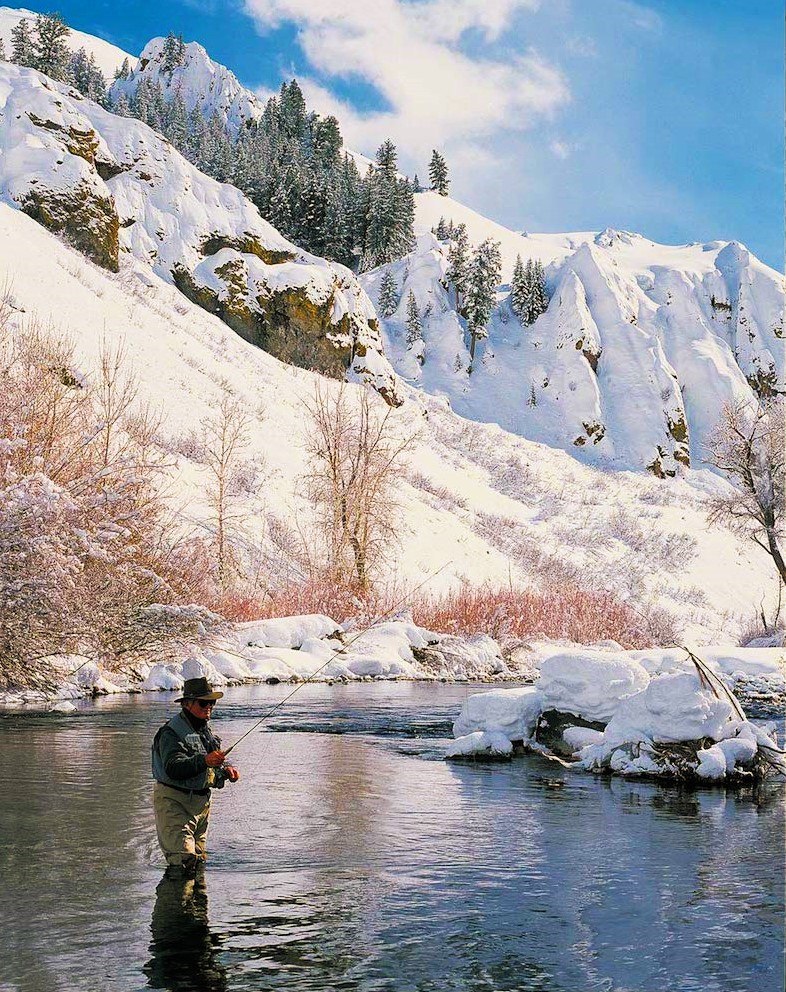 Enjoy an outdoor summer concert at the Sun Valley Pavilion, opened in 2008. The structure was built with 100 tons of travertine from the same quarry used to build both Rome's Coliseum and L.A.'s Getty Museum. The pavilion seats 1,500, all the seats have good stage views, and the acoustics are outstanding.
Festivals punctuate the calendar year-round: the Sun Valley Nordic Festival is held in late January. October brings the Sun Valley Jazz Jamboree.
We recently attended the Ketchum/Hailey Trailing of the Sheep Festival, held each year in mid-October. On Saturday in Hailey, a large park hosts Basque and Polish dancers, bagpipes, and numerous vendors selling high-quality wool clothes and accessories. The festival also offers cooking workshops, food tastings, children's knitting and other classes, and the parade, where 1,500 sheep trail down Ketchum's Main Street on Sunday.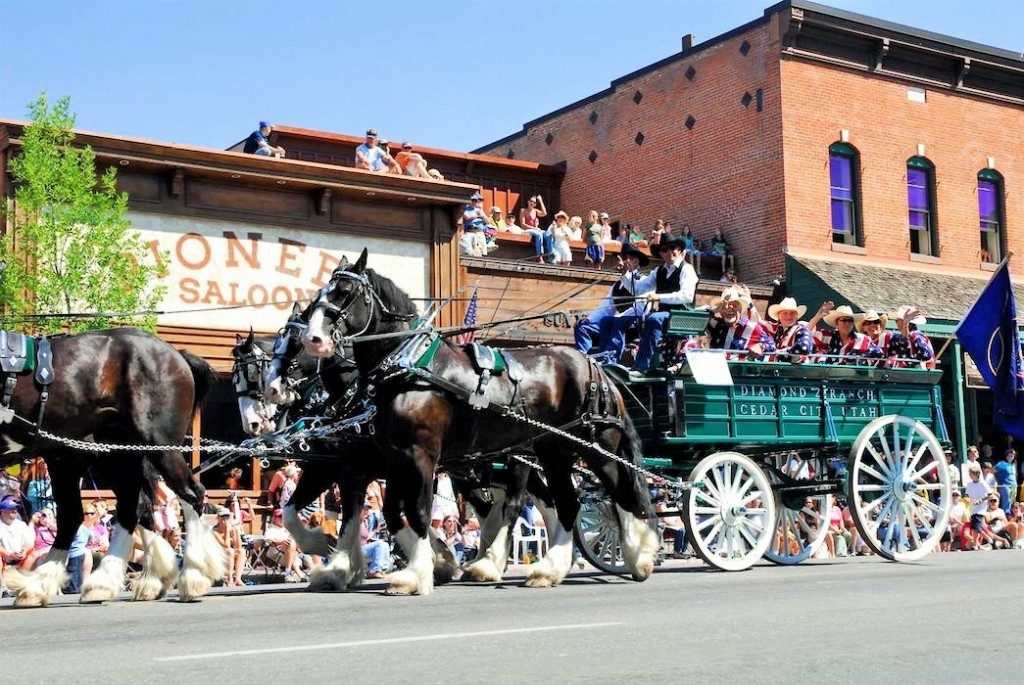 Dining Destinations
With the Sun Valley Resort as its anchor, the Wood River Valley has the most sophisticated dining, as a whole, in all of Idaho. Between the visitors, the residents, and those with vacation homes here, demand is high for top-notch food, shopping, and other amenities. Ketchum, closer to the resort, offers more dining choices than Hailey, but I'm a fan of CK's Real Food. They use the freshest just-picked organic produce, local meats, and make almost everything by hand. Open year-round till 10 PM, its location farther from the slopes makes it more peaceful as well. The braised ribs and warm mashed potatoes, which are rich even though they aren't made with butter and cream, are a winter staple. Call them at 208-788-1223, and visit them at 320 S Main Street, in Hailey.
You also can't go wrong at the Hailey Coffee Company, with rich espresso and a complete line of house-made Paleo baked goods. Call them at 208-788-8482, and visit them at 219 S Main Street, in Hailey.
While we're on the subject of coffee, my mother, who remains (always) a loyal Starbucks customer, remarked that the Ketchum Starbucks was the most beautiful branch of that ubiquitous institution that she's ever been in. I have to agree, with its floor-to-ceiling photo murals of Hemingway hunting with various stars like Gary Cooper, gorgeous woodwork, glass table, and real stump seats. You'll also find local bakery items that other Starbucks don't offer. Call them at 208-928-7039, and visit them at 491 Sun Valley Road, in Ketchum.
Meanwhile, Velocio offers a sleek urban designed coffee house with baristas trained in the art of turning drinks into, well, art. Your cappuccino may arrive with a sun, moon, and stars of foam topping it. Every visit brings a different surprise. They use only Intelligensia and locally-roasted Lizzy's beans, Call them at 208-928-7825, and visit them at 601 E Sun Valley Road, in Ketchum.
Speaking of Lizzy's, that fresh roaster (as in daily) has its own coffee shop. Liz will be happy to talk to you about different blends for different drinks, how to properly froth milk, and so on. They're open from 8:30–10:30 AM. Call them at 208-806-0212, and visit them at 971-4 N Main Street, in Ketchum.
We never visit Ketchum without stopping for lunch at Despo's for great, and healthy, Mexican food. The chicken burrito or fajitas are perfect after a long morning hike. Call them at 208-726-3068 , and visit them at 211 4th Street E, in Ketchum.
Vintage is a tiny fine-dining lunch and dinner spot off the beaten path, but boy will you be happy when you finally find it. Housed in an old log cabin, there are only a few tables, so reservations are a must. The menu changes all the time but the quail, filet, and halibut are all exquisite, Call them at 208-726-9595 , and visit them at 231 Leadville Avenue, in Ketchum.
On our last visit we stayed with a friend who lives in Hailey. He recommended we try the Pioneer Saloon, since we like good steaks. A favorite of locals, the bar is full of Idahoans having a very good time. Several historic atypical deer trophies adorn the walls, and the menu does indeed include a number of choices for beef lovers, including their best-loved prime rib, although they offer seafood as well. I'll be going back there next time I'm in town for sure, Call them at 208-726-3139 , and visit them at 308 N Main Street, in Ketchum.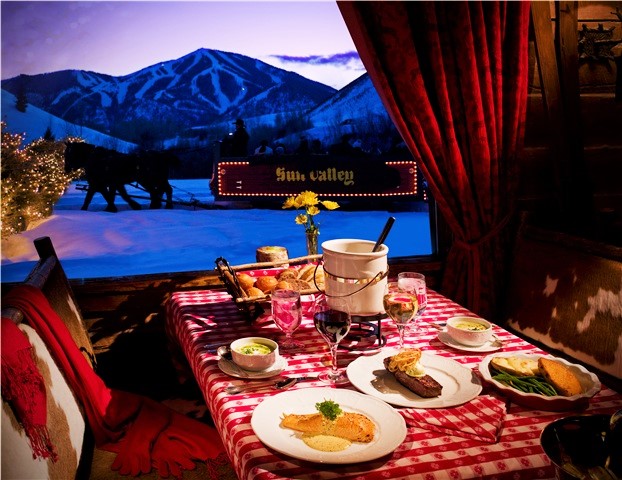 Globus offers global cuisine, from Asian fare like pad Thai, to Alaskan halibut, beef and lamb kefta sliders, to fresh, local salads—they also offer numerous "slack" specials, with low prices in the off-seasons of spring and fall. Call them at 208-726-1301, and visit them at 131 Washington Avenue, Ketchum.
Shopping
Ketchum is loaded with galleries, upscale clothing and jewelry shops, and outfitters with the best in gear for fishing, cycling, running, skiing, hiking. You name it, they have it. So I'll just mention two spots because they are unique. I can never visit Ketchum without stopping in at both of them, and rare is the day that I leave empty-handed.
Park near Ketchum's Giacobbie Square, at the center of town, where the large Atkinson's Market grocery store is, and then wander in to the enclosed shop area west of the market. There you will find the family-owned A Tavola, possibly the most astounding gourmet cooking accessory shop I have ever seen. From floor to ceiling, this place is packed with every kind of pot, pan, gizmo, gadget, tool, and machine you could possibly think of, and many you've never thought of. Anything and everything for the kitchen is here: if you have a friend who loves to cook, you've found the perfect gift store for that person. Call them at 208-336-3641, and visit them at 15th & Grove Streets, in Ketchum.
Turn up Sun Valley Road (the other main drag, which leads to the Sun Valley Resort) and look for the glass-encased art photo of Papa Hemingway on the corner on the left. Hemingway stands guard outside one of the West's best independent book shops, Iconoclast Books and Café. (Yes, you can get a latte with your literature.) Owner Sarah Hedrick has kept this place going through the age of Amazon.com by offering what they can't: cheerful, knowledgeable, book-loving, and literate employees. They will listen to your interests and steer you toward the right section, answer questions about this version vs. that version of the same book, or just leave you alone and ring you up when you can finally drag yourself out of this shrine to bibliophiles. Call them at 208-726-1564, and visit them at 671 Sun Valley Road, in Ketchum.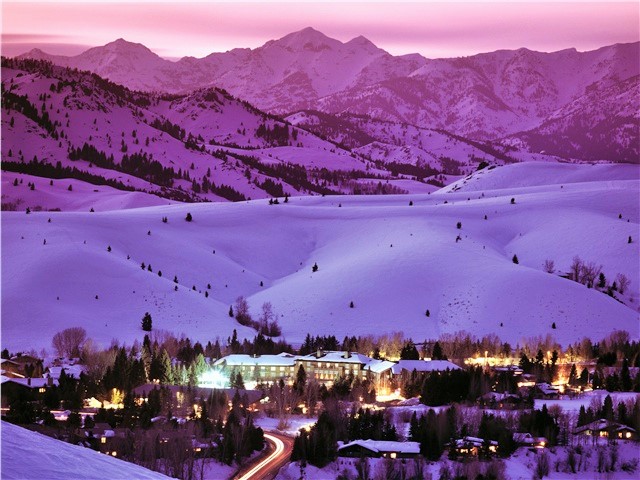 Final Thoughts
We've mentioned Hemingway several times. Ernest Hemingway was lured to Sun Valley by the promise of a free room, but, as a passionate hunter and fly fisherman, soon fell in love with both the resort and the Wood River Valley. Northeast of the resort on Trail Creek Road is a memorial to Hemingway. Fittingly, we visited here in the fall. Inscribed below the bust of Hemingway are words he actually wrote as an epitaph for a friend killed in a hunting accident, but they are fitting for "Papa" himself:
"Best of all he loved the fall.
The leaves yellow on the cottonwoods
Leaves floating on the trout streams
And above the hills the high blue windless skies
…Now he will be a part of them forever."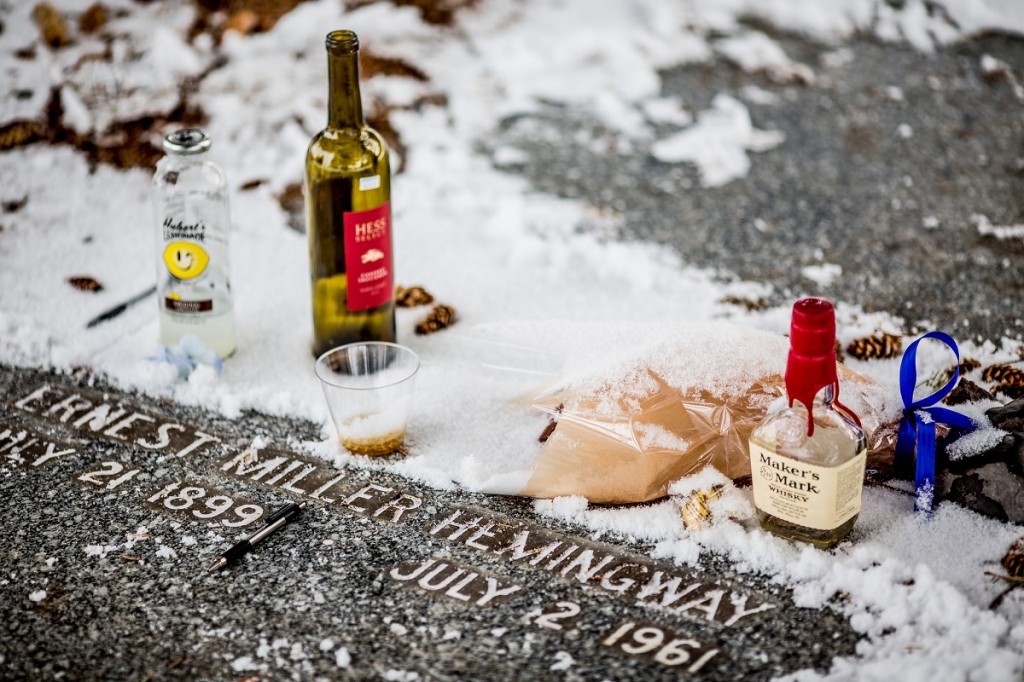 (Image: Thomas Hawk, CC2)
Hemingway committed suicide in 1961 while living in Ketchum. If you drive about a mile north of town, you'll find the town cemetery on your right. Turn in on the drive, and about halfway around the circle, you can find Hemingway's gravesite. Visitors have left a copy of For Whom the Bell Tolls, which he wrote while living at the Sun Valley Lodge, a bottle of whiskey, a pen, and other offerings. A visit here is a fitting end to a great vacation. Whether you come for the fall colors, summer hiking, or winter snow sports, you'll see why Sun Valley is a spectacular destination to fly to.