Lake in the Sky Air Show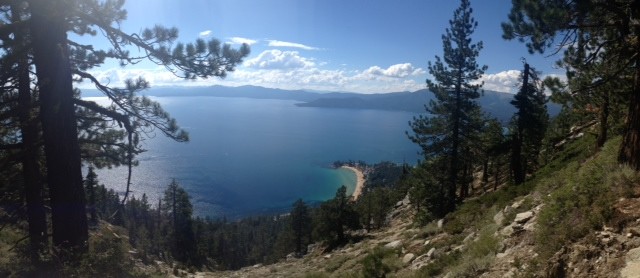 Mmmm.  Beautiful, isn't it?  Serene, blue, enchanting Lake Tahoe.  It's a great place to relax, and soak in the amazing splendor of nature…
…and, as it turns out, also a great place to take in an air show!  This year marks the 25th anniversary of the Lake in the Sky Air Show, held in picturesque South Lake Tahoe at the Lake Tahoe Airport.  Here are the details:
Date: September 20th
Time: 8 AM – 4 PM
Location: Lake Tahoe Airport, 1901 Airport Road, South Lake Tahoe CA, 96150
Ticket Prices At the Gate: $10 ages 13 +, $5 ages 6 – 12, free for ages 5 and under!
Ticket Prices Online: $8 ages 13 +, $4 ages 6 – 12, still free for ages 5 and under!
See amazing aerial acrobatics, skydivers, warbirds, classic cars, and even a police K-9 demo!  Take part in the chili cook-off, or visit the food court for fresh, hand made hamburgers, hot dogs, BBQ and more.  Slow down for a moment and relax with a visit to the Beer and Wine garden.
For all the details, including parking, a map to the location, lists of pilots taking part in the show, and more, visit the official 'Lake in the Sky' website:
//www.lakeintheskyairshow.com/
Now, for those of you interested in flying in, let's talk a little about the South Lake Tahoe Airport, so you'll have a better idea of what to expect:
Official South Lake Tahoe Airport Website
Communications Summary

| | |
| --- | --- |
| CTAF | 122.95 |
| UNICOM | 122.95 |
| ATIS | N/A |
| WX ASOS | |
| CLEARANCE DELIVERY | N/A |

Terminal Procedures Summary

Airport Diagram

Approaches

Departures

Special Minimums

Closest Alternate Airports with Instrument Procedures

KMEV – Minden-Tahoe – 15 nm NE from TVLKTRK – Truckee-Tahoe – 30.5 nm NW from TVLKPVF – Placerville – 42.5 nm SW from TVLKRNO – Reno/Tahoe International – 43.6 nm NE from TVLKRTS – Reno/Stead – 53.9 nm NE from TVLCO70 – Westover Field Amador County – 56.1 nm SW from TVLKAUN – Auburn Municipal – 58.6 nm NW from TVL

KGOO – Nevada County Air Park – 58.8 nm NW from TVL

77NV – Flying Eagle – 58.9 nm NE from TVL

KCPU – Calaveras Co-Maury Rasmussen Field – 62.6 nm SW from TVL
More detailed informationon the Lake in the Sky Air Show, including up to date weather details, can be found here:
Global Air – Detailed South Lake Tahoe Airport Information
Subject: general aviation events
[optin-monster-shortcode id="wwcyfbdjs9-post"]