727 Fuselage Home
In my efforts to "wow" you with exotic travel options, I came across this bizarre and intriguing option for housing accommodation in Costa Rica.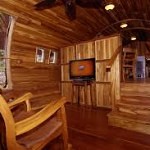 The Costa Verde Inn
Our phoenix is the most exclusive hotel suite in Costa Rica. We have refurbished a vintage 1965 Boeing 727 airframe, which in its prior life shuttled globetrotters on South Africa Air and Avianca Airlines (Colombia). This fully outfitted, meticulously detailed, two bedroom, Boeing 727 fuselage suite jets out from the jungle canopy, affording you views that will make you feel like you're flying.

We salvaged this airframe from its San Jose airport-resting place. We carefully transported the pieces on five, big-rig trucks to the jungles of Manuel Antonio where they have been resurrected into a unique jumbo hotel suite. Our classic airplane, nestled on the edge of the National Park in our Costa Verde II area, is perched on a 50-foot pedestal. At this height, you will enjoy scenic ocean and jungle views from the hard wood deck built atop the plane's former right wing.

The plane's interior is Costa Rican teak paneling from the cockpit to the tail.

Furnishings are hand-carved, teak furniture from Java, Indonesia. Our 727 home features two air conditioned bedrooms–one with two queen sized beds and the other with one queen sized bed, each with its own private bath—a flat screen TV, a kitchenette, dining area foyer; an ocean view terrace; a private entrance up a river rock, spiral staircase; and 360 degrees of surrounding gardens.

Enjoy an evening on the terrace while sipping a glass of wine and observing your tree top neighbors: sloths, toucans, monkeys and more.
When I read this, I was fascinated.  Because in my mind, this was a chance to feel like a cast member in the hit TV show "LOST". I could sleep inside a comfy 727 fuselage home, which smacks of "Harry Potter", and do so comfortably.  Even though I would be in the jungle, like "Air America".  I wonder if the Hotel offers complimentary machetes to slice the head off a Bushmaster snake about to bite Kathleen Turner ("Romancing the Stone"):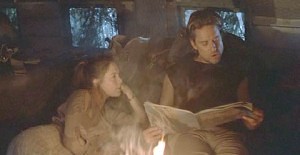 Someone once said to me that airplanes are dreams. And the reason we own them is we want to live those dreams,.  Travel to far off places, have new adventures, etc.  Now it's true that we probably won't use our aircraft to do all those things we dreamed we would when we wrote the check. But that doesn't stop us from dreaming.  Perhaps even dreaming of sleeping in a snake filled, 'Harry Potter' style, 'LOST' cabin of a 727 in Costa Rica.
Of course, to get there, you're going to need an airport to land your plane at.  Allow me to introduce you to the Juan Santamaría International Airport, roughly 13 miles north of the Costa Verde Inn:
Juan Santamaría International Airport (SJO)  (Aeropuerto Internacional Juan Santamaría in Spanish)
Airport type: Public
Owner:  Government of Costa Rica
Operator:  Aeris Holdings Costa Rica under ADC & HAS and Andrade Gutiérrez Concesores
Serves: San José, Alajuela, Heredia, Cartago
Location: Outside the city of Alajuela, approximately 12 miles west of Costa Rica's capital, San Jose.
Runway Elevation AMSL:  921 m / 3,022 ft
Coordinates:  09°59′38″N084°12′32″W
Runway Direction:  07/25
Runway Length:  3,012 meters / 9,882 feet
Runway Surface:  Asphalt
Website:  //www.fly2sanjose.net/
Contact Aeris Holdings
Phone: (506) 2437-2400
Fax: (506) 2437-2424
P.O. Box: 200-4003
San José, Costa Rica
Subject: general aviation travel