The LeMay America's Car Museum offers private pilots strong incentive to visit Tacoma.
The Northwest city on the Puget Sound that grabs all the headlines is, of course, Seattle, a worthy destination with its famous fish market, raucous Seattle Seahawk fans, good restaurants, and great coffee. But I rather prefer the cities just north and south of Seattle as flying destinations, Everett and Tacoma. These two destinations offer awesome collections of two things pilots love: airplanes and automobiles. We'll tackle Everett, to Seattle's north, in a future story and focus on Tacoma, to its south, here. Years ago, Tacoma developed a reputation as the armpit of Puget Sound. Boy has that changed! Tacoma's waterfront has been cleaned up, revitalized, and anchored by a necklace of important buildings and museums, both young and old. And atop them all, literally, is the crown jewel: the LeMay–America's Car Museum, a shining silver tribute to the American automobile, as well as the man who collected more of them than anyone else—Harold LeMay.
The LeMay America's Car Museum (ACM) is the largest automotive museum in North America, and any automobile lover's dream. ACM opened in June 2012 and boasts majestic views of the Tacoma skyline, Puget Sound, and the Thea Foss Waterway. The 3-acre campus has ample outdoor space for car auctions, club events, and even the world-class Pacific Northwest Concours d'Elegance, held here each September. The four-story, 165,000 square-foot museum tells the story of America through the lens of classic cars. ACM has been lauded for its variety of cars on display; rotating exhibits, including "The Truck That Grew Up With America," which recounts the 67-year history of Ford F-Series pickup trucks; interactive displays and professional racing simulators; and its friendly, knowledgeable staff. There are so many different kinds of cars on exhibit, everyone can find their favorites.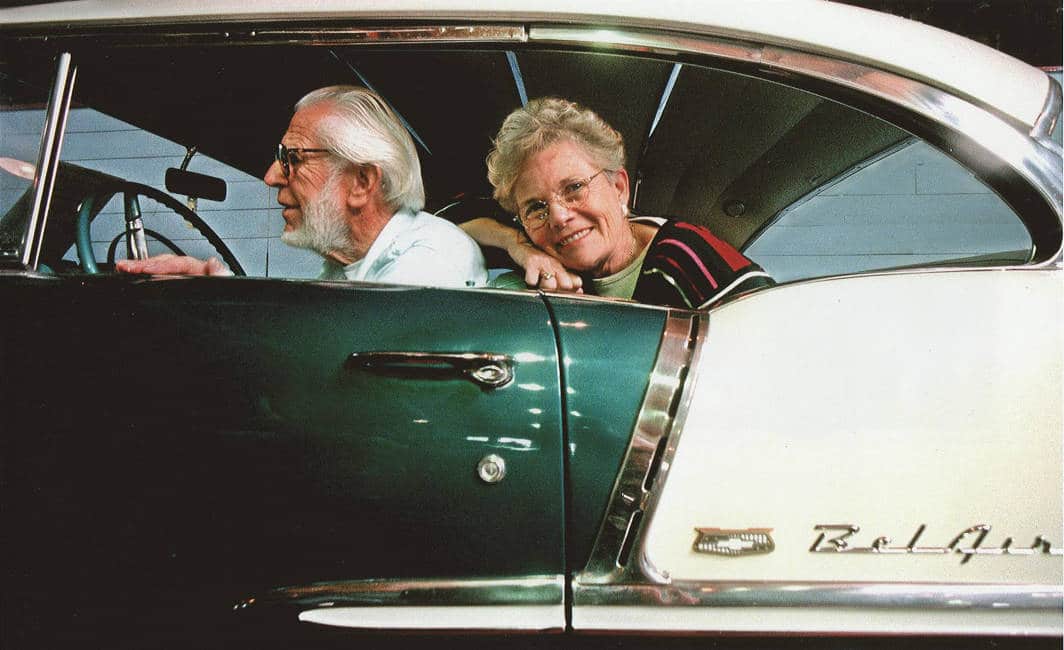 Harold LeMay's widow Nancy says, "My husband never met a car he didn't like." Born in Yakima, Washington, in 1919, Harold LeMay became a partner in an automotive business just out of high school. He later started trucking and towing companies as well as a highly successful garbage collections company. LeMay used his money to buy vehicles and memorabilia. At its peak in the mid-90s LeMay's collection of classic cars, more than 3,500 vehicles, set  a Guinness Book world record. At one point he bought a car a day! He bought cars for their historical, cultural, or aesthetic value rather than as an investment. He said, "I don't go for just the dollar-value car. If it is unusual, I like it. So I am kind of a maverick, since I am not a dyed-in-the-wool Chevy, Ford, or Duesenberg man. I see it, I like it, I buy it."
When Harold was young his nickname was "Lucky." He frequently said, "It takes a lot of hard work to be lucky." Harold's legacy is now presented in "Lucky's Garage," the first permanent display at ACM. The exhibit opened August 28, 2015 and features 50 treasured vehicles from the Harold E. LeMay Collection, including a 1947 Cadillac Series 62 2-Door Convertible, a 1922 Ford Model T Touring, a 1930 Packard 740 Custom Super Eight Convertible, a 1933 Hupmobile Series I-326 and a 1953 Kaiser Dragon. These classic cars are lined up in what appears to be a giant underground parking garage. Other items in this exhibit will give you a sense of the man himself and how much he loved Tacoma.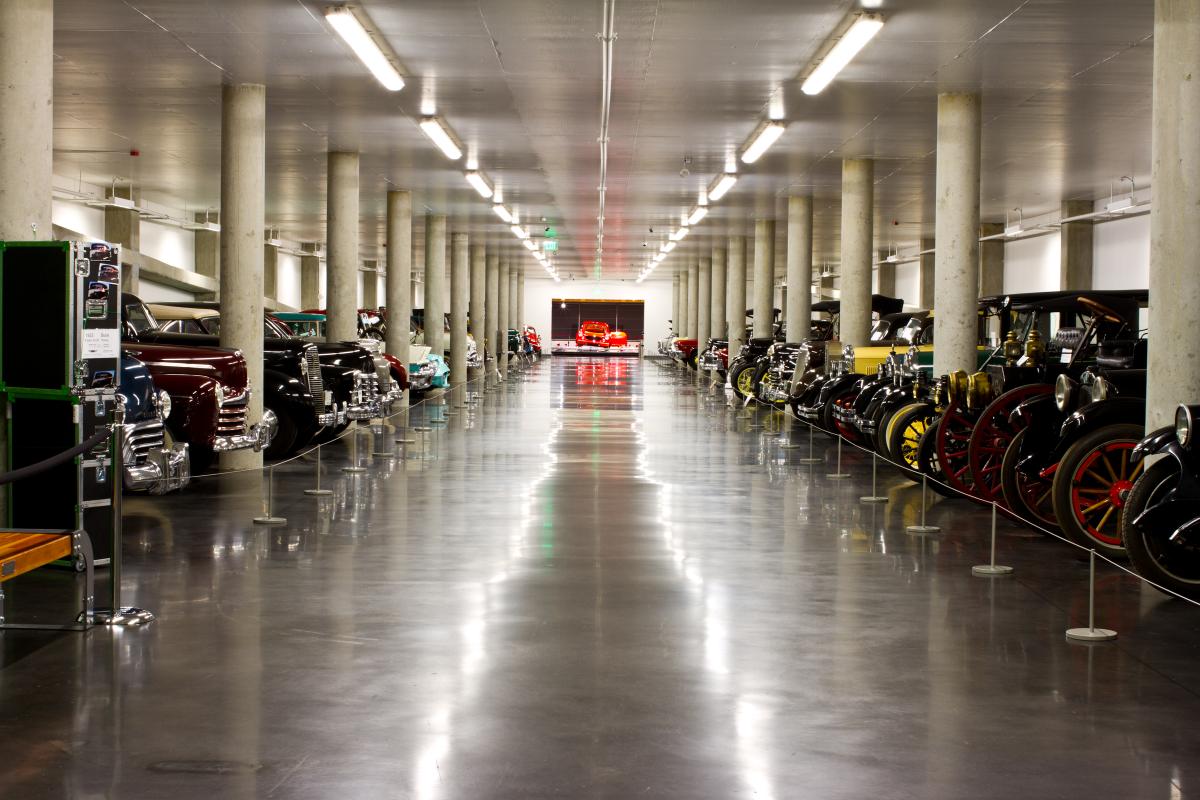 Since I went to high school in the 1970s, my favorite classic cars are the muscle cars, and ACM's 1960s and '70s "American Muscle" display, which opened in July, hits the spot. Giant, thirsty V-8 engines dominated American car lover's dreams and spread like wildfire until the 1973 Arab oil embargo forced many people to downsize to more fuel-efficient Japanese cars. From the 1963 Ford Galaxie 500SL Sedan (my best friend's mom had one of those!) and the Pontiac GTO, Camaro SS, Plymouth Road Runner and 'Cuda, to the 1972 Oldsmobile Cutlass Hurst, this exhibit is a tribute to raw American muscle.
Not every iconic car at ACM is American. The "British Invasion" exhibit covers both the classic cars and culture that invaded America between World War II and the 1960s. Features cars include the Jaguar, Mini, Austin-Healey, and Lotus. The "Classics and Custom Coachwork" exhibit highlights some amazing custom vehicles from the 1930s. These beauties were built as "rolling chassis" and then sent out for complete customization. Cars include Duesenberg, Mercedes-Benz, Packard, and Lincoln. Our modern electric/hybrid cars aren't the first "Alternative Propulsion" vehicles. Check out the exhibit of that name that spans 100 years of electric, steam, and solar cars. What will they think of next?
You don't have to leave for lunch: there's a restaurant onsite, as well as a gift shop. Now, aren't you glad you flew to Tacoma? Museum admission: Adults $16, 65+ or military $14, student $12, age 6–12 $8, under 6 free, racing simulator $8, slot car track $3, daily 10 a.m.–5 p.m., 2702 East D St., Tacoma, 253-779-8490,  //www.americascarmuseum.org/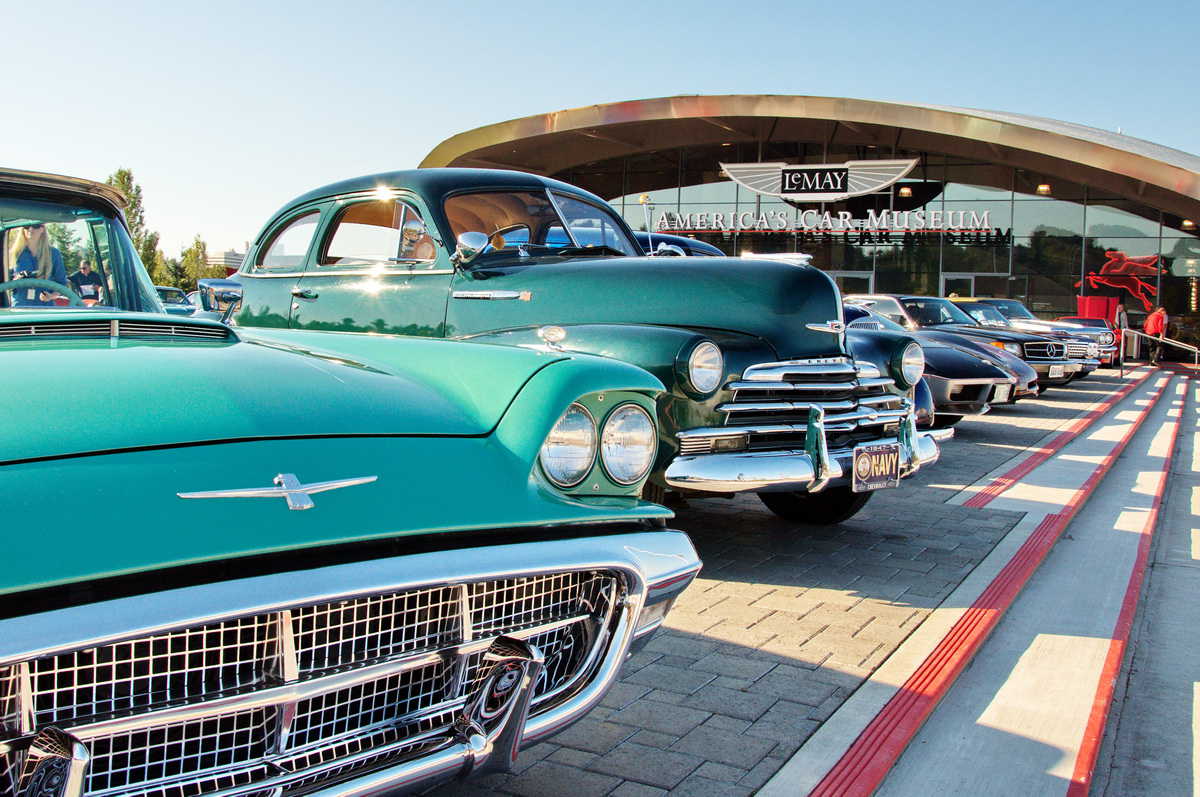 There's much more to see in this town: America's Car Museum (ACM) and it's amazing display of classic cars is perched just above Tacoma's Thea Foss Waterway, a former industrial wasteland now revitalized. Ancient brick buildings like the Union Station/U.S. Courthouse and a former cereal mill contrast with the ultra-modern 509 Bridge and the Museum of Glass. Less than a mile from ACM, the museum sits near a small harbor on the waterway. The museum sports an iconic tilted, glass, cone-shaped building designed by the award-winning Canadian architect Arthur Erickson. From here you can cross I-705 and the railroad tracks via a walk on the Chihuly Bridge of Glass. When it comes to glass blowing in the U.S., the Seattle area is ground zero. This is mostly due to one man, renowned Tacoma native Dale Chihuly, whose massive and fantastical glass sculptures have been installed around the world, including in Venice, Italy, and whose artworks sell for hundreds of thousands of dollars in galleries.
Walk across the bridge to the Washington State History Museum and Beaux-arts brick Union Station, with its copper dome. There also the University of Washington Tacoma campus, with more beautiful brick buildings. Unique restaurants and shops line the street. At the end of the block the Tacoma Art Museum showcases Northwest art, including the world's finest collection of Dale Chihuly glass artwork on permanent display.
How Do You Get There?
There's some interesting flightseeing to be had on your way to the Tacoma area. Unless you're solidly IMC, you can't miss Mt. Rainier, which rises to 14,410 feet MSL just southeast of the SEATAC International (SEA) 30 nm Mode C veil. Mt. Adams rises to 12,276 feet MSL 41 nm south of Rainier. Mt. St. Helens is 29 nm west of Mt. Adams; if the weather is good and you're in the area, a flyover is in order. You'll see how the entire north side of the volcano was blasted away in the catastrophic May 18, 1980 eruption. Millions of trees lie like sticks in Spirit Lake; over three decades later, the area still looks barren from above. The small Rainier MOAs lie just east of Olympia Regional (OLM) and 13.5 nm southwest of TIW and 17.5 nm west of PLU.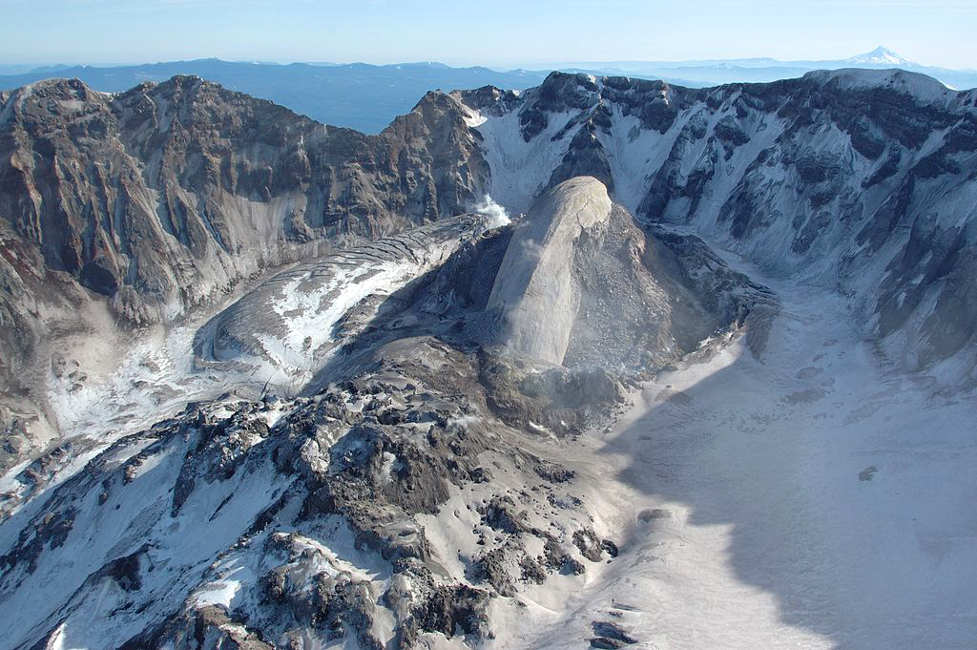 Tacoma Narrows Airport (TIW) is a towered Class D airport at the southern tip of the Olympic Peninsula, just across the Tacoma Narrows Bridge from Tacoma and 15 nm northwest of PLU. It offers multiple approaches to a 5,002 x 100-foot Runway 17/35, with grooved asphalt in good condition. Tacoma Narrows Aviation, just north of the tower, is a full-service FBO with full and self-serve 100LL and full-serve Jet-A. No ramp or parking fees, although they only have chocks; hangars are $50–$75 / night. (If you want tiedowns, transient parking in front of the tower has them, $5 / night.) The Hub Restaurant is next to the FBO. Reserve rental cars through the FBO, (see Transportation), open daily 7 a.m.–6 p.m., 253-853-7742, www.TacomaNarrowsAviation.aero
Seaplane pilots can land at the north end of the Thea Foss Waterway (just north of the Tacoma Dome) and taxi to a motorized barge used as a seaplane docking area, adjacent to the south end of Thea's Park. Free moorage, 4-hour limit allows you to walk to area museums (see What to Do in Tacoma). Normally available mid-Feb–mid-Nov; call Foss Waterway Development Authority just above the barge to confirm at 535 Dock St., Tacoma, 253-597-8122 or 888-328-8122, www.TheaFoss.com, check out the "Projects" page.
Puyallup's Pierce County Airport–Thun Field (KPLU) is your best bet to fly in to if you are visiting the Northwest Aviation Conference and Trade Show, held in February (see What to Do in Puyallup). PLU is untowered with a single GPS approach. PLU's CTAF is 122.7 MHz; Runway 16/34 is 3,650 x 60 feet in fair condition. SpanaFlight is open daily 8 a.m.–6 p.m., 253-848-2020. They also have a webcam on the field, www.SpanaFlight.com. Spencer Aircraft is at midfield on the west side with 100LL and an exceptionally well-stocked pilot shop; they run a free shuttle to the Trade Show as well, open Mon–Fri 8 a.m.–5 p.m., Sat & Sun 10 a.m.–2 p.m., 253-848-9349, www.SpencerAircraft.com
Both destination airports lie under the Class B airspace of SEATAC International (SEA). Generally speaking, if you arrive from the east and remain below 4,000 feet MSL, you'll stay below the Class B; contact Seattle Approach at 126.5 MHz.
By the way, if you want another sidetrip, fly north to Bremerton National Airport (PWT) in Bremerton, Washington, just across the Puget Sound from Seattle. The nontowered airport has ILS, RNAV (GPS), and NDB approaches. Tie down on the northwest corner of the ramp and head in to the Airport Diner for best-ever fish and chips—the halibut is meaty yet tender, served with homemade tartar sauce and regular or garlic-infused malt vinegar. Customers have hung model airplanes from the ceiling; this little dive attracts hungry pilots from all over the greater Seattle area.
Deals on Hotels From our Sponsor:


What to Do in Tacoma
In addition to aircraft manufacturing and computer software—Boeing and Microsoft—the greater Seattle area is best known as America's capital of glass art. In 1971, Dale Chihuly, a modestly successful glassmaker and professor at the Rhode Island School of Design, decided it was time to get more American artists to begin creating with glass. With a $2,000 grant, he started a school in his native state of Washington.  The Pilchuck Glass School began to attract students from around the world to its freewheeling atmosphere. By 1978 the school was able to convince a master Venetian glassmaker to come teach. Venetian traditions and expertise, plus the American glassmaker's no-holds-barred approach produced an explosion of new techniques and talented artists, many of whom stayed in the greater Seattle area. Meanwhile, with his buccaneer's eye patch, talent for self-promotion, and outsize, attention-getting glass sculptures, Dale Chihuly had become one of the world's most famous artists. In 1992, Chihuly and his friend Phil Phibbs, newly retired from the presidency of the University of Puget Sound, decided the Northwest needed a Museum of Glass—it got it in 2002.
Park in the convenient lot and walk across the Chihuly Glass Bridge to get to the museum. I found the bridge to be amazing. Dozens of fanciful vases are arranged in cubicles on one side, and the views give you a feel for this vibrant area, a mix of gritty industrial and modernity at its best. The overpass ceiling is gorgeous, with 2,364 colorful glass flowers similar to those at the Bellagio, but here the light comes through from the top and it's almost like being inside a jar of candies.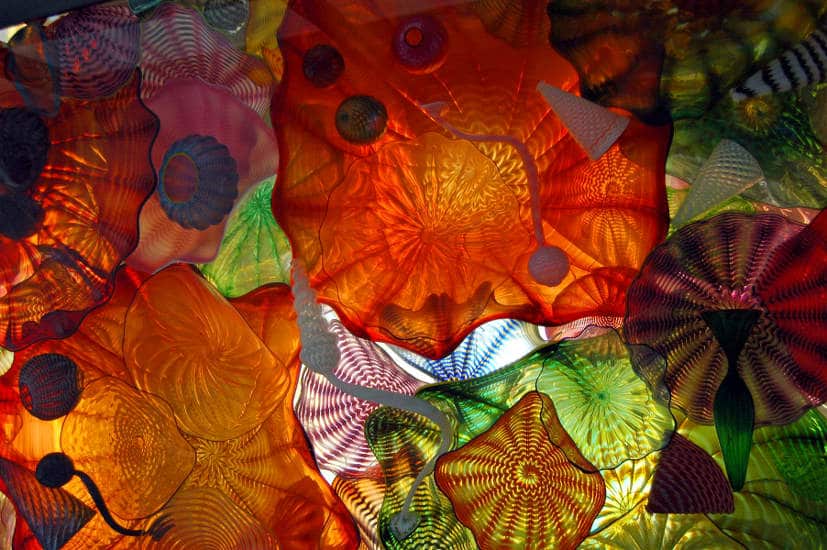 The Burlington Northern Railway runs beneath the bridge. From inside the Glass Museum you can watch rail cars slowly pass by; the colorful graffiti on the boxcars fits right in with the scene outside. The museum itself is rather small with few exhibits, although I enjoyed playing with colorful lightboxes and browsing the exceptional gift shop. The hot shop fills the cone building. Just wander in to watch glass artists at work; an emcee explains what's going on.
(Watch a live stream from the Hot Shop.)
On the plaza outside the museum, you'll want to walk around and admire the glass cone building as well as the Martin Blank sculpture "Fluent Steps", made here in the hot shop, which looks like hundreds of clear glass jellyfish mounted on stainless steel rods, all of which stand in a 210-foot long reflecting pool; Fall / Winter, open Wed–Sat 10 a.m.–5 p.m., Sun noon–5 p.m., Summer open Mon–Sat 10 a.m.–5 p.m., Sun noon–5 p.m. adults $15, 62+, military, students $12, AAA members $13, Children age 6–12 $5, 1801 Dock St., Tacoma, 866-468-7386, www.MuseumOfGlass.org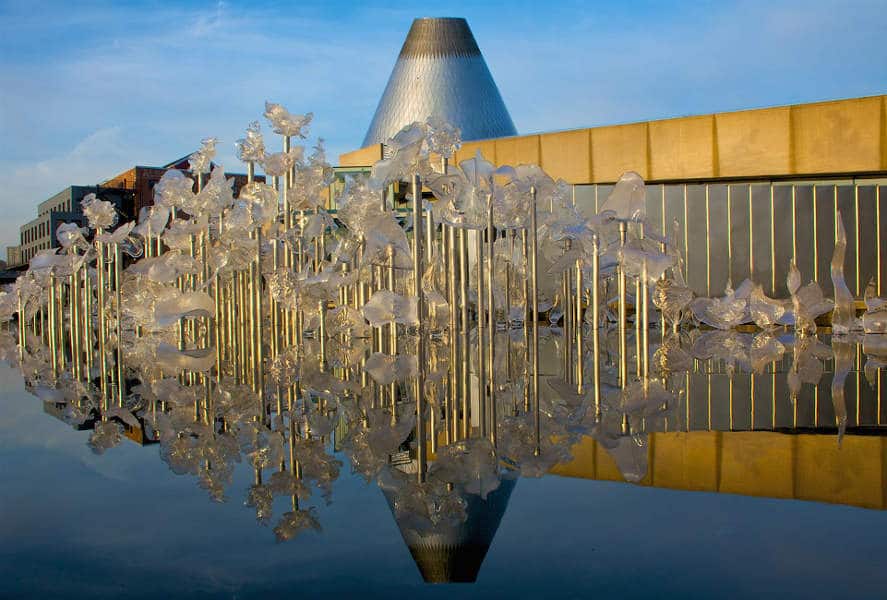 Cross the bridge from the Museum of Glass and you're in Tacoma's Museum District, where you can actually find some of the best Chihuly sculptures. Union Station, listed on the National Register of Historic Places, is now a U.S. Courthouse. The 90-foot dome, white marble, and skylight are all breathtaking from inside, as is the gigantic, colorful glass chandelier consisting of over 2,700 colored glass pieces that hangs from the dome, and huge orange flowers that seem stuck on the glass walls of the skylight. Open weekdays 8 a.m.–5 p.m., picture I.D. required for entrance, 1717 Pacific Ave.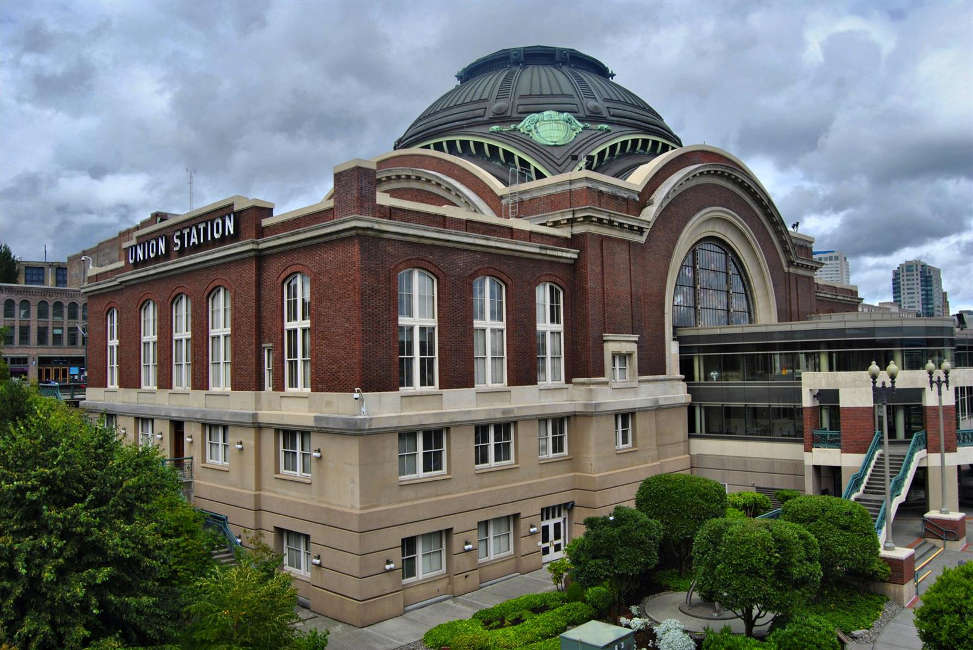 The Washington State History Museum is next door to Union Station and echoes its architecture. Permanent exhibits tell the history of the Northwest; open Tue–Sun 10 a.m.–5 p.m., adults $11, 60+, military, students (age 6-17) $8, children under 5 free, 1911 Pacific Ave., 253-272-9747, www.WashingtonHistory.org
Just north of the glass bridge, the Tacoma Art Museum emphasizes art and artists from the Northwest. It also showcases the world's largest display of Dale Chihuly glassworks. There's an excellent café onsite,  open Tue–Sun 10 a.m.–5 p.m., adults $14, 65+, students, military $12, children under 5 free, 1701 Pacific Ave., 253-272-4258, www.TacomaArtMuseum.org
Special deal! Go online to purchase a Tacoma Museum Pass, valid 7 days for one visit each to the Museum of Glass, Tacoma Art Museum, Washington State History Museum, and LeMay – America's Car Museum. Adults $45, students, 65+, military $35, //www.washingtonhistory.org/visit/wshm/museumdistrict/
There's more nearby: a Theatre District with historic buildings and good shopping and dining, Opera Alley's restored buildings, and the Historic Pacific District, www.DowntownTacoma.com/tourdowntown
Where to Stay and Eat in Tacoma
The Forbes four-star rated Hotel Murano, on a hill just north of the Tacoma Art Museum, offers wonderful views of the waterfront, but I couldn't take my eyes off the colorful, ultra-modern décor, furniture, and museum-worthy glass art everywhere.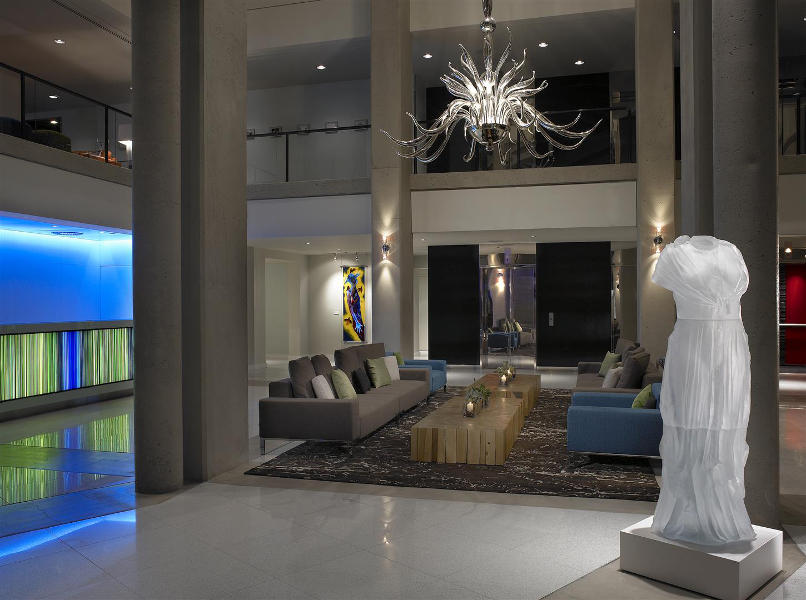 Rooms offer menus of specialty pillows, iPod music menus, spiritual menus (inspirational faith books), as well as anything your pet might need, from a bed, bowl, or room service, to a psychic—really. The Savi Day Spa offers massages, body treatments, facials, and nail services, while Salon Miro specializes in artistic hair styling. The way-hip Lobby Bar serves creative cocktails and small plates; a jazz trio performs every Thursday 8:30–11:30 p.m. Onsite Bite restaurant serves breakfast, lunch, and dinner (see Where to Eat); rooms $159–$369, 1320 Broadway Plaza, 253-238-8000 or 888-862-3255, www.HotelMuranoTacoma.com
Bite, in the Hotel Murano, is worth a visit even if this isn't your hotel. Charcuterie and cheese, bloody Mary Manila clams, fried green tomatoes, and fries with gravy poutine are some of the intriguing appetizers. A butternut, sage, and browned butter risotto is perfect to split with a filet mignon accompanied by gorgonzola and fig-port sauce, entrees $16–$36, open daily 6 or 7 a.m.–9 or 10 p.m., 1320 Broadway Plaza, Tacoma, 253-238-8000, //www.hotelmuranotacoma.com/bite-restaurant/
A bit of Italy in Tacoma—that's the luxurious Villa Bed & Breakfast Inn, with five unique rooms and views of Tacoma's historic district and the Olympic Mountains. Foot-thick walls keep rooms quiet so you can relax in front of your gas fireplace or soak in your deep tub. Your gracious hosts Toni and Martin set an eye-popping breakfast before you; a guest kitchen is open around the clock for home-baked cookies, snacks, and coffee or tea, $150–$250, 705 N 5th St., 253-572-1157, www.VillaBB.com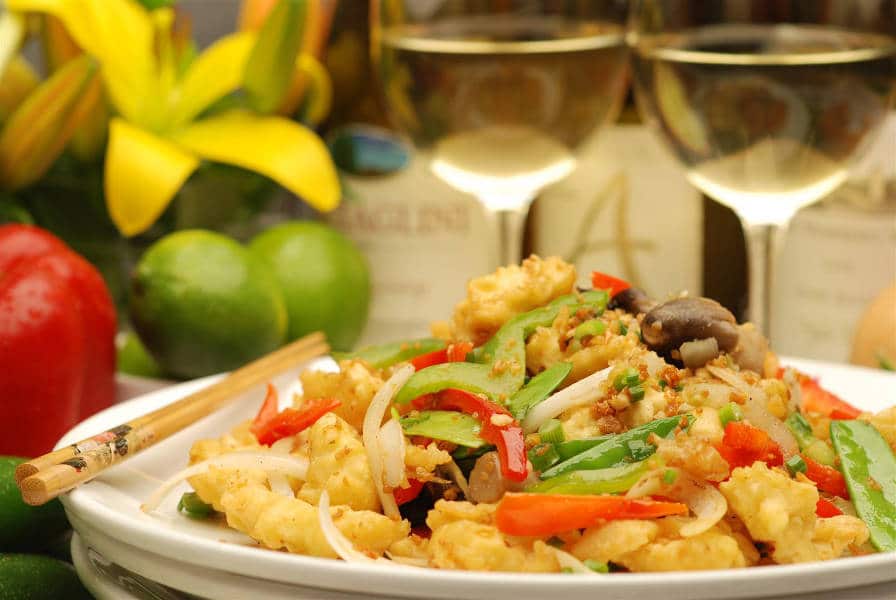 On Pacific right across from the glass bridge, Indochine Asian Dining Lounge offers Asian fusion dishes and a popular night life venue, with a color-shifting bar wall. It's dark and cozy inside, with rich cherry wood tables and beams and red draperies. Taste the flavors of Thailand, Vietnam, India, Japan, and China in curry, noodle, and wok dishes or specialties like a rich, nutty paella with black Thai rice and coconut milk, entrees $14–$27, open Tue–Thu 11 a.m.–9 p.m., Fri 11 a.m.–10 p.m., Sat noon–10 p.m., Sun noon–9 p.m., 1924 Pacific Ave., Tacoma 253-272-8200, www.IndochineDowntown.com
What to do in Puyallup
Each February, aviators flock to Puyallup, Washington, just south of Seattle, for the Northwest Aviation Conference & Trade Show. If you do visit in February, you'll want to spend a day at the Northwest Aviation Conference & Trade Show, which regularly pulls in over 12,000 aviators who come for both education and inspiration. The AOPA President Mark Baker always gives a keynote address. Other well-known aviation figures are also usually in attendance; Rod Machado spoke both days in February of 2015. Seminars included historical flights, aviation heroes, aircraft maintenance, financing, light sport aircraft, and medical issues. Many of the seminars are eligible for FAA Wings credit. Booths run the gamut from pilot organizations like the Recreational Aviation Foundation, and the Idaho, Montana, Oregon, Washington, Canadian, and Seaplane Pilots Associations, to African flying safaris. Airplane gadgets of every kind abound, including the latest from avionics and aircraft manufacturers like Seattle Avionics and Cirrus. They also usually have an Aviation Career Forum will be held, as well as an FAA-approved IA refresher clinic satisfies the requirement of FAR 65.93(a)(4); each $35, includes lunch and admission to both days of the conference; register online or by phone. General admission $5, under 16 free, parking free, open Sat–Sun (usually around Feb 20) 10 a.m.–4 p.m., Showplex, Blue Gate, Puyallup Fair & Events Center, 110 9th Ave. SW, Puyallup, 866-922-7469, www.Washington-Aviation.org
Fairfield Inn & Suites by Marriott is the recommended hotel of the NW Aviation Conference & Trade Show. It's less than a mile from the Showplex, with a free continental breakfast, WiFi, fitness center, indoor pool and whirlpool, and parking. Ask for the Washington Aviation Association trade show room rate of $129, 202 15th Ave. SW, Puyallup, 253-770-3100, www.Marriott.com
In Puyallup, Crockett's Public House, a favorite of famed TV-food personality Guy Fieri, provides a wide spectrum of American pub dishes like ribs, meatballs, fish tacos, house-made chili, salads, cod & chips, and fried chicken & waffles; the breakfast menu is huge too. Interior walls are brick, with stained-glass accents. Thin, hand-cut fries are exceptional, especially with roasted mussels, entrees $11.50–$27, open Mon–Thu 11:30 a.m.–10 p.m., Fri 11:30 a.m.–midnight, Sat 8 a.m.–midnight, Sun 8 a.m.–10 p.m., 118 E. Stewart Ave., Puyallup, 253-466-3075, www.CrockettsPublicHouse.com
Visiting Sumner
Just east of Puyallup, the small town of Sumner beckons with sweet temptations each summer. This self-proclaimed Rhubarb Pie Capital of the World hosts a series of summer festivals that embrace this versatile ingredient. Sumner is the perfect place to take a stroll back in time, with small, independently-owned shops and restaurants. There's even a bike trail, so you can rent a bike and work off that pie.
Stop by Windmill Gardens and pick up some rhubarb you can grow yourself (in season), as well as hanging flower baskets and gardening supplies, open Mon–Fri 9 a.m.–6 p.m., sat 9 a.m.–5 p.m., Sun 10 a.m.–5 p.m., 16009 60th St. E, 253-863-5843, www.WindmillGarden.com
Family-owned stores are the rule here, a refreshing break from the same corporate stores you otherwise see nation-wide. Both hobbyists and professional carpenters enjoy Sumner Woodworker Store. It's chock-full of tools and specialty items, open Mon–Sat 9:30 a.m.–5:30 p.m., 908 Cherry Ave., 253-891-9413, www.SumnerWoodworkerStore.com
For over 30 years, Simple Tidings & Kitchen has been a Main Street fixture, with everything you need to can that rhubarb (or other preserves), and just about every other practical kitchen gadget you can think of, including gourmet food items, open Mon–Sat 10 a.m.–5:30 p.m., Sun 11 a.m.–4:30 p.m., 1115 Main St., 253-863-7933, www.SimpleTidings.com
Sugar Babies is a fancy children's boutique, just the place to find baby shower gifts and dress-to-impress styles for the under-12 set, Mon–Sat 10 a.m.–5:30 p.m., Sun 11 a.m.–4 p.m., 926 Main St., 253-299-6221, www.ShopSugarBabies.com
All this shopping is sure to work up an appetite, so head over to Berryland Café for a slice of rhubarb pie. They serve breakfast all day, as well as sandwiches, hot lunches, and hamburgers, $5–$10, open Mon–Sat 6:30 a.m.–5 p.m., 1101 Main St., 253-863-4567, www.BerrylandCafe.com
Like your rhubarb pie with crumb topping? Then you'll want to visit Dixie's Home Cookin', where huge tasty portions of comfort foods are doled out with smiles, entrées $5–$24, most around $11, open Mon–Thu 7 a.m.–3 p.m., Fri–Sat 7 a.m.–8 p.m., Sun 7 a.m.–2 p.m., 15717 Main St., 253-863-0111, www.DixiesHomeCookin.net
Main St. Dairy Freeze is the place for nostalgia, with over 40 flavors of milkshakes made the old-fashioned way. You can also grab a burger or hot dog, though we'd just stick with the shake, entrées $4–$8, open Mon–Sat 10 a.m.–10 p.m., Sun 10 a.m.–9 p.m., 1402 Main St., 253-863-8010.
Work off all that pie on the bicycle trails, including the Sumner Link Trail that follows the White River (where you might even try a little fishing). From this trail you can connect to the Interurban Trail 12 miles north of Sumner, or the Foothills Trail, 12 miles south of Sumner. Pick up a rental bike at Trailside Cyclery in nearby Orting, from $10/hour, open Tue–Sat 10 a.m.–5 p.m., 207 Van Scoyoc Ave. SW, Orting, 360-893-7333.
Stuck Junction Saloon is a good place to end up after your ride; choose from a variety of draft beers to go with your local-beef burger. The onion rings are very popular, as are the flatbread pizzas, entrées $8–$12, open Sun–Fri 11 a.m.–11 p.m., Fri–Sat 11 a.m.–2 a.m., 1005 Main St., 253-826-4408.
For more information about Sumner, visit www.RhubarbPieCapital.com/visiting-sumner
Transportation
On Trade Show weekend at PLU, FBO Spencer Aircraft provides a free shuttle between the airport and Showplex. Shuttles begin service from PLU 30 minutes before the show opens and continue all day until 30 minutes after the show closes.
For any other time, a rental car is needed. At PLU, Enterprise has an office a few blocks away. Reserve ahead, then call when you land. Enterprise will pick you up at the airport and take you to their office for paperwork, $30–$40, mention Spencer Aircraft for 5% discount, open Mon–Fri 7:30 a.m.–6 p.m., Sat 9–noon, closed Sun; after hours, you can drop the keys off with either FBO (arrange ahead), 253-770-6151 or 800-RENT-A-CAR, www.Enterprise.com At TIW, Enterprise has an office on the field, 253-853-3882, but you're better off reserving through Tacoma Narrows Aviation. They'll ensure your car is waiting for you, $55 per day for any car, 253-853-7742.
In Conclusion
Tacoma's LeMay America's Car Museum has something for all lovers of classic cars, and is worth a flight to Tacoma all on its own. But there's so much more to see in the newly revitalized downtown. The Museum District is perfect for walking, the harbor is interesting, and the food and hotels are top-rate. Summer is the perfect time to walk the streets of Sumner. Browse the shops, rent a bike, and don't miss a slice of that delicious rhubarb pie. And in February, pilots from the Northwest and far beyond head to the Northwest Aviation Conference & Trade Show, the first big aviation show of the year. Don't miss it next year!