Lynk Remote Technologies has revealed the HangarBot system, which provides users with the ability to control, automate and secure general aviation hangars from any location worldwide, provided they have network connectivity. The system has two main components, the HangarBot hub which is mounted inside the hangar, and the HangarBot mobile app.
According to Morgan Walker, the HangarBot's inventor and President of Lynk Remote Technologies, "After two years in development, we are excited to lead the aviation industry into a more modern, convenient and connected era with the debut of HangarBot … now, owners can protect and manage the environment around the aircraft easily and with confidence – anywhere in the world."
Details on the HangarBot Hub and App
The wall mounted HangarBot system, which works through cellular network connectivity, contains sensors that can monitor and control hangar temperature, video surveillance, and other connected devices. The HangarBot app speaks directly to the HangarBot hub to accomplish these actions, and can also be used to open and close the hangar door, and schedule actions, such as turning on the hangar's heating at scheduled times.
The hub, which is specifically designed to work in remote locations, will come with three cellular data plans that offer different levels of data. The base plan comes with 25 MB of monthly data for $10 a month, while the mid-range plan offers 300 MB for $20 a month, and the highest level plan offers 1 GB for $30 a month. With the 1 GB plan, in particular, the HangarBot can also serve as a Wi-Fi hot spot for the hangar.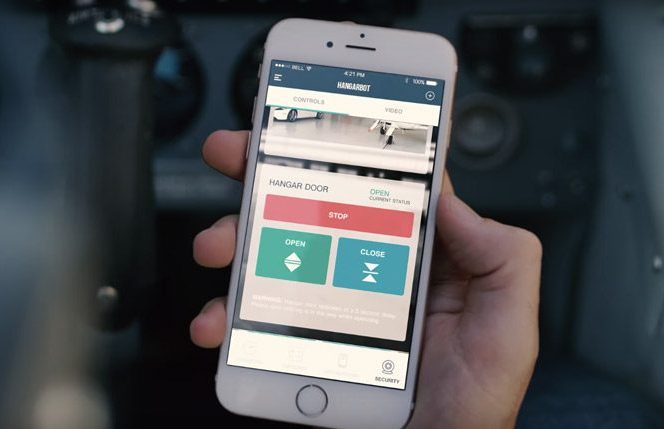 "We wanted to offer a practical solution with low monthly data service costs, so we created a unique system from the ground up that minimizes message size between the server and HangarBot, and by processing the routine tasks directly on HangarBot," said Walker.
The HangarBot hub can currently be pre-ordered for $299, and comes with three free months of data, after which users will need to select a data plan. Users will be able to log into their account on the HangarBot website at any time to adjust or cancel the monthly data plan at any time.
Featured Image: Jeremy