The Commemorative Air Force is offering pilots and aviation enthusiasts the chance to experience a part of World War 2 aviation history up close in one of two historical World War 2 aircraft.  They will be bringing the P-51 Mustang, called "Red Nose," and the SB2C-5 Helldiver, called "The Beast," to Fond du Lac Airport (KFLD) to take part in EAA's AirVenture 2016, running July 25th – July 31st. The aircraft will be on display, and aviators will also be offered the opportunity to purchase a ride in either of the two aircraft.
The CAF Dixie wing will have a rides desk set up at the CAF Headquarters tent in the Boeing Plaza at AirVenture. You can also purchase a ride through their website, in 20, 30, 40 and 60-minute increments for the P-51, and 20-minute increments for the Helldiver.
Historical World War 2 Aircraft – P-51 Mustang "Red-Nose"
The P-51 Mustang "Red-Nose" was manufactured near the end of World War 2 at the North American Aviation plant in Inglewood, California. It rolled off the line on April 11th, 1945, and was accepted into service by the USAAF under the serial number 44-73843. The Mustang was then purchased by Lloyd P. Nolen and three friends on October 17, 1957, for $2,500. This is considered to be the unofficial start of the CAF, which became more official later that year when someone painted "Confederate Air Force" (the group changed its name in at the beginning of 2002 to the "Commemorative Air Force") 0n the tail of the P-51, and the name stuck. "Red-Nose" was donated to the CAF officially in 1977, and became part of the American Airpower Heritage Flying Museum collection in 1991.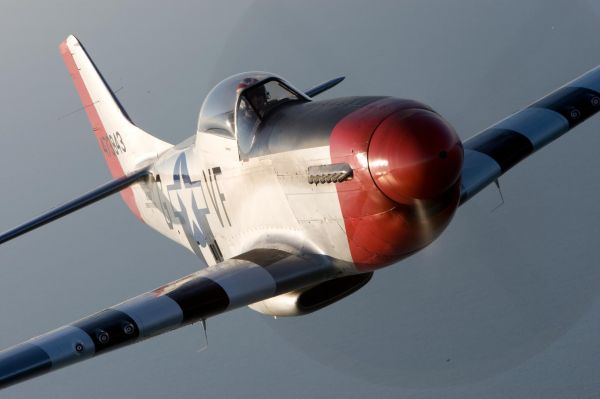 Historical World War 2 Aircraft – SB2C Helldiver "The Beast"
Originally, around 7,200 Helldivers were built, and the CAF Helldiver "The Beast" is the only SB2C that is still flying. The plane was originally used by the Navy between 1945 and 1948, after which the aircraft was removed from active service and declared surplus. A member of the CAF purchased the Helldiver in from the Planes of Fame museum and donated her to the CAF on December 20th, 1971. The Beast's current colors and marking are from the carrier USS Franklin CV-13.
Featured Images: Commemorative Air Force