The AOPA 2017 Fly-Ins Will Feature A Variety of Workshops and Clinics on Both Days.
Back in December last year, it was revealed that the AOPA 2017 Fly-Ins would be following a new, expanded two-day format. Now, AOPA has revealed additional details regarding what workshops and clinics will be offered during four scheduled fly-ins for this year. The four fly-ins for this year will be:
Camarillo, California -Friday and Saturday, April 28 and 29, 2017
Norman, Oklahoma -Friday and Saturday, September 8 and 9, 2017
Groton, Connecticut -Friday and Saturday, October 6 and 7, 2017
Tampa, Florida – Friday and Saturday, October 27 and 28, 2017
Details on the Friday Workshops for the AOPA 2017 Fly-Ins
AOPA will be offering pilots the choice of attending one of four Friday workshops at the fly-ins, which they describe as "an intensive, deep dive into hands-on, experiential learning on selected vital topics."  The workshops will each run for 7 hours, and cost $105 for AOPA members, $155 for nonmembers, and $75 for spouses. For pilots interested in attending the workshops, AOPA says online preregistration is required, and pilots will be able to arrive on Thursday and camp out. The following four workshops are being offered:
Skills and Safety

On September 8th, at the Norman, OK fly-in, this workshop will be replaced with a seminar on weather, which will include a tour of the National Weather Service.

You Can Fly
Aviation Experience
Maintenance and Ownership
Skill and Safety Workshop
AOPA Pilot and Editor-at-Large Thomas A. Horne (drawing on his "extensive experience with long-range overwater flight in general aviation aircraft"), and mountain flying specialist Lori MacNichol will lead the Skills and Safety workshop, discussing the skills necessary to fly safely in these challenging environments, including the items that it's suggested you have on hand if you are faced with either a forced landing in mountainous terrain or after a ditching at sea.
The workshop will also feature hands-on training, such as pulling a life raft out of storage and then deploying it, filling it with air, and donning a personal flotation device in a real time run-through of a ditching emergency.
According to Chris Eads, AOPA's Director of Outreach and Events, "You will learn how to flight plan and to be oriented and prepared so that you won't be seeing all this for the first time in an actual emergency."
You Can Fly Workshop
For the You Can Fly workshop, presenters from Seattle, Washington-based Rainier Flight Service, will be drawing on their thousands of hours of flight instructing experience to cover instrument flying and help IFR pilots dust off and refresh their hard-earned skills.
Aviation Experience Workshop
For the Aviation Experience workshop, the theme is 'Pilot Plus One,' and it will combine safety with a variety of great tips for pilots to make their aircraft "a centerpiece of your relationship through travel, aerial photography, and more."
Jolie Lucas and Jan Maxwell will share a 'Right Seat Ready' safety briefing for pilot's companions, while globetrotting pilot Robert DeLaurentis will share tips on ways to help people overcome their fears and apprehension when it comes to flying, and unleash a love for aviation. Also on hand will be George Kounis, who publishes Pilot Getaways magazine, to discuss traveling and enjoying your aircraft, while award-winning photographer and photojournalist Jim Koepnick will cover aerial photography.
Maintenance and Ownership Workshop
Finally, aviation adventurer Adrian Eichhorn and A&P mechanic with inspection authorization Mike Busch will host the Maintenance and Ownership workshop. AOPA says this workshop is perfect for the aircraft owners who, rather than simply handing over their aircraft to a mechanic any time there's maintenance to be performed, wonder "What can I, the aircraft owner, do to help out?"
This workshop will offer a "hands-on session that takes you to a new level of awareness and knowledge of the mechanical needs of your aircraft", and give attendees the chance to participate in scenarios from changing the oil from an actual aircraft to cleaning and gapping spark plugs and examining the insides of an aircraft engine in order to determine its health.
Details on the Saturday Clinics for the AOPA 2017 Fly-Ins
On Saturdays, in addition to their popular Rusty Pilots seminar, the AOPA 2017 Fly-Ins will be featuring the following clinics:
A BasicMed briefing with Gary Crump, the director of the AOPA Pilot Information Center Medical Certification Section.
An ADS-B Out briefing and update with AOPA Pilot Technical Editor Mike Collins.
Sixty-five Years of Flying – Stories and lessons from retired airline pilot, author, and aviation media consultant Barry Schiff.
The Drone Experience – Kat Swain, AOPA's senior director of UAS programs, will be "pulling back the curtain on this fast-emerging segment of aviation."
Discussing flight safety and how to avoid loss of control with flight instructor and aerobatic pilot Catherine Cavagnaro.
For more information on the workshops and seminars, click here, and for more information on the fly-ins, and to register for workshops, click here.
---
Original Post 12-13-16: AOPA Sets Schedule for 2017 Fly-Ins and Expands To a Two-Day Format
AOPA has announced dates and locations for their 2017 regional fly-ins. In addition, they're saying that due to the incredibly positive response from both aviators and exhibitors, they're expanding each of the four AOPA 2017 Fly-Ins to include a second day of activities and "hands-on aviation."
According to Chris Eads, AOPA's Director of Outreach and Events, "We're listening to our members who have asked for more extensive content, and we're excited to bring new things that will deepen relationships and expand your flying skills." AOPA shifted from a single annual event to a series of four regional fly-ins in 2014, in an effort to make it possible for more members to attend with locations closer to home. According to the group, the new format has been a success so far, with total attendance growing 15 percent from 2014 to 2015, and 33 percent between 2015 and 2016. They add that the events have seen more than 6,000 aircraft operations logged to date.
As Eads and AOPA's event planning team have refined their approach to the fly-ins, they've found the events to be a place where "friendships are forged" and the "aviation community has grown stronger."
Where and When Will the AOPA 2017 Fly-Ins Be Happening?
Camarillo, California -Friday and Saturday, April 28 and 29, 2017
Norman, Oklahoma -Friday and Saturday, September 8 and 9, 2017
Groton, Connecticut -Friday and Saturday, October 6 and 7, 2017
Tampa, Florida – Friday and Saturday, October 27 and 28, 2017
What's Going On at the AOPA 2017 Fly-Ins?
Both days of the fly-ins will feature a full schedule of activities, including an expanded roster of "learning opportunities and workshops." Here are some of the events AOPA has previewed for the fly-ins:
Friday

Starting at 9 AM – Workshops and clinic programs, featuring topics and speakers that will include "some that are location specific, taking advantage of the geography of each area." Details of the programs are still being worked out, but Eads says that you can count on them to "take you to new places in your aviation experience." He adds that attendees will be able to look forward to such things as learning about the finer points of mountain flying, overwater flying, and other topics that will help pilots sharpen their skills.
Starting at 4 PM – AOPA Village, the aircraft display and the exhibit hall will all open.
From 6 PM to 9 PM – The Barnstormers Party.

Saturday

Pancake breakfast
Starting at 9 AM – AOPA Village and various seminars and workshops start, including AOPA's Rusty Pilots seminar.
Ice cream socials
Pilot Town Hall meetings with AOPA President Mark Baker
AOPA also says that each event will include a selection of local dishes, "because every party needs good food."
---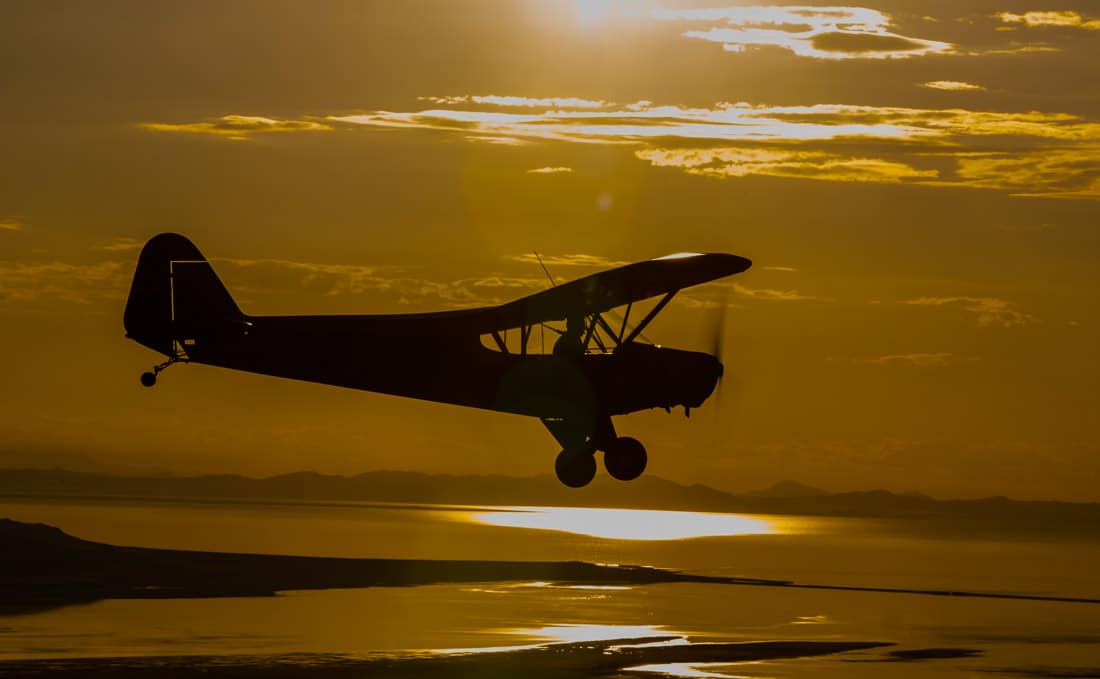 It seems as if general aviation's on the decline – or at the very least taking serious potshots if you take to heart the doomsayers' predictions. According to GAMA – the General Aviation Manufacturers Association – the average age for all pilots in the U.S. is 44.7, and many younger people aren't interested in learning to fly. They'd rather Tweet, Skype or play Madden 2017.
More people want to fly drones than GA airplanes. The FAA estimates the number of certified commercial UAS (Unmanned Aircraft Systems) operators will easily top 600,000 within the year. But I think it's the perfect time to be a general aviation pilot. Here's why. [Click here to read more…]
---
Official activities are set to end at 3 PM on Saturday. However, AOPA is saying that after 3 PM on Saturday, they're working to organize small fly-outs to nearby areas "to allow new friends and old to spend more time flying together to interesting regional destinations."
AOPA is also working on creating an aircraft sales corral at each of the AOPA 2017 Fly-Ins, in order to help members buy and / or sell aircraft. In addition, they say they're also working on a drone experience as well, which would include caged flight demonstrations.
Featured Image: Adam Reeder, CC2, AOPA Salinas Fly-In