Robert DeLaurentis: Zen Pilot, or Insanity in a 1997 Piper Malibu Mirage
Flying over the Bay of Bengal, the calm exterior of the nano ceramic-coated Spirit of San Diego belied the chaos brewing within. Pilot Robert DeLaurentis had a difficult decision to make, one that would affect the rest of his life, which may end up being only the next 10-15 minutes. Quickly running out of fuel, Robert knew that he wouldn't be able to make it back to land if he turned back, so he embraced the 30 knot tail wind and climbed at a painstakingly slow 100-200' per minute to stiller, thinner air to avoid wasting precious fuel. The higher elevation offered less resistance, and he needed to be as aerodynamic as possible.
After switching to "economy cruise," Robert decided to take a chance and adjust one of the two fuel valves to redirect Avgas flow to the engines. Unfortunately for him, he guessed wrong.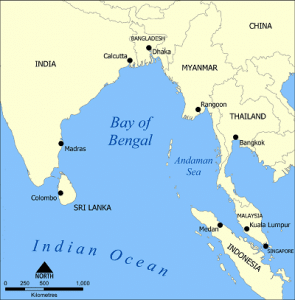 Suddenly, a bad situation turns into the worst situation possible as Robert realized he had just dumped 30 gallons of desperately-needed Avgas into the bay…
October 20, 2016: Truckee-Tahoe Airport Speaker Series with Robert DeLaurentis
This just one of the many near-fatal catastrophes Robert experienced during his aerial circumnavigation of the world in a single engine Malibu Mirage. Robert, a fairly new pilot at the time, decided to embark on this life-changing journey in an attempt to show everyone, young and old, male and female, that flying in piston aircraft is safe and accessible, in addition to showcasing top-of-the-line aviatronics and raising money for Lindbergh-Schweitzer Elementary and "The Spirit of San Diego" AOPA scholarship to encourage people to "dream impossibly big."
As noble as these goals are, Robert wasn't afraid to admit the many life-threatening situations he found himself in on his flight around the globe, and admits that as of right now, aviation is not as accessible to everyone as he wanted to believe, "not with the pistons we have today." After Robert returned home to San Diego, he had visited 23 countries in 98 days, and flew 26,000 total nautical miles, over 12 oceans and seas. Though breaking records wasn't his priority, the Spirit of San Diego was also the first Piper Malibu Mirage to travel over the 3 main oceans.
Robert, a Gulf War Navy veteran, entrepreneur, philanthropist, and holder of a master's degree in spiritual psychology embarked on his trip in May 2015, from Lindbergh Field, San Diego. His first stop was Newfoundland, to take off in the same spot that Charles Lindbergh did for his aerial adventure 88 years earlier. Lindbergh, nicknamed Lucky Lindy, set out on a solo Transatlantic in his single-seat, single-engine, purpose-built Ryan monoplane, the famous Spirit of St. Louis. The Spirit of St. Louis was equipped with the best technology available at the time of his record-breaking flight in 1927, just like the Spirit of San Diego would be, and Lucky Lindy, like Robert DeLaurentis, wanted to illustrate that both planes and pilots are capable of more than anyone could imagine.

When Robert decided to set out on this journey, he realized he needed a great many things, including money, sponsors, and a name for his Malibu. One morning, Robert awoke with the Spirit of San Diego tugging at his lips with the fervor of destiny. "I couldn't not say it," he smiled, knowing it was meant to be. He needed a name that would represent the grandeur and impossibility of his undertaking, as well as a name that would pay homage to Charles Lindbergh's bravery, and the big personality of the city that he loves, San Diego.
With a name and a goal in mind, Robert set out to find sponsors to support his journey. His charismatic personality paved the way for most monetary and equipment donations to his cause, but with a price tag of $200,000, Robert's trip needed all the support it could get. Discussing sponsor ideas with a friend, Robert tossed out the idea of approaching a protein bar company for their support, which his friend shot down. They only want professional athletes, his friend claimed, not pilots. This rejection fueled his decision to approach them anyway, because as Robert explained, "I don't like it when someone tells me no, so automatically I'm going to do it."
After a niceties were exchanged on the phone with the protein bar company, Robert cut into the heart of the matter. Speaking with a representative, he explained that though they normally support traditional physical athletes, "Pilots are pro-athletes who can't even afford to lose once." With that, he got the deal. Now plastered with 37 different sponsors (a design Robert jokingly refers to as the "Ricky Bobby version," referencing hilarious NASCAR parody film Talladega Nights: The Ballad of Ricky Bobby), Robert had all the required necessities for his journey.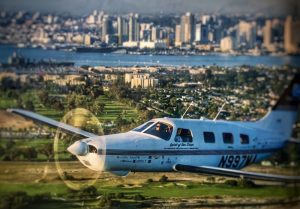 The companies that provided the technology for the Spirit of San Diego have placed an emphasis on the advancement of affordable, high end, green aviation technology, which reduces the environmental impact of aviation by reducing Avgas and oil consumption. The nano ceramic coating, or Flight Shield, by Clean Wings Aviation on the exterior of the Spirit of San Diego greatly improves range and fuel efficiency, the four bladed composite MT Propellers with scimitar blades and nickel leading edges by Advanced Aircraft helps create more thrust to propel the plane by torque rather than burning extra fuel, and High Performance Aircraft installed the first Electroair electronic ignition ever put on a Piper Malibu Mirage with a Lycoming engine. These are just a few of the exciting ways the Spirit of San Diego, and the planet, benefited from Robert's many environmentally-minded sponsors.
Community Outreach Inspires (and warns) Aviators
The tension in the conference room at the Truckee-Tahoe Airport was palpable, as community members
and pilots perched at the edge of their seats, waiting for Robert to explain how he survived malfunction after malfunction on his solo circumnavigation in his Piper Malibu Mirage, the Spirit of San Diego. Eyes flicked between the map of the Bay of Bengal projected on the overhead display and Robert, whose jokes and animated movements attracted the audience's attention like a magnet.
"I just dumped 30gal of Avgas into the water," he reiterates. Roberts' flight from Nagpur, India to Subang, Malaysia carried him right over the "bingo point" of the Bay of Bengal- the point of no return. Running out of fuel, Robert climbed slowly to his "happy spot" at 21,000', where the wind resistance wouldn't hinder his progress as he tried to create an escape plan. Redirecting his flight path, Robert guided the Spirit of San Diego as it glided to safely to the nearest airport along the Bay of Bengal. The misaligned fuel tanks that put him in this sticky situation would be the least of his problems, as he would realize days later, only 600 miles from Monterey, California, and the end of his trip.
During an interview with a local news outlet in the airport hangar, out of the corner of his eye Robert caught a mechanic with both hands wrapped tightly around a wrench, likely tightening a fitting somewhere in the engine. His head was still in a near-death experience haze, and cumulative fatigue was setting in, so the information floated back into the recesses of his mind. It wouldn't be until he was in another life-threatening situation that he would remember the mechanics aggressively improper treatment of the Spirit of San Diego.
After refilling the plane and the extra ferry tanks situated where the passenger seat would normally be, Robert
noticed that the plane was so over-full with fuel (a total of 315gal) that the tires looked as though they were flat. The Spirit of San Diego was 27% over the max gross recommended by the FAA, but that wasn't what concerned Robert. Something was off, and unfortunately he wouldn't realize what it was until much too late.
Riding the ocean winds 14,000' over the Strait of Malacca on their way to Malaysia, the heavy Spirit of San Diego was struggling against gravity and fate as the oil pressure suddenly dropped to zero. Head throbbing against the helplessness of his situation, Robert used his DeLorme satellite communicator to message his airplane mechanic back home, desperately asking for a solution to his problem. By the time they had made any meaningful headway, the propeller had over-sped and jammed.
"I felt like a bird in a cage, and the gods were rattling the cage. It was like cosmic torture," Robert described. With only five to 10 minutes determining the rest of his life, fear was bubbling into his mind, along with images of him trying to survive a plane crash into one of the busiest waterways in the world, if he even survives the impact.
The nearest airport was over 20 nautical miles away, and with no oil pressure, no engine, and no propeller, that would be a long glide, slowly losing altitude the whole way. Robert added oil slowly while trying to convince the air traffic controller at a nearby Malaysian airport.
"Requesting a vector to Kuala Lumpur International," Robert asked, again and again. The controller tried to turn him away four times, from flat out rejection to attempting to redirect him to the airport he just left.
"Negative, requesting emergency vector to Kuala Lumpur International," Robert said, mentally preparing himself for the consequences of landing without their permission. As he got closer and closer to the airport, he took in the empty gray tarmac, and realized this sleepy airport turned him away multiple times simply because they didn't want him impeding their limited commercial traffic. Suddenly, after adding 3qts of oil, the pressure hopped back up to 40psi. A small spark of hope ignited Roberts' survival instincts, and he was able to explain that he was in serious peril and he was landing at their airport with or without their approval. Finally recognizing he wasn't fooling around, the air traffic controller directed him to a small runway.
Buckling in his frustrations, Robert began his descent to the Malaysian airport. Firetrucks were lined up along the runway between the hulking 737's. When he climbed out of the cockpit, undoubtedly shaken, Robert noticed none of the airport crewmembers would look him in the eyes. It was an unnerving situation; narrowly escaping death only to be treated as if invisible. It was during Roberts's short stay in Malaysia while his plane was undergoing repairs that he seriously considered abandoning his journey. He'd risked his life from the moment he lifted off the runway back home with a gear warning illuminated on his control panel; maybe it would be the smartest thing to turn back, to go home, flop down on his couch and watch some TV.
"Flying over the Pacific was insanity."
Flying over open water plays the strangest tricks on the minds of solo pilots. Only 600 miles off the coast of California, just hours from home, Robert heard the once-soothing hum of the turbo engines fluctuate from a roar to a whimper, as well as whispery echoes licking his headset. Flying over the ocean alone is what Robert calls "an amazing head game," similar to a high-intensity sensory deprivation tank. In the absence of the ceaseless dialogue between other pilots and traffic controllers, the mind attempts to entertain itself by engaging the auditory senses. Unfortunately, when combined with the smothering fatigue from the last few months, these auditory hallucinations had the opposite of an "entertaining" effect.
As if imaginary dangers and engine troubles weren't enough, Robert checked the instrument panel to see that the oil temperature had risen over 10 degrees in the last hour. "The gods are cruel," Robert remembers thinking to himself. Once again in a race against time, Robert contacted every airplane mechanic or experienced pilot he could think of, trying to find any solution that may save his life on the last leg of his amazing, record-breaking trip.
Both Robert and the aviation experts he contacted assumed the oil must be burning off at a frightening rate, and so he added a quart every other hour or so. It was at this moment that Robert recalled the airplane mechanic tightening the fitting.
Whether he knew the damage he caused or not, it appears that the mechanic had snapped the fitting on the oil drain line on the right front cylinder. It was a shiver-inducing revelation as Robert realized the horrifying reality of the mechanics unwillingness to make eye contact. Had he intentionally doomed Robert to a watery death, plunging into the depths of the Pacific, close enough to salvation to make out the shoreline of the mainland?
"The last leg is always the hardest leg," Robert tells the audience, pointing to an illustrated map of the distance between Honolulu and Monterey. He described the moment he looked to the passenger side, hoping for a co-pilot, and saw the ferry tank occupying the space.
"Oh, my god… I'm alone," Robert remembers thinking as the reality of the situation set in. Only hours from home, from his soft bed and solid ground, his terror swept away the scales from his eyes as he realized, "I'm not alone, I have Fear. It's been with me the whole time." Accept the fear, he tells the audience, understand it. Embrace the clarity it gives you. These metaphysical thoughts and theories of reincarnation tumbled through Roberts' mind alongside this simple, biting mantra:
You're not going to make it. You're not a good enough pilot. You didn't study hard enough.
Slowly, the oil temperature dropped, and though the plane was heavy and handling poorly, Robert survived the flight. Later, he and his aviation mechanic would gather that he flew through an incredibly hot pocket of air, which is what caused the dramatic oil temperature increase. After the most stressful flight of his life, Robert emerged from the fog weaving in and out of the coastal mountain range at the Monterey airport. A terrifying 12-hour, 28-minute flight that he was convinced may be his last finally brought him home safely to California, landing with 16qts of oil in his 11qt tank.
Flying Thru Life
"You can get lucky once. You can get lucky a second time, or even a third time. But six times? That's not luck," Robert pointedly tells his captive audience, referring to the six total mechanic malfunctions on his circumnavigation. "We live many lives," he continues. "If this one is short, the next one may be longer."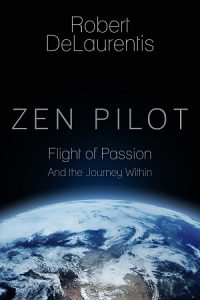 This concept is what keeps the Zen Pilot in the cockpit. There's nothing stopping you from dreaming impossibly big, and Robert set out to prove that, and lived to tell the tale. Combining the once-in-a-lifetime experiences he gained on his aerial adventure with the Spirit of San Diego with the knowledge gained from his spiritual psychology degree, Robert set out to author a book that wouldn't just teach you about flying, but would tell you what can learn about life through flying. Everything he learned from his amazing flights all over the world, including his 2015 solo circumnavigation flight, is compiled in his latest book, Zen Pilot. All proceeds from his first book Flying Thru Life will go to charitable causes such as the Lindbergh-Schweitzer Elementary School, and the AOPA "Spirit of San Diego" scholarship, and his second book Zen Pilot, dedicated especially to private pilots, will be out by the end of 2016.
"Though it was a place where I could quickly die, the cockpit was a place where I truly lived." Brian Shul
Featured image used with permission of Robert DeLaurentis, courtesy of George A. Kounis / PilotGetaways.com