The Sun Flyer has received a temporary FAA certification.
After first revealing the Sun Flyer prototype for the all composite two-seat trainer aircraft back in May, Aero Electric Aircraft Corp has been busy. And, after completing engineering reviews and inspections, the company has revealed that power on tests for the aircraft started in October.
George Bye, the CEO of AEAC said, "We are thrilled to reach this significant milestone." AEAC President Charlie Johnson added that preparation for the tests was thorough and that they were "taking extraordinary precautions to develop comprehensive checklists and safety protocols."
According to the company, they have also received a temporary FAA registration for the aircraft and will begin the next stage of testing including ground, taxi, and pre-flight tests as they work toward the aircraft's first flight test.
AEAC intends for the Sun Flyer to be the first FAA-certified, US-sponsored all electrical aircraft, and is being positioned to primarily for the training and general aviation markets. According to the company, the Sun Flyer, with solar cells on the wings, a 400-volt lithium-ion battery pack system, and a 100-kilowatt electric motor, will feature a low operating cost, low aircraft unit cost, low noise, and no exhaust pollutants.
---
Original Post 5-17-16: Aero Electric Aircraft Corp Reveals Sun Flyer Prototype
Aero Electric Aircraft Corp. (AEAC) has revealed the prototype for their solar-electric flight trainer called the Sun Flyer. They presented the Sun Flyer prototype on May 11th at Centennial Airport, and what was revealed definitely looks promising.
The presentation was a static display, and this marks the first time that the 2 seat POC prototype has been shown to the public. Though there were no test flights at the reveal, performance data gathered by this prototype will be used to inform the final design of the aircraft.
George Bye, CEO and Founder of AEAC, stated that this is the first in a series of complex steps towards being able to finalize the design of the Sun Flyer and have it certified by the FAA.
Spartan College of Aeronautics and Technology CEO Peter Harris announced during the event that they have reserved five additional Sun Flyers. Spartan, a valued development partner of AEAC, had previously reserved the first 20 positions on the Sun Flyer delivery roster and had signed an agreement with AEAC to create a complete training system for the Sun Flyer.
"This is a great day," Harris said.  "We are thrilled to have Spartan College of Aeronautics and Technology involved as part of the Sun Flyer in an industry that needs pioneers. This is changing the nature of aviation training that will have an impact for generations to come."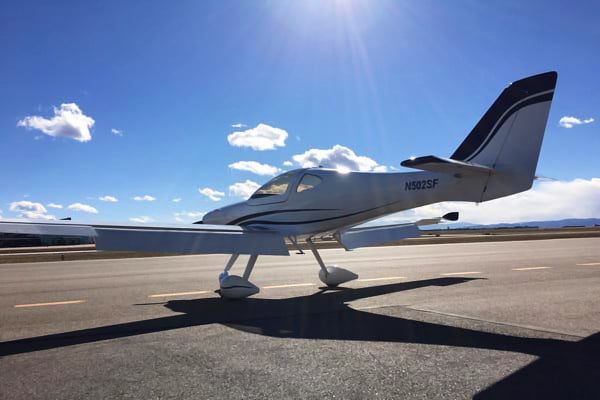 AEAC also introduced a new partnership with the University of Denver's Daniel Felix Ritchie School of Engineering & Computer Science. The Director of the DU Unmanned Systems Research Institute, Dr. Ing. Kimon Valavanis, is particularly excited by how the Sun Flyer's electric propulsion technology can be scaled to fit many other existing aviation platforms. "It is our desire to have much closer collaboration with AEAC and its founding partner, Bye Aerospace," he said. "The sky is not the limit for the future of aviation."
Also on hand at the reveal of the Sun Flyer prototype was Jerry Gregoire of Redbird Flight, who will be working with AEAC to create a next-gen pilot training system for the Sun Flyer. He said that both the increasing cost of learning to fly and flying was having a strong impact on aviation. "In looking for solutions to lower the cost of training, this is a very important piece of learning how to bring the costs of flying down."
Images: AEAC