The Airco DH-4 Aircraft's Frame Needs A Lot of Work
Friends of Jenny, a non-profit organization from Kentucky, has recently started a Kickstarter campaign to acquire the last known American DH-4 aircraft (alternately known as the Airco DH-4, De Havilland DH-4, or the DH-4 Liberty Plane), and restore it to its original flying condition. The group, originally founded to "bring the early American Aviation story to the general public in the form of a hands-on flying 1917 Curtiss JN-4 Biplane," is committed to continuing to tell that story by adding this storied aircraft to their fold.
The DH-4 aircraft was originally designed for British manufacturer Airco by Geoffrey de Havilland (hence the DH) and made its first flight back in 1916. Powered by a 375 hp Rolls-Royce Eagle VIII engine, this aircraft served as a two-seat daylight bomber with an open cockpit made out of wood and fabric. Soon, American manufacturers also started producing the aircraft, fitting it with a slightly more powerful water-cooled Liberty L-12 engine which produced 400 horsepower. Roughly 9,500 American DH-4s were made, with 1,885 finding their way to France during World War I. After the close of the war, many of the aircraft were modified, refurbished or upgraded by groups like the newly formed Boeing Airplane Company.
Friends of Jenny founder Dorian Walker, had this to say about the DH-4 post-war path: "The Liberty Plane's story did not end with the war. Its large and powerful engine, speed, and ruggedness made it perfect to carry the U.S. air mail, creating the first transcontinental air mail routes." He added that "the U.S. Army continued to use the Liberty Plane when it won the first transcontinental air race. The DH-4 Liberty Plane was the cornerstone and foundation for the development of commercial aviation today."
If they can successfully raise the money, the group hopes to complete restoration work by the summer of 2017. "We propose to reconstruct the only, as-delivered-to-the-military DH-4 in North America to flying status—to not only commemorate those who flew her in World War 1, but also all military aviators who have served over the last 100 years," said Walker.
Timing is important, as they want to have the DH-4 aircraft ready to celebrate three important centennials: the World War I centennial in 2017/2018, the centenary of the first transcontinental air race in 2019, and the centenary of the first transcontinental air mail run in 2020.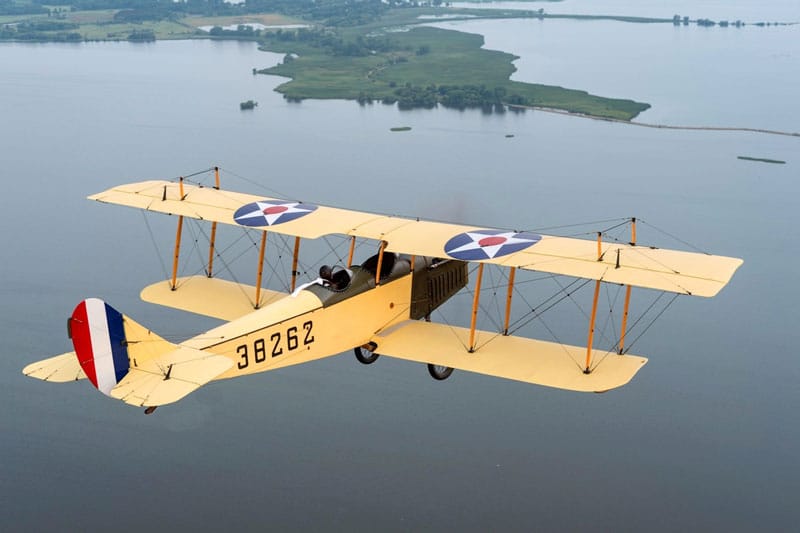 As mentioned before, this is not the first aircraft worked on by Friends of Jenny. They reconstructed and restored a 1917 Curtiss JN-4 biplane, starting the process in 2011 and finishing construction in October 2013. The group has been touring the United States with the aircraft since.